These young stars are in heated position battles
Hoerner, Carlson, Riley in the mix for starting jobs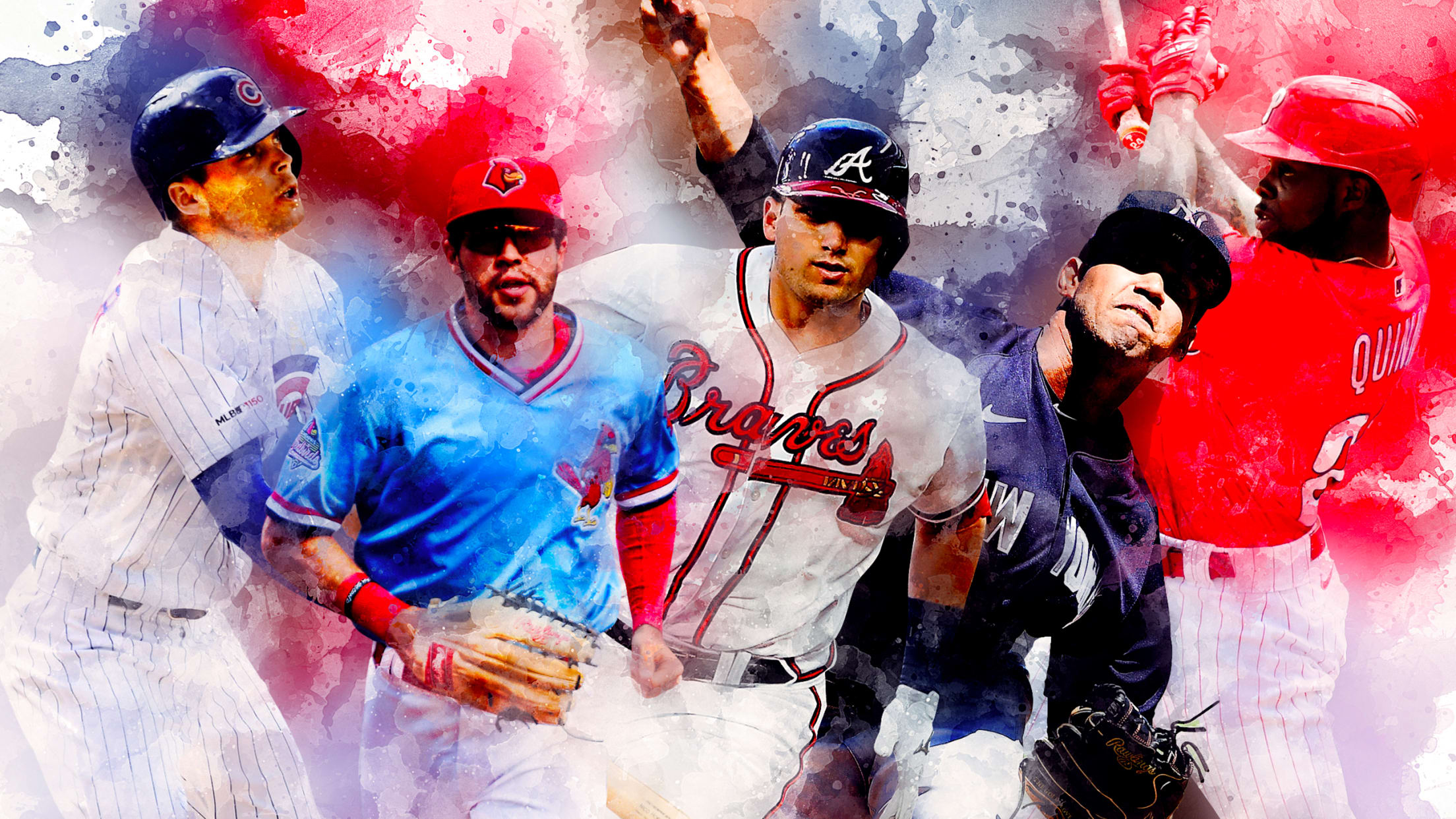 Yes, some position battles will be decided in the remaining two weeks of Summer Camp. The Phillies may settle on a center fielder. The Twins will sort through their rotation options and make some decisions. And like always, those judgements will have a certain feel of finality, just the way
Yes, some position battles will be decided in the remaining two weeks of Summer Camp. The Phillies may settle on a center fielder. The Twins will sort through their rotation options and make some decisions.
And like always, those judgements will have a certain feel of finality, just the way they do at the end of every Spring Training. Only this time will be way different, because nothing is going to be truly final.
For one thing, a 60-game season means there's going to be an urgency, which means the patience teams pride themselves on showing with young players may not be possible.
Also, expanded rosters (to begin the season) and the universal designated hitter means players can find another path onto the roster and perhaps even into the starting rotation.
• New '20 rules: DH in NL, runner on 2nd in extras
Nevertheless, there are still a bunch of interesting position battles in almost every camp. Here are seven of them:
1. Cubs: 2B
Rookie Nico Hoerner got a 20-game audition last season, and then he was following that up with a solid spring before the March shutdown. So the Cubs might just turn their most worrisome position over to the 23-year-old the job on Opening Day. But veteran Jason Kipnis is an interesting option, and the Cubs may want to find out what he has left in the tank before committing to Hoerner. Regardless, either player represents a likely upgrade from 2019, when Cubs second basemen hit .220.
2. Cardinals: OF
When does 21-year-old Dylan Carlson make his debut? That's the question the Cardinals have wrestled with for months, and as problems go, it's one every team would like to have. He's No. 17 on MLB Pipeline's Top 100 list and the kind of prospect that could ignite a team. But Cardinals president of baseball operations John Mozeliak has some other questions to answer. First, he wants to find out what the Cards have in Lane Thomas and Tyler O'Neill, who figure to open the season by splitting time in left. (Harrison Bader will open in center, Dexter Fowler in right). With a shortened season and a potential championship team, Carlson is waiting in the wings.
3. Yankees: Rotation
This isn't actually a position battle, at least not in the usual way we use the phrase. It's really a reminder of how ridiculously deep the Yankees are.
Their rotation appears set with Gerrit Cole, James Paxton, JA Happ, Masahiro Tanaka and Jordan Montgomery. Here's where it gets interesting. Since starting pitchers may not be stretched out for a while, the Yankees will need some extra starters, and they have four exciting young arms -- Deivi Garcia, Michael King, Jonathan Loaisiga and Clarke Schmidt -- battling it out to be first man up.
4. Twins: Rotation
The Twins have done a nice job turning a weakness into a strength as they stretch out a dozen starters for the regular season. They'll pick five from there with José Berríos, Jake Odorizzi and Kenta Maeda in the first three slots, which leaves all sorts of options -- Homer Bailey, Randy Dobnak, etc. -- for the other one or two slots. Veteran lefty Rich Hill is ready to go as well, and with so much depth, the Twins can monitor his workload to make sure he's good to go in October. He's been battling injuries for years, but remains effective – and often dominant – when healthy.
5. Indians: OF
The Indians have 10 outfielders on their 40-man roster, and plenty of them are young guys oozing with potential. None of the 10 is an established player, but almost all of them have been have been top prospects at one time. Oscar Mercado, who'll start in center, is the one sure thing, and there could be a revolving door as Jordan Luplow, Franmil Reyes and others attempt to get their feet on the ground.
6. Phillies: CF
Two intriguing options here, and the Phillies believe both Adam Haseley and Roman Quinn could have long, productive careers. Now, about 2020. Haseley got better and better during his rookie season both at the plate and in center field. However, Quinn had a 1.139 OPS during a 13-game stretch that was halted by a season-ending groin injury. His speed is what makes him unique. Both will play, but it'll be interesting to see how manager Joe Girardi divides the playing time.
7. Braves: 3B
Austin Riley probably is the long-term answer at third, but he might have started the year in Triple-A in a normal season. That was before he had a great spring and also before the season was shortened to 60 games. Now, his presence allows manager Brian Snitker to move Johan Camargo into a utility role and to use Marcell Ozuna as a full-time DH.