Hill shows hard work 'paid off' in first live BP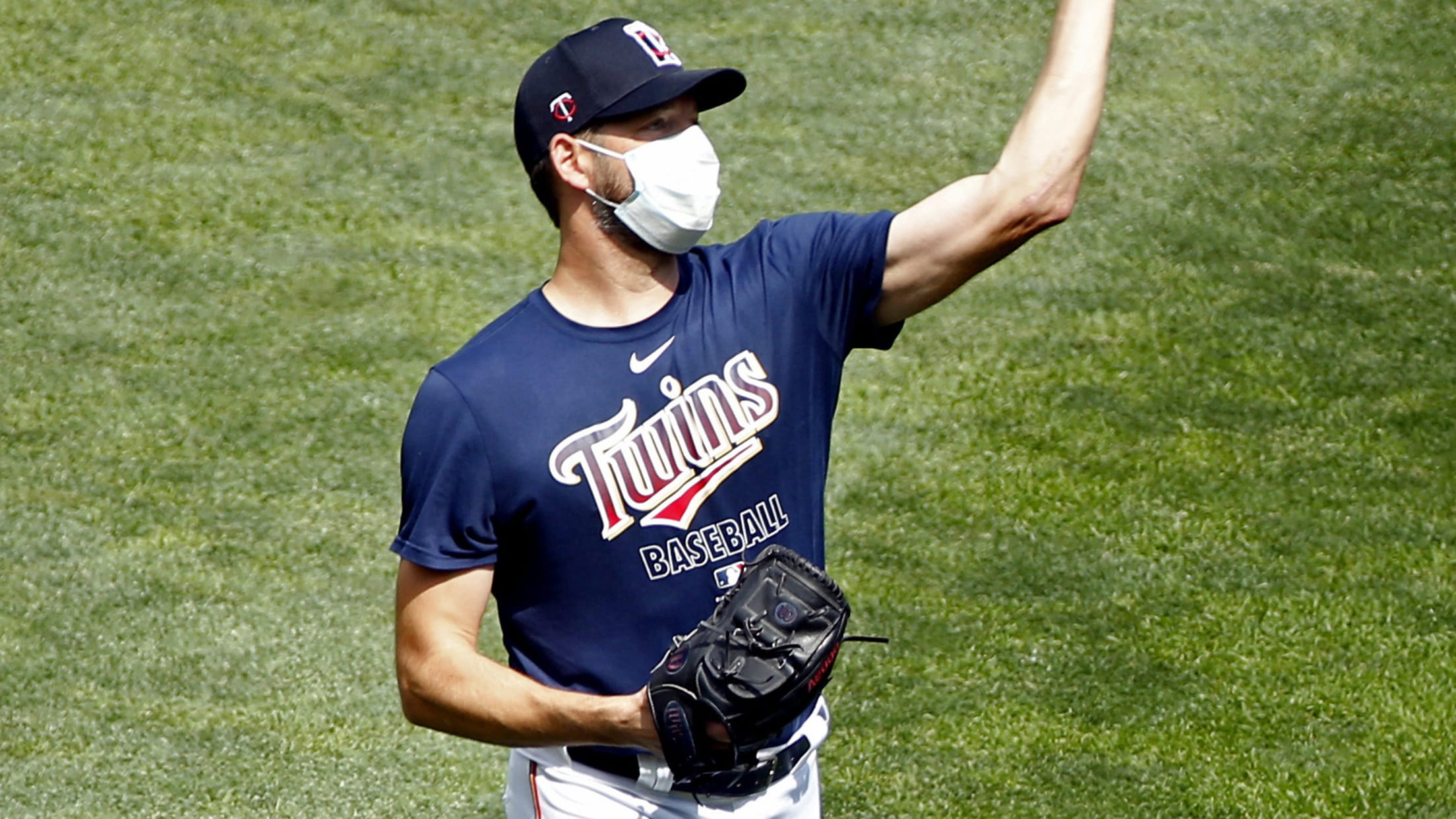 MINNEAPOLIS -- Rich Hill is ready to compete. You could see as much as he threw his first live batting practice of Summer Camp on Monday. You sure could hear it, too. The 40-year-old unleashed a grunt every time he released a pitch through four innings of simulated work. When
MINNEAPOLIS -- Rich Hill is ready to compete. You could see as much as he threw his first live batting practice of Summer Camp on Monday. You sure could hear it, too.
The 40-year-old unleashed a grunt every time he released a pitch through four innings of simulated work. When he missed his spots, the expletives that he yelled at himself reverberated throughout the empty stadium. On one occasion, he was unable to cleanly field a line drive hit right back at him -- and hurled the ball at the unoccupied first-base bag after shouting out loud.
• Twins' 2020 slate seems to favor Central champs
Every time Hill steps on the mound, it's serious business. And that business means a lot to the veteran southpaw right now, considering Monday's session was the first time he had faced live hitters since he underwent a "primary repair" procedure on his left elbow last offseason. Despite his advanced age and the relative recency of the surgery, Hill's hard work has paid off, as he's now poised to be part of the Twins' starting rotation for the 2020 season.
"There's a lot of people that put in the time and the effort and gave me their time to make sure that I can be in the best position possible to go out there and perform," Hill said on a Zoom call Tuesday afternoon. "I put in the time and put in the effort, and it's definitely paid off. I feel great, and yesterday was just one step in the right direction."
Hill's recovery from the October procedure has gone about as well as he and the Twins could have hoped when Minnesota signed him to an incentive-laden one-year deal during the offseason. There was some uncertainty about the left-hander's prognosis in the immediate aftermath of the procedure, but he said that he felt confident in his arm as soon as he got back to playing long toss. He even felt in March or April that he could have ramped up into game action.
But there was no rush for Hill to join Minnesota's rotation -- at first, due to the Twins' ample pitching depth and, later, due to the pandemic. That gave Hill plenty of time to ramp up as he worked alone at home in Massachusetts, and pitching coach Wes Johnson estimated that Hill had already thrown four bullpen sessions of approximately 80 pitches before his arrival in the Twin Cities for Summer Camp.
"I can't tell you how impressive his ability to stick to a plan throughout a pandemic has been," manager Rocco Baldelli said. "We've been following his bullpen sessions that he's Zoomed weekly, and sometimes, multiple times during the week. I don't think it's possible for him to be in a better position than he is in right now."
As part of those Zoom calls, Johnson and the Twins would at first monitor Hill's long-toss sessions and outings in the bullpen, and as the weeks progressed, they worked with Hill to move into up-downs and simulated lineups.
Thanks to all of that work, Hill might actually have overcome the surgery to arrive in camp in better condition than others on the staff. In Hill's live batting-practice session, he threw four simulated innings. The other top Twins starters -- José Berríos, Jake Odorizzi and Kenta Maeda -- were held to three innings each in their debut outings of camp.
"There's no reason this guy is not going to be ready to go five or six innings when the season starts," Johnson said.
It will be a big boost for the Twins' rotation to have Hill available for the full complement of 12 or so starts during this regular season -- he had a 2.45 ERA in 13 starts last season, and over the past four seasons, he's compiled 517 strikeouts across 437 1/3 innings. Having him back on the mound in camp also offers an important learning experience for the younger pitchers who can take lessons from Hill's intensity and how he approaches every opportunity to throw off a mound.
"When [Hill and Homer Bailey] go to throw a bullpen, I mean, you're thinking they're facing the three to four hitters, and it's a 20- to 25-pitch 'pen with that intensity," Johnson said. "It's not so much about the effort, because it's not like they're going 100 percent in the bullpen. But it's just the intensity and the focus that they go about their catch play. It takes time for that. It takes time for guys to learn how."
Hill, like many of his teammates, was initially worried about the health considerations of this season, though he said he has since become a bit more comfortable in this setting. He wore a mask throughout the Twins' workout on Tuesday and even kept the covering on for the duration of his virtual press conference.
As long as the Twins remain active this season, Hill expects to be right there with them.
"The competitor in me says tomorrow I'll be ready [to pitch], but the other side of it is I know it would be foolish to act upon that and go out there," Hill said. "And when you are foolish, and you act upon your competitiveness as opposed to being rational, you affect the team. ... I feel that with this next two-and-a-half weeks that we have, I feel like I should be ready to go out there and perform and perform well."