The 5 tiers of this offseason's free agents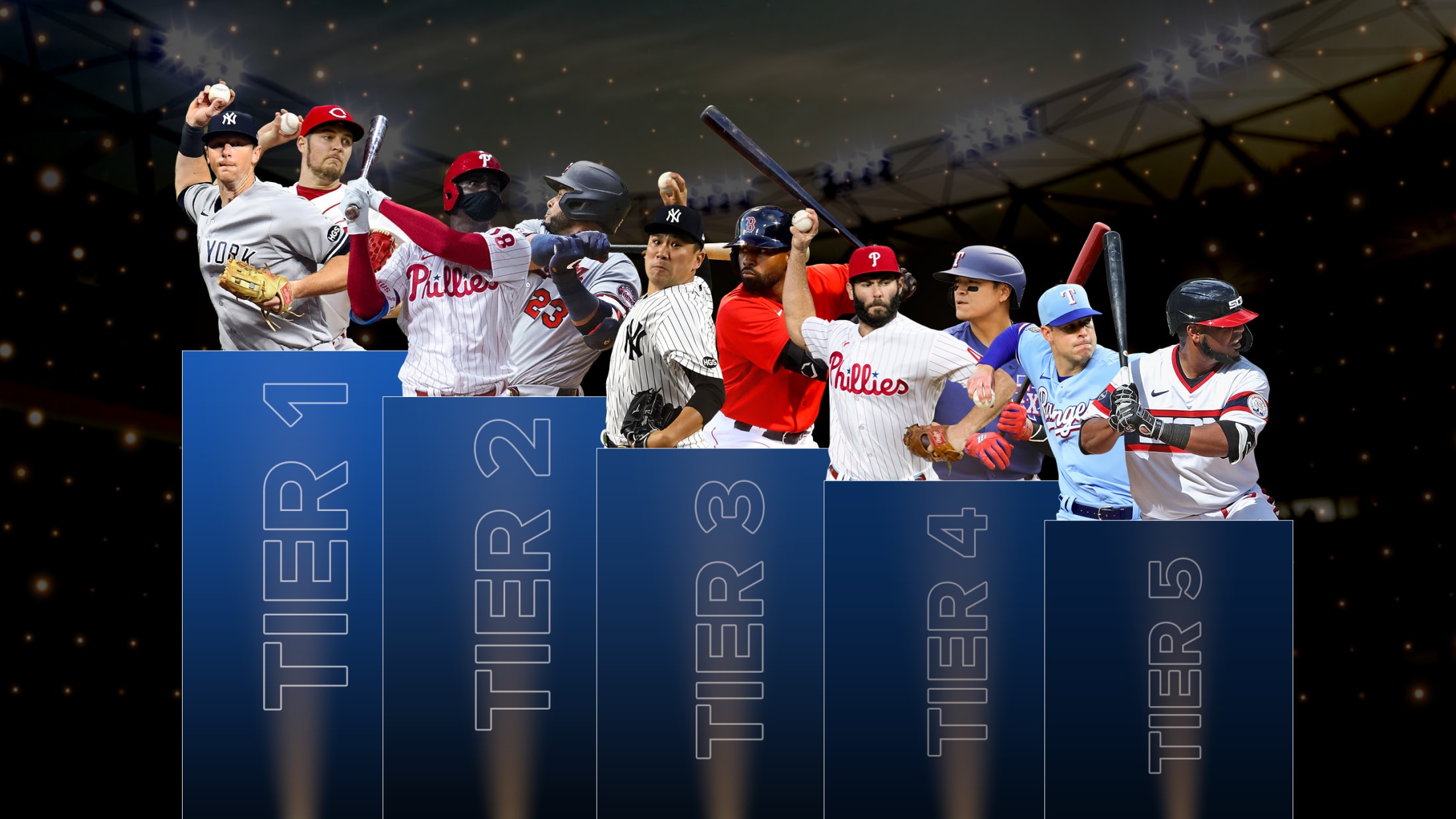 Free agency is upon us, and while the top four or five players will garner most of the Hot Stove headlines, there are dozens of players out there who can make a difference in 2021 and beyond. Below is a list of the top available players and where they rank
Free agency is upon us, and while the top four or five players will garner most of the Hot Stove headlines, there are dozens of players out there who can make a difference in 2021 and beyond.
Below is a list of the top available players and where they rank in the hierarchy of this year's free-agent crop. Players are listed alphabetically by tier, and ages are listed as of Opening Day 2021.
• MLB Free Agent and Hot Stove Tracker
TIER 1
Trevor Bauer, RHP
Age: 30
The best starting pitcher available this offseason after leading the National League with a 1.73 ERA for the Reds, Bauer won't break Gerrit Cole's record for the biggest pitching contract ever ($324 million), but he could surpass Cole's record average annual value of $36 million.
DJ LeMahieu, INF
Age: 32
The Yankees got a steal with LeMahieu's two-year, $24 million deal before the 2019 season, but the reigning American League batting champ should be able to cash in following two stellar seasons in New York that saw him finish in the top four of the AL MVP vote each year. His versatility -- he can play first base, second base and third base -- should leave him with an array of suitors.
Marcell Ozuna, LF/DH
Age: 30
Ozuna rolled the dice with a "pillow" contract with the Braves, and the gamble paid off. After leading the NL in home runs and RBIs, a multiyear deal should be in the cards.
J.T. Realmuto, C
Age: 30
Many industry insiders tab Realmuto as the top available free agent, as All-Star catchers in the prime of their careers don't hit the market too often. Realmuto, who had a career-best .840 OPS for the Phillies this year, could be the most-sought player in free agency.
George Springer, CF/RF
Age: 31
The first homegrown player from the Astros' championship core to hit the open market, Springer is the best all-around outfielder available. In addition to being a rock-solid performer each season, Springer has established himself as one of the best postseason players of his generation.
TIER 2
Michael Brantley, LF/DH
Age: 33
Brantley has rebounded nicely from his injury-plagued 2016 season, making three straight All-Star teams and posting another solid season in '20. If the Astros can't re-sign Springer, then bringing back Brantley could be a priority.
Alex Colomé, RHP
Age: 32
An All-Star in 2016 and the AL saves leader in '17, Colomé was one of the league's best relievers this year. His 0.81 ERA and 12 saves in 13 opportunities for the White Sox have him set up for a good contract, though teams might be wary of handing out a long-term deal because of his age.
Nelson Cruz, DH
Age: 40
The ageless wonder continues to mash, slugging 16 homers with a .992 OPS in 53 games. Cruz has been a terrific fit in Minnesota for the past two seasons, so it would be surprising to see the Twins let him leave, though he's said to be seeking a two-year deal.
Didi Gregorius, SS
Age: 31
Gregorius re-established his value after taking a one-year deal with the Phillies, putting himself in a good position entering free agency. With a historic shortstop class headed for free agency in '21 (Corey Seager, Carlos Correa, Francisco Lindor, Trevor Story and Javier Báez), Gregorius would be best served finding a multiyear deal this offseason.
Brad Hand, LHP
Age: 31
Hand's $10 million contract option was declined by the Indians, thrusting him into free agency as the best left-handed reliever available. Hand has been one of the top closers in the game since 2017, posting a 2.61 ERA with 103 saves.
Liam Hendriks, RHP
Age: 32
Arguably the best reliever in baseball during the past two seasons, Hendriks is considered by most to be the top available reliever. Oakland isn't known for spending big in free agency, but Hendriks should have a number of suitors looking to hand him the ball in the ninth inning.
James McCann, C
Age: 30
McCann will be a sensible Plan B for teams that miss out on Realmuto. McCann, a 2019 All-Star, posted a career-high .896 OPS and got rave reviews for his handling of the White Sox pitching staff.
Jake Odorizzi, RHP
Age: 31
Odorizzi accepted the $17.8 million qualifying offer last year, but he struggled through an injury-riddled 2020 season with the Twins and threw just 13 2/3 innings. It's not the ideal contract year, but Odorizzi's track record should leave him with multiple suitors.
Marcus Semien, SS
Age: 30
Had Semien been a free agent last year, he would have been a lock to appear in Tier 1. But a major drop in production in 2020 leaves Semien in an uncertain position as he tests the open market for the first time after six seasons in Oakland.
Andrelton Simmons, SS
Age: 31
Ankle injuries have hampered Simmons during the past two seasons with the Angels, sidelining him for 59 games in 2019 and 30 more in '20. Simmons received MVP votes and won Gold Glove Awards in '17 and '18, so the primary question he'll need to answer to potential suitors will pertain to his health.
Justin Turner, 3B
Age: 36
Turner's power numbers dropped in 2020, but he remains a productive player, posting an .860 OPS in 42 games. The Dodgers likely will try to retain Turner, one of the core pieces of their championship team.
TIER 3
Jackie Bradley Jr., CF
Age: 30
Despite Boston's down year, JBJ had his highest OPS (.814) since his 2016 All-Star season, and he continues to be a strong defensive presence in center field. Next to Springer, he's the best center-field option on the market.
Robbie Grossman, LF
Age: 31
Grossman picked a good year to thrive at the plate, hitting eight homers with an .826 OPS in 51 games with the A's. He averaged seven homers and a .724 OPS over 129 games per season from 2017-19.
Enrique Hernández, INF/OF
Age: 29
Hernández's numbers don't jump off the page, but he has been the ultimate Swiss Army knife for the Dodgers during the past six seasons. Hernández has played every position except catcher -- yes, he even pitched once in 2018 -- for Los Angeles, giving his managers incredible flexibility. He also has shown some pop, averaging 16 homers a season from 2017-19.
Tommy La Stella, 2B/3B
Age: 32
La Stella was a productive part-time player for the Cubs from 2015-18, but he broke out with the Angels in 2019, making the All-Star team before fouling a ball off his leg and fracturing his tibia. He played 55 games in '20 for the Angels and Athletics, showing again he's deserving of an everyday job.
Mark Melancon, RHP
Age: 36
It has been four years since Melancon's run as one of the best relievers in the game, when he pitched to a 1.80 ERA from 2013-16. He converted 11 of 13 save opportunities with the Braves this year, showing he can still be considered a reliable late-inning option.
Joc Pederson, CF/LF
Age: 28
Pederson's profile has been the same for much of his career: big power against righties, can't hit lefties. Only nine of his 130 career homers have come against lefties, while his OPS splits (.849 vs. RHP, .576 vs. LHP) suggest he's best suited for a platoon role.
Trevor Rosenthal, RHP
Age: 30
Rosenthal missed the 2018 season following Tommy John surgery, then struggled in his first season back, posting a 13.50 ERA in '19. The former All-Star looked like his old self this year, going 11-for-12 in save opportunities with a 1.90 ERA, including nine appearances without an earned run after the Padres acquired him in late August.
Carlos Santana, 1B/DH
Age: 34
Although his power numbers were respectable (eight home runs, 30 RBIs in 60 games) this season, Santana hit .199 and slugged just .350. He did lead the AL with 47 walks, resulting in a .349 on-base percentage. Santana is also quite durable, averaging 154 games per season from 2011-19 and playing all 60 games for Cleveland this year.
Masahiro Tanaka, RHP
Age: 32
Tanaka just finished the seven-year, $155 million contract that brought him to the Majors from Japan, posting a 3.56 ERA in 10 starts for the Yankees in 2020. Tanaka's delicate elbow remains a concern for any potential suitor, but after suffering a partial UCL tear during his 2014 rookie season, Tanaka's arm has held up over more than 1,000 big league innings.
Taijuan Walker, RHP
Age: 28
Walker's return from his April 2018 Tommy John surgery was a success, as he posted a 2.70 ERA in 11 starts for the Mariners and Blue Jays this year. Walker pitched exceptionally well (1.37 ERA in six starts) after his trade to Toronto, helping the Blue Jays earn a postseason berth.
Kolten Wong, 2B
Age: 30
Wong joined the free-agent ranks when the Cardinals declined a $12.5 million option. Wong had a down year in 2020 (one home run, .675 OPS), but he averaged eight homers and a .766 OPS from 2017-19.
TIER 4
Jake Arrieta, RHP
Age: 35
Arrieta's ERA has gotten progressively higher in each of the past five seasons, including the 5.08 mark he posted in nine 2020 starts with the Phillies. His WHIP (1.511) was his highest since his rookie season, and his hits per nine innings (10.4) were also career highs. Arrieta, who just finished a three-year, $75 million deal, could have to settle for a one-year deal.
Ryan Braun, OF/DH
Age: 37
Braun heads into free agency after the Brewers declined a $15 million mutual option, so he could be wearing a new uniform for the first time in his career. Braun might not be the same player he was during his six All-Star seasons, but he hit 22 homers with an .849 OPS in 144 games in 2019. In 39 games this season, he hit eight homers with 26 RBIs and a .769 OPS.
Asdrúbal Cabrera, INF
Age: 35
Cabrera helped the Nationals win their first World Series in 2019, but his numbers dropped this year. His infield versatility should help him draw interest.
Shin-Soo Choo, OF/DH
Age: 38
A wrist injury limited Choo to 33 games with the Rangers in 2020. Despite his age, he has said he wants to play in '21. Choo has been durable throughout his career, but he might have to settle for a part-time role.
Shane Greene, RHP
Age: 32
Greene has been steady for the past two seasons, but his career has been beset by inconsistency. His strikeout numbers for Atlanta in 2020 (6.8 per nine innings) marked his lowest since he became a reliever.
Jedd Gyorko, INF
Age: 32
Milwaukee declined a $4.5 million club option, but Gyorko's ability to play either corner infield position should make him appealing. Gyorko hit nine home runs and had an .838 OPS in 42 games in 2020.
J.A. Happ, LHP
Age: 38
Although Happ's $17 million club option was declined by the Yankees, the veteran southpaw can still be a solid contributor in the middle or back of a rotation. Happ posted a 3.47 ERA in 49 1/3 innings in 2020, putting his tough '19 behind him. In a market weak on left-handed starting pitching, Happ should provide value.
Cesar Hernandez, 2B
Age: 30
Hernandez has never been a major power threat, though he did lead the AL with 20 doubles for the Indians in the shortened season. An above-average fielder, Hernandez should draw interest from teams with a need at second base.
Greg Holland, RHP
Age: 35
The veteran reliever turned back the clock in 2020, looking like the three-time All-Star he was from 2014-17. The Royals likely will try to retain him, but other clubs surely will come calling.
Brandon Kintzler, RHP
Age: 36
Kintzler hadn't been a closer since his 2017 All-Star season, but he filled the role admirably for the Marlins this year, posting a 2.22 ERA while converting 12 of 14 save opportunities.
Jon Lester, LHP
Age: 37
Lester isn't the same pitcher he was during his prime, but the southpaw remains a reliable innings-eater. He threw 61 innings for the Cubs in 2020 to rank 20th in the NL. Lester hasn't thrown fewer than 171 2/3 innings in a full season since he became a full-time starter in 2008.
Brad Miller, INF
Age: 31
Miller saw most of his action as a DH in 2020, though he started 11 games at third base for St. Louis. Since the start of '19, Miller has 20 home runs and an .853 OPS in 341 plate appearances (127 games).
Yadier Molina, C
Age: 38
Is it possible we'll see Molina play in a new uniform for the first time in his career? We'll believe that when we see it. Most inside the industry expect him to return to the Cardinals.
James Paxton, LHP
Age: 32
Paxton made just five starts during an injury-riddled contract year, unable to build off his solid first year with the Yankees in 2019 (15-6, 3.82 ERA). Paxton has never thrown more than 160 1/3 innings in a season. So although he's extremely talented, he's going to have to prove he can stay healthy before a team gives him a big multiyear deal.
Kevin Pillar, CF
Age: 32
Pillar is still a professional hitter, posting a .798 OPS with the Red Sox and Rockies in 2020. He isn't the same defensive presence he was a few years ago, but Pillar can still provide average defense in center or right field.
Jurickson Profar, INF/OF
Age: 28
The first five years of Profar's career were rocky, but he has found something since 2018, hitting 20 homers in back-to-back seasons and seven more in 56 games this year with San Diego. Profar can play all around the infield and in left field, an ability that should help him in this market.
José Quintana, LHP
Age: 32
Quintana didn't pitch as well on the North Side (4.24 ERA with the Cubs) as he did on the South Side (3.51 ERA with the White Sox). Injuries limited him to four appearances (one start) in 2020. After throwing at least 200 innings in four straight seasons from 2013-16, Quintana hasn't hit that mark since.
Jonathan Schoop, 2B
Age: 29
Schoop's one-year deal with the Tigers saw him put up numbers similar to those he produced in 2019. He has played for four teams since making the AL All-Star team in 2017, and a fifth seems likely in 2021.
Blake Treinen, RHP
Age: 32
Treinen hasn't found the same form that landed him on the AL All-Star team and garnered him both Cy Young and MVP votes in 2018. On a positive note, his ERA dropped more than a run (4.91 to 3.86) in his first year with the Dodgers.
Kirby Yates, RHP
Age: 34
Yates might have been the best reliever in the National League from 2018-19, but this year was an injury-riddled mess. Elbow surgery ended his season in mid-August, and although he expects to be ready for Spring Training, he might need to settle for a one-year deal to prove that his arm is healthy.
Mike Zunino, C
Age: 30
Zunino has had back-to-back seasons with a sub-.170 batting average and a sub-.600 OPS, but his defense grades well and he came up with some huge home runs during the Rays' run to the World Series.
TIER 5
Chris Archer, RHP
Age: 32
Just two-plus years ago, Archer was considered one of the biggest prizes at the Trade Deadline. But his time in Pittsburgh was marred by injury and inconsistency, prompting the Pirates to decline a $11 million club option. A free agent for the first time, Archer has something to prove in 2021.
Sean Doolittle, LHP
Age: 34
Doolittle was an All-Star with the Nationals in 2018. Then, after a mediocre '19 regular season, he was one of the keys to Washington's championship run. The '20 season was a disappointment for the lefty, who threw just 7 2/3 innings while limited by knee and oblique injuries.
Adam Eaton, OF
Age: 32
The Nationals declined Eaton's $10.5 million option, sending him into free agency fresh off a subpar season. Eaton had a career-low .669 OPS in 41 games in 2020. Although he had been productive when he was on the field from 2017-19 in Washington (.802 OPS), he wasn't on the field nearly enough (269 games out of a possible 486).
Edwin Encarnación, DH
Age: 38
Encarnación slugged 10 home runs in 44 games this season with the White Sox, but his production beyond those 10 swings was nonexistent. He could get one last chance to prove there's some pop left in his bat.
Brett Gardner, LF/CF
Age: 37
Gardner is still a steady presence in the outfield, and while his overall production was down in 2020, he still managed a .354 on-base percentage, his highest mark in years. Whether the Yankees want Gardner back -- or whether he'll play for another club after spending his entire career in the Bronx -- could determine his future.
Marwin Gonzalez, INF/OF
Age: 32
Gonzalez's versatility was a big selling point when he signed a two-year, $21 million deal with the Twins before the 2019 season. His ability to play all over the field remains, but Gonzalez's offense took a step backward in 2020.
Corey Kluber, RHP
Age: 34
Kluber threw just one inning in 2020 before a shoulder injury ended his only season with the Rangers. Texas declined his $18 million option, sending him into free agency with an eye on a bounce-back '21 season.
Jake McGee, LHP
Age: 34
A rough stint in Colorado led to McGee's release one week before Opening Day, but he signed quickly with the Dodgers and posted a 2.66 ERA in 24 outings. McGee had far better success against right-handed hitters (.436 OPS) than lefties (.855).
Daniel Murphy, INF
Age: 36
Murphy, whose $12 million mutual option was declined by the Rockies, had the least productive offensive season of his career in 2020, posting a .608 OPS with three home runs in 40 games. He can play a couple different positions, though he has played first base or DH in all but three games since the start of 2019.
Wilson Ramos, C
Age: 33
Ramos struggled in 2020 (.684 OPS, five home runs), prompting the Mets to decline a $10 million club option. Ramos averaged 16 homers and an .808 OPS from 2016-19, so potential suitors will have to hope he rebounds to his previous form.
Josh Reddick, RF
Age: 34
The 32-homer power from 2012 has never replicated itself, but Reddick has been a steady everyday player for the Astros since '17. This year, he had his first sub-.700 OPS since '13, but he'll try to bounce back wherever he lands.
Justin Wilson, LHP
Age: 33
A consistent mid- to late-inning presence for most of his career, Wilson remains lethal against lefties (.438 OPS in 2020) and good enough against righties (.719). Wilson has a strikeout rate of 11 per nine innings since '16, including a 10.5 mark this season with the Mets.
Mark Feinsand, an executive reporter, originally joined MLB.com as a reporter in 2001.