Rays feed off excitement at FanFest
Sternberg, Snell, Pena in attendance Saturday at Tropicana Field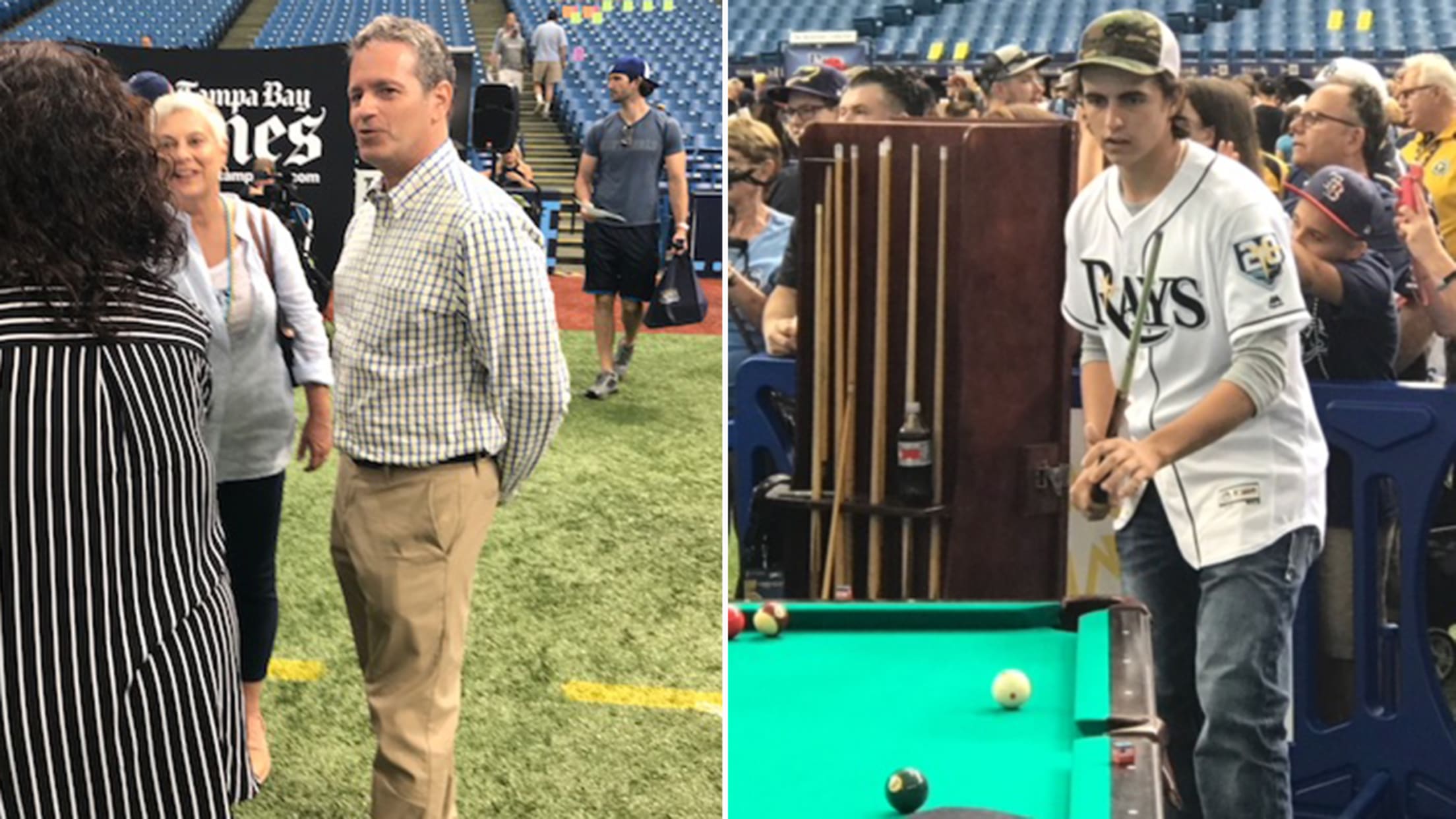 Stu Sternberg and Blake Snell were in attendance at Rays FanFest on Saturday. (Bill Chastain)
ST. PETERSBURG -- Saturday's FanFest provided the perfect exclamation point to an exciting week for Rays baseball.Tropicana Field swelled with enthusiastic fans, such as Joe Sanchez of Tampa, who spoke about what has transpired this week.• Spring Training:Info | Tickets | Gear"First, the team announced their plans to celebrate the
ST. PETERSBURG -- Saturday's FanFest provided the perfect exclamation point to an exciting week for Rays baseball.
Tropicana Field swelled with enthusiastic fans, such as Joe Sanchez of Tampa, who spoke about what has transpired this week.
• Spring Training:Info | Tickets | Gear
"First, the team announced their plans to celebrate the 20th anniversary, that's special," Sanchez said. "Then we hear about finally having a site picked out for a new stadium. I know the stadium thing is only the beginning, but I finally feel like baseball is going to remain in the area for years to come. Now everybody needs to do whatever is necessary to make that stadium happen."
Principal owner Stu Sternberg allowed that he didn't know how Friday's news would be received about the Rays going all in on a stadium site in historic Ybor City.
The man. The myth. The legend. #RaysFanFest pic.twitter.com/7cyA9wfQDQ

— Tampa Bay Rays (@RaysBaseball) February 10, 2018
"I would say for the most part, people are excited about it and have said to me it's more convenient to get to," Sternberg said. "And then I would say about a third of the people -- and I've probably spoken to about 30 or 40 today -- said even if it's going to be harder for them to get to, it's exciting, it's necessary and we have to do it."
Sternberg smiled and added that he's reminding everybody, fans and Rays employees alike, that Tropicana Field is still the Rays' home for now. A lot of work must be accomplished in order for the new stadium to come to fruition.
The Rays announced their 20th anniversary plans on Wednesday, which includes celebrating the 10th anniversary of the 2008 team that reached the World Series. Carlos Pena, who lived the magic of '08 while playing first base for the Rays that season, was on hand Saturday.
"It goes by too fast," Pena said. "When I was driving over the bridge to get here, I felt like I'd like to slow time down. How quickly those years went by. But life goes on. And it's really fun just to remember and reminisce about those great years we had, 2008 sticks out. For me personally, it's just the time I spent here with my family and how special that was."
A little "Reading with the Rays" today at #RaysFanFest pic.twitter.com/8EdOGSqLHV

— Tampa Bay Rays (@RaysBaseball) February 10, 2018
Pena remains a fan favorite, and he could be seen reciprocating the love he received from fans who appreciated his play.
"It's really great to come back and see everybody, so many of them are familiar faces, and they make me feel at home," Pena said. "I had really unbelievable times here with my wife and family, so it really is a special place."
Activities were staged throughout Tropicana Field, from kids' games to autographs and face painting. Blake Snell could be seen shooting pool, and Chih-Wei Hu played table tennis nearby. Forums featuring Pena, Trevor Miller, Kevin Cash, and general manager Erik Neander took place on a stage, and the fans appeared to be soaking it all in.
Selfies on selfies. #RaysFanFest pic.twitter.com/hwVrEweAFN

— Tampa Bay Rays (@RaysBaseball) February 10, 2018
Snell could be counted among the many players on hand, and the left-hander beamed in his surroundings.
"I'm excited, and from talking to some fans, they seem excited about the season, too," Snell said. "It's telling me that spring is right around the corner. I'm just excited about how the fans came out and how excited they are."
Bill Chastain has covered the Rays for MLB.com since 2004.