Pipeline Preview: Devers looks to continue hot streak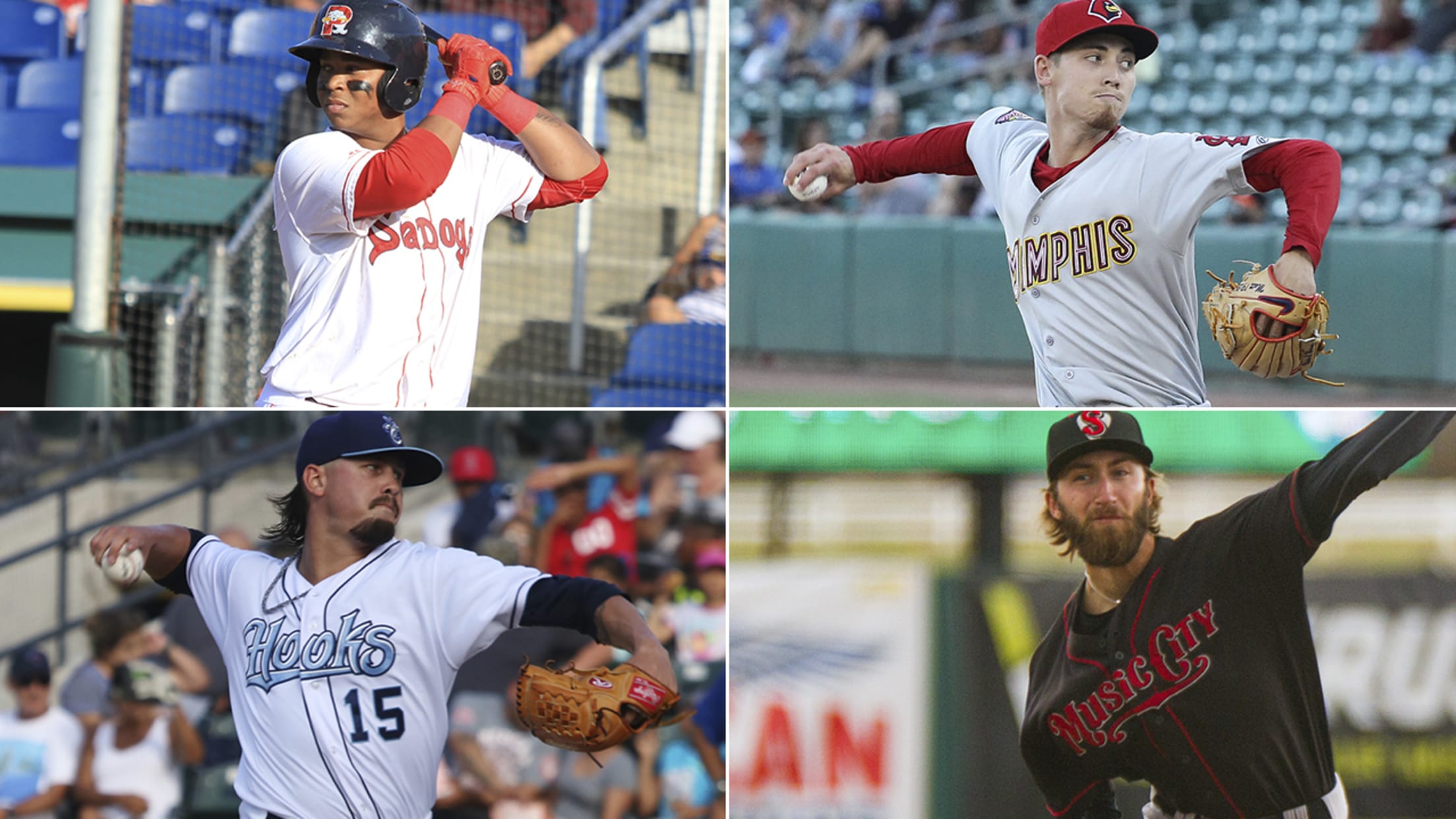 Here's a look at top prospects to watch in today's Minor League action:Hitter to watch: Rafael Devers (Red Sox's No. 1), Portland vs. Binghamton (1:05 p.m. ET on MiLB.TV)Devers, the No. 12 overall prospect, went a combined 3-for-6 Saturday in Double-A Portland's doubleheader against Binghamton. Devers, who went 2-for-3 in Game
Here's a look at top prospects to watch in today's Minor League action:
Hitter to watch: Rafael Devers (Red Sox's No. 1), Portland vs. Binghamton (1:05 p.m. ET on MiLB.TV)
Devers, the No. 12 overall prospect, went a combined 3-for-6 Saturday in Double-A Portland's doubleheader against Binghamton. Devers, who went 2-for-3 in Game 1 and 1-for-3 in Game 2, hit a solo homer, his 10th of the season and second in as many days in the first game. The 20-year-old has been on fire lately as he is 10-for-19 with six RBIs and two homers over the past five games.
Pitcher to watch:Luke Weaver (Cardinals' No. 3), Memphis vs. Omaha (3:05 p.m. ET on MiLB.TV)
Weaver, the No. 60 overall prospect, struck out a season-high nine in his last start, a seven-inning performance against Iowa. Weaver has gotten off to a strong start this season and has notched wins in each of his past two outings. The right-hander has a 2.08 ERA through 39 innings (seven starts) and has struck out 38, compared to just six walks.
Duel of the Day: Dean Deetz (Astros' No. 30) vs. Dillon Overton (Mariners' No. 16), Fresno vs. Tacoma (4:05 p.m. ET on MiLB.TV)
Deetz is set to make his Triple-A debut after a strong showing in the Texas League to begin the season. The 23-year-old made eight appearances, six starts, with Double-A Corpus Christi this season and posted a 1.82 ERA through 39 2/3 innings.
Overton spent most of May with the big league club, but was optioned back to Triple-A on the 21st. The lefty's ERA (5.65) is a bit high, but that's largely because he's only pitched 14 1/3 innings with Tacoma and got roughed up -- five earned runs in 2 1/3 innings -- in a start against El Paso. However, Overton is coming off a strong start, having given up just one earned run in five innings in his last outing.
Sunday's Top 100 prospect probables
No. 33 overall Josh Hader (Brewers' No. 3), Colorado Springs vs. Oklahoma City (3:05 p.m. ET on MiLB.TV)
No. 42 overall Yadier Alvarez (Dodgers' No. 1), Rancho Cucamonga vs. Modesto (8:05 p.m. ET)
No. 75 overall Forrest Whitley (Astros' No. 5), Quad Cities vs. Kane County (6:15 p.m. ET on MiLB.TV)
No. 76 overall Grant Holmes (Athletics' No. 3), Midland vs. Northwest Arkansas (3:00 p.m. ET on MiLB.TV)
No. 77 overall Ian Anderson (Braves' No. 6), Rome vs. West Virginia (2:00 p.m. ET)
More top prospect probables
Julian Merryweather (Indians' No. 25), Columbus vs. Syracuse (Triple-A)
Lucas Sime (Braves' No. 18), Gwinnett vs. Indianapolis (Triple-A)
Clay Holmes (Pirates' No. 19), Indianapolis vs. Gwinnett (Triple-A)
Miguel Almonte (Royals' No. 16), Omaha vs. Memphis (Triple-A)
Ryan Yarbrough (Rays' No. 23), Durham vs. Pawtucket (Triple-A)
Joan Gregorio (Giants' No. 8), Sacramento vs. Albuquerque (Triple-A)
Parker Bridwell (Angels' No. 11), Salt Lake vs. El Paso (Triple-A)
Domingo Acevedo (Yankees' No. 12), Trenton vs. Richmond (Double-A)
Jalen Beeks (Red Sox's No. 28), Portland vs. Binghamton (Double-A)
Tyler Alexander (Tigers' No. 4), Erie vs. Harrisburg (Double-A)
Jon Harris (Blue Jays' No. 8), New Hampshire vs. Hartford (Double-A)
Parker French (Rockies' No. 21), Hartford vs. New Hampshire (Double-A)
Brandon Waddell (Pirates' No. 16), Altoona vs. Bowie (Double-A)
Drew Anderson (Phillies' No. 21), Reading vs. Akron (Double-A)
Foster Griffin (Royals' No. 21), Northwest Arkansas vs. Midland (Double-A)
Chris Ellis (Cardinals' No. 28), Springfield vs. San Antonio (Double-A)
Brad Keller (D-backs' No. 7), Jackson vs. Chattanooga (Double-A)
Matt Cooper (White Sox No. 28), Birmingham vs. Tennessee (Double-A)
Tyler Mahle (Reds' No. 9), Pensacola vs. Mobile (Double-A)
Greg Harris (Rays' No. 27), Montgomery vs. Jacksonville (Double-A)
Connor Sadzeck (Rangers' No. 10), Frisco vs. Arkansas (Double-A)
Franklyn Kilome (Phillies' No. 5), Clearwater vs. Charlotte (Class A Advanced)
Lachlan Wells (Twins' No. 26), Fort Myers vs. Palm Beach (Class A Advanced)
Connor Jones (Cardinals' No. 22), Palm Beach vs. Fort Myers (Class A Advanced)
Zack Littell (Yankees' No. 20), Tampa vs. Jupiter (Class A Advanced)
Matt Hall (Tigers' No. 17), Lakeland vs. Bradenton (Class A Advanced)
Gage Hinsz (Pirates' No. 10), Bradenton vs. Lakeland (Class A Advanced)
Shaun Anderston (Red Sox's No. 17), Salem vs. Lynchburg (Class A Advanced)
Cody Ponce (Brewers' No. 15), Carolina vs. Winston-Salem (Class A Advanced)
Franklin Perez (Astros' No. 6), Buies Creek vs. Myrtle Beach (Class A Advanced)
Marcos Molina (Mets' No. 13), St. Lucie vs. Florida (Class A Advanced)
Ricardo Sanchez (Braves' No. 19), Florida vs. St. Lucie (Class A Advanced)
Jordan Romano (Blue Jays' No. 22), Dunedin vs. Daytona (Class A Advanced)
Juan Hillman (Indians' No. 12), Lake County vs. South Bend (Class A)
Luis Escobar (Pirates' No. 13), West Virginia vs. Rome (Class A)
Marcos Diplan (Brewers' No. 11), Wisconsin vs. Beloit (Class A)
Dustin May (Dodgers' No. 22), Great Lakes vs. Bowling Green (Class A)
Tyler Watson (Nationals' No. 17), Hagerstown vs. Columbia (Class A)
Matthias Dietz (Orioles' No. 12), Delmarva vs. Hickory (Class A)
Jojo Romero (Phillies' No. 25), Lakewood vs. Asheville (Class A)
Bernardo Flores (White Sox No. 19), Kannapolis vs. Greensboro (Class A)