7 lessons already learned from 2020 season
It's important to learn something new every day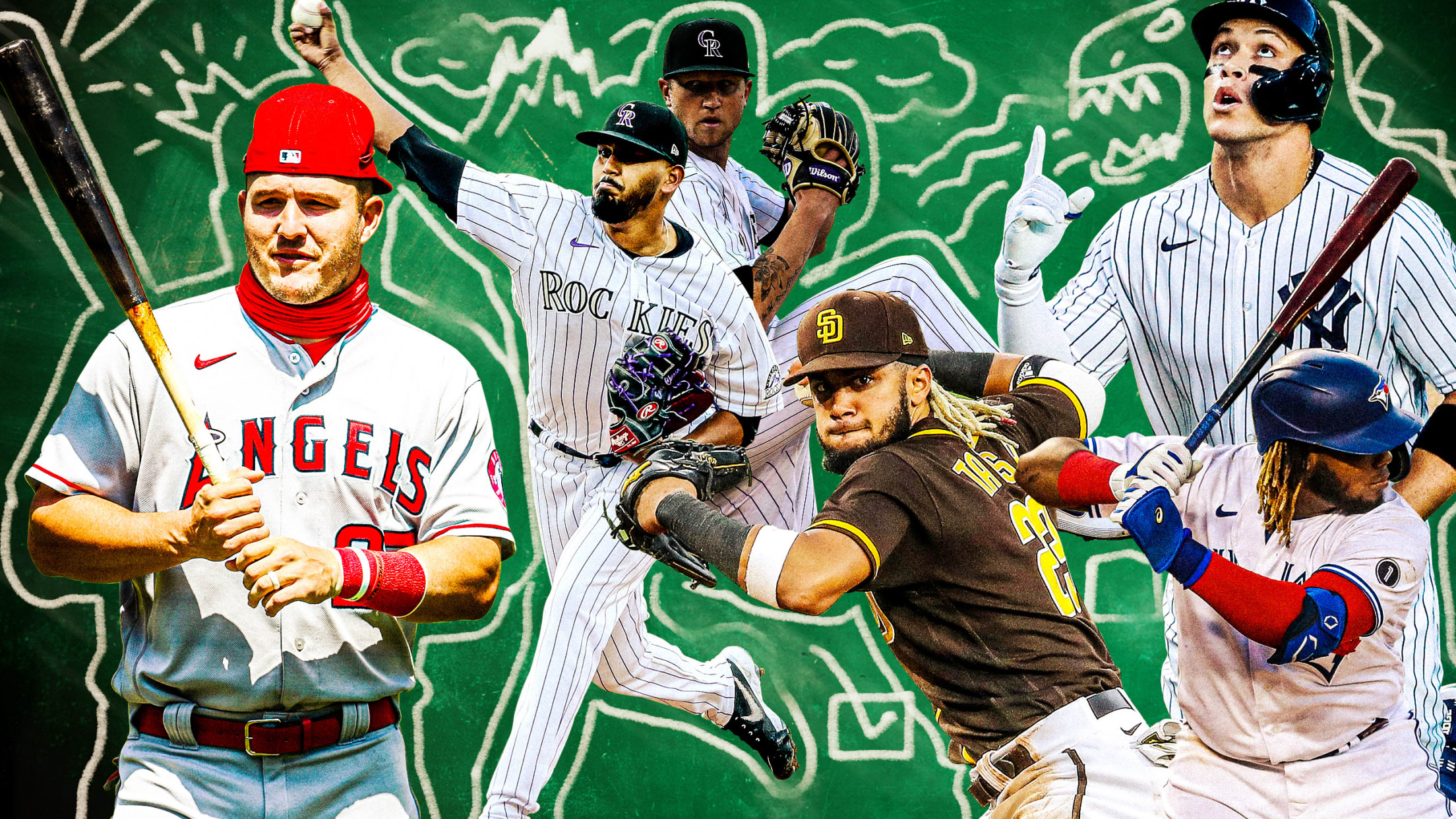 We're a third of the way through the 2020 season – time flies, huh -- and we've already learned so much about the players and teams this year. We may have only seen some 20-odd games, but that's been plenty to draw some conclusions about the state of the game
We're a third of the way through the 2020 season – time flies, huh -- and we've already learned so much about the players and teams this year. We may have only seen some 20-odd games, but that's been plenty to draw some conclusions about the state of the game and this year's postseason races.
Sure, some of what we've picked up is just enforcing things we already thought, but the phrase "you can't predict baseball" exists because the game doesn't always match our expectations. And still, there are plenty of other fresh surprises this year that have made us sit up and take notice.
So, what have we picked up from the first month of the 2020 season?
1. The Dodgers and Yankees are pretty much unstoppable
The two coastal giants came into the season looking every bit the best teams in the game. Both clubs won over 100 games last year and then decided to get better: The Dodgers added Mookie Betts, and the Yankees went out and signed Gerrit Cole.
Shock of all shocks: It's worked out.
Both teams entered Tuesday playing over .700 baseball and were leading their divisions. According to FanGraphs' playoff odds, the Yankees have a 99.8 percent chance of making the postseason, while the Dodgers have a lowly 99.7 percent chance. Honestly, if either team even comes close to dropping out of the playoffs, it will be one of the greatest collapses in baseball history.
While the postseason is often seen as a crapshoot, it's hard to think of any team better set up to reach the World Series than these two absolutely loaded clubs. The only question if they meet: Will we see a slugfest or pitchers' duel? The teams entered Tuesday ranked 1-2 in runs scored and both are in the top nine for ERA.
2. Even in a weird year, Mike Trout is still the greatest
2020 is a strange, stressful year for every single person on the planet. At least in this peculiar and upsetting time, there's one thing we can count on: Trout is still the greatest player in the game.
Since Trout's son Beckham (named after his former teammate Gordon, perhaps?) was born, Trout has arguably been even better. Forgive the 8,000th joke about Dad Strength that you've seen, but maybe there's something to this.
Since returning to the lineup from paternity leave on Aug. 4, Trout has smashed nine home runs in just 13 games. A true five-tool talent, Trout has never led the league in homers -- choosing instead to lead in virtually every other category. 2020 could be the year that changes.
Yeah, somehow Trout just keeps getting better. It's unfair, really.
3. Fernando Tatis Jr. has won the 2019 prospect battle
There were two once-in-a-generation sons of Major Leaguers battling for prospect dominance and the hearts of baseball fans entering last season. It was a fierce debate, but at the time, Vlad Guerrero Jr. had the edge and earned MLB Pipeline's top ranking, while Tatis came in second.
One year later and there's no debate. While we are certainly not closing the books on the two, Guerrero has shown the kinds of struggles that rookies typically have. Though he may have more natural power than any other hitter on the planet, it's yet to show up consistently during games and he's hitting just .233/.300/.411 with three home runs. Plus, Guerrero has already moved over to first base which means he needs to hit even better than before to stand out at a more premium offensive position.
Meanwhile, Tatis is in the running for the NL MVP Award this year at 21. He's battling Trout for the home run title while playing shortstop and turning sure hits into outs. He's simply the most electrifying player to watch, bar none.
4. The Rockies can pitch
Nearly 30 years since Colorado joined the National League and we still don't know what makes a successful pitcher in Coors Field. It's one of life's great mysteries, like, "Who was D.B. Cooper?" and, "Is it actually possible to brew a beer that tastes great and is less filling?"
The team's homegrown starters pitched phenomenally in 2018, helping the team win the NL Wild Card and advance to the Division Series, but they collapsed last year with the worst ERA in the Majors and the Rockies' worst in the 21st century.
It was enough to make everyone throw their hands up and say, "I don't know! I guess pitching is impossible in Colorado and maybe we should embrace cricket."
Instead, it appears last year was the mirage. Kyle Freeland and Germán Márquez are back to pitching like Cy Young Award finalists and the team ranks fifth in the Majors in starters' ERA. That has helped Colorado to second place in the NL West -- even with Nolan Arenado and David Dahl struggling in the early part of the season -- and gives hope that, yes, the Rockies can build a successful rotation while playing at Coors Field.
5. Mike Yastrzemski is for real
Drafted by the Orioles in the 14th round in 2013 as a senior coming out of Vanderbilt (where, to be fair, he was a successful hitter), the selection seemed like a mixture of respect for the skills he had shown in college and hope that somewhere in there his grandfather's Hall of Fame talent was hiding.
Yaz finally reached the big leagues with the Giants at the age of 28 last year -- far beyond the age of most precocious young rookies -- and responded by hitting the absolute snot out of the ball. Turns out, there was some Carl in there as Yastrzemski led San Francisco with an .852 OPS and tied for the team lead with 21 home runs.
But was this just a one-season blip? After all, plenty of players have impressed for a few months before never being heard from again. And Yaz's 2019 numbers were better than any he had posted in a Minor League season before.
Worry no more because Yaz is for real. Yastrzemski is tied with Tatis for the Major League lead in FanGraphs WAR at 1.8. He's hitting over .300, is walking about as often as he strikes out and is leading the team in dingers. As the Giants are entering an uncertain rebuilding period, Yastrzemski has been a bright light.
6. The White Sox knew what they were doing when they signed Luis Robert
This winter, the White Sox signed outfielder and top prospect Luis Robert to a six-year, $50 million extension before he ever reached the Major Leagues. It was a big and risky commitment. Not every prospect starts hitting right away -- see above for Guerrero -- and some don't work out at all. The Astros inked Jon Singleton to a similar deal in 2014, and Singleton went on to play in only 114 Major League games.
The White Sox made the right call.
Buoyed by their young stars, the team is in the thick of the playoff race with Robert leading the way. He's stealing bases, hitting for average, drawing walks, and lacing laser beams all over the field. Monday saw him record his first multi-home run game, too. Twenty-three games into a big league career and he's already a legit superstar.
The only regret the White Sox might have was not offering him more years.
7. Rule changes don't break baseball
This season, baseball implemented a universal DH, an automatic runner at second base during extra innings and seven-inning doubleheaders. All were put into effect to help as baseball tries to play through a global pandemic.
Not surprisingly, these were the kinds of things that got old-school baseball purists gnashing their teeth. If that's you, you now likely know deep in your heart: None of these rule changes have ruined baseball.
How do I know? Because I was once among the teeth gnashers. I considered myself a staunch anti-DH proponent before the season, but now I will readily admit: It's pretty nice to see full lineups of Major League-quality hitters step to the plate all game. No longer do I have a built-in bathroom break when a pitcher comes to the plate to harmlessly wave at a few pitches in the third inning.
The addition of the automatic runner has also added some intriguing strategy right off the bat. Bunt and play for one? Try to blow the game open? It's immediately raised the stakes in extra innings.
Now, no one is saying you have to like these changes. You can still hate them and look forward to next year when the rules will most likely go back to how they were. You can still believe -- and no one will be angry with you -- that pitchers should hit and extra innings should be played like every other inning. But none of these have fundamentally changed the game of baseball, nor have they made the game feel less like baseball.
The ball is still pitched, hitters still swing, and runners still need to come around to score. The game is still the game. And in a year as strange as this one, that's pretty nice.
Michael Clair writes for MLB.com. He spends a lot of time thinking about walk-up music and believes stirrup socks are an integral part of every formal outfit.