1 potential trade candidate on all 30 teams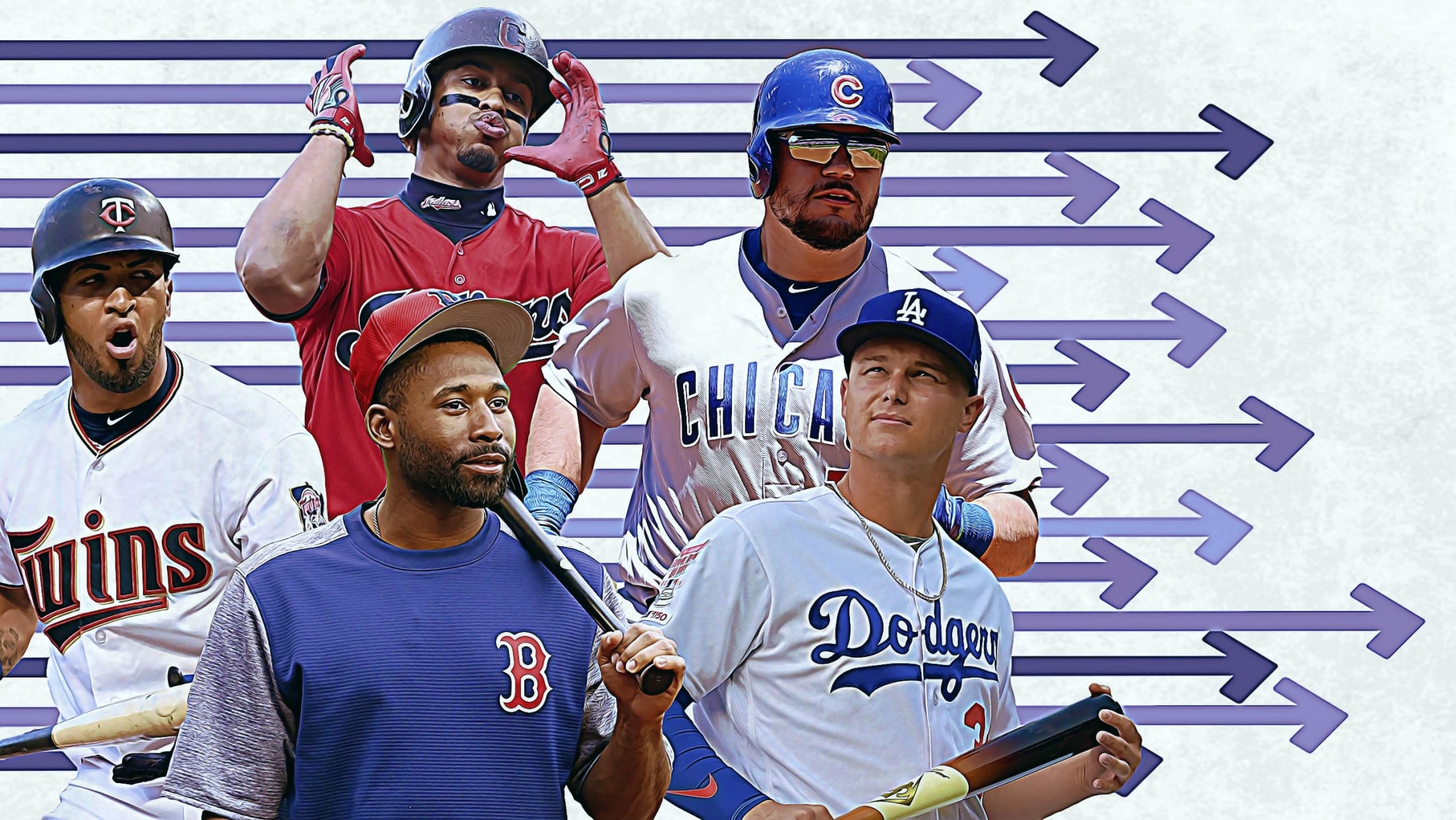 Free agency will rightfully garner the majority of headlines during baseball's offseason, but given that we've already heard names like Mookie Betts, Francisco Lindor and Kris Bryant in trade rumors, don't be surprised if it's a blockbuster swap that steals the show. With that in mind, here's a look at
Free agency will rightfully garner the majority of headlines during baseball's offseason, but given that we've already heard names like Mookie Betts, Francisco Lindor and Kris Bryant in trade rumors, don't be surprised if it's a blockbuster swap that steals the show.
With that in mind, here's a look at one trade candidate from every team:
AMERICAN LEAGUE EAST
Blue Jays: Ken Giles, RHP
The Blue Jays were shopping their closer last summer before he encountered arm problems, though Giles pitched well down the stretch, erasing any questions about his physical condition. Giles posted a 1.87 ERA in 53 appearances for the season, bouncing back from a difficult 2018 campaign. He earned $6.3 million last season and is entering his final year of arbitration eligibility, so Toronto might choose to get something for him now rather than waiting for the summer Trade Deadline.
Orioles: Jonathan Villar, 2B
Villar just had his best season since 2016, posting a .792 OPS with 24 home runs, 73 RBIs and 40 stolen bases. He earned $4.825 million in '19 and is arbitration eligible for the third and final time this offseason, so GM Mike Elias should be able to flip him for some young talent as the Orioles enter Year Two of their rebuild.
Rays: Nate Lowe, 1B
Lowe showed some promise during his rookie year, posting a .779 OPS with seven home runs in 169 plate appearances, but the 24-year-old might be viewed as expendable if the Rays can fill a need (catcher, bullpen) in a trade. Ji-Man Choi should return as the first baseman, though the fate of Jesús Aguilar -- a potential non-tender candidate -- could be the determining factor in Lowe's future in Tampa Bay.
Red Sox: Jackie Bradley Jr., CF
What, you expected to see Mookie Betts in this spot? Chaim Bloom has the difficult task of paring the Red Sox payroll below the luxury tax threshold, a process that was made a little more difficult after J.D. Martinez chose not to opt out of the final three years and $62.5 million of his contract. Betts will certainly be one of the most talked-about trade candidates this winter, but with his salary expected to be somewhere in the $27 million to $30 million range and with the Red Sox likely asking for a prospect-heavy package, he won't be easy to move. Bradley earned $8.55 million last season, setting him up for an eight-figure salary in his fourth and final year of arbitration. With no center fielders of note on the free-agent market, the Red Sox could command a solid return for a full year of JBJ and possibly cut some payroll -- which ownership has said it wants to do -- in the process.
Yankees: Clint Frazier, OF
Frazier proved that he can hit big league pitching in 2019, knocking 12 home runs with an .806 OPS in 246 plate appearances. But the 25-year-old rubbed some people the wrong way at times, which could have played a role (along with his defense) in the Yankees' decision to keep him at Triple-A from mid-June through Sept. 1. Frazier is still a talented young player with great upside, but the Yankees have a crowded outfield (they're expected to bring Brett Gardner back on a one-year deal to offset Aaron Hicks' recovery from Tommy John surgery), which could lead to Frazier being shipped out of New York, possibly for pitching help.
AL CENTRAL
Indians: Francisco Lindor, SS
Lindor will be a popular name on the trade market this offseason, and if the Indians are serious about moving him, there will be no shortage of teams lining up with bids for the four-time All-Star shortstop. Lindor made $10.85 million in 2019, his first arbitration-eligible season. That figure should jump significantly this year, but with two years of club control remaining, the Indians would be able to land a huge package of prospects/players if they were to trade him, even with the potential of a $300 million free-agent deal coming down the pike.
Royals: Ian Kennedy, RHP
Kennedy did a solid job closing for the Royals in 2019, successfully converting 30 of 34 save opportunities with a 3.41 ERA. The right-hander could help a contending team in the bullpen, though the Royals would need to pay down part of his $16.5 million salary if they have any chance of moving the soon-to-be 35-year-old.
Tigers: Matthew Boyd, LHP
The Tigers were taking offers for Boyd throughout the summer, but ultimately held on to the left-hander at the Trade Deadline. His numbers aren't overwhelming -- he had a 4.56 ERA and allowed a league-high 39 homers in 185 1/3 innings in 2019 -- but he's entering the second of three arbitration-eligible seasons, having earned $2.6 million this year, so the two years of club control will make him appealing to many teams.
Twins: Eddie Rosario, OF
Rosario has proven himself to be a power source, slugging 32 homers in 2019 after hitting 51 over the previous two seasons. He earned $4.19 million last season and has two arbitration-eligible years of club control, and while his defense is below average, he can fill a left-field spot for a team in need of offense. The Twins, who have several stopgap options that could step in for Rosario, will be in search of starting pitching this offseason.
White Sox: Alex Colomé, RHP
Colomé had a solid debut season in Chicago, yet the closer still might find himself playing for his fourth team since the start of 2018. The right-hander had 30 saves and a 2.80 ERA in '19, and while the White Sox opted not to move him at the Trade Deadline, he earned $7.325 million last year and will be due a raise in his final year of arbitration eligibility.
AL WEST
Astros: Josh Reddick, RF
Reddick is entering the final year of his four-year, $52 million deal with Houston, so the Astros might need to pay down some of his salary in a trade. George Springer, Michael Brantley and Jake Marisnick are all slated to return, and the Astros would love to see Kyle Tucker seize the right-field job.
Angels: Brandon Marsh, OF
Marsh, ranked by MLB Pipeline as the Angels' No. 2 prospect, is very athletic and can play all three outfield positions. With Mike Trout signed through 2030, Justin Upton under contract through '21 and top prospect Jo Adell racing toward the Majors, Marsh is expendable. If the Angels can move him as part of a package for some pitching, it would make sense.
Athletics: Mark Canha, OF
Canha hit a career-high 26 home runs while posting an impressive .913 OPS -- which was 185 points higher than his career average entering the season -- in 126 games for Oakland. He earned $2.05 million in his first year of arbitration, leaving two more years of club control for the Athletics to dangle in potential trade talks. Canha can play all three outfield positions as well as first base, making him an attractive player to many teams.
Mariners: Domingo Santana, OF/DH
The Mariners would probably love to trade Dee Gordon, but with his $13.8 million salary for 2020 and a $1 million buyout of his $14 million option for '21, GM Jerry Dipoto would have to pay down a significant portion of that contract to find a taker. Santana, on the other hand, earned just $1.95 million in his first year of arbitration, and after hitting 21 homers with a .770 OPS in 121 games, the 27-year-old should have some value with two years of club control remaining.
Rangers: Nomar Mazara, OF
The Rangers have some highly touted outfield prospects on the way (Leody Taveras, Bubba Thompson), not to mention a roster that already includes Willie Calhoun, Delino DeShields, Joey Gallo and Shin-Soo Choo, leaving Texas with myriad options. Mazara hit 19 homers in 116 games after slugging 20 in each of his first three seasons, while his .786 OPS was a career high. He earned $3.3 million in his first year of arbitration and is under club control for two more seasons.
NATIONAL LEAGUE EAST
Braves: Austin Riley, 3B/LF
Riley's future in Atlanta might depend on the Braves' success in re-signing Josh Donaldson this winter. But even if Donaldson leaves, the Braves will surely get interest in Riley, who slugged 18 homers in 80 games as a rookie. Atlanta wants to bring in a big arm but seems to be hesitant to move outfielders Cristian Pache and Drew Waters, the club's top two prospects. Johan Camargo would be third base insurance if Riley is dealt and Donaldson signs elsewhere.
Marlins: José Ureña, RHP
Ureña was Miami's Opening Day starter in each of the past two years, but a herniated disk and a move to the bullpen resulted in a disappointing 2019 campaign. The right-hander earned $3.2 million in his first year of arbitration, so the Marlins might try to move him with two years of club control remaining rather than pay him $4 million or more in '20.
Mets: J.D. Davis, LF/3B
Davis thrived at the plate in 2019, belting 22 home runs with an .895 OPS in 140 games, but he is below average at both third base and left field, two positions for which the Mets have alternatives (Jeff McNeil/ Brandon Nimmo in left field and Jed Lowrie/McNeil at third base). Davis, who probably fits better on an AL club, is a logical sell-high candidate who should be valuable enough to land a useful pitcher in return.
Nationals: Michael A. Taylor , CF
The starting outfield of Juan Soto, Victor Robles and Adam Eaton returns next season, and while Taylor is a solid fourth outfielder who can play all three positions, he earned $3.25 million last season and is due a raise in his third and final year of arbitration eligibility. The Nationals are going to try to retain both Stephen Strasburg and Anthony Rendon, so saving a few million here and there might be in Washington's best interest.
Phillies: Vince Velasquez, RHP
The Phillies are looking to upgrade their rotation this offseason, likely by importing a veteran starter or two. That means at least one of the youngsters -- Velasquez, Zach Eflin and Nick Pivetta -- could be moved in a trade to bolster another area of the roster. Eflin was the best of the bunch and should earn another shot in 2020, but Velasquez's stuff still impresses scouts, and his strikeout numbers (10 per nine innings) give him value. Velasquez, who earned $2.249 million in his first year of arbitration, is under club control for two more years.
NL CENTRAL
Brewers: Orlando Arcia, SS
Arcia is a stellar defender with a low-impact bat, so the Brewers would have to find a team looking for a glove-first shortstop -- albeit one with three years of club control who is just entering his first year of arbitration -- to find a trade partner. With Didi Gregorius and José Iglesias among the shortstops on the free-agent market, Milwaukee could upgrade at the position with a more well-rounded player.
Cardinals: Tyler O'Neill, OF
The Cardinals weren't ready to trade either O'Neill or Harrison Bader last summer, but both players saw reduced playing time in the second half. O'Neill has intriguing power and is solid in the outfield, but even if the Cardinals lose Marcell Ozuna to free agency, they have alternate options including Tommy Edman and José Martínez, not to mention their No. 1 prospect, Dylan Carlson, knocking on the door. The 24-year-old O'Neill could be part of a package to land some pitching for St. Louis.
Cubs: Kyle Schwarber, LF
Schwarber had his most productive year as a pro, belting 38 home runs with an .871 OPS in 155 games. But his defensive skills still suggest his future is as a designated hitter, making a trade to the AL team the logical move. Schwarber earned $3.39 million last year, his first arbitration-eligible season, and with two years of club control remaining, he should bring back a nice haul of prospects or big league talent.
Pirates: Starling Marte, OF
Marte posted his finest all-around season in his age-30 campaign, hitting 23 home runs with 25 stolen bases, 97 runs scored and an .845 OPS in 132 games. Marte will earn $11.5 million in 2020 after having his club option exercised, while his contract contains another club option for '21 worth $12.5 million. The Pirates' new GM -- reportedly Ben Cherington -- has a major rebuilding effort ahead, though Marte would likely bring back a solid package of prospects.
Reds: Raisel Iglesias, RHP
Iglesias was a little more hittable in 2019 than his first two years as the Reds' closer, though he still managed to save 34 games while striking out a career-high 12 batters per nine innings. The right-hander -- who was a popular name on the rumor mill before last summer's Trade Deadline -- is entering the second year of a three-year, $24.125 million pact that will pay him $9 million in '20 and $9.125 million in '21. The Reds are hoping to contend next season, so if they move Iglesias, it would likely be with an eye toward adding Major Leaguers, not prospects.
NL WEST
D-backs: Robbie Ray, LHP
Ray was on the trade block last summer, but Arizona opted to hang onto the left-hander at the Trade Deadline. Ray had some second-half struggles, posting a 4.91 ERA after the break, nearly a full run higher than his 3.96 first-half mark. Ray earned $6.05 million last season, his second of three arbitration-eligible years, so the D-backs could move him for his final year of club control to get assets for him, rather than waiting for next summer's Deadline or losing him to free agency.
Dodgers: Joc Pederson, OF
Pederson recorded career highs with 36 home runs, 74 RBIs, 83 runs scored and an .876 OPS, matching a personal best with a 3.3 Baseball-Reference Wins Above Replacement. He still struggles badly against lefties (.505 OPS, one RBI in only 50 plate appearances), but dominates right-handed pitching despite some inconsistency at times. Pederson earned $5 million last season, his second of three arbitration-eligible years, so he'll be due a raise in 2020, likely in the $8 million to $10 million range. With one year of club control and a crowded outfield (2019 NL MVP Cody Bellinger, A.J. Pollock, Alex Verdugo are all returning), Pederson could be a perfect trade chip for the Dodgers to dangle.
Giants: Brandon Belt, 1B
Belt has two years and $34.4 million remaining on his contract, so he won't be easy to move unless the Giants take a big contract back or eat some of Belt's salary. He has a partial no-trade clause, so he can block deals to 10 teams, but Belt, who turns 32 in April, might benefit from a change of scenery. For the Giants, trading Belt would open first base for Buster Posey, who is blocking their top prospect, Joey Bart, from assuming full-time catching duties.
Padres: Wil Myers, OF
The Padres boast a righty-heavy lineup, so they'll be seeking a left-handed bat or two in the outfield this offseason to balance things out. Myers has $67.5 million in guaranteed money coming his way over the next three seasons, so San Diego would certainly have to eat a chunk of that contract -- and possibly include a prospect or two -- in order to move him.
Rockies: Daniel Murphy, 1B
Outfielder Charlie Blackmon would be the pick here if not for his contract, which will pay him $43 million over the next two years (plus a 2021 player option for $21 million and a $10 million player option for '22). Murphy will earn $8 million in '20, the second year of his two-year, $24 million deal, though there's a $12 million mutual option that includes a $6 million buyout. Given Murphy's defensive limitations, he might fit best with an AL team that could use him at first base and DH.
Mark Feinsand, an executive reporter, originally joined MLB.com as a reporter in 2001.