Revisiting MLB's strangest injuries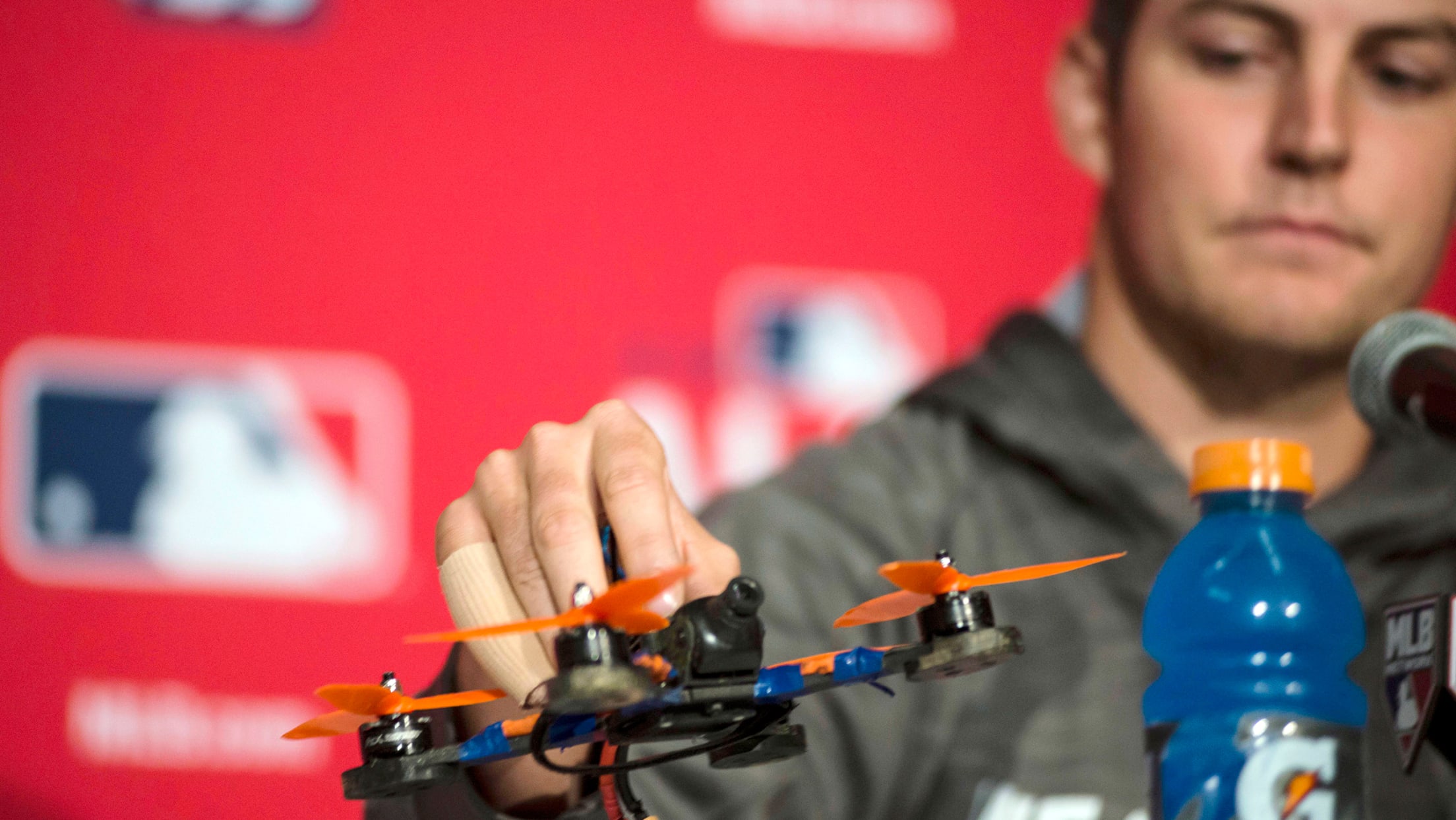 Every Major Leaguer wants to stay on the field, but injuries happen -- and some are far stranger than others. For every injury that happens on the field during a game, in practice or in a workout session, there's another that occurs off the field, sometimes in bizarre circumstances. And
Every Major Leaguer wants to stay on the field, but injuries happen -- and some are far stranger than others.
For every injury that happens on the field during a game, in practice or in a workout session, there's another that occurs off the field, sometimes in bizarre circumstances. And really, even some of the freak injuries that do happen on the diamond have nothing to do with the game action itself.
Crazy injuries have affected players from every part of the game, from little-used relief pitchers to some of the greatest legends of the sport. MLB.com is taking a look at some of the craziest, in reverse chronological order.
2020: José Quintana, Cubs
Household chores can be hazardous to your health. Just ask Quintana, a durable left-hander who was one of only four MLB pitchers to make at least 30 starts each season from 2013-19. Shortly before the Cubs were set to report for Summer Camp following the COVID-19 shutdown, Quintana was washing dishes at his home in Miami when he sustained a laceration on his left thumb that required five stitches.
Quintana also underwent microscopic surgery, which determined that he had lacerated the digital sensory nerve in his thumb. The setback delayed his throwing program for two weeks and threw his availability for the shortened 2020 season in doubt.
2019: Hunter Strickland, Nationals
Knocked out by a barbell? In Strickland's case, yes. The right-handed reliever, who had been very good for Washington since the Nationals acquired him from the Mariners on July 31, had a barbell drop on him and break his nose while he was doing hip exercises in a squat rack at PNC Park. He attached a mobility cord to the barbell to hold it steady as he worked, but that, well, didn't work.
Nats medical staff was on the scene quickly and found that it was a clean break, and therefore Strickland, with his 1.29 ERA over eight outings for Washington at the time, could continue to pitch.
2019: Carlos Correa, Astros
What started out as rib cage soreness keeping Correa out of the lineup for a few days at the end of May turned out to be a fractured rib for the Astros star shortstop. The cause? A massage gone wrong.
"I sustained the rib fracture during a massage at my home on Tuesday," Correa said in his statement on the injury. "To sustain an injury in such an unusual way makes it even more frustrating. However, I will work hard to get back on the field as quickly as possible to help our team achieve our goal of winning another championship."
2019: Yoenis Céspedes, Mets
The Mets' star outfielder had his comeback from twin surgeries to remove calcification from both heels derailed by a freak injury suffered on his ranch in Port St. Lucie, Fla. Céspedes fractured his right ankle when he suffered a "violent fall" and twisted his ankle in a hole, Mets general manager Brodie Van Wagenen reported to a shocked New York media corps in a Citi Field press conference. Months later, the New York Post reported that Céspedes suffered the injury during an interaction with a wild boar. Seriously.
The accident spurred the Mets to restructure Céspedes' contract, reducing the guaranteed portion of his 2020 salary from $29.5 million to just $6 million, with Céspedes able to earn some of that money back via playing time incentives.
2019: Blake Snell, Rays
Snell was coming off his first American League Cy Young Award and looked well on his way toward contending for another one (2.16 ERA, 36 strikeouts across his first four starts of '19) before he fractured his right fourth toe while trying to move a granite stand in his bathroom. The Rays left-hander didn't realize that the stand had three parts and the pole fell on his toe as he was moving the large part of the stand. Though Snell was scheduled to miss just one start because of the injury, this decorative piece of furniture seemingly caused more harm to the ace than any opposing lineup over the previous calendar year.
2018: Shawn Kelley, A's
Roughly a month after he was traded to Oakland, and within the confines of a new apartment that had appliances he wasn't totally familiar with, Kelley sliced the tip of his right thumb -- the part of his hand where he releases the ball on delivery -- on a sharp knife while washing dishes. Kelley added that it was no ordinary kitchen accident, as blood drew immediately and his thumbnail was perhaps the only thing that kept him from slicing the top of his thumb off.
2018: Salvador Perez, Royals
Only two days before Opening Day, the Royals announced that their star catcher would miss four to six weeks with a Grade 2 tear of the MCL in his left knee. But Perez, who entered 2018 having started the most games of any catcher since his first full season in 2013, didn't hurt himself on the field. He fell carrying luggage up a flight of stairs at his home in Kansas City.
2017: Madison Bumgarner, Giants
The Giants ace missed nearly two months of the 2017 season after a dirt-bike accident during one of the team's scheduled off-days in Denver. Bumgarner, who'd been riding dirt bikes his whole life, rented a bike with a couple of relatives and went out riding in the mountains. He bruised some ribs and sprained his pitching shoulder in the crash.
2016: Trevor Bauer, Indians
One of the most memorable images of the 2016 postseason was Bauer's pitching hand dripping blood on the mound in the American League Championship Series. How did it get to that point? An unfortunate run-in with his drone. The Indians pitcher cut his right pinkie finger repairing the drone, when he was sliced by the propellers. He tried to give it a go in Game 3 of the ALCS, but his stitches opened in the first inning and he had to leave the game because of the bleeding.
2011-15: Jeremy Affeldt, Giants
Affeldt had a string of freak injuries. First, the left-handed reliever cut his hand while trying to separate frozen hamburger patties for a barbecue in September 2011. The next season, in May 2012, Affeldt sprained his right knee when his 4-year-old son jumped into his arms. Then in August 2015, Affeldt partially dislocated his left knee while playing with his kids on an off-day at Loon Lake near his offseason home of Spokane, Wash.
2010: Kendrys Morales, Angels
In a joyous moment that quickly turned into cause for concern, Morales belted a walk-off grand slam to lift the Angels over the Mariners on May 29, but broke his left ankle in the celebration at home plate. He would not only miss the rest of the 2010 season, but also all of the 2011 season after setbacks in his attempted return to action. Morales has nonetheless had productive seasons since, posting an .821 OPS with 52 homers from 2015-16 for the Royals before his OPS dropped to .753 in 2017.
2006: Joel Zumaya, Tigers
During Zumaya's rookie season, the 100 mph-throwing right-hander injured his right wrist while playing the popular video game Guitar Hero and missed three games. Nevertheless, the 22-year-old ended up appearing in 62 games with a 1.94 ERA and 10.5 strikeouts per nine innings. And on the Xbox 360 version of Guitar Hero 2, Zumaya got a special message in the credits, which read: "No pitchers were harmed in the making of this game. Except for one. Joel Zumaya. He had it coming."
2005: Clint Barmes, Rockies
In June 2005, Barmes fell and broke his collarbone while trying to carry a package of deer meat given to him by teammate Todd Helton. Barmes and Brad Hawpe had visited Helton's ranch after a game against the Reds, after which Helton treated them to dinner. Barmes liked the deer meat so much that Helton gave him some to take home. The injury required surgery and Barmes missed almost three months.
2004: Sammy Sosa, Cubs
Sosa slugged 609 career home runs and was part of the legendary home run race with Mark McGwire in 1998, but this might have been the strangest moment of his career. In May 2004, Slammin' Sammy sneezed so hard that he sprained a ligament in his lower back. The two violent sneezes, apparently caused by back spasms, sent Sosa to the DL.
2002: Marty Cordova, Orioles
Cordova had an unfortunate run-in with a tanning bed in 2002. To be exact: The former Rookie of the Year fell asleep in one and sunburned his face. Doctors told Cordova he should stay out of the sun as much as possible while the burn healed, so he had to miss a few games. Day games only.
1994: Steve Sparks, Brewers
One of the classic feats associated with the strongman is tearing a telephone book in half. Well, Sparks decided to try that for himself during Spring Training in 1994, when he was a 28-year-old knuckleballer who had not yet pitched in the Majors. His journey was delayed when he dislocated his left shoulder trying to rip apart the phone book. But Sparks did eventually make it to the big leagues, and he pitched nine seasons in his career.
1993: Rickey Henderson, Blue Jays
Henderson missed three games in August 1993 with frostbite on his left foot because he left an ice pack on the foot too long. Yes, that's right -- frostbite in August. Major League Baseball's all-time stolen base king would continue to burn up the basepaths himself, swiping a Major League-record 1,406 bags in his 25-year Hall of Fame career.
1990: Glenallen Hill, Blue Jays
Hill went on the disabled list in 1990 after falling through a glass table, resulting in cuts and bruises to his feet, knees and elbows. What caused the fall? Hill had just woken up from a nightmare about spiders chasing him -- he was afraid of spiders -- and in his confused state, he fell through the table.
1985: Vince Coleman, Cardinals
Prior to Game 4 of the 1985 National League Championship Series between the Cardinals and Dodgers, Coleman was run over by Busch Stadium's automatic tarpaulin, injuring his leg. The tarp machine was rolling out as rain began to fall during batting practice. The 24-year-old speedster was a big reason St. Louis had reached the NLCS, having stolen 110 bases en route to winning that year's NL Rookie of the Year Award. He would miss the remainder of the series, though the Cardinals would eventually win it to advance to the World Series, which they lost to the Royals in seven games.
1983: George Brett, Royals
Even Hall of Famers aren't immune to strange injuries. On June 7, 1983, Brett was at home in Kansas City doing laundry. In the other room, the Cubs' game was on television. Brett heard the announcer saying Bill Buckner -- his good friend -- was coming to the plate, and he didn't want to miss the at-bat. While running to the TV room, he smashed his foot on the door jamb and broke his pinkie toe. He had to go on the DL.
1936: Joe DiMaggio, Yankees
Joltin' Joe hadn't even played his first Major League game when the crazy injury bug bit him. After a minor foot injury in Spring Training, DiMaggio went for treatment using something called a diathermy machine, a heating device used in sports medicine. But the machine was too hot, and DiMaggio burned his foot, which emerged red and blistered. It took about two weeks to heal, and then his Hall of Fame career began.