White Sox Hot Stove plan: Less talk, more action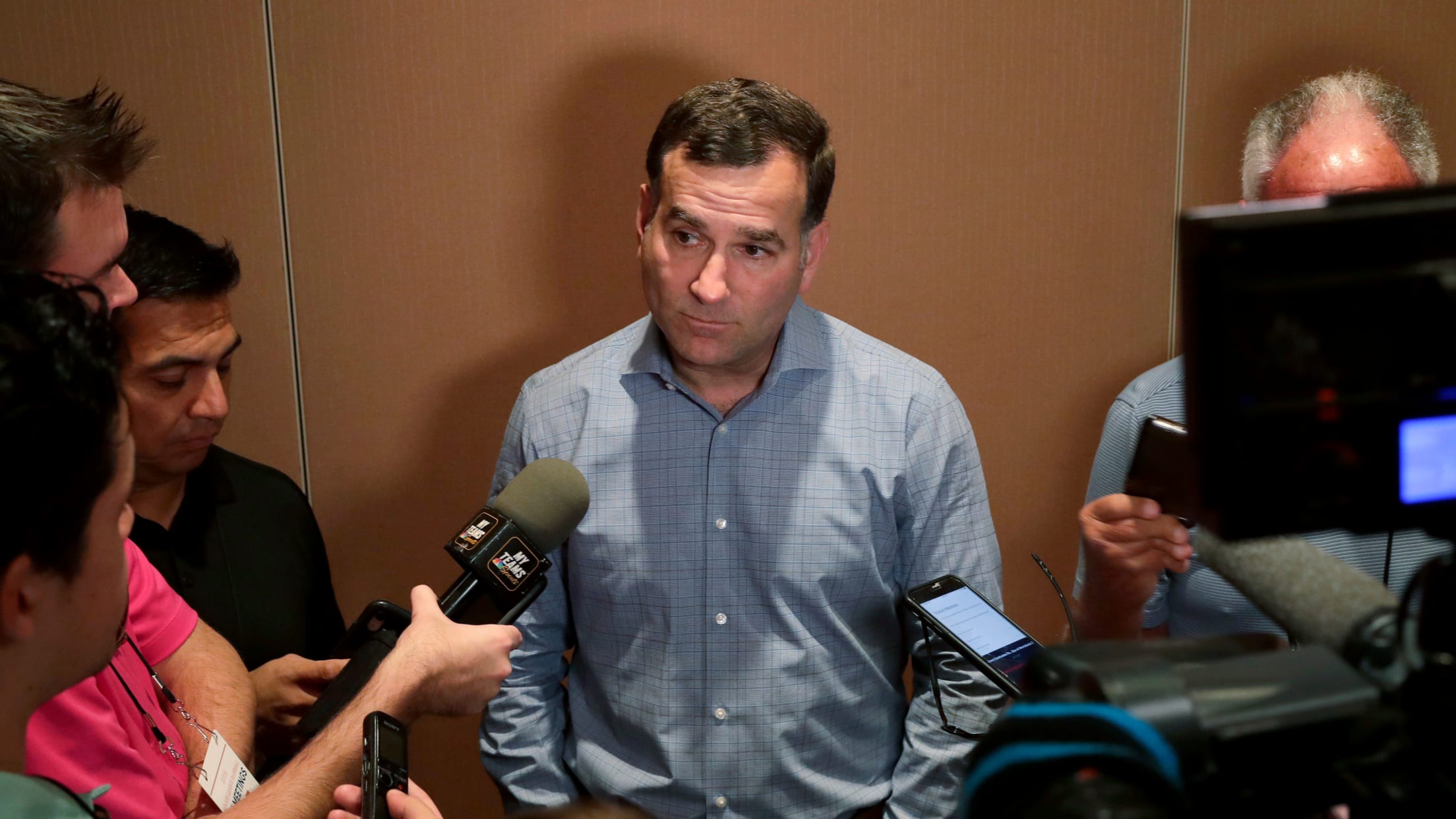 CHICAGO -- Rick Hahn didn't talk in specifics regarding the White Sox free-agent or trade targets during Tuesday's media session at the General Managers Meetings in Scottsdale, Ariz. And those words actually represented exactly what White Sox fans wanted to hear. "In the end, it's kind of my experience people
CHICAGO -- Rick Hahn didn't talk in specifics regarding the White Sox free-agent or trade targets during Tuesday's media session at the General Managers Meetings in Scottsdale, Ariz.
And those words actually represented exactly what White Sox fans wanted to hear.
"In the end, it's kind of my experience people aren't too interested, maybe outside this room, people aren't too interested in hearing about the labor," the White Sox GM told reporters. "They want to see the baby.
"If we wind up converting on any of these potential free-agent targets or via trade, then we will happily go into great detail about how it came to be. Until we have a closed deal to talk about, not too much to say along those lines."
Along with gradual talent development, the South Siders' rebuild has been filled with positive talk since it unofficially began at the 2016 Winter Meetings with the Chris Sale trade to Boston bringing back third baseman Yoán Moncada and right-hander Michael Kopech at the center of a four-player return.
There's been talk about the tremendous upside possessed by these young players. There's been talk about gradually creating a young core to do as much self-sustaining as possible.
There's been talk about better days ahead for this talented young team. There's even been talk of multiple championship parades at the end of the rebuild road. It's talk accepted by an encouraged fan base, which has been equally accepting of a 201-284 mark over the past three seasons. It's all part of the process.
That talk now needs to be replaced by action moving into 2020 with a potentially winnable American League Central in the South Siders' focus.
Simply put, the White Sox must convert on their top offseason target. The team is looking for help in right field, at designated hitter and via a couple of starting pitchers, so it will be working beyond one move, but seemingly everything falls into place after hitting on that top priority.
It's an easier task to state than actually enact. Some free agents have certain geographical preferences, and some might want to go to a team closer to contending than a White Sox crew coming off a 72-89 season.
That top White Sox target doesn't have to be right-hander Gerrit Cole or third baseman Anthony Rendon, both of whom would help any team take a big step forward. But whether it's catcher Yasmani Grandal or righty Zack Wheeler, as two free-agent examples, or maybe a major trade acquisition leading Hahn to dip into this youthful base, the White Sox need to make it happen.
• Latest Hot Stove news and rumors
They have put themselves in great position for the 2020 season, with just under $15 million committed currently to payroll, and have the same favorable payroll layout now for the next four seasons. The team also has Lucas Giolito coming off a breakout campaign on the mound, Tim Anderson winning the AL batting title and Moncada asserting himself as an all-around standout. Let's not forget the impending promotions of top prospects like outfielder Luis Robert and second baseman Nick Madrigal and the healthy return of Kopech, who had Tommy John surgery in September 2018.
Hahn has rightfully tempered expectations for '20, not knowing presently what the White Sox will have in February in Arizona. It's a waiting game with the White Sox certain to be mentioned in connection to a plethora of players, even ones they might not be interested in, because they almost never address rumors.
White Sox fans don't want the rumors. They don't want a seat at the proverbial table. They want to see players putting on White Sox jerseys behind a table at a news conference in the Guaranteed Rate Field Conference and Learning Center after joining the organization. They are ready to win, much like manager Rick Renteria, the players and the entire front office.
Coolbaugh joins White Sox staff
Scott Coolbaugh was named assistant hitting coach by the White Sox on Tuesday. He will work with hitting coach Frank Menechino, who was named to that position on Oct. 10.
Coolbaugh, 53, served as the hitting coach for Triple-A Oklahoma City in the Dodgers' organization last season. The native of Binghamton, N.Y., was the hitting coach for the Baltimore Orioles from 2015-18.