Yankee Stadium ready to host Badgers, Canes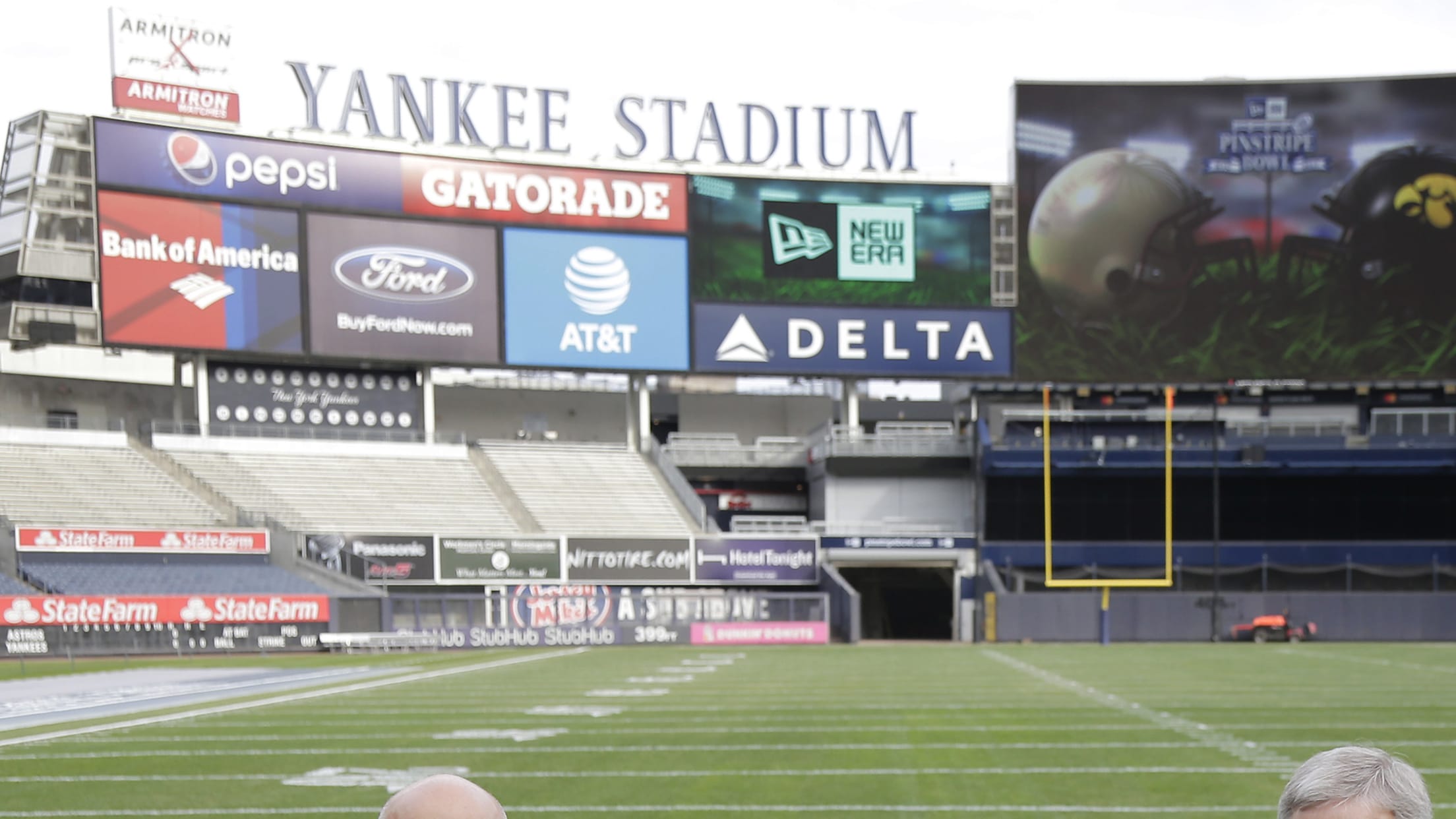 Boston College head coach Steve Addazio, left, and Iowa head coach Kirk Ferentz pose for a picture on the field at Yankee Stadium in New York, Tuesday, Dec. 5, 2017. The Pinstripe Bowl, which will feature the two schools, will be played in Yankee Stadium on Dec. 27, 2017. (AP Photo/Seth Wenig) (Seth Wenig/AP)
NEW YORK -- Long before the first shovels were pushed into what was then a section of Macombs Dam Park, George M. Steinbrenner dreamed of a day when a new Yankee Stadium could be used not only by his baseball team, but to host world-class college football on an annual
NEW YORK -- Long before the first shovels were pushed into what was then a section of Macombs Dam Park, George M. Steinbrenner dreamed of a day when a new Yankee Stadium could be used not only by his baseball team, but to host world-class college football on an annual basis.
The infield dirt has given way to a gridiron and goalposts, and as the University of Wisconsin and the University of Miami prepare to face off at Yankee Stadium on Dec. 27, team president Randy Levine said that "The Boss" would be proud of what the New Era Pinstripe Bowl has become.
"I think it's going to be fun; it's going to be a great game," Levine said. "To have, in one year, Notre Dame, Syracuse, Wisconsin and Miami, playing college football in your stadium -- it makes a statement that this is a real venue for college football."
• Learn more about the 2018 Pinstripe Bowl
Notre Dame and Syracuse met in The Bronx last month, with the Fighting Irish dispatching the Orangemen, 36-3. The 2018 Pinstripe Bowl will present a rematch of last year's Orange Bowl, in which Wisconsin defeated Miami, 34-24.
"It's rare to play anybody back-to-back in bowls," said Miami head coach Mark Richt. "When you play Wisconsin, you're playing a great team, a team that is used to winning. We're used to winning, too. I think the media will be trying to talk about payback, but I think our guys will just be excited about the experience and the chance to play a great team."
This year's game will be nationally televised by ESPN and broadcast by ESPN Radio. Special events, promotions and community outreach will take place throughout the week of the Pinstripe Bowl, with scheduled visits to such landmarks as One World Observatory, the 9/11 Memorial, the New York Stock Exchange, Radio City Music Hall and more. The Stadium will surely serve as its own draw.
"It takes 63 employee days to convert the field from baseball to football, from removing the skin to putting down different turf," said COO Lonn Trost. "Putting in goalposts and netting, it's a major undertaking. You have to change the suites for the coaches, for broadcasting. Everything we do has a mind to be a multivenue facility."
In his fourth year at Wisconsin, head coach Paul Chryst guided the Badgers to their 17th consecutive bowl game appearance, the longest active streak in the Big Ten. Wisconsin finished the regular season with a 7-5 record (5-4, Big Ten), and will be making its first appearance in the Pinstripe Bowl and at Yankee Stadium. Under Chryst's leadership, Wisconsin is 3-0 in bowl games.
"We've got a few players on our roster from this area, but a lot have never been here," Chryst said. "New York is that city that you see in the movies. You feel like you've been here, even though you haven't. You're talking about playing in Yankee Stadium. We know we're playing football, but it's still one of those iconic stadiums."
Averaging 268.4 rushing yards per game, Wisconsin sports the Big Ten's top running attack and ranks seventh nationally. Sophomore running back Jonathan Taylor, a New Jersey native, leads the nation with 1,989 rushing yards and is tops in the Big Ten with 15 rushing touchdowns.
"We all know the class that the Yankees have exuded and what they represent," said Wisconsin's director of athletics, Barry Alvarez. "To have our players experience New York City and see what the Yankees are all about, it's truly special."
Richt is in his third season at Miami, having guided his alma mater to a 7-5 record (4-4, ACC) this season. The Hurricanes will be making their sixth consecutive bowl game appearance and first appearance in both the Pinstripe Bowl and at the current Yankee Stadium. The Hurricanes played once at the original Yankee Stadium, in the 1962 Gotham Bowl, losing to Nebraska, 36-34.
This season, Miami's passing defense is ranked first nationally, allowing 140.8 yards per game, while the entire unit ranks second in total defense (268.3 yards per game). Miami sports a balanced attack on offense, with the team rushing for 2,368 yards and passing for 2,127 yards.
"To have this opportunity here with the greatest organization in sports, the Yankees, everything is going to be first class," said Blake James, Miami's director of athletics. "To be in New York City over the Christmas holiday is going to be a great experience. We have so many alums and fans in the area. We're looking forward to being up here and taking it all in."