Solarte in No. 2 slot makes a lot of sense
Statistically, it's where the switch-hitter has had most success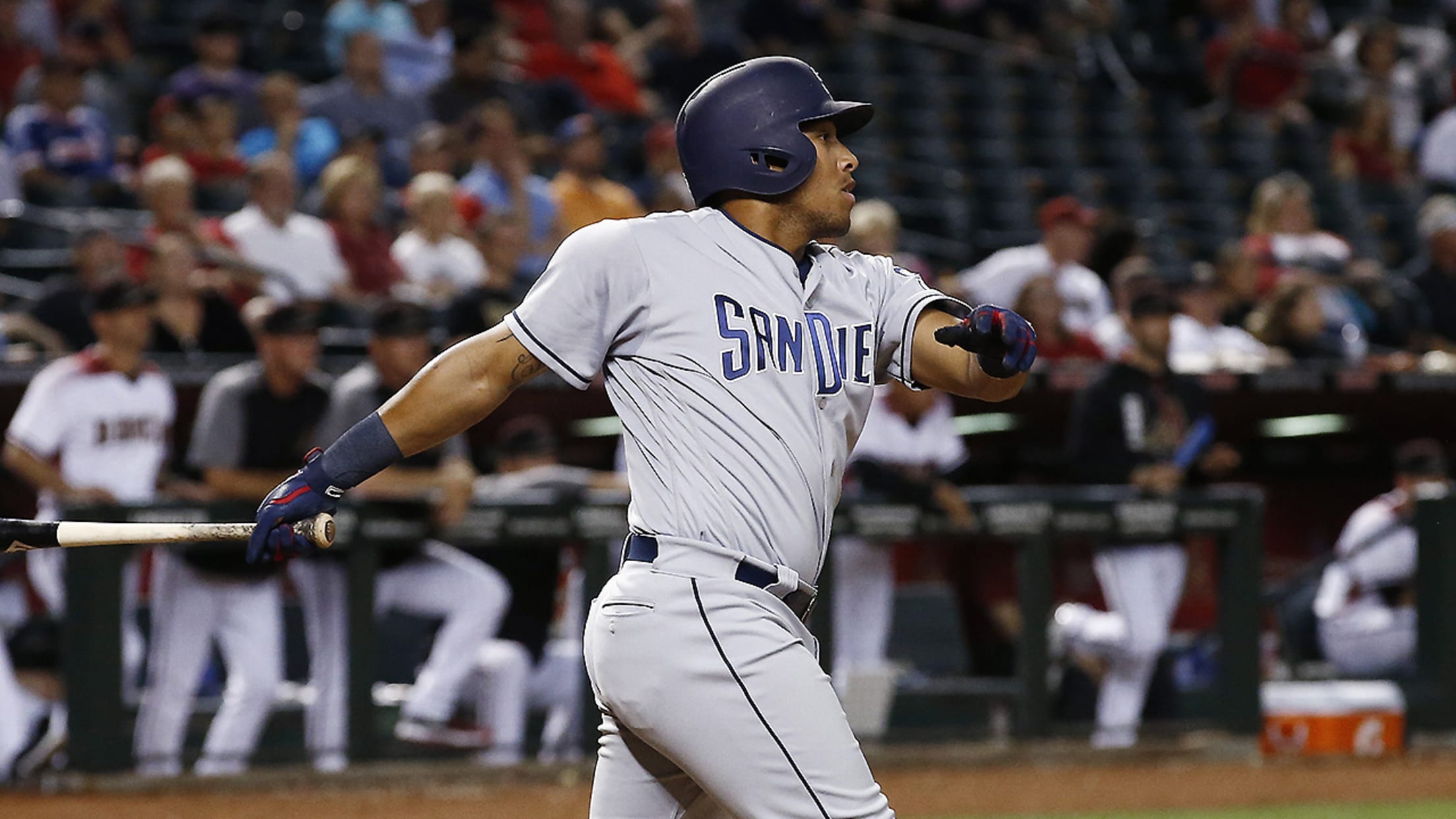 (Ross D. Franklin/AP)
Bill Center, longtime sportswriter for U-T San Diego, is an employee of the Padres.Yangervis Solarte was in a prolonged slump Tuesday when manager Andy Green moved him from the cleanup spot to the second spot in the Padres' batting order. The switch-hitter responded by going 2-for-3 with a walk. Until Tuesday, Solarte
Bill Center, longtime sportswriter for U-T San Diego, is an employee of the Padres.
Yangervis Solarte was in a prolonged slump Tuesday when manager Andy Green moved him from the cleanup spot to the second spot in the Padres' batting order.
The switch-hitter responded by going 2-for-3 with a walk.
Until Tuesday, Solarte had gone 6-for-49 (.122) since May 5 with a .189 on-base percentage -- a drought that had plunged his batting average from a respectable .282 to .226.
Coincidence?
Probably.
But over the course of his Major League career, Solarte has hit better in the No. 2 slot than any other position in the batting order. He has a career .320 batting average (89-for-278) in 70 games in the No. 2 position with 14 homers, three triples, nine homers, 39 RBIs and 38 runs scored.
His other numbers are also strong in the second slot -- a .380 on-base percentage with a .489 slugging percentage for a .869 OPS.
Solarte's career average in the No. 4 spot is .272. He is a .226 hitter when batting third in the order.
Tuesday marked the first time this season that Solarte hit in the No. 2 slot. Last season, he hit in the second slot twice and went 3-for-9 with a homer.
The problem with hitting Solarte in the second slot is that the Padres really don't have a viable alternative for the cleanup slot until left fielder Alex Dickerson is ready to return -- hopefully, by the middle of next month.
NOTE WORTHY
• Miguel Diaz has worked 7 1/3 innings over four appearances since May 9 and has allowed one run on five hits and five walks with five strikeouts. That's quite a step forward for the Rule 5 Draft pick, who had been scored on in nine of his 10 previous outings (17 runs total in 11 innings) before the Padres slowed his work pace to work on his delivery and approach. Over his last four appearances, Diaz's ERA has dropped from 10.67 to 7.48.
• Craig Stammen has pitched 3 1/3 innings twice in the last four games after Jered Weaver and Jhoulys Chacin couldn't get out of the first. He has allowed three runs on six hits, including three homers, and no walks in the 6 2/3 innings with nine strikeouts. He has thrown a total of 107 pitches in the two outings.
• Hunter Renfroe is 5-for-8 with three doubles, a RBI and two runs scored in his last two games.
• Ryan Schimpf has homered in back-to-back games and is 4-for-11 with two homers, three RBIs and three runs scored with four walks in a four-game hitting streak. Schimpf was in the cleanup slot Tuesday when Solarte was second in the order. Schimpf's homers in the last two games were his first since May 8. Four of his 11 homers this season have come against left-handed pitchers.