7 Hot Stove blockbusters to dream of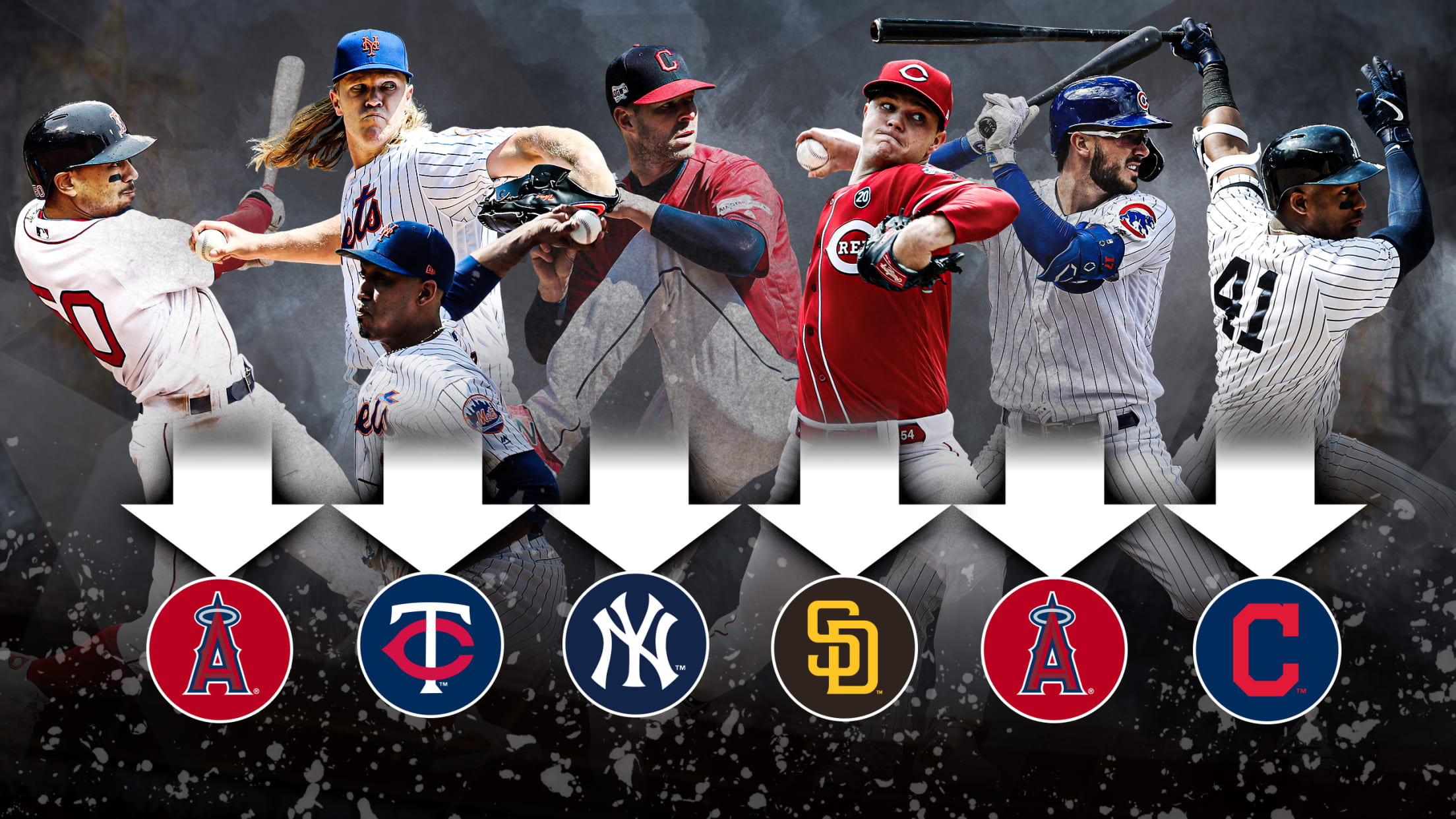 Black Friday has come and gone, but it brought a rush of holiday shoppers searching for the best deals. Major League general managers have been known to get in on the action, lighting up the Hot Stove with some blockbuster trades on the notorious day of shopping. With that in
Black Friday has come and gone, but it brought a rush of holiday shoppers searching for the best deals. Major League general managers have been known to get in on the action, lighting up the Hot Stove with some blockbuster trades on the notorious day of shopping.
With that in mind, MLB.com wanted to get a jump on a holiday wish list. The result was a handful of our writers and reporters proposing blockbusters of their own.
Will GMs fulfill these requests? Well, these are wishes -- not predictions. But logic was a factor, in addition to fun and excitement.
Without further ado, here are seven huge deals we'd like to see:
Thor goes north in Mets' 8-player megaswap with Twins
Mets get: CF Byron Buxton, 3B/1B Miguel Sanó, RHP Brusdar Graterol (MLB's No. 53 prospect), RHP Jorge Alcala (Twins' No. 22 prospect)
Twins get: RHP Noah Syndergaard, RHP Edwin Díaz, INF Jed Lowrie, 1B Dominic Smith
Why Mets would do it: This winter represents the Mets' last best chance to net a big return for Syndergaard, whose club control is dwindling. This trade fills two holes in New York's everyday lineup, finally giving it a stud defender in center field and a legitimate middle-of-the-order bat to man third base. Graterol brings a young, controllable arm who can maintain the Díaz-level heat in the back of the bullpen, and Alcara is raw but can also approach triple digits with his fastball. This move would exacerbate the Mets' glut of position players, so moving two extra pieces in Lowrie (who is due $9 million this year) and Smith helps solve that issue. New York could also flip the defensively limited J.D Davis to an AL club in a separate move, perhaps to add a starter to fill Thor's spot.
Why Twins would do it: Buxton has provided thrilling moments, but it might be time for another team to roll the dice with him. Losing Sanó would hurt, particularly after he seemed to put everything together in 2019, but the "Bomba Squad" has plenty of other power bats to carry the load. With Syndergaard, the Twins would acquire the frontline pitcher they need -- remember, they started Randy Dobnak in a key ALDS game this year -- and they can hope for a bounce-back season from Díaz to form a solid back-end duo alongside Taylor Rogers. Plus, the Twins could plug Lowrie in at third base to replace Sanó and either platoon Smith at first base with C.J. Cron or DFA Cron to lower costs.
Who says no? The Mets. This is probably more top-end Major League talent than what the Padres reportedly offered for Syndergaard at last year's Deadline, but Buxton and Sanó together have too much risk involved for New York to part with an icon like Syndergaard. Dealing Díaz would also be admitting defeat too quickly on last winter's blockbuster trade with the Mariners.
-- Matt Kelly
Klubot reprogrammed for Bronx usage
Yankees get: RHP Corey Kluber
Indians get: 3B Miguel Andújar, RHP Jonathan Loaisiga
Why Yankees would do it: Following Andújar's breakout 2018, he looked like a franchise cornerstone. What a difference a year makes. After the 24-year-old missed all but 12 games due to right shoulder surgery and the Yankees saw the unexpected emergence of Gio Urshela, Andújar's status in the Bronx is up in the air. Given New York's infield depth and need for starting pitching, it's easy to see how he has gone from one of the club's rising stars to its most attractive trade chip. Is Kluber still the workhorse ace of his prime? That's a gamble the Yanks may be willing to take by parting with a young player with upside -- but one who has defensive shortcomings and looks like an excess piece.
Why Indians would do it: Cleveland's front office wants to keep the payroll in check, and while the club did exercise its $17.5 million option on Kluber, his contract (which includes a '21 option at $18 million) is a big factor why the two-time AL Cy Young Award winner has been a trade candidate for the past year. Beyond that, Kluber is entering his age-34 season and coming off a 2019 in which he was limited to seven starts due to multiple injuries. Meanwhile, Cleveland still has a solid stable of starters and would benefit -- both offensively and financially -- from four years of club control over Andújar, thus allowing José Ramírez to fill the glaring hole at second base. The inclusion of Loaisiga -- a live-armed but undersized and injury-prone righty who may be best suited for a bullpen/swingman role -- adds an enticing arm to the team's mix.
Who says no? The Indians. Although Andújar would fit into Cleveland's budget and boost its offense, if both players are healthy and producing up to their full capabilities, Kluber is the more impactful player in 2020 and would come with a very reasonable price in '21, too. The Indians have more to gain by keeping Kluber to start the season, hoping he's back to something resembling his old self and then reassessing the situation.
-- Jason Catania
Angels part with Adell to land a superstar
(Two different trade proposals saw the Halos use their top prospect as a chip to land a former MVP).
Angels get: RF Mookie Betts
Red Sox get: CF Jo Adell (MLB's No. 5 prospect)
Why Angels would do it: Mike Trout said recently that he's eager to see the moves the Angels will make to help the club reach the postseason for just the second time in the superstar's career. What better way to shake up the AL West than to pair the last two AL MVP Award winners together in the outfield? Though Betts could ultimately prove to be a one-year rental, the Angels could go all-in on trying to win the 2020 World Series, especially if the club lands marquee free-agent starter Gerrit Cole.
Why Red Sox would do it: They have expressed a desire to avoid the Competitive Balance Tax threshold in 2020, and that became far more difficult when J.D. Martinez elected not to opt out of his deal. While Betts is one of the top players in the game, he's made it clear that he plans to test free agency following next season, meaning potential suitors are essentially getting a one-year rental. In this case, the Red Sox would be getting a near-Major League ready player with five-tool potential.
Who says no? The Angels. As enticing as it might be to pair Trout and Betts together -- even if just for a season -- the Angels' organization is far more excited about having Trout and Adell patrol the same outfield for years to come.
-- Paul Casella
Angels get: 3B Kris Bryant
Cubs get: CF Jo Adell (MLB's No. 5 prospect), RHP Griffin Canning, INF Zack Cozart
Why Angels would do it: Sure, Adell has immense potential, and the Angels are looking to add to the rotation, not subtract from it. But Los Angeles has a hole at third base, and the chance to team up Bryant with Trout for at least two years is too good to pass up. As a bonus, the Cubs agree to take on Cozart and his $12.7 million salary next season, offsetting some of what Bryant will earn in 2020 and freeing up more money for the Angels to sign an elite free-agent hurler such as Gerrit Cole.
Why Cubs would do it: It would be difficult to part with Bryant, but the 27-year-old can test the free-agent waters in two years along with Javier Báez, Anthony Rizzo and Kyle Schwarber, and the Cubs likely aren't going to be able to keep all of them. Meanwhile, Bryant is getting increasingly expensive in arbitration. This deal nets the team a promising young starting pitcher in Canning to replace Cole Hamels while also filling its center-field void with Adell, who could help the Cubs as soon as next season. Chicago could also package Canning with Nico Hoerner (Cubs' No. 1 prospect, MLB's No. 47 overall) in a separate trade for the Royals' Whit Merrifield.
Who says no? The Angels, mainly because they don't want to trade Adell but also because Bryant doesn't come with much team control. Los Angeles presumably would want to sign Bryant to an extension after giving up its best prospect, but that could get in the way of a Cole pursuit.
--Thomas Harrigan
Gallo goes (farther) west
Dodgers get: OF/3B Joey Gallo, LHP Mike Minor
Rangers get: OF Alex Verdugo, RHP Tony Gonsolin (Dodgers' No. 6 prospect), C Keibert Ruiz (MLB's No. 33 prospect)
Why Dodgers would do it: The Dodgers need to replace Hyun-Jin Ryu and Rich Hill, and Minor was one of the AL's best starters last season. Gallo was making the leap from slugger to overall star in 2019 before his season was cut short by a wrist fracture. Los Angeles' gauntlet of a lineup is equipped to absorb Gallo's tendency to strike out while reaping the benefits of his elite power. Gallo also has the multi-position flexibility the Dodgers love.
Why Rangers would do it: The Rangers want to contend as they open a new ballpark, but they're a few big pieces short. They'd love to land an Anthony Rendon or Josh Donaldson, but what if they miss out? Verdugo could be an up-and-coming star who's controllable for even longer than Gallo. Gonsolin had a strong 2019 debut and could develop into a rotation mainstay, while Minor is entering his walk year. And Ruiz is a top prospect at a premium position where the Rangers have a big hole at the Major League level.
Who says no? More likely the Rangers. It's just a little early to move in a rebuilding direction, even if Verdugo and Gonsolin are Major Leaguers and Ruiz will soon join them. Maybe they pull the trigger in July if they're out of contention. Meanwhile, the Dodgers are already so good that they might not feel a need to trade away young talent over, say, signing free agents (Cole, anyone?), but that elusive World Series ring has to make a deal like this tempting.
-- David Adler
Three-team deal creates a Sonny day in SD
Padres: Acquire RHP Sonny Gray from CIN; send CF Manuel Margot and RHP Michel Baez (Padres' No. 9 prospect) to CIN; send RHP Luis Patiño (MLB's No. 30 prospect) and LHP Joey Cantillo (Padres' No. 16 prospect) to SEA
Reds: Acquire RF Mitch Haniger and C Omar Narváez from SEA; acquire Margot and Baez from SD; send Gray to SD; send 3B Jonathan India (MLB's No. 93 prospect) and RHP Tony Santillan (Reds' No. 4 prospect) to SEA
Mariners: Acquire Patino and Cantillo from SD; acquire India and Santillan from CIN; send Haniger and Narvaez to CIN
Why Padres would do it: If they don't win a high-stakes battle for Cole or hometown boy Stephen Strasburg, Gray would be a nifty consolation prize coming off a resurgent season and due to make only about $42 million through 2023 (including a club option). Now is the time for San Diego to cash in some chips from its overflowing farm system and try to snap that 13-season playoff drought.
Why Reds would do it: They have the pitching depth to absorb the loss of Gray and could always opt to replace him via free agency. Meanwhile, the ambitious Reds address some other needs. If healthy, Haniger brings a big bat to what was a tepid offense in 2019. Narváez supplies a solid bat behind the plate after Cincinnati missed out on Yasmani Grandal. Margot would give the Reds a legitimate center fielder with potential, who could allow Nick Senzel to move back to a more comfortable spot at second base. Baez could help the bullpen in 2020, coming off an MLB debut in which he topped 98 mph.
Why Mariners would do it: Despite general manager Jerry Dipoto's recent comments about keeping Haniger, every player has a price. Haniger's is four prospects who can charge up the organization's rebuild, led by Patiño, who just dominated the Class A Advanced California League and reached Double-A as a 19-year-old.
Who says no? The Reds. With the likes of Nicholas Castellanos and Marcell Ozuna available in free agency -- and Aristides Aquino having emerged late last season -- Haniger (63 games played in 2019) might not be a tempting enough prize to cash in on last offseason's highly successful investment, Gray.
-- Andrew Simon
Lindor in the City of Brotherly Love
Phillies get: SS Francisco Lindor
Indians get: SS Jean Segura and 3B/1B Alec Bohm (MLB's No. 34 prospect)
Why Phillies would do it: The appeal of adding a player like Lindor pretty much goes without saying. The Phillies would obtain a player under team control through 2021, who would give them a strong chance to compete in a tough NL East. They could also try to keep Segura and move him to second or third base, but including him in the trade might make it a more attractive deal for Cleveland. We've seen the Phillies spend big in the past few offseasons, so it isn't unrealistic to think they might be able to work out an extension with Lindor to keep him there beyond 2021, or at least be in a position to re-sign him when that time comes -- something that feels less and less likely in Cleveland.
Why Indians would do it: Though Segura hasn't had the same hype or results as Lindor in his career, he's been a solid Major League shortstop, especially over the last four years or so. He offers the Indians a chance to trade Lindor but not lose a huge competitive edge at the position. Segura is also under team control through 2023 with a team option, at a cost the Indians are far more likely to be able to shoulder compared with what Lindor will likely get in free agency. Meanwhile, Bohm hit .305 with an .896 OPS across three Minor League levels in 2019 and could be a future lineup centerpiece in Cleveland.
Who says no? Likely the Phillies. There's an argument to be made that over the next two years, Segura could be almost as productive as Lindor -- on a deal that keeps him under team control for two more years after that. Philadelphia's farm system has struggled a bit lately, but Bohm had a strong 2019 and the club would likely want to hang on to him to see what could be next for the young slugger.
--Sarah Langs