Cubs to add Young as bullpen coach (source)
Former Padres skipper Green reportedly to join club as bench coach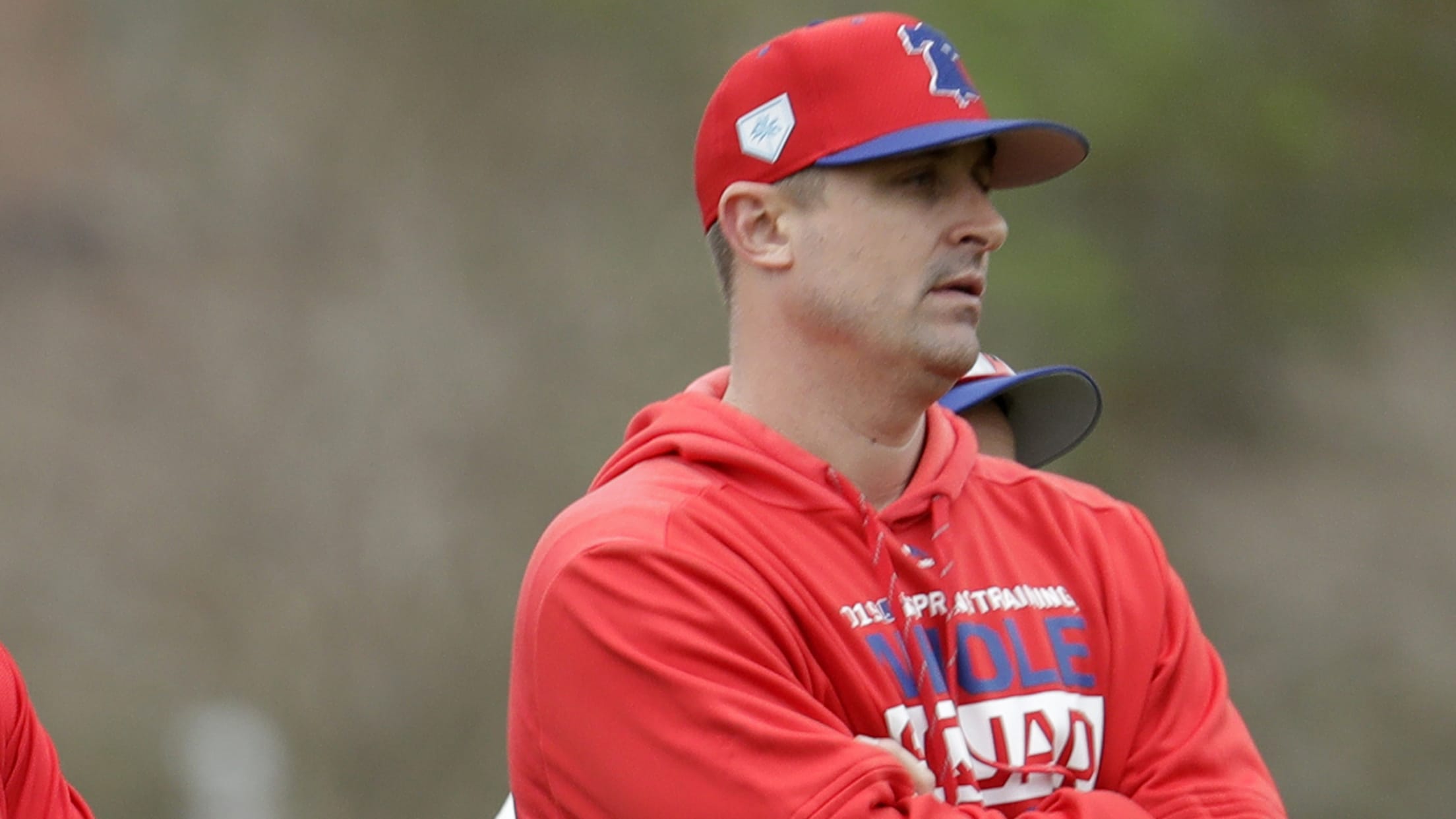 CHICAGO -- At the outset of this important offseason for the Cubs, president of baseball operations Theo Epstein hinted that there would be new voices and fresh sets of eyes in more than just the manager's office next year. Some of the change that has already taken place has been
CHICAGO -- At the outset of this important offseason for the Cubs, president of baseball operations Theo Epstein hinted that there would be new voices and fresh sets of eyes in more than just the manager's office next year.
Some of the change that has already taken place has been expected, while other recent decisions that have come to light have been more surprising as Chicago resets its operation for 2020. The latest details on the makeup of the Cubs' planned pitching infrastructure under new manager David Ross covers both categories.
According to a source, Tommy Hottovy will return in the role of pitching coach next season, with both Mike Borzello (associate pitching, catching and strategy coach) and Brad Mills (assistant director of advance scouting and run prevention) also returning from last year's staff. Per the same source, the Cubs are expected to hire former Phillies pitching coach Chris Young to be the new bullpen coach, replacing long-time Cubs coach Lester Strode.
Young, 38, will join the Cubs after spending one season as the Phillies' pitching coach under former manager Gabe Kapler in '18. Prior to that role, Young was an assistant pitching coach for Philadelphia in '18 and worked in the pro scouting departments for the Astros (2015-17) and Padres ('10-14). While Young's time in Philly was not without its rough spots, his analytical style has the potential to mesh well with Hottovy, Borzello and Mills.
The Cubs' 2020 MLB pitching infracture will include Tommy Hottovy (pitching coach), Chris Young (bullpen coach), Mike Borzello (associate pitching, catching and strategy) and Brad Mills (advance scouting and run prevention).@sahadevsharma 1st on hiring of Young.

— Jordan Bastian (@MLBastian) November 7, 2019
On Friday night, MLB Network insider Jon Heyman and ESPN's Jesse Rogers both reported that former Padres manager Andy Green was expected to be hired as the Cubs' new bench coach. That role was previously held by Mark Loretta, who was one of the six candidates interviewed for Chicago's managerial vacancy. At Ross' introductory media conference last week, both he and Epstein said it could be beneficial to have someone with past managerial experience in the dugout to help Ross' learning curve.
The Cubs have not confirmed or formally announced any decisions about Ross' coaching staff, which has multiple vacancies.
What is clear is that the Cubs are backing up Epstein's offseason-opening declaration that, "We're likely to see real change, real adjustments at various levels, most levels, of our baseball operation in some form or another."
Besides Hottovy's return, The Athletic reported that Cubs hitting coach Anthony Iapoce is expected to be back as part of Ross' staff next year. File those two developments into the expected column. Given the turnover in the pitching and hitting coach roles in recent seasons, it made sense for the Cubs to aim for continuity in that area.
The analytically-inclined Hottovy, who previously worked as Chicago's run prevention coordinator, impressed the team in his first year as the lead pitching coach in '19. His work behind the scenes with Yu Darvish and Tyler Chatwood, in particular, stood out. Following a three-year stint as Texas' hitting coach, Iapoce returned to the Cubs in '19 after previously working in their Minor League system ('13-15).
Parting ways with Strode and long-time strength and conditioning coach Tim Buss was less expected.
The 61-year-old Strode has been in the Cubs organization dating back to 1989, spending the past 13 years as the Major League bullpen coach. Per reports, Strode was offered a role on the Minor League side again, but his future with the team is not clear.
Buss spent the past 18 years heading the team's strength and conditioning staff. He is famous for his Spring Training speeches and fun, team-building antics, and was beloved by the Cubs' players.
New Angels manager Joe Maddon -- whose managerial contract with the Cubs was not extended following this past season -- hired both Buss and former Cubs third-base coach Brian Butterfield to work on his staff in Los Angeles. Buss will serve as the Angels' quality assurance coach, while Butterfield will remain in the role of third-base coach.
Multiple reports on Thursday also indicated that Chris Denorfia would not return as the Cubs' quality assurance coach in 2020. He assumed that role in '19 under Maddon and was highly regarded behind the scenes. It is not clear yet how Chicago will handle that vacancy, or whether Will Venable (first base coach in '19 and one of the initial managerial candidates) or Terrmel Sledge (assistant hitting coach in '19) will be back.
Beyond the coaching staff, a variety of reports this week also revealed that the Cubs are in the midst of making changes throughout their mental skills department and training staff. Those developments come after Chicago already announced alterations at the top of its player development department, including the hiring of Craig Breslow and Justin Stone as the director of pitching and director of hitting, respectively.