Bellinger buoyed by tight-knit group of friends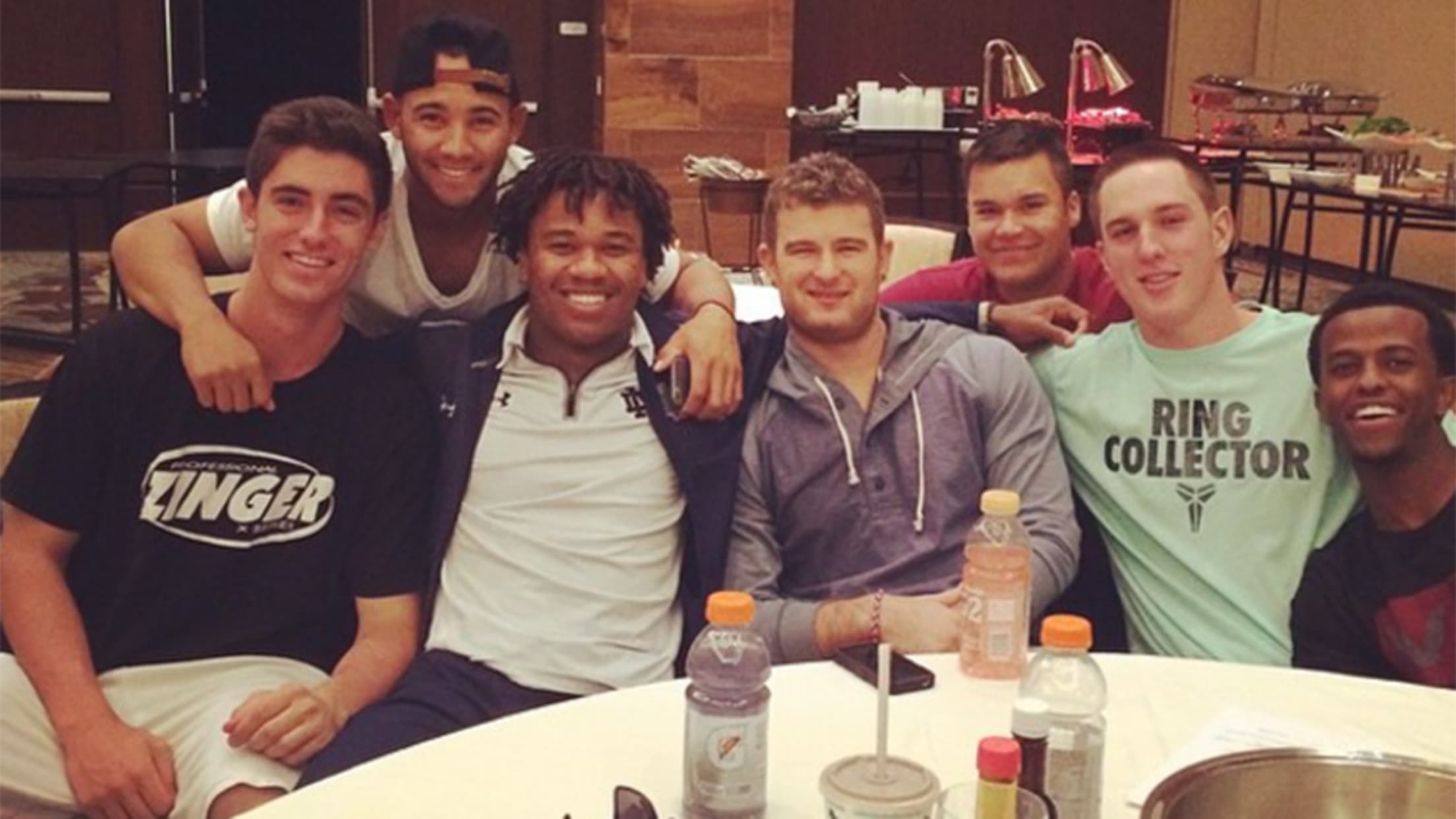 Cody Bellinger (left) and his group of close friends in 2014. (Cody Bellinger)
CHICAGO -- Throw the accolades away -- the Little League World Series run, the Major League scouts and the stardom his friends thought was inevitable -- and Dodgers first baseman Cody Bellinger was just like any other 17-year-old kid during his senior year of high school.Each half day at Hamilton
CHICAGO -- Throw the accolades away -- the Little League World Series run, the Major League scouts and the stardom his friends thought was inevitable -- and Dodgers first baseman Cody Bellinger was just like any other 17-year-old kid during his senior year of high school.
Each half day at Hamilton High School in Chandler, Ariz., Bellinger and his friends would feast on burritos from Los Favoritos Taco Shop -- a Chandler-area staple -- then follow it up with your typical afternoon of trash talk, talking about the future and a good old video game tournament.
Bellinger and his friends' game of choice? FIFA. Through the soccer game, Bellinger -- who isn't one to talk and do anything other than flash a smile on the diamond -- transformed into a Michael Jordan-level trash talker.
"Cody's the type of player who will talk [smack] to you even though they're down by like three goals," said Cole Luke, Bellinger's friend. "He's the kind of guy who will always joke with you, is super sarcastic. If you score a goal, he'll be like, 'Oh yeah, was that a good goal?' That's just the kind of guy he is."
"I use it to my advantage," Bellinger added. "I don't really do it on the field, but off the field, I use it to my advantage. I'll talk a lot of smack. We've always been, since I was a little kid, super-competitive."
Bellinger and his friends, a collection of athletes from Hamilton's sterling baseball and football programs, would also discuss the future. "When you make it," each conversation began, aimed at a different athlete each time. Each would end in the same result -- once a year, every year, the group would come together for a week at a beach house in the Bahamas and reflect on the past.
Each has taken their own path. Luke is currently a rookie defensive back with the Carolina Panthers. Connor Woods, one of Bellinger's teammates in the Little League World Series, studied to become a teacher. Another friend is looking to go to law school. None had projected the immediate and sudden rise of Bellinger.
Bellinger, who recently turned 22, has already cemented his place at or near the top of the all-time Dodgers rookie greats as a National League All-Star, a T-Mobile Home Run Derby participant and just the third Dodger to hit for the cycle. The kid who homered just once as a Hamilton High School senior is hitting the long ball at a rate that compares to some of the best rookies ever.
"It's just crazy how it's actually happening for him," Luke said. "It still hasn't really hit me. I remember there was a week where every time I would get a notification on my phone, it was something Cody Bellinger did."
The group still talks about the future, even without having the Los burritos to bond them. Group texts give them a chance to relive old memories, and to even humble one of baseball's new stars if they feel it's necessary.
"We'll all still tell Cody that he sucks to his face, you know what I mean?" Luke said. "Just joking around, but that's just the kind of group of guys that we were around."
For Bellinger -- the Little League World Series hero, son of a former Major Leaguer and a virtual lock for the NL Rookie of the Year Award -- it's the taste of home he needs.
"For me, I know the game is a humbling game, so I don't get too high or too low," Bellinger said. "They have my back, 100 percent. It's been a crazy year for me. They've been real supportive, and that's all I can ask for.
"The coolest part is, we're all still connected. We all still talk. It's pretty cool to go from that, the half-days were nice just going out to eat and hanging out as a group."
Fabian Ardaya is a reporter for MLB.com.