Rain postpones Dodgers-Padres finale in SD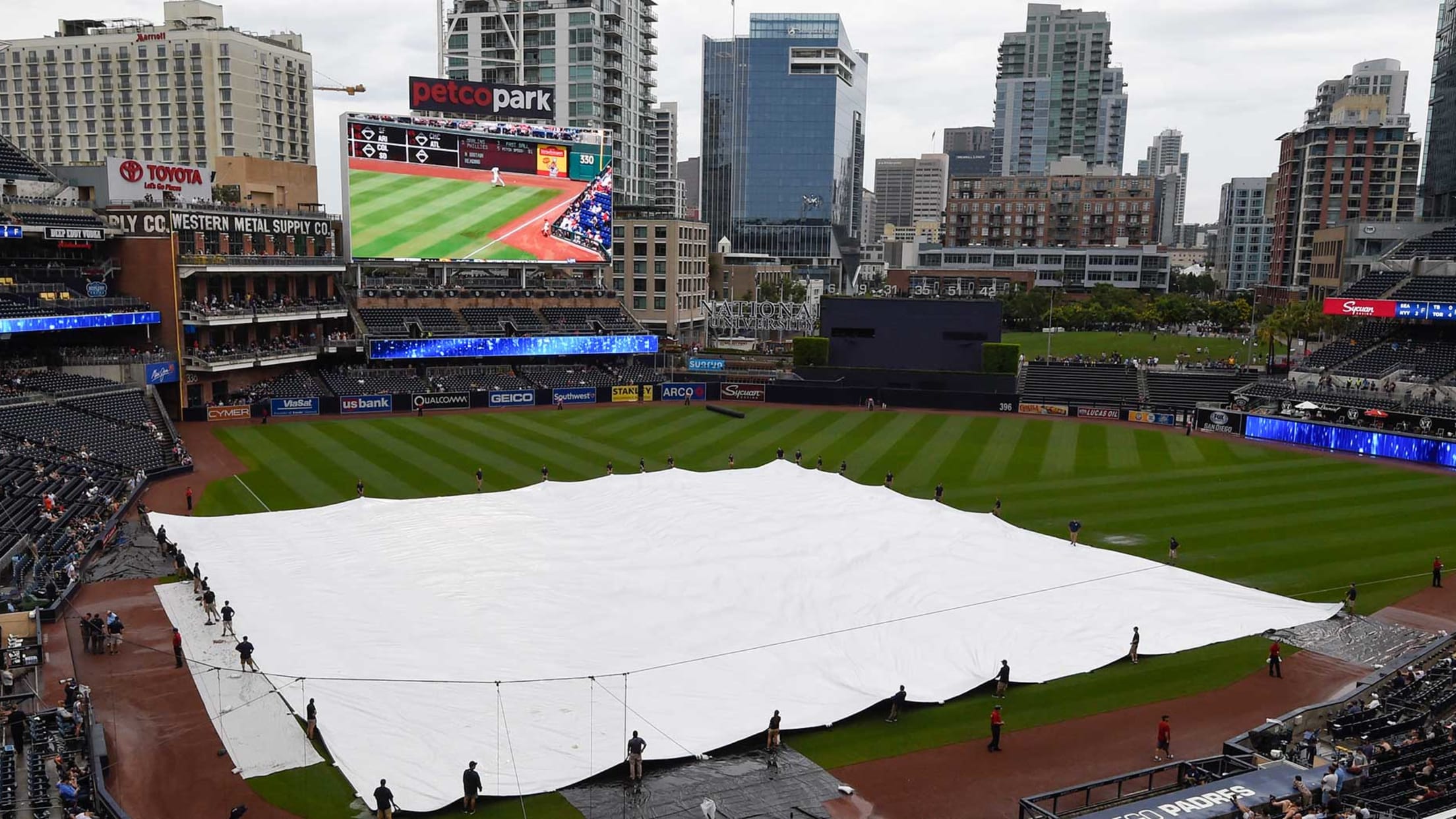 SAN DIEGO -- Sunday's series finale between the Dodgers and Padres was postponed because of rain.The game will be rescheduled as part of a day-night doubleheader on Saturday, Sept. 2.Manager Dave Roberts said the club was still deciding whether Brandon McCarthy, Sunday's scheduled starting pitcher, would be pushed back one
SAN DIEGO -- Sunday's series finale between the Dodgers and Padres was postponed because of rain.
The game will be rescheduled as part of a day-night doubleheader on Saturday, Sept. 2.
Manager Dave Roberts said the club was still deciding whether Brandon McCarthy, Sunday's scheduled starting pitcher, would be pushed back one day and start Monday night at home against Pittsburgh, or whether he would be skipped and replaced by Alex Wood.
One hint was that Kenta Maeda, who had been lined up to start Thursday, threw a bullpen session on Sunday, which would line him up to start on Wednesday instead if McCarthy gets skipped. McCarthy, who sustained an unspecified injury to his non-pitching shoulder on Wednesday, had already been pushed back one game from his originally scheduled Saturday start.
"The one side is to keep everybody on their regular turn and skip Brandon, but the way Mac is throwing and give everybody an extra day could be beneficial," said Roberts. "You can argue both ways. To give him extra time for the shoulder is worth a conversation. Obviously he's capable or he wouldn't have been set to start today."
The rainout, only the third in Petco Park history, had been expected and discussed by officials of both clubs on Saturday. The anticipation of losing the game was reportedly one reason Clayton Kershaw was moved up one game to make Saturday night's start. Roberts said Kershaw will pick up an extra day between starts in this week's cycle. Hyun-Jin Ryu's activation off the disabled list next weekend will give the club that flexibility.
Roberts said rescheduling the rainout in September, when rosters are expanded, "made the most sense."
Roberts said the day off could only help outfielder Franklin Gutierrez, who left Saturday night's game with some combination of hamstring and hip tightness, only four days after returning from the disabled list and a hamstring strain.
"I don't see it as a DL situation," said Roberts. "If he can give us an at-bat off the bench, that can keep him off the disabled list. Today could be a blessing."
Ken Gurnick has covered the Dodgers for MLB.com since 2001.