WSH-LAD: Lineups, rosters, FAQ (8:30 ET, TBS)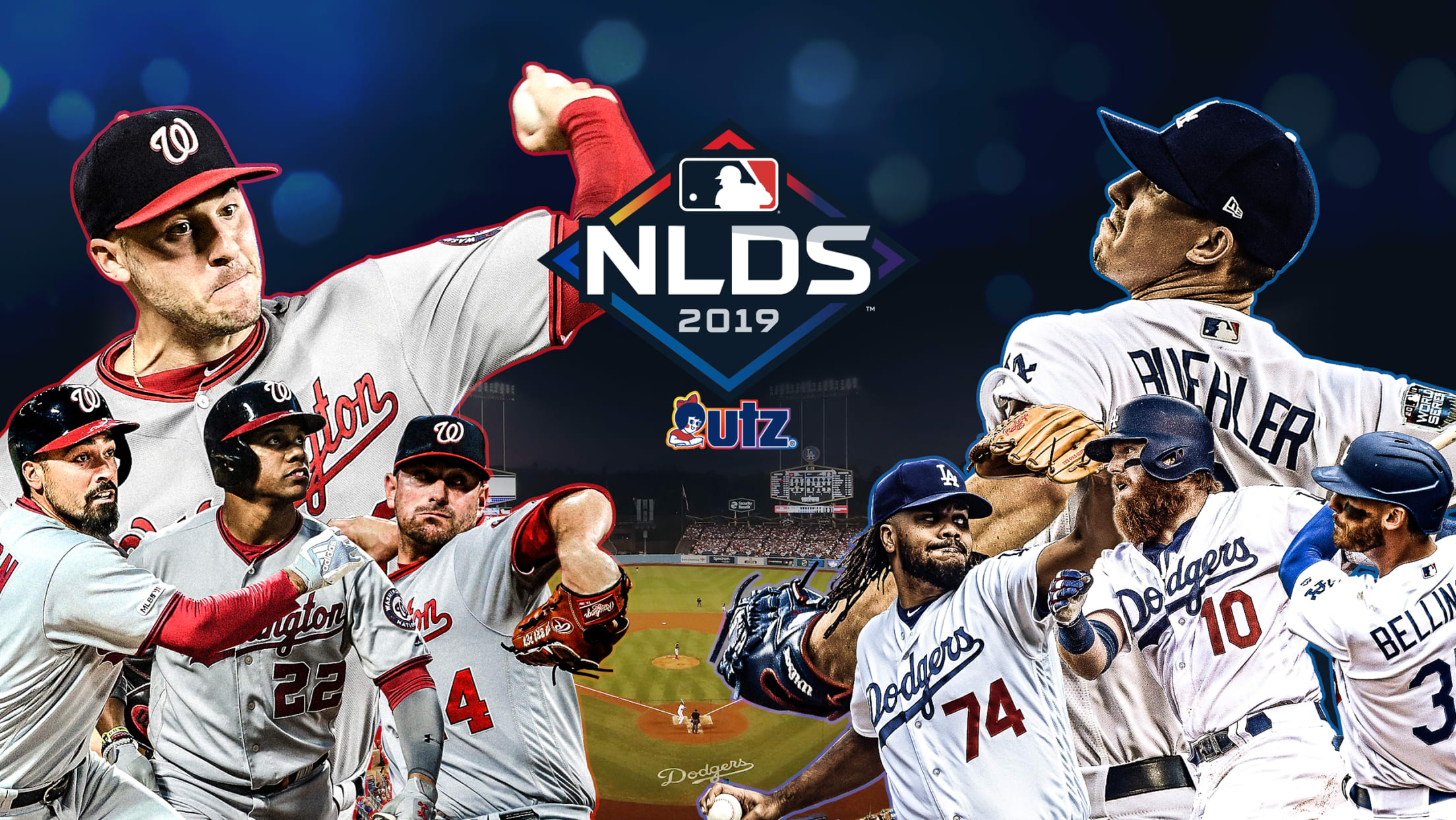 LOS ANGELES -- Few teams in the National League could make a realistic case of stacking up with the Dodgers' talented roster, but their opponent in the NL Division Series is certainly one of them. After a dramatic, come-from-behind victory in the NL Wild Card Game, the Nationals are back
LOS ANGELES -- Few teams in the National League could make a realistic case of stacking up with the Dodgers' talented roster, but their opponent in the NL Division Series is certainly one of them. After a dramatic, come-from-behind victory in the NL Wild Card Game, the Nationals are back in the NLDS in a matchup of star-studded clubs.
Both teams will feature starting rotations with dominant trios, lineups led by MVP Award candidates that can put up offense in a hurry and All-Star closers to round out their bullpen.
• NLDS presented by Utz, Game 1: Tonight., 8:30 p.m. ET/5:30 PT on TBS
When is the game and how can I watch it?
Game 1 will be tonight at 8:30 p.m. ET on TBS.
All games telecast on MLB Network, TBS and FOX will be available to MLB.TV subscribers who are authenticated subscribers to the applicable network through a participating pay TV provider.
Here's the Dodgers' starting lineup:
David Freese, 1B
Justin Turner, 3B
A.J. Pollock, LF
Cody Bellinger, CF
Max Muncy, 2B
Corey Seager, SS
Chris Taylor, RF
Will Smith, C
Walker Buehler, P
Here's the Nationals' starting lineup:
Trea Turner, SS
Adam Eaton, RF
Anthony Rendon, 3B
Juan Soto, LF
Howie Kendrick, 1B
Asdrúbal Cabrera, 2B
Victor Robles, CF
Yan Gomes, C
Patrick Corbin, P
Who are the starting pitchers?
Nationals: After using both Max Scherzer and Stephen Strasburg to pitch the Nationals into the NLDS, they can turn to their third "ace" in Corbin (14-7, 3.25 ERA) to take the ball for the start of Game 1. Washington signed Corbin to a six-year, $140 million deal in the offseason because it wanted him on the mound in situations like this one. Corbin beat Los Angeles with seven shutout innings earlier this season, and he owns a career 3.36 ERA in 21 games against his former NL West rival.
Dodgers: The Dodgers on Wednesday announced Walker Buehler (14-4, 3.26 ERA) will get the nod for Game 1. Buehler admitted to tinkering with his mechanics in his final start on Friday, when he allowed two runs with four walks in five innings. He does have the potential to dominate, which is never a bad thing in October.
How will the bullpens line up after the starter?
Nationals: Here comes the hard part for the Nationals. They cannot run Cy Young Award candidate after Cy Young Award candidate from the bullpen anymore like they did in the Wild Card Game. Now they will have to get by with their actual relievers, the ones who combined to post the second-worst ERA in the Majors this season. Sean Doolittle and Daniel Hudson have shared closing duties down the stretch. Fernando Rodney is likely to be Martinez's next most-trusted reliever, with Tanner Rainey, Hunter Strickland and perhaps Wander Suero rounding out the bullpen. Maybe Austin Voth will be converted to a reliever and help.
Dodgers: Kenley Jansen is the closer, despite the worst season of his career. He was better last week. Most other decisions will come down to matchups. Joe Kelly showed last October he can be dominant, but a mystery ailment makes him a wild card. Pedro Báez and Kenta Maeda are the setup men, Adam Kolarek is the rubber-armed lefty specialist, Julio Urías and Ross Stripling are the long relievers and 21-year-old rookie Dustin May could be anything.
Are there any relievers who are unavailable?
Nationals: No.
Dodgers: No
Any injuries of note?
Nationals: The Nationals come into this series healthy. Suzuki's right elbow inflammation had been an issue, but he started twice over the final weekend and in the Wild Card Game. The Nats might carry an extra catcher, but he should be good to go without restrictions.
Dodgers: Turner missed the last five games with lower back stiffness, having just returned from a sprained left ankle. He'll play, but how well is the question. Kelly pitched Sunday for the first time in 11 days for an unspecified issue and threw a bullpen session on Tuesday. Rich Hill is slated to start Game 4 despite a sore left knee ligament. Seager missed a game last week with a tender hamstring, but he said he's healthy. Freese has a left knee and hamstring issue that limited him over most of the second half. Muncy recently returned from a broken right wrist and tight left quad. Alex Verdugo is out with lower back pain.
Who is hot and who is not?
Nationals: Before collecting the biggest hit of his career, Soto had actually been a bit cold at the plate. He was 5-for-44 to close out the last 15 games of the regular season without a home run, posting a slash line of .114/.339/.182. But Soto showed with Tuesday's game-winning hit in the Wild Card Game why the Nats do not worry about their youngest player at the plate, because of his ability to make adjustments and get himself back on track.
Dodgers: After a slow start in a rebound year from elbow and hip operations, Seager turned it on as the regular season ended and went 16-for-40 (.400) over the last 11 games with nine extra-base hits. May has an active streak of eight consecutive scoreless appearances. On the flip side, rookie catcher Smith hit .175 in September and Lux, after going 2-for-5 in his debut, batted .229 the rest of September.