Hill takes conservative approach to knee rehab
Historic Dodgertown renamed Jackie Robinson Training Complex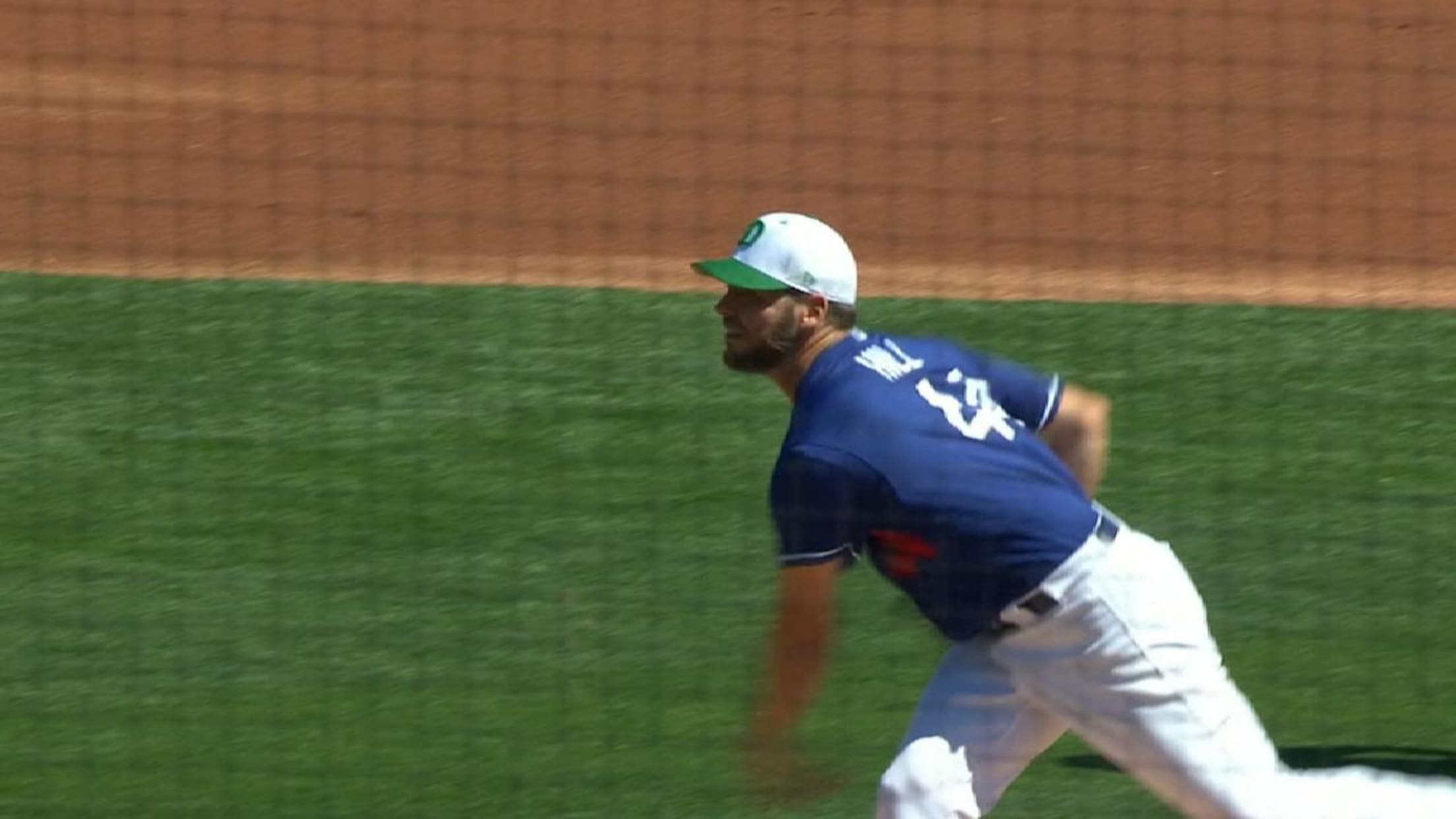 LOS ANGELES -- Rich Hill, who is determined not to risk reinjuring his strained left knee, tapped the brakes on his rehab and said he won't throw off a mound until Saturday in Denver. Dodgers manager Dave Roberts had said he hoped Hill was only a day or two away
LOS ANGELES -- Rich Hill, who is determined not to risk reinjuring his strained left knee, tapped the brakes on his rehab and said he won't throw off a mound until Saturday in Denver.
Dodgers manager Dave Roberts had said he hoped Hill was only a day or two away from the next step in his recovery from the injury sustained in a March 17 start. Instead, Hill will throw off flat ground on Wednesday and will head to the bullpen Saturday for what Roberts called "a test drive."
"It feels great and I know I'm headed in the right direction," said Hill. "I know it's been a slow process of healing, but it has been consistently getting better every single day. My arm feels great. This is a situation where I feel if you take one or two extra days and make sure it's 100 percent healed, as opposed to rushing into something even a day or two earlier, and you can be back to square one. Just be smart about it."
Hill and Roberts agreed the lefty would probably need a Minor League rehab start before returning, but he still has a series of boxes to check off with bullpen sessions, simulated games throwing to hitters and how the leg feels bouncing back after each.
Roberts said Julio Urías will remain in the rotation until Hill returns, then will go to the bullpen.
The injury is to the drive leg Hill uses to push off the mound. He said he made a foot adjustment when he began throwing to neutralize the stress on the knee, but he's back to his normal throwing mechanics. He said his arm is built up and he expects to throw a normal-length start when he returns. He said he hasn't decided if he will pitch with a protective brace on the knee.
"Throwing with it, I have no issues," he said. "I don't know how much benefit there is to having it decrease the stress in the motion. Maybe something else, running the bases, I can see a benefit to it."
Roberts said Hill will get back on the mound when he's ready.
"We pushed it back a little bit, but he's just got to be right," said Roberts. "It's not any kind of setback. It's just so unpredictable."
• Clayton Kershaw is expected to pitch four innings or 60 pitches when he makes his Minor League rehab start on Thursday, which is Triple-A Oklahoma City's Opening Day.
Kershaw, on the road to recovery from shoulder inflammation, could return to the rotation by late next week, unless it's decided he needs a second rehab start.
• Historic Dodgertown, the former Spring Training site of the Brooklyn/Los Angeles Dodgers, will be renamed the Jackie Robinson Training Complex to serve as a year-round hub of amateur development initiatives and events designed to diversify and strengthen the talent pipelines of baseball and softball. The announcement was made at a press conference attended by Commissioner Rob Manfred, former Historic Dodgertown chairman and Dodgers owner Peter O'Malley and members of the Robinson family, including Jackie's wife Rachel, their daughter Sharon and their son David.
MLB is commemorating the centennial celebration of the birth of Hall of Famer and baseball pioneer Jackie Robinson throughout 2019, with league and club efforts complementing activities led by the Jackie Robinson Foundation. This includes a year-long schedule honoring Robinson's legacy in baseball and throughout society, including the dedication of the Jackie Robinson Training Complex.
"I think that's fantastic," said Roberts. "I have very good memories of being at Dodgertown, of taking extra BP with Tommy Lasorda and him telling me to chop down on the ball. I have a lot of good memories."
MLB, which assumed operational control of the facility on Jan. 2, will immediately begin planning a series of youth-focused events, at no cost to the participants, at the Jackie Robinson Training Complex.
Ken Gurnick has covered the Dodgers for MLB.com since 2001.