Tale of the fantasy tape: Giants vs. Dodgers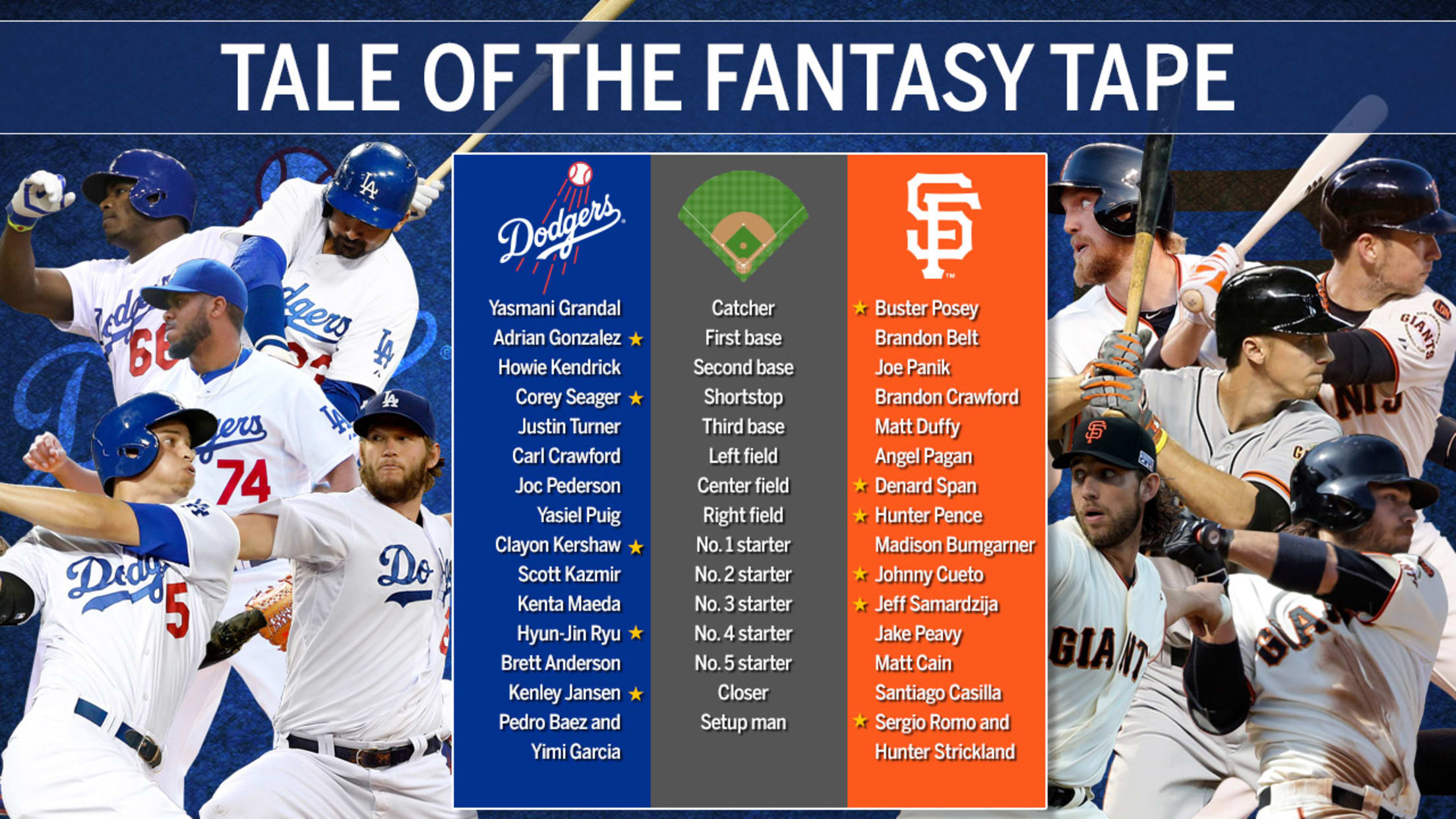 For West Coast baseball fans, the battle between the Dodgers and the Giants is expected to be the most heated in their time zone this season. Before these rivals settle their 2016 competition on the field, we can get a head start on assessing them by comparing the fantasy value
For West Coast baseball fans, the battle between the Dodgers and the Giants is expected to be the most heated in their time zone this season. Before these rivals settle their 2016 competition on the field, we can get a head start on assessing them by comparing the fantasy value of their key players for the upcoming campaign.
Catcher: The gold standard of fantasy catchers, Buster Posey holds a sizable advantage over Yasmani Grandal. With excellent contact skills that lead to a high batting mark and a substantial RBI total, the lifetime .310 hitter is among the safest early-round options for fantasy owners.
First base: A career .290 hitter who has driven in at least 90 runs in nine consecutive seasons and belted at least 22 homers nine times in the past decade, Adrian Gonzalez is among the most stable producers in baseball. Gonzalez holds an advantage over Brandon Belt, who has shown flashes of excellence but has yet to top the 20-homer or 70-RBI marks.
Second base: In Howie Kendrick and Joe Panik, the two teams possess similar players at the keystone position. Both players offer limited power and speed, but they excel at collecting base knocks. We will call this position even, as long as Panik shows in Spring Training that he is past his late-season lower back woes.
Shortstop: Coming off a 21-homer season, Brandon Crawford ranks among the most powerful shortstops. But his inability to produce a high batting average leaves the door open for skilled youngster Corey Seager to win this category for the Dodgers. Ranked as the best prospect in baseball by MLBPipeline.com, Seager should match Crawford's power numbers and post a higher batting average.
Third base: Capable of hitting for average and reaching double digits in both homers and steals, Matt Duffy is a useful mixed-league third baseman. The same can be said for Justin Turner, a lifetime .284 hitter who should rip 15 round-trippers in 2016. Like second base, this position finishes in a dead heat.
Left field: This position presents us with our third tie, as the overall fantasy value of Angel Pagan and Carl Crawford should be quite similar in 2016. Both players have marginal mixed-league value when healthy, and both project to spend some time on the disabled list. With Gregor Blanco and Andre Ethier, the clubs each have suitable replacements at the ready.
Center field: After struggling in the second half last season (.178 average, six homers), Joc Pederson enters the coming campaign with questionable mixed-league value. The Giants hold the edge in this category, based on their offseason addition of Denard Span. As long as he can rebound from an injury-riddled 2015 season, Span should be solid mixed-league outfielder who makes a difference in the batting-average, runs and steals categories.
Right field: Once projected for stardom, Yasiel Puig has much to prove after a disappointing season. Three years into his big league career, Puig has yet to surpass 19 home runs or 11 steals in a single campaign. Puig's inconsistency is contrasted by the consistent success of Hunter Pence, who wins this category for the Giants. The normally durable outfielder should bounce back from his 2015 injuries to be an excellent five-category asset.
No. 1 starter:Madison Bumgarner is a bona fide mixed-league ace, but he cannot match the fantasy production of Clayton Kershaw. With a 1.92 ERA and a 0.89 WHIP since the outset of 2013, the Dodgers southpaw has helped fantasy owners as much as any player at any position in recent seasons.
No. 2 starter:Johnny Cueto struggled down the stretch in 2015, but his 2.71 ERA and 1.08 WHIP since the outset of '11 give him a notable edge over Scott Kazmir. If Cueto gets back on track, he and Bumgarner should form one of the best one-two punches in any big league rotation.
No. 3 starter: In a battle of newly signed starters, Jeff Samardzija gets the edge over Kenta Maeda. Samardzija needs to rebound from a disappointing 2015 season, but he proved in '14 (2.99 ERA, 1.07 WHIP) that he has the potential to be an outstanding mixed-league asset. Maeda could have a strong season, but he will need to prove that the skills he showed in Japan can transfer to the Majors.
No. 4 starter: Based on potential, Hyun-Jin Ryu gives Los Angeles the advantage over Jake Peavy and San Francisco. Ryu missed all of 2015 with a left shoulder injury, but he owns an impressive lifetime 3.17 ERA. Peavy has also dealt with injuries in recent seasons, and he projects as a marginal mixed-league starter when healthy.
No. 5 starter: Despite posting modest stats in 2015 (3.69 ERA, 1.33 WHIP, 5.8 K/9 rate), Brett Anderson made a major statement by staying healthy and tossing 180 1/3 innings. Anderson will earn a draw with Matt Cain, who was once a mixed-league stalwart but has seen both his ERA rise and his innings drop for three straight seasons.
Closer: With a lifetime 2.28 ERA, 0.94 WHIP and 14.0 K/9 rate, Kenley Jansen belongs in the discussion for baseball's best closer. Expected to be one of the first four stoppers off 2016 draft boards, Jansen holds a major advantage over Santiago Casilla, who last year compiled more than 25 saves for the first time in his 12-year career.
Setup men: The Dodgers have plenty of potential with a late-inning pair of Pedro Baez and Yimi Garcia, but they will need that duo to make some improvements before they can match Sergio Romo and Hunter Strickland. Because Romo has significant ninth-inning experience, he gives the Giants more security if they deal with an injury at the closer's position.
Final verdict: By the narrowest of margins, the Giants have emerged as 6-5 winners over their divisional foes. San Francisco's offseason additions of Span, Cueto and Samardzija gave it the three positional wins it needed to surpass the 2015 National League West champions.
Fred Zinkie is the lead fantasy baseball writer for MLB.com. Follow him on Twitter at @FredZinkieMLB.