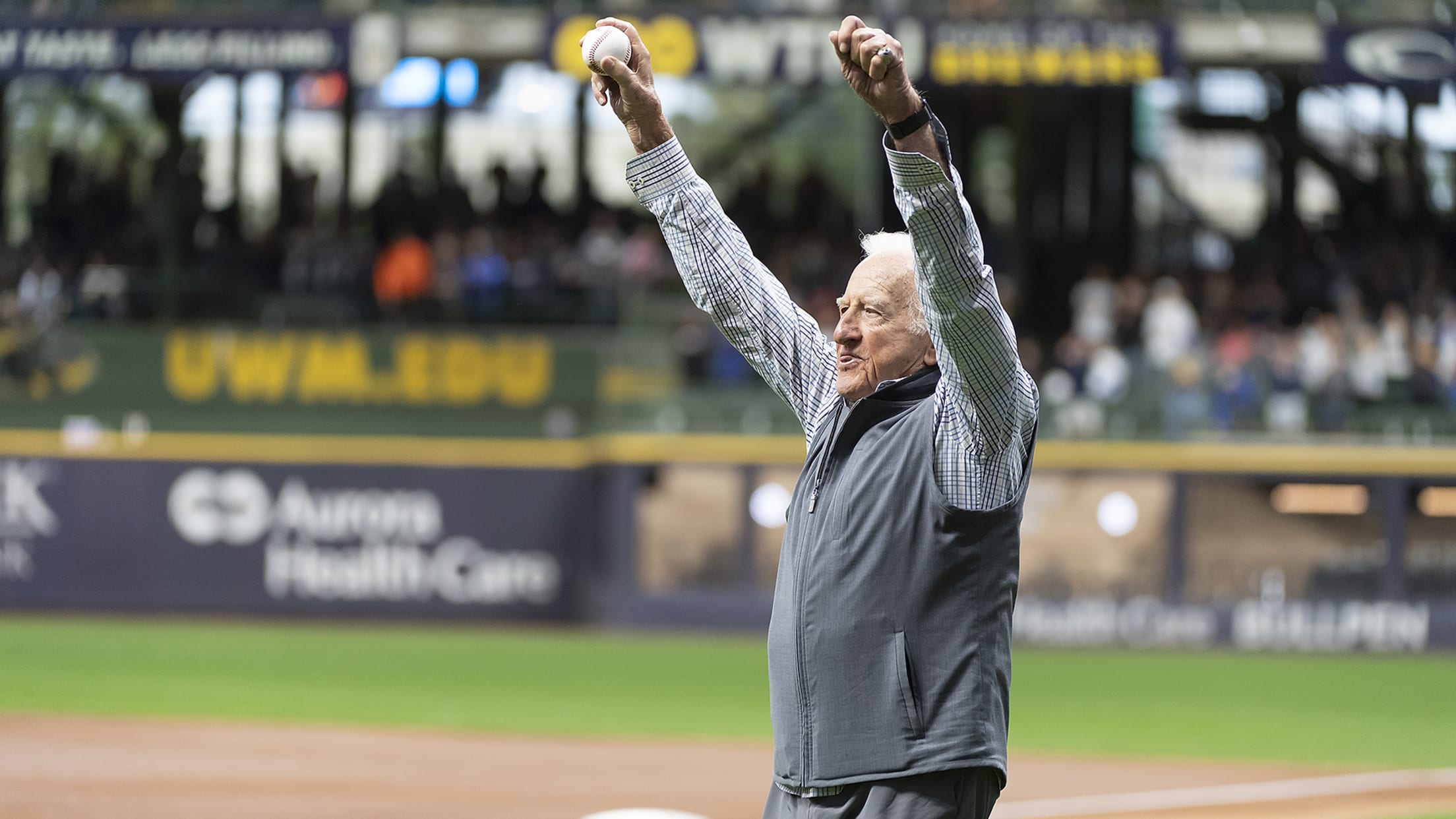 Scroll
'Ueck' carrying legacy into Crew's playoff run
ATLANTA -- Bob Uecker, 87 going on 27, emerged from the clubhouse with his checkered dress shirt soaked in champagne and Miller Lite. He has been calling Brewers games on the radio since some of the current players' parents were toddlers, and yet there he was, being dragged to the pitcher's mound at American Family Field with confetti still falling as the Brewers celebrated clinching the 2021 National League Central title.
Players wanted Uecker in the middle of their group photo. There's no other broadcaster on the planet who is more a part of their team.
"I think it's very unique," said second baseman Kolten Wong, who came to the Brewers from St. Louis, home of many legendary broadcasters. "'Ueck' is in the clubhouse every single day that we are. If he's not there, something's not right. He was definitely part of our team all year. He fed us, encouraged us, kept us loose.
"It felt right. It wouldn't have felt right if we didn't have him in that picture."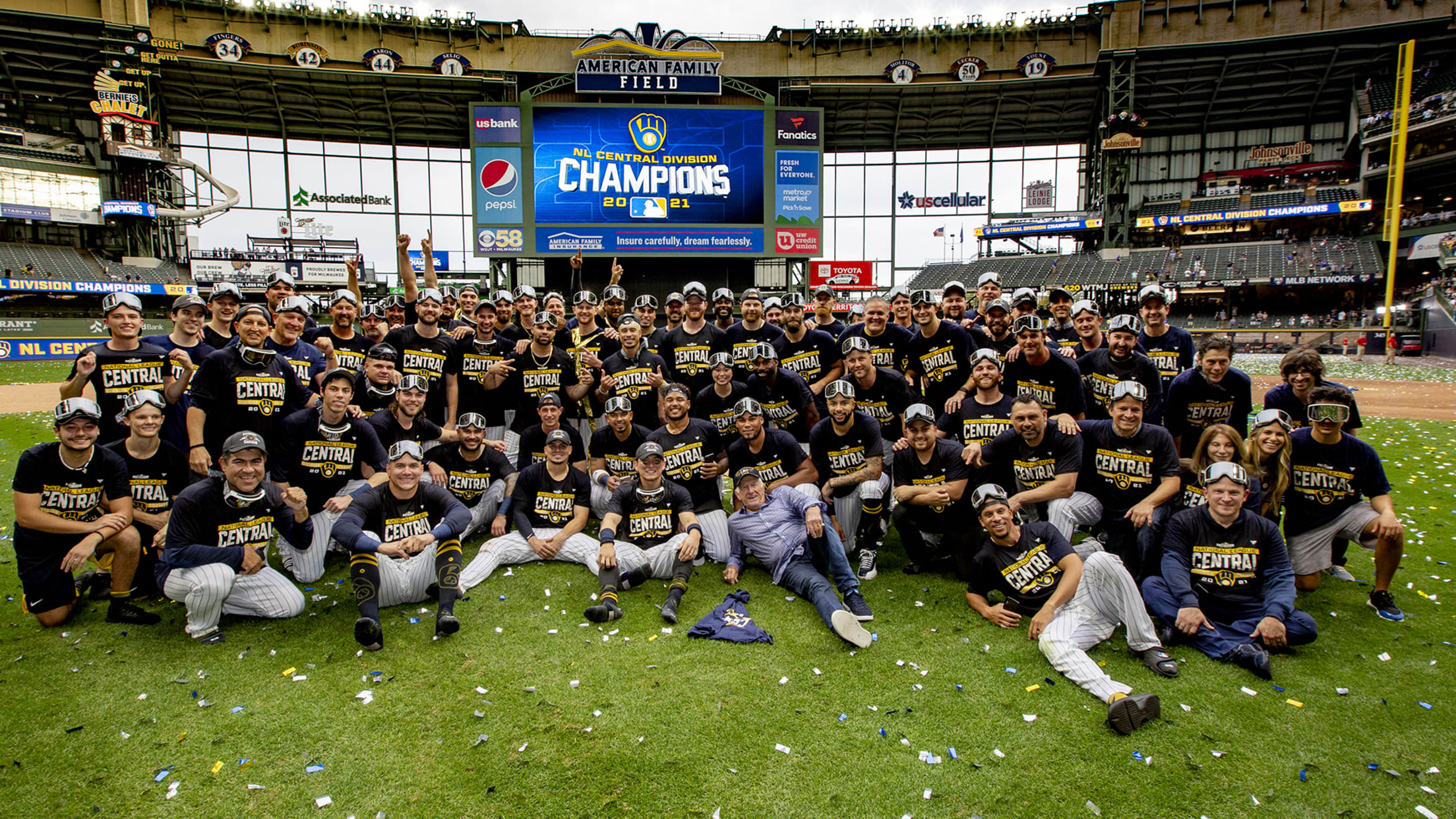 It's been like this in Milwaukee forever. When Uecker joined the Brewers' radio team in 1971, he was only four years removed from playing the final season of a Major League career that spanned the Milwaukee Braves, the Phillies and then the Atlanta Braves. Then-Brewers owner Bud Selig originally hired Uecker as a scout, but it was a failed enterprise. Selig swears that he once received a scouting report in the mail from Uecker that was smeared with mashed potatoes and gravy.
It was probably for the best, since Uecker was not meant to work behind the scenes. He's done commercials, television and films. He was a favorite guest of Johnny Carson during more than 100 appearances on The Tonight Show. Uecker hosted Wrestlemanias and is in the WWE Hall of Fame. He's in the Radio Hall of Fame and Cooperstown as well, recipient of the 2003 Ford C. Frick Award for broadcasting.
But he's always been a ballplayer at heart, according to those who know Uecker best.
"He still thinks of himself as a player," said Brewers director of team travel Dan Larrea, who has worked in Milwaukee's front office since 1996. "I think he always harkens back to his playing days because that is the basis of everything. None of the other things happen without his playing career."
The deal with Selig when Uecker accepted the broadcasting gig was that he could throw batting practice before quickly changing in the clubhouse and hustling up to the booth. He did that well into the 1990s until some health difficulties -- which have ranged from a bum rotator cuff to heart surgeries to a pancreatic cancer scare -- forced him to give up his spot in the BP rotation and take up swimming instead. To this day, Uecker uses the resistance pool in the clubhouse at American Family Field almost daily.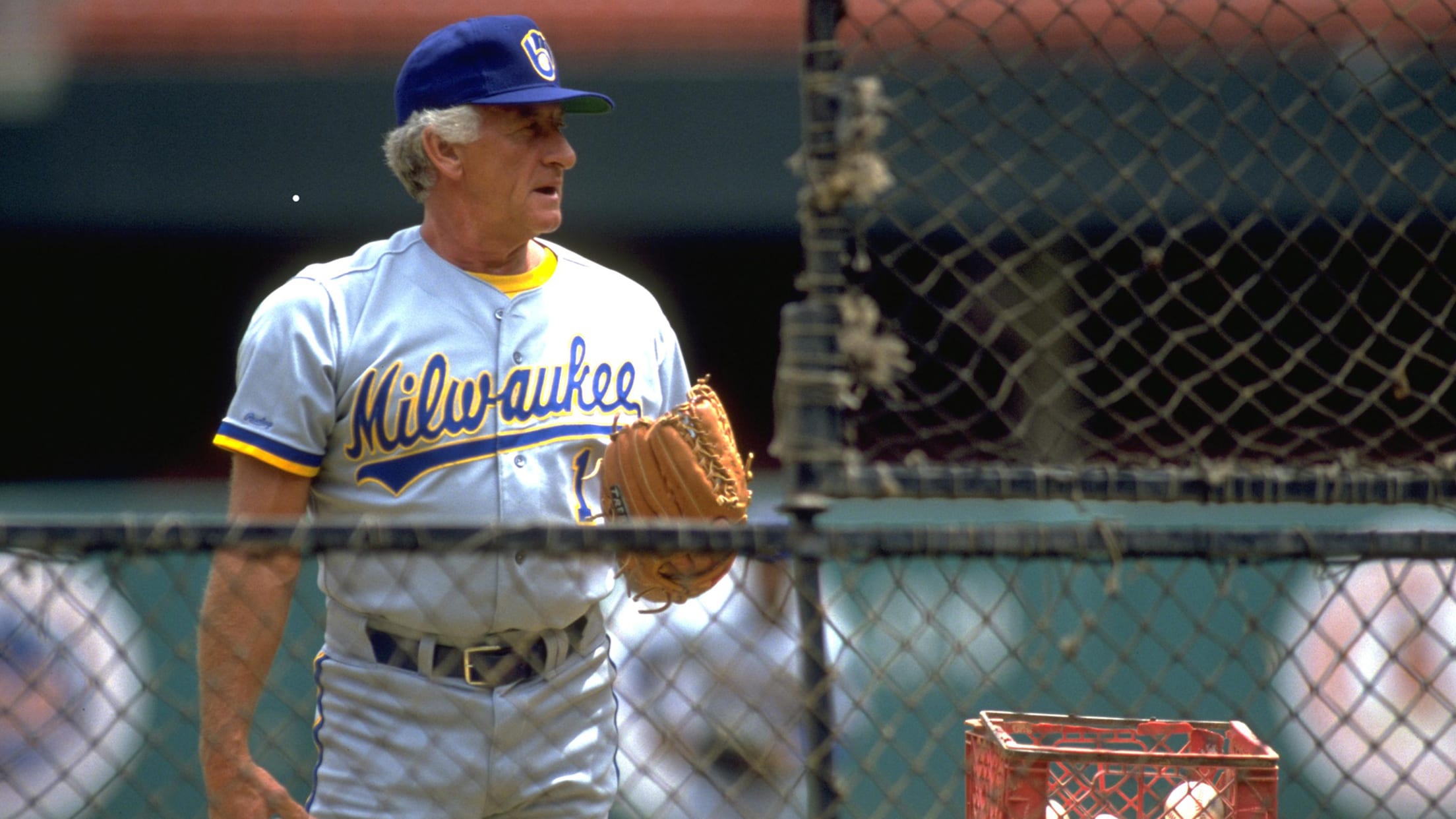 "He was always accepted as a player. He might as well have been a player," Hall of Famer Robin Yount said. "I'm not joking, he was probably the best batting practice pitcher we had for many years. A lot of that is being catcher; catchers always throw good batting practice. Pitchers always think they're pitching. I couldn't wait to get on the road, because that's where he threw batting practice most of the time."
"Bob became incredibly popular, incredibly recognizable," said another Hall of Famer, Paul Molitor. "But his favorite environment was always the clubhouse. He never changed. With everything that came his way, he never forgot his roots, and I think we all saw that."
Yount added this: "That camaraderie he created, I'm sure that's the same with players today."
'Ueck' is in the clubhouse every single day that we are. If he's not there, something's not right. He was definitely part of our team all year.

Kolten Wong
There is no better measure of that camaraderie than a gesture which all but took Uecker's breath away in 2018. Each year in September, contending teams have a players' meeting to determine the distribution of playoff shares, often splitting partial shares to medical staff, clubhouse staff and so on. After the Brewers' postseason run ended with a loss to the Dodgers in Game 7 of the NLCS, it was Larrea's duty to call Uecker with the news that players had granted Uecker the unusual honor of a full share. It was worth $122,957.13. Uecker donated the money to his favorite charities.
"He almost came to tears when I told him," Larrea said. "He was very emotional. I've had the pleasure of calling him every year since then."
This year, there were some added bonuses far more valuable than money. With Uecker's cohort at the front of the line to receive a COVID-19 vaccine when it became available in January, the Brewers were able to include him in their so-called "tiered" personnel with clubhouse access for the start of Spring Training, meaning he was back mingling with players and doing his pregame show in person with manager Craig Counsell.
And with the Brewers celebrating Uecker's 50th anniversary in the broadcast booth, Larrea, Brewers equipment manager Jason Shawger and star outfielder Christian Yelich conspired to create custom Nike shoes to mark the occasion, with an "Air Uecker" logo on one side of the heel and "ONE OF US" on the other. Uecker has been wearing them to the ballpark ever since.
"He's a huge part of this," Yelich said. "I think everybody always looks forward to this lawnmower celebration and the champagne showers. Hopefully there's more of those to come."
To understand what a "lawnmower celebration" is, one just has to see it:
"Bob has this quality with people. He can relate to anybody in any situation," said Tony Migliaccio, who started as a Brewers bat boy in 1978 and has been with the club ever since, now as director of clubhouse operations. "He'll sit and have a 10-minute conversation with a guy sweeping the parking lot, then come in here and have a 10-minute conversation with Mark [Attanasio, the Brewers' chairman and principal owner]. You know what I mean?
"It's like he's your best friend. That's a true gift to connect to people."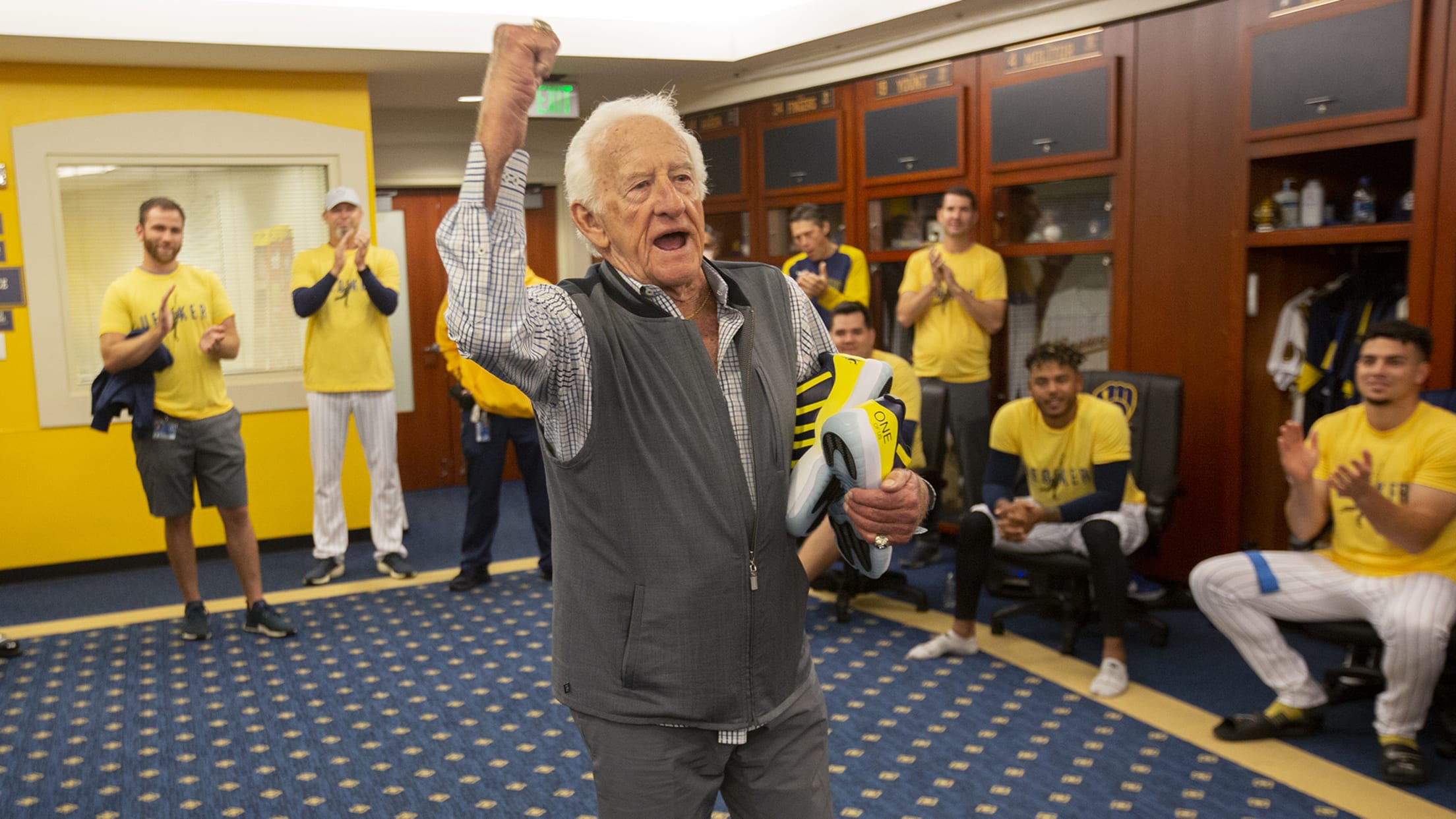 The connection is stronger than ever this week. For the first time since prior to the pandemic, Uecker will be on the road with the Brewers in Atlanta, calling games for the Brewers Radio Network.
It will be his first visit to Truist Park, site of Game 3 of the NLDS on Monday.
It's an opportunity to reconnect with his baseball roots, since one of Uecker's earliest stops was Double-A Atlanta, playing at Ponce de Leon Park in 1958 and '59 before moving up to Triple-A and eventually the big leagues. Uecker played alongside Hank Aaron with the Milwaukee Braves in '62 and '63, then reunited with "The Hammer" in Atlanta in 1967. Uecker said he's been thinking about Aaron this week and wondering what he would make of the first postseason matchup between the Braves and Brewers.
There's no doubt where Uecker's rooting interests lie.
"I've liked [the Brewers] all year long," he said. "We went through that whole COVID thing last year, and it was a bummer. You didn't get to really see what the guys do through a full season."
That's why it meant so much to celebrate in person with the team when the Brewers clinched the division on Sept. 26.
"This is good," Uecker said. "Really good."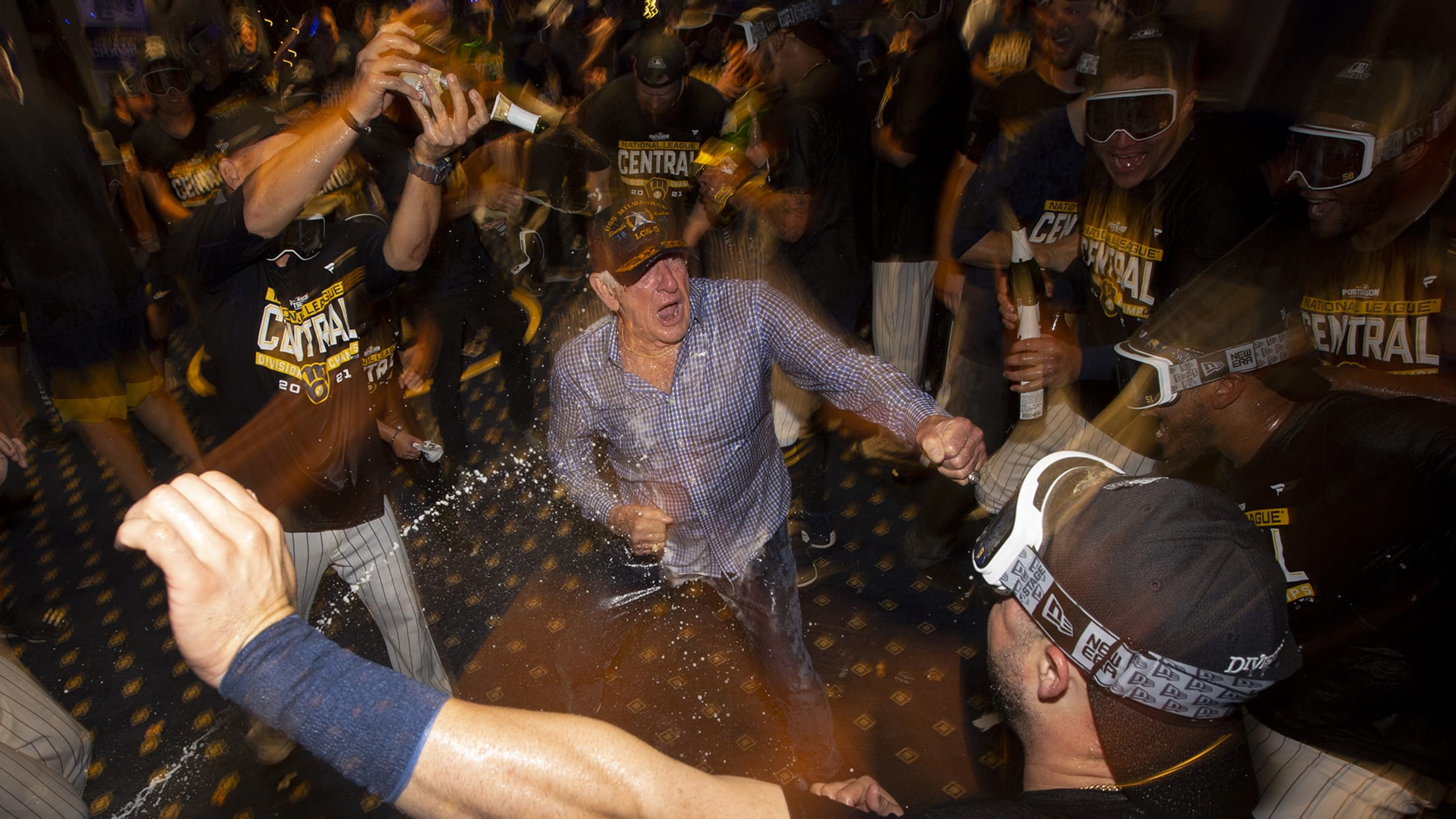 In recent weeks, Uecker was asked whether he ever ponders retirement. The answer was a quick no, as long as he's able to do his job without embarrassing himself or the organization. He will know, Uecker insisted, when it's time.
"I think keep doing it," Larrea said. "Tell me what other 87-year-old is that active and can work. Someone told me the other day when Bob had his first pitch [prior to NLDS Game 1], 'I look at my 81-year-old aunt and she's spooning pudding in her mouth and going to bed.' Now look at what Bob is doing at age 87.
"I think the work, being around everyone, the players, the front office, the media, everyone, it invigorates him. It keeps him young."