3 questions for Mets as camp nears end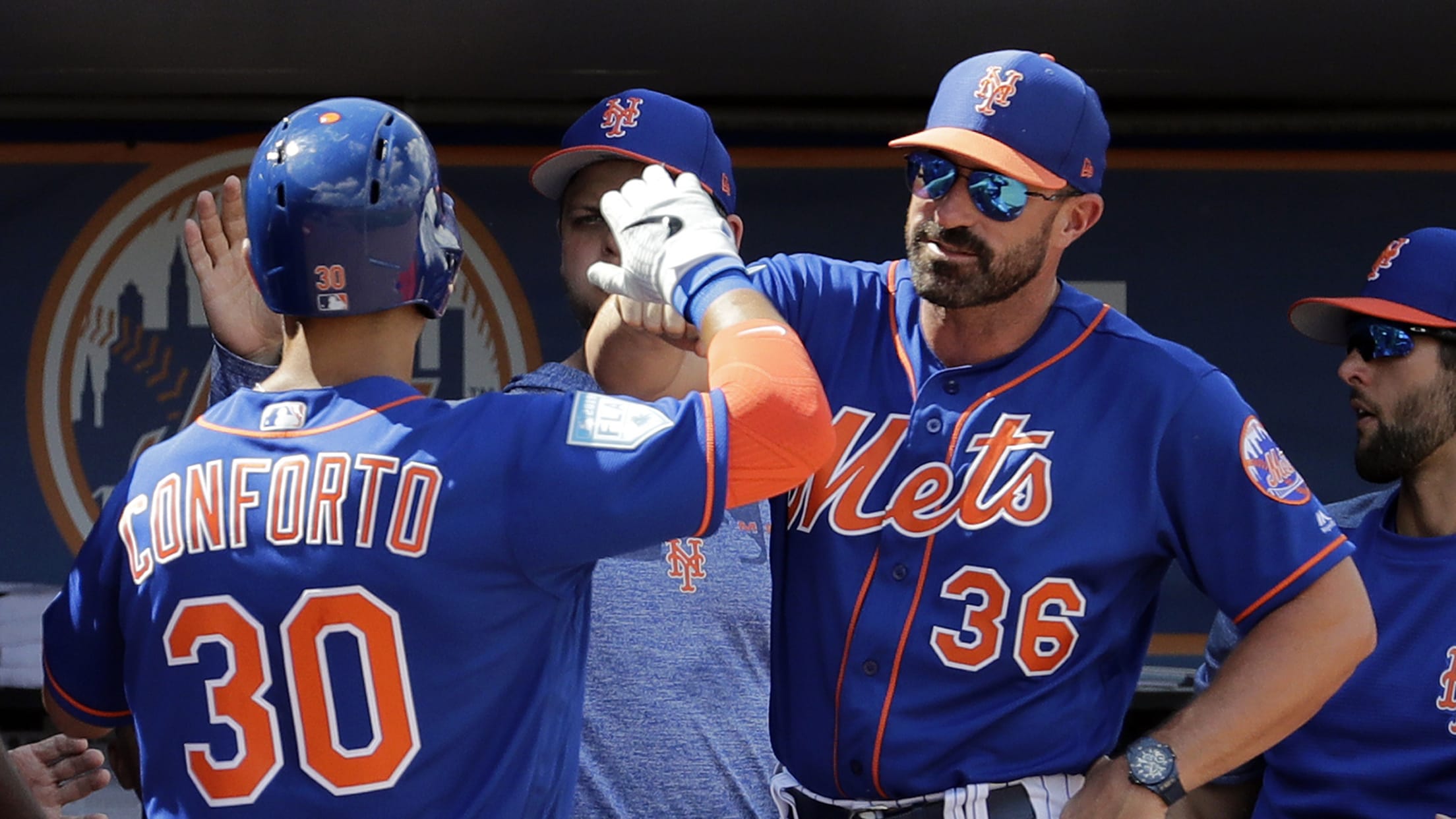 PORT ST. LUCIE, Fla. -- With less than two weeks until Opening Day, the Mets' roster battles are entering critical stages. Here's a look at what remains unsolved: 1. Who's on first? The most intriguing question at the start of Spring Training is still uncertain late in camp. That's no
PORT ST. LUCIE, Fla. -- With less than two weeks until Opening Day, the Mets' roster battles are entering critical stages. Here's a look at what remains unsolved:
1. Who's on first?
The most intriguing question at the start of Spring Training is still uncertain late in camp. That's no surprise, particularly considering how complicated top prospect Pete Alonso and Dominic Smith have made the Mets' decision. The former owns a .375 average and 1.119 OPS in Grapefruit League play, as well as three homers. The latter has a .400 average, 1.004 OPS and one home run.
Smith offers the Mets several advantages over Alonso. Team officials are far more confident in Smith's defense at first base and value his left-handed bat -- particularly early in the season, with hard-throwing right-handers Max Scherzer and Stephen Strasburg looming in their opening series. The Mets also can ensure an extra year of team control over Alonso if they keep him in the Minors for the first half of April.
But general manager Brodie Van Wagenen and manager Mickey Callaway have insisted they will carry the best 25 players north with them. Barring a massive slump over the final 10 games of spring, Alonso will be on that list. And it's hard to justify bringing Alonso north just to have him rot on the bench.
An injury could still resolve this issue; short of that, the Mets are going to have to have a difficult decision in the coming days. While it's possible -- even likely, at this point -- that both Smith and Alonso can make the Opening Day roster, they can't both receive the type of playing time they desire.
2. Who makes the bench?
While the Mets still aren't saying it, it seems safe to assume infielders Todd Frazier and Jed Lowrie will break camp on the injured list. As a result, Jeff McNeil will start at third base with Juan Lagares in center field. Another outfielder, Keon Broxton, is a lock for the bench, as is backup catcher Travis d'Arnaud (assuming his health holds over the next 10 days). Infielder Adeiny Hechavarria, who can play third base and shortstop, is also in good shape given the injuries to Frazier and Lowrie.
That leaves two spots for J.D. Davis, Luis Guillorme, Devin Mesoraco, Rajai Davis and the loser of the first-base competition. If Alonso starts at first, Smith can still land on the bench. The Mets would then need to choose between a third catcher (Mesoraco) or an extra bat elsewhere on the diamond. J.D. Davis, in particular, has enjoyed a strong spring but has available Minor League options that the Mets must consider.
3. Who rounds out the bullpen?
Five relievers are locks: Edwin Diaz, Jeurys Familia, Seth Lugo, Justin Wilson and Robert Gsellman. A sixth, Luis Avilan, has pitched well enough that it appears almost certain he will make the roster.
That leaves one spot for seven hopefuls: Tyler Bashlor, Kyle Dowdy, Eric Hanhold, Ryan O'Rourke, Tim Peterson, Hector Santiago and Daniel Zamora.
Santiago and Dowdy are intriguing because of their experience starting games as well as relieving. While Santiago has impressed with one run and 11 strikeouts in six innings, Dowdy has posted a 12.46 ERA with just one whiff in 4 1/3 innings. If Dowdy, a Rule 5 Draft pick, doesn't make the team, the Mets must offer him back to the Indians. The Mets also risk losing Santiago via an upward mobility clause in his contract -- essentially, if the Mets decide he's not making the team, another club can swoop in and add him to its 25-man roster.
O'Rourke, like Santiago, is on a Minor League deal. He enjoyed some big league success with the Orioles in 2016 but hasn't been back since undergoing Tommy John surgery in May '17.
The rest -- Bashlor, Zamora, Hanhold and Peterson -- represent the Mets' stash of optionable relief depth. The team can send those four back and forth freely between New York and Triple-A Syracuse all summer, meaning they'll all likely play significant roles even if they don't make the Opening Day roster.