Conforto feels 'lucky' to be back from IL so soon
Mets make difficult decision to DFA veteran Rajai Davis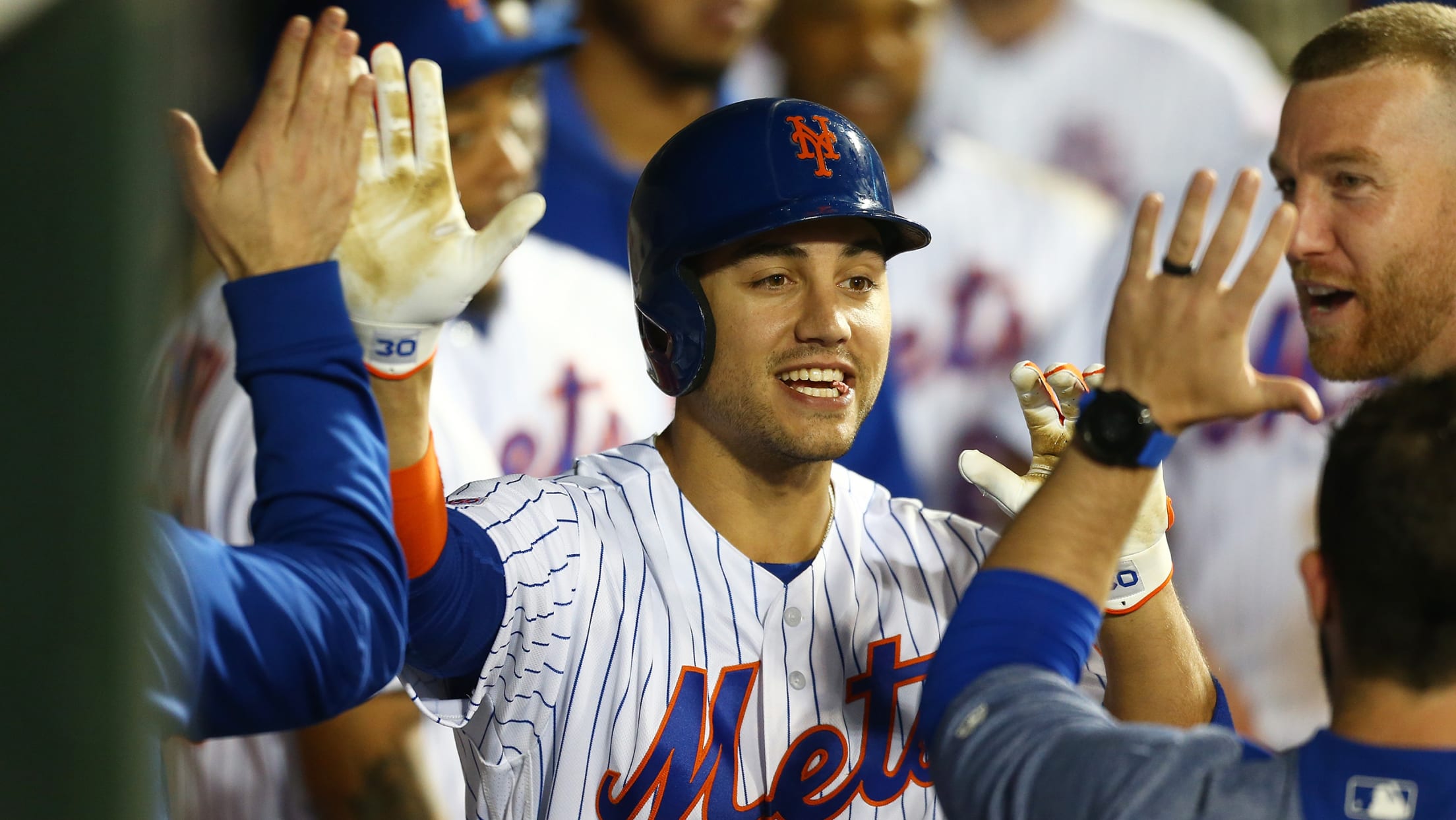 NEW YORK -- Michael Conforto called himself "lucky," knowing how tricky head injuries can be. All told, Conforto missed only nine games with a concussion, returning from the injured list Sunday against the Tigers. In a corresponding move, the Mets designated veteran outfielder Rajai Davis for assignment to clear roster
NEW YORK -- Michael Conforto called himself "lucky," knowing how tricky head injuries can be. All told, Conforto missed only nine games with a concussion, returning from the injured list Sunday against the Tigers. In a corresponding move, the Mets designated veteran outfielder Rajai Davis for assignment to clear roster space.
Conforto went 0-for-3 in the Mets' 4-3 win over the Tigers. He had been on the seven-day IL with a concussion since May 17, one day after he collided with Robinson Canó in a game at Nationals Park. The injury was initially concerning for Conforto, who has about a 10-second gap in his memory from the incident, but it wound up costing him relatively little time. The next day, Conforto felt back to normal. He went through Major League Baseball's concussion protocol, including a battery of brain tests, passing everything with ease.
The Mets will stay on guard for anything abnormal, but don't anticipate any lingering effects.
"Moving forward, we'll be on high alert when he has to dive," manager Mickey Callaway said. "Anything like that, we'll probably be checking on him maybe a little bit more than we have in the past, especially initially. But he's full go. No limitations. And hopefully he'll go out there and hit some homers."
Prior to suffering a concussion, Conforto was batting .271 with nine home runs and a .926 OPS in 42 games.
His return created a difficult decision for the Mets, who needed to decide whether to designate Davis or Aaron Altherr for assignment. Davis joined the Mets on a Minor League deal over the winter, earned a promotion to the big leagues last week, took a two-hour Uber ride to Citi Field and hit a three-run homer in his first Mets at-bat. The Mets hope that Davis will go unclaimed on waivers and remain in the organization; Davis indicated he would be willing to report back to Triple-A Syracuse in hopes of extending his career.
A 14-year veteran of eight teams, Davis, 38, finished 2-for-7 in his brief Mets stint. He was batting .277 with a .747 OPS at Syracuse prior to his promotion.
The Mets jettisoned Davis over Altherr in large part because the latter is under team control through 2021, should the Mets choose to pay him in arbitration. Like Davis, Altherr homered in his first Mets at-bat on Friday, before going 0-for-5 the following night. Altherr, 28, also rates as a plus defender, capable of manning all three outfield spots.
"We want to see a little bit of what Altherr can do," Callaway said. "It's a tough decision. You go back and forth, you go back and forth, and you try to come to the best conclusion. It's not always easy. We don't have a crystal ball. But we do the best we can with the information we have and try to keep our depth as much as possible."
The Mets will face more difficult decisions when Jeff McNeil (left hamstring strain) and Brandon Nimmo (bulging cervical disc) return from the IL, but neither is eligible to do so until June.
Worth noting
Relievers Tim Peterson and Paul Sewald, whom the Mets designated for assignment last week, both cleared waivers. The Mets outrighted them to Triple-A Syracuse.