Alonso gives custom gear to Sept. 11 memorial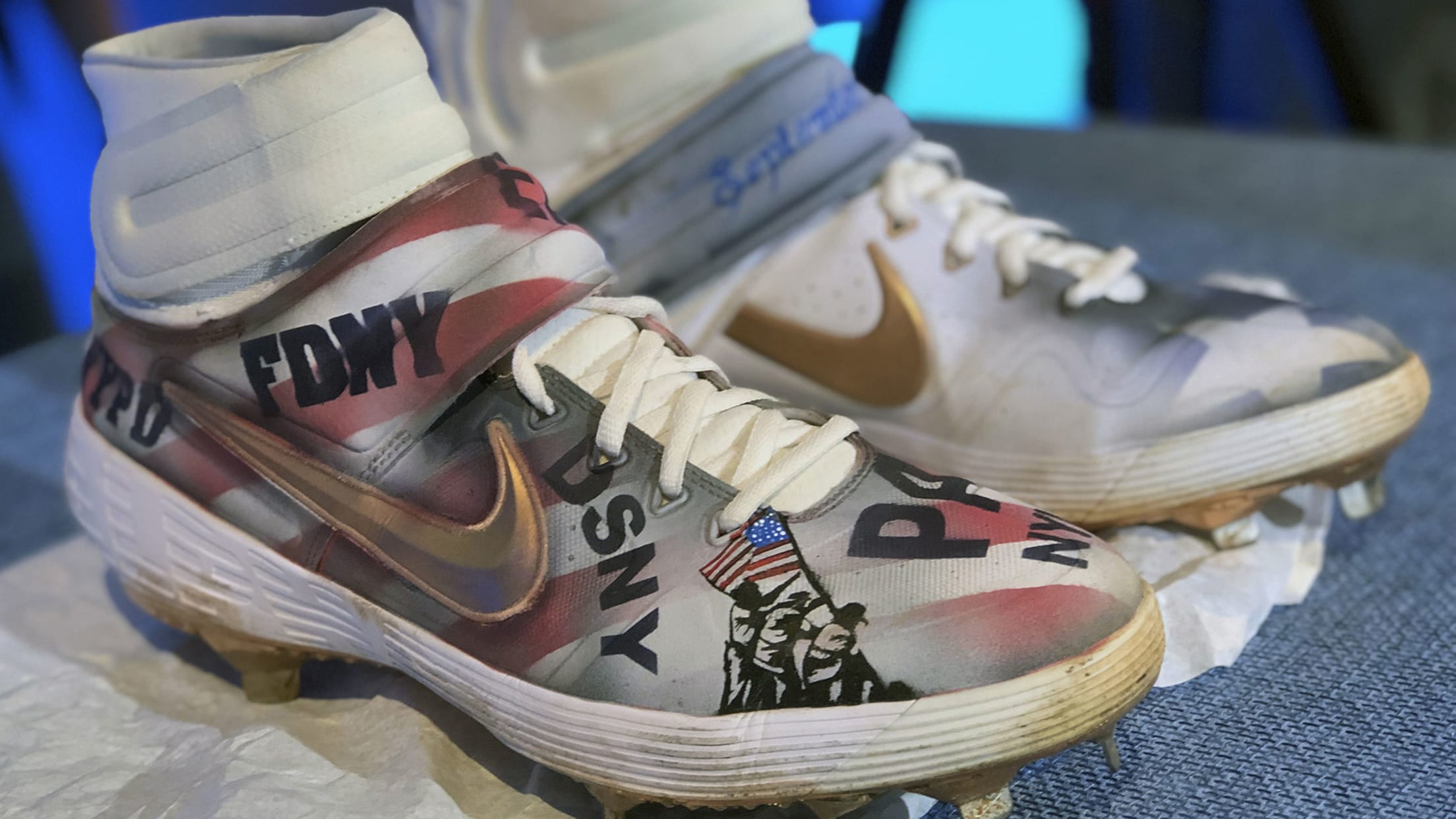 NEW YORK -- Like many children of the 1990s, Pete Alonso recalls being pulled out of school on Sept. 11, 2001 before he was old enough to realize, fully, the impact of that day. It was not until Alonso moved to Brooklyn in 2016, playing for the Mets' Class A
NEW YORK -- Like many children of the 1990s, Pete Alonso recalls being pulled out of school on Sept. 11, 2001 before he was old enough to realize, fully, the impact of that day. It was not until Alonso moved to Brooklyn in 2016, playing for the Mets' Class A affiliate on Coney Island, that he began to understand.
That summer, Alonso visited the National September 11 Memorial & Museum for the first time.
"It hit me like a ton of bricks," Alonso said, "just the vast impact that it had and the absolute massive scar."
Alonso went back to the museum a second time that summer, then again last year during a trip to New York. Each time, it left an impression. So when Alonso spent his first September as a New York resident this year, he knew he wanted to do something to commemorate all those affected by the terrorist attacks on the World Trade Center. Alonso worked with a shoe designer to create custom cleats for himself and all his teammates, then gave them out as gifts.
The Sept. 11 memorial took notice, contacting Mets chief operating officer Jeff Wilpon to ask if Alonso would be interested in donating the shoes. So it came to be that Alonso toured the museum again on Tuesday, before signing over his cleats and a bat to the museum.
"An individual who was 6 when these attacks happened 18 years ago has grown into a man who understands what it means never to forget," museum president Alice M. Greenwald said.
.@Pete_Alonso20 took a tour of the @Sept11Memorial today and donated his 9/11 tribute cleats and a bat to the museum. #NeverForget pic.twitter.com/xetn92582C

— New York Mets (@Mets) October 1, 2019
Alonso, who is coming off an All-Star rookie season that should end with a National League Rookie of the Year Award, has said frequently that he intends to use his growing platform as a celebrity New Yorker for good. When Alonso won the Home Run Derby in July, he donated $100,000 to charity -- including $50,000 to a Staten Island non-profit, Tunnel to Towers, that aids the families of fallen New York City servicemen and women. When the Sept. 11 memorial asked for his cleats, Alonso was "extremely humbled."
"There are some absolutely breathtaking artifacts here, and the fact that you guys are willing to have me donate a stinky old pair of cleats, really it's just so humbling," Alonso said during the presentation. "It means the world. All I can say is thank you so much. It's seriously an honor."
Before the presentation, Alonso took time to tour the museum again, paying particular attention to a winding exhibit that details the timeline of events on the morning of Sept. 11, 2001. Despite being only 6 years old that day, Alonso has gained perspective on the scope and impact of the attacks -- particularly in the city he now calls home.
"I don't think for me, I'm ever going to fully understand," Alonso said. "I just want to understand as much as possible, and give all I can to help."