'Moneyball' Draft still paying off for A's
Swisher pick in 2002 laid groundwork for current rotation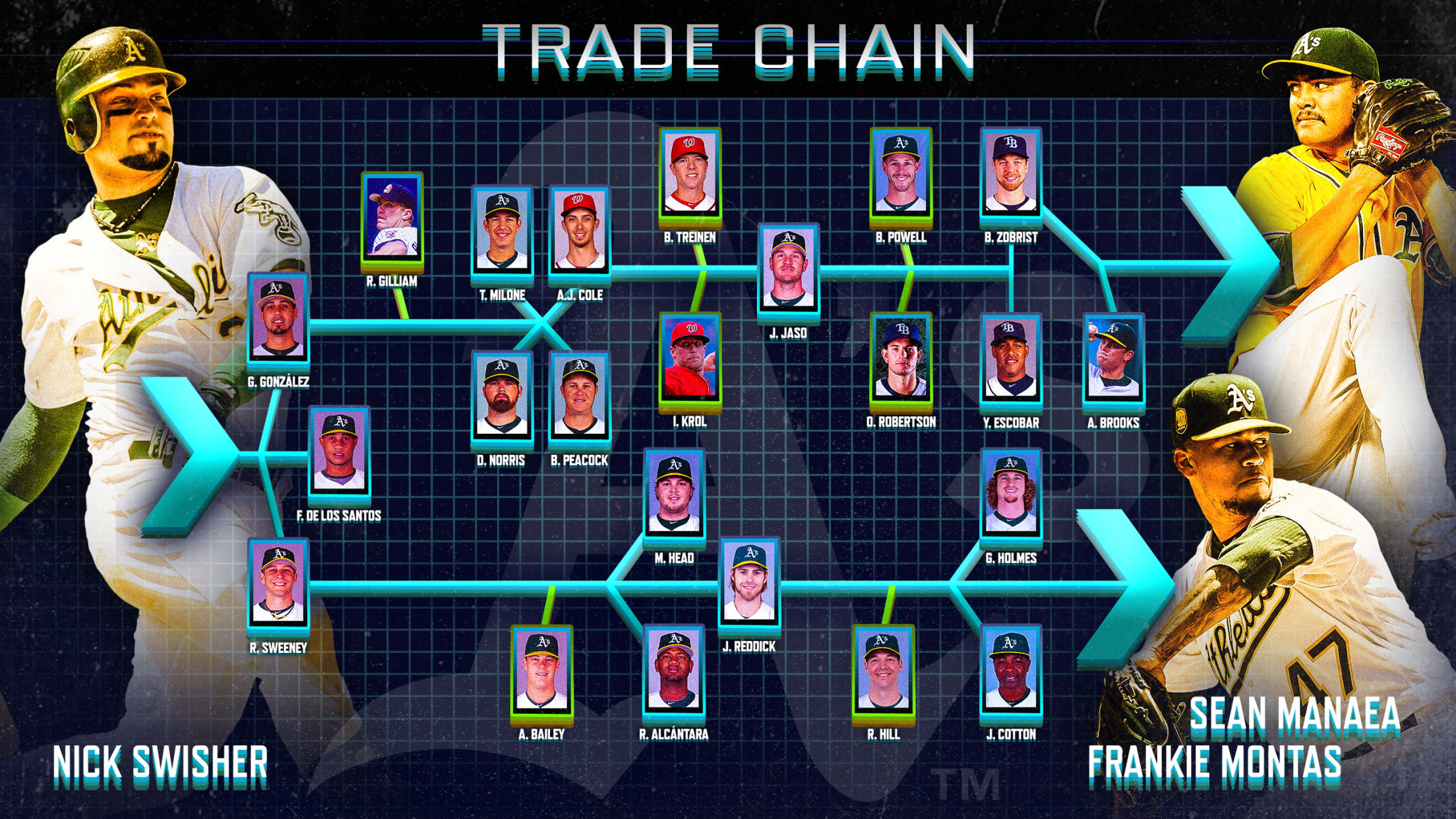 Few Draft hauls in history have been put in the spotlight as much as the Athletics' class of 2002. That was the "Moneyball" Draft, the one featured as part of Michael Lewis' renowned book about the A's and general manager Billy Beane's revolutionary team-building (which also became an Oscar-nominated film).
Few Draft hauls in history have been put in the spotlight as much as the Athletics' class of 2002. That was the "Moneyball" Draft, the one featured as part of Michael Lewis' renowned book about the A's and general manager Billy Beane's revolutionary team-building (which also became an Oscar-nominated film).
Oakland owned seven of the first 39 selections that year, and whether it made the most of them depends on your perspective. But what's not up for debate is that the first of those picks is still paying off for the organization today.
When baseball resumes and the A's seek a third consecutive postseason appearance after back-to-back 97-win campaigns, they will do so with a rotation that prominently features Sean Manaea and Frankie Montas. And the presence of both of those talented young pitchers can be traced all the way back to that 2002 Draft.
June 4, 2002: A's select Nick Swisher with 16th pick of the Draft
This tree actually first took root with the 1994 Draft, when the A's used the No. 2 overall pick on high school outfielder Ben Grieve, who would go on to take American League Rookie of the Year Award honors in '98.
In January 2001, Oakland shipped Grieve to Tampa Bay as part of a lucrative three-team deal in which it also sent Angel Berroa and AJ Hinch to Kansas City and acquired Johnny Damon and Mark Ellis. While Ellis was a long-term piece in Oakland, Damon played just one year there before signing with the Red Sox as a free agent. That cost Boston its 2002 first-round pick, which went to Oakland as compensation.
• An oral history of the 'Moneyball' Draft
The A's, who also got compensation for losing Jason Giambi to the Yankees and Jason Isringhausen to the Cardinals, were loaded with picks. And they used the first -- the one they got from the Red Sox -- on Swisher, who was coming off a great college career at Ohio State and was described in "Moneyball" as, "a rare point of agreement" between the organization's analytical and more old-school scouting sides.
(Two other early A's picks that year also would go on to significant MLB careers: pitcher Joe Blanton and infielder Mark Teahen).
Jan. 3, 2008: A's trade Swisher to White Sox for Fautino De Los Santos, Gio González and Ryan Sweeney
Swisher performed well in three-plus seasons for the A's (118 OPS+), but despite his 4.4 WAR in 2007, the A's sunk from an AL Championship Series trip in '06 to 76-86, their worst record since 1998. It was time for Beane to rebuild, which he began by trading pitcher Dan Haren to Arizona on Dec. 14, 2007. Swisher was next.
"Our status quo as we stood going into the season was mediocrity at best," Beane said at the time. "That's my opinion. If anything we're taking a step back with the idea we have a chance to build something very good for a long time. ... The cost of indecision for us probably would be a bigger mistake."
Here is where our tree branches off in two directions, one following González, and the other following Sweeney. We'll take them one at a time.
THE GONZÁLEZ BRANCH
Dec. 23, 2011: A's trade González and Robert Gilliam to Nationals for A.J. Cole, Tommy Milone, Derek Norris and Brad Peacock
After struggling in partial big league seasons from 2008-09, González threw 200-plus innings in back-to-back years, with a combined ERA of 3.17, and made the AL All-Star team in '11. But the A's finished .500 or below for the fifth year in a row (74-88) and continued to rebuild. When the Nats -- ramping up to contend -- didn't land veteran lefty Mark Buehrle in free agency, they turned their attention to González.
Jan. 16, 2013: As part of a three-team deal, A's trade Cole, Blake Treinen and a player to be named (Ian Krol) to the Nationals; receive John Jaso from Mariners
This deal is also connected indirectly to Oakland's acquisition of a third key pitcher in its current rotation. In 2017, when the A's shipped veteran relievers Sean Doolittle and Ryan Madson to Washington and helped set up the Nats' 2019 title run, Treinen was part of a return package that also included top prospect Jesús Luzardo.
But back to our main trade tree. The A's rebounded to 94 wins and a postseason berth in 2012 and wanted a lefty-hitting catcher to pair with Norris. Beane, calling Jaso a "unique bat" behind the plate, acquired him while giving up Cole, who had struggled in a move to Class A Advanced.
Jan. 10, 2015: A's trade Jaso, Boog Powell, Daniel Robertson and cash to Rays for Yunel Escobar and Ben Zobrist
Jaso delivered a 117 OPS+ and helped the A's make the playoffs twice more in 2013-14, although concussions limited his playing time. Before the '15 season, Beane took the opportunity to acquire a coveted and versatile player in Zobrist, who had one year left on his contract (Escobar was flipped to the Nats for reliever Tyler Clippard four days later).
July 28, 2015: A's trade Zobrist and cash to Royals for Aaron Brooks and Sean Manaea
Zobrist played well for the A's but also missed about a month with a knee injury, and the team fell out of contention, leading Beane to cash in some veteran assets. Zobrist went to Kansas City, where he helped the Royals bring home a championship. The A's got two young pitchers, including a highly promising prospect in Manaea, who had been selected 34th overall in the 2013 Draft.
"We like both of them, and it was something that the organization needed, upper-level starters," Beane said at the time.
Brooks never found his footing in Oakland, but Manaea owns a 3.77 ERA in 493 2/3 career innings, including his no-hitter in 2018. Left shoulder surgery wiped out most of his '19 campaign, but the 28-year-old lefty returned in September to post a 1.21 ERA in five starts, setting him up well for '20.
THE SWEENEY BRANCH
Dec. 28, 2011: A's trade Sweeney and Andrew Bailey to Red Sox for Miles Head, Raúl Alcántara and Josh Reddick
Back to 2011. After a few solid years as a regular outfielder in Oakland, Sweeney's career took a turn with a 2010 knee injury that required surgery. Soon after trading González to Washington, Beane shipped Sweeney to Boston in a deal headlined by Bailey, the club's All-Star closer.
It was a bust for the Red Sox, with Bailey and Sweeney both battling injuries and contributing little to a last-place club in 2012. It was a steal for the A's, with Reddick producing 16.4 WAR over five seasons in Oakland and becoming a key player on three playoff teams.
Aug. 1, 2016: A's trade Reddick and Rich Hill to Dodgers for Grant Holmes, Jharel Cotton and Frankie Montas
Out of contention for a second straight year, the A's once again struck for young pitching talent at the Deadline, in exchange for two pending free agents.
"We got three pitchers we expect to be a big part of this organization for a long time to come," said A's GM David Forst, who assumed that position in October 2015, with Beane taking the title of executive vice president of baseball operations.
Pitching prospects are, of course, fickle. Cotton showed some early promise but is no longer in the organization. Holmes, a first-round pick and the top prospect in the deal at the time, has since dealt with uneven performance and injury but reached Triple-A last year, and at only 24 remains a potential contributor going forward.
Montas quietly emerged last year as one of the most effective starters in the AL, going 9-2 with a 2.63 ERA in 16 starts, showing the ability to miss bats and limit hard contact. While an 80-game suspension for violating Major League Baseball's Joint Drug Prevention and Treatment Program put a significant damper on those results, Montas had the makings of a dark horse Cy Young Award candidate and looked sharp this spring before the season was put on hold.
When the A's are able to take the field again, Montas figures to play a major role. Manaea does, too. If Holmes can work his way into the picture, that would make it a trio, all tied to that much-discussed 2002 Draft.