Wednesday's top prospect performers
Blue Jays products impress in upper Minors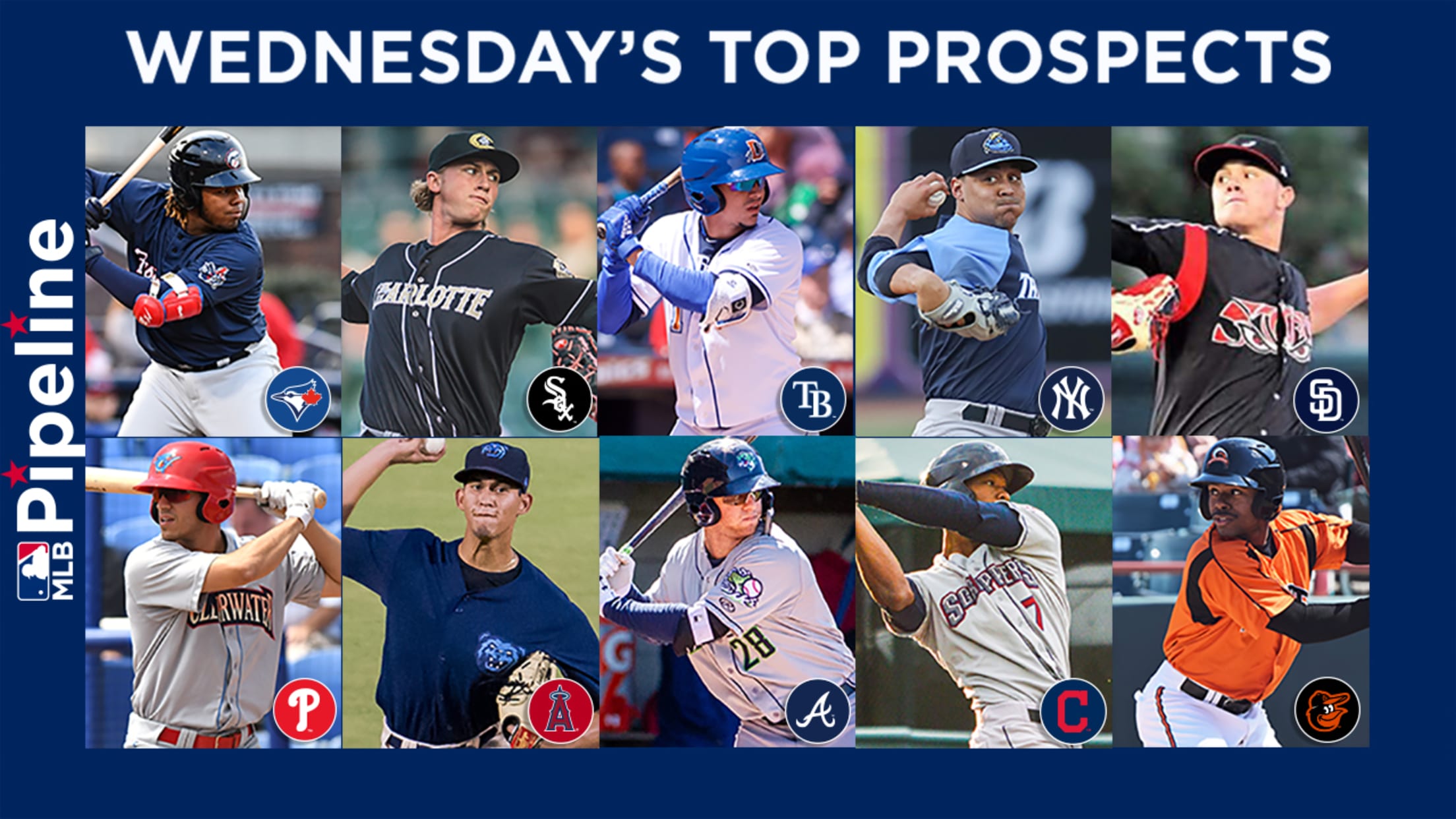 Here's MLB Pipeline's roundup of the top prospect performances in the Minor Leagues on Wednesday.A plethora of Blue Jays prospects showcased their skills across multiple levels as a trio of the organization's top prospects led Triple-A Buffalo to a win and the top prospects in the system fared well for
Here's MLB Pipeline's roundup of the top prospect performances in the Minor Leagues on Wednesday.
A plethora of Blue Jays prospects showcased their skills across multiple levels as a trio of the organization's top prospects led Triple-A Buffalo to a win and the top prospects in the system fared well for Double-A New Hampshire.
The Fisher Cats were unable to win the game, but No. 3 overall prospect Vladimir Guerrero Jr. (Blue Jays' No. 1) and Bo Bichette (No. 13 overall, Blue Jays' No. 2) once again showed why they are ranked so high. Bichette, 20, went 2-for-5 with a double and is batting .303 after going 4-for-10 over his past two games.
MILB Video - Title: Guerrero registers second RBI - Url: http://www.milb.com/r/video?content_id=1976657383
Guerrero, also experiencing the Double-A level for the first time, put together his second three-hit game of the season and drove in a trio of runs, including a game-tying sacrifice fly in the ninth.
Up at the Triple-A level, it was No. 47 overall prospect Anthony Alford (Blue Jay's No. 3), Ryan Borucki (No. 8) and Reese McGuire (No. 14) leading the Bisons to a win over Durham.
Alford and McGuire combined to go 4-for-6 with three RBIs and McGuire hit his first homer of the season, a two-run blast in the fourth, in the process.
On the mound, Borucki spun his best start of the season, giving up one run on five hits over six innings. The lefty also threw 61 of his 90 pitches for strikes, walked one and struck out seven, a season high.
Other top prospect performances from Wednesday's action:
• No. 10 overall prospect Michael Kopech (White Sox No. 2) put together another strong start for Triple-A Charlotte. Kopech, who has given up one earned run or fewer in three of his four starts, gave up one run on one hit in six innings. The right-hander walked two and also struck out eight, bringing his total to 29 through 21 innings this season.
MILB Video - Title: Kopech fans eight - Url: http://www.milb.com/r/video?content_id=1976482783
• No. 22 overall prospect Willy Adames (Rays' No. 2) continued his hot stretch with Triple-A Durham. Adames, who hit for the cycle on Monday, extended his hitting streak to eight games with a 2-for-4 effort. The 22-year-old has increased his average from .212 to .355 during that span and has two or more hits in three of his past four games. Rays No. 4 prospect Jesus Sanchez (No. 57 overall) also had a good game for Class A Advanced Charlotte, going 2-for-4 with a double and his fifth homer of the season.
• No. 48 overall prospect Justus Sheffield (Yankees' No. 3) continues to pile up the strikeouts with Double-A Trenton. The lefty gave up three runs (one earned) on four hits over six innings while striking out eight. Sheffield has spun 22 innings this season and collected 30 strikeouts.
• No. 50 overall prospect Adrian Morejon (Padres' No. 6) was lights-out for Class A Advanced Lake Elsinore. After giving up four runs in his last start, Morejon limited the damage this time around to one run on two hits. The lefty also struck out five in as many innings.
• No. 95 overall prospect Adam Haseley (Phillies' No. 6) is heating up for Class A Advanced Clearwater. After going 2-for-4 with two doubles and three RBIs, Haseley has two hits in four of his past five games and at least one hit in 12 of his last 13. He's also increased his batting average from .200 to .280 in that span.
MILB Video - Title: Post game Interview: Haseley - Url: http://www.milb.com/r/video?content_id=1974768283
• Angels No. 11 prospect Jesus Castillo was nearly flawless for seven innings with Double-A Mobile. The 22-year-old right-hander didn't surrender a hit and threw 51 of his 70 pitches for strikes in his first scoreless start of the season. Castillo struck out four and only allowed one baserunner via a hit batter.
MILB Video - Title: Castillo notches the K - Url: http://www.milb.com/r/video?content_id=1975874583
• Braves No. 16 prospect Dustin Peterson put together his second straight three-hit day for Triple-A Gwinnett. Peterson, who went 3-for-5 with a double and a homer, is 6-for-10 with two homers and six RBIs over his past two games.
• Indians No. 7 prospect Will Benson showed off some power with his third career two-homer game. Benson went 2-for-3 with a pair of solo home runs for Class A Lake County in Game 1 of a doubleheader, a game that also featured a no-hitter.
• Orioles prospects Cedric Mullins (No. 7) and Keegan Akin (No. 9) led Double-A Bowie to a win over Richmond. Mullins extended his hitting streak to six games with a 2-for-4 performance that included a double and a solo homer. On the mound, Akin yielded just three hits and struck out five across six scoreless innings. The 23-year-old gave up seven runs over nine innings to start the season but has since allowed just one run in his past 12 frames.
• Twins No. 14 prospect Travis Blankenhorn hit a pair of solo homers for Class A Advanced Fort Myers. Blankenhorn, who has four home runs this season, has gone deep three times over the past three games. The two-homer game also marked his first of the season and the second of his career.
• White Sox No. 10 prospect Micker Adolfo went deep in both games of Class A Advanced Winston Salem's doubleheader. The 21-year-old, who now has five homers this season, went 1-for-2 with a solo homer in the first game, then exploded for five RBIs - via an RBI double, sacrifice fly and three-run homer - in the second game.