The 5 tiers of this year's free-agent class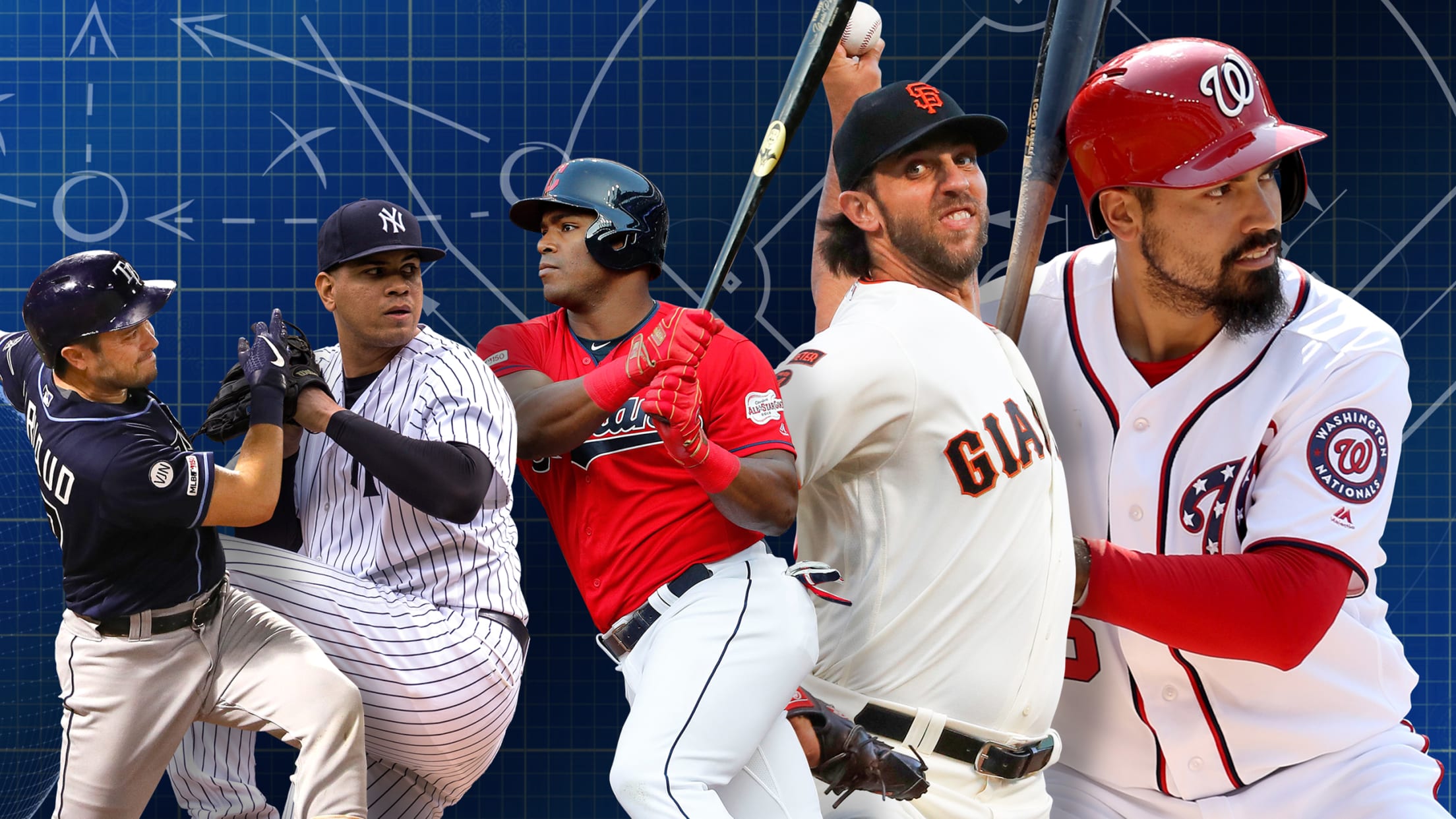 As the regular season winds down to its final 10 days, teams are doing their prep work for another busy offseason of free agency. Gerrit Cole and Anthony Rendon are seen as the top two players available this winter, but there will be a lot of other available talent for
As the regular season winds down to its final 10 days, teams are doing their prep work for another busy offseason of free agency.
Gerrit Cole and Anthony Rendon are seen as the top two players available this winter, but there will be a lot of other available talent for teams to consider. Some are franchise-altering players, while others can be solid complementary pieces for a club looking to take the next step.
Below is a list of players who could be available during the offseason (eight of them, noted with an asterisk, have either 2020 options or opt-out clauses) and where they fall among our five tiers of 2020 free agents. Players are listed alphabetically by their last name within each tier, and ages listed are as of Opening Day 2020.
TIER 1
Gerrit Cole, RHP, age 29: The best starter available, Cole could set a new record for the biggest free-agent pitching contract in history. He's the only true No. 1 headed to the open market -- assuming Stephen Strasburg doesn't opt out -- and he will be paid accordingly.
Josh Donaldson, 3B, age 34: Donaldson's decision to sign a one-year deal with the Braves has paid off, as the 2015 American League Most Valuable Player Award winner has had a huge comeback season, re-establishing himself as both an offensive force and clubhouse leader to set himself up for a healthy multiyear deal. He won't get as many years as the other guys in Tier 1, but he should get a lucrative short-term contract.
J.D. Martinez*, OF/DH, age 32: The first of our opt-out/option candidates, Martinez can walk away from the final three years and $62.5 million of his contract to become a free agent. His market will likely be limited to AL teams, but given his three-year run of excellence, he will be an appealing middle-of-the-lineup option. Important note: He has an opt-out clause after next season, as well.
Anthony Rendon, 3B, age 29: Coming off a career year, Rendon has set himself up for possibly the biggest overall contract to be signed this offseason. Whether he exceeds Nolan Arenado's eight-year, $260 million deal remains to be seen.
Stephen Strasburg*, RHP, age 31: Like Martinez, Strasburg can opt out of the final four years and $100 million of his deal with the Nationals. Should he opt out -- which many expect he will, unless he leverages the clause into an additional year or two from the Nats -- it would add a second elite arm to the market. His injury history -- this is the first season since 2014 that he's made 30 starts -- might be an issue for some teams.
TIER 2
Madison Bumgarner, LHP, age 30: Bumgarner isn't the ace he once was, but he remains a consistent front-of-the-rotation starter. His second half has been quite good, with an ERA in the low-3.00s and a 0.96 WHIP.
Nicholas Castellanos, OF, age 28: What was shaping up as a woeful walk year has turned in Castellanos' favor, as he's thrived since being traded to the Cubs. Put his entire season together and Castellanos' free-agent value should be what most expected it would be entering 2019 -- with no qualifying offer to weigh him down.
Aroldis Chapman*, LHP, age 32: Chapman can opt out of the final two years and $34.4 million of his deal with the Yankees, putting himself back on the open market. The Yankees would surely extend a qualifying offer to Chapman, which could hamper his market.
Yasmani Grandal*, C, age 31: Grandal has a mutual option for $16 million with a $2.25 million buyout and he is expected to become a free agent. He's had a solid season and is the top catcher headed for free agency.
Didi Gregorius, SS, age 30: Gregorius has become a consistent offensive presence in a stacked Yankees lineup, though his sub-.300 on-base percentage this season isn't optimal. Staying with the Yankees seems like the best fit for both sides, but Sir Didi should have suitors outside of New York, as well.
Marcell Ozuna, OF, age 29: Ozuna hasn't approached his monster 2017 season during either of his two seasons in St. Louis, but he had a bit of a bounce back this year, and he should have multiple suitors.
Hyun-Jin Ryu, LHP, age 33: Ryu's past 1 1/2 seasons have put him in position to score a nice contract, though his age and injury history might be an issue for prospective bidders. The assumption within the industry is that he will stay with the Dodgers.
TIER 3
José Abreu, 1B/DH, age 33: Abreu rebounded from a subpar 2018, posting big power numbers this season. His age and mediocre defensive skills may limit his market to mostly AL teams, but the thump he provides to a lineup will help him on the market. A return to the White Sox seems to be the most likely scenario.
Corey Dickerson, OF, age 30: Injuries limited Dickerson to only 28 games in the first half of the season, but he hit well north of .300 with 10 home runs, 41 RBIs and a .960 OPS in his first 50 games after the break. Teams value aggressive hitters who don't strike out much, which describes Dickerson, though a fractured foot ended his season prematurely and that could give some teams pause.
Cole Hamels, LHP, age 36: Hamels was heading in the wrong direction in 2017-18 with the Rangers, but he's been rejuvenated by his move to Chicago, where he's posted a 3.36 ERA in 38 starts with the Cubs. His 8.8 strikeouts per nine innings are slightly better than his 8.5 career average, so even at age 36, he'll be a sought-after mid-rotation option.
José Iglesias, SS, age 29: After signing a one-year, $2.5 million deal with the Reds last offseason, Iglesias should be in line for a multiyear deal after posting the best offensive season of his career while continuing to flash an excellent glove at shortstop.
Dallas Keuchel, LHP, age 32: Because he received a qualifying offer last year, he can't get one again, and the lack of Draft pick compensation attached to Keuchel should make it easier for him to find a deal than he did last offseason. The 2015 AL Cy Young Award winner has pitched well for the Braves, and while he may not get the huge haul he expected a year ago, he should draw interest from several teams.
Wade Miley, LHP, age 33: Working on a one-year, $4.5 million deal with the Astros, Miley was having a stellar season through the season's first five months (3.06 ERA). His first two starts in September were disastrous (12 earned runs over one-third of an inning), but if the lefty can deliver a strong finish and a solid October, he should be in position for a multiyear pact.
Mike Moustakas*, 2B/3B, age 31: Moustakas has a mutual $11 million option with a $3 million buyout, so he'll likely be returning to the free-agent market for a third straight year. Will he finally cash in with a multiyear deal following another strong season?
Jake Odorizzi, RHP, age 30: Odorizzi made his first All-Star team this year with three excellent months, and while his second-half ERA has been more than one run higher than what he posted in the first, much of that can be attributed to one horrific outing against the Yankees (four innings, nine earned runs on July 24). With an ERA close to 3.00 since that start, Odorizzi will be a solid No. 2 or 3 rotation option for interested teams.
Yasiel Puig, OF, age 29: Puig has been slightly below average this season, posting an OPS about 50 points lower than his .820 career mark. But Puig at his best is still a game-changer, not to mention he draws attention and eyeballs, so he'll attract interest from clubs seeking outfield help.
Will Smith, LHP, age 30: Smith has excelled in the Giants' closer's role since assuming the job in July 2018, striking out 12.5 batters per nine innings while posting a WHIP very close to 1.00. Even if Chapman opts out, the closer market isn't very strong, making Smith an attractive option.
Zack Wheeler, RHP, age 29: Had Wheeler been a free agent a year ago, he likely would have been in the next tier up. His second half this season has been better than his first, though not as sizzling as his 2018 stretch run. Still, he's topped the 180-inning mark for the second straight year and he should have little trouble landing a good deal. It will be interesting to see if the Mets extend him a qualifying offer, as he is the type of player whose market could be notably affected by one.
TIER 4
Dellin Betances, RHP, age 32: One of the most dominant relievers in the game since 2014, Betances has missed basically all of 2019 season with a lat, and then shoulder injury. He looked strong in his return Sunday against Toronto, but he suffered a partial left Achilles tear during the outing, ending his season. Zack Britton had an Achilles tear in December 2017 and was back in the Majors six months later, so a return sometime next season is likely for Betances. His track record will make him an interesting risk/reward signing for somebody, possibly on a two-year deal similar to the one Garrett Richards signed two years ago with San Diego when he came off Tommy John surgery, and a rehab period was part of the expectation. Though in this case, the rehab wouldn't be nearly as long.
Kole Calhoun*, OF, age 32: Calhoun has had his biggest power year in 2019, topping the 30-homer mark and hovering around an .800 OPS. The Angels hold a $14 million club option with a $1 million buyout, so there's a good chance he'll find himself on the free-agent market.
Starlin Castro*, 2B, age 30: Castro will be entering his 11th full season in the Majors even though he won't turn 30 until late March. He's a steady, if unspectacular, presence in a lineup, good for 160 hits and a .700-plus OPS annually. The Marlins are likely to decline his $16 million option (he'll receive a $1 million buyout), sending him to free agency for the first time.
Edwin Encarnacion*, 1B/DH, age 37: The Yankees will face an interesting decision with the veteran slugger, who has a $20 million club option with a $5 million buyout. Encarnacion has been a popular player with the fans and in the clubhouse, and with his eighth-straight 30-homer season in the books, it would be no surprise if the Yankees keep him. If he becomes a free agent, several AL teams will have interest.
Brett Gardner, OF, age 36: Sure, everybody seems to be hitting more home runs this season, but Gardner has already established a career-high with 25. Then again, the onetime speedster hit 21 two years ago, so perhaps he's found a power stroke late in his career. He's also still an excellent, versatile outfielder.
Rich Hill, LHP, age 40: The veteran has been limited to 11 starts and 53 2/3 innings due to forearm and knee injuries, but he's pitched well when he's been on the mound. It will be difficult for a team to count on a full healthy season from Hill, but he can still be effective when he's available.
Martín Maldonado, C, age 33: The catching market is relatively shallow, making Maldonado a strong option for teams looking to address the position via free agency. The Astros liked him enough to reacquire him this summer, and he's rewarded them with solid defense and a little pop, belting six homers in 20 games after hitting six in 78 games before landing back in Houston.
Jonathan Schoop, 2B, age 28: Schoop struggled through a terrible 2018, but he's rebounded after inking a one-year, $7.5 million pact with the Twins last winter. Schoop might not be back to his 2017 All-Star form, but he's proven that last season was the exception rather than the rule.
TIER 5
Jason Castro, C, age 32: After missing most of 2018 with a knee injury, Castro has played well with the Twins this season despite ceding a portion of his playing time to Mitch Garver. Castro still has some pop (12 homers) and is a solid offensive contributor (.773 OPS).
Travis d'Arnaud, C, age 31: After being released by the Mets and traded by the Dodgers during a seven-day span, d'Arnaud caught on with the Rays and rewarded Tampa Bay with a career year. Whether teams believe it was a player figuring it out at age 30 or just a blip on the radar remains to be seen.
Kyle Gibson, RHP, age 32: The Twins starter has shown spurts of promise through the years, but his walk year looks a lot like his career 4.51 ERA and 1.405 WHIP. Gibson has never pitched 200 innings in a season, but he'll provide steady back-end rotation depth.
Adam Jones, OF, age 34: Jones might not be the same offensive player he was in his prime, but he's a solid hitter who provides great leadership in the clubhouse.
Michael Pineda, RHP, age 31: Pineda was enjoying a second-half resurgence (2.76 ERA in 11 starts since June 29) before a PED suspension halted his season. Pineda will be suspended for the first 39 games next season, which will likely factor into clubs' interest.
Rick Porcello, RHP, age 31: The 2016 AL Cy Young Award winner has had a tough season, posting an ERA near 6.00 in 30 starts. His 1.441 WHIP is his highest since 2012, while his 7.2 strikeouts per nine innings is his worst mark since 2014. Porcello is finishing a four-year, $82.5 million deal, so he's looking at a major pay cut.
Tanner Roark, RHP, age 33: Roark has been solid since arriving in Oakland via trade this summer, improving his strikeout-to-walk ratio to a career-best 4.00. Coming off a $10 million deal in his final year of arbitration, the right-hander should provide stability in the back end of a rotation.
Justin Smoak, 1B, age 33: Smoak's All-Star season in 2017 was the outlier in his career, though he remains a power threat against right-handers. He can still get on base, so he could find himself landing in a 1B/DH platoon situation with the right team.
Alex Wood, LHP, age 29: Hampered by injuries that have limited him to just seven starts for the Reds this season, Wood has suffered through the worst year of his career. The lefty, who won his arbitration case last winter to earn $9.65 million in 2019, may have to settle for a one-year deal to re-establish himself as a solid contributor.
Mark Feinsand, an executive reporter, originally joined MLB.com as a reporter in 2001.