Here's your guide for Opening Day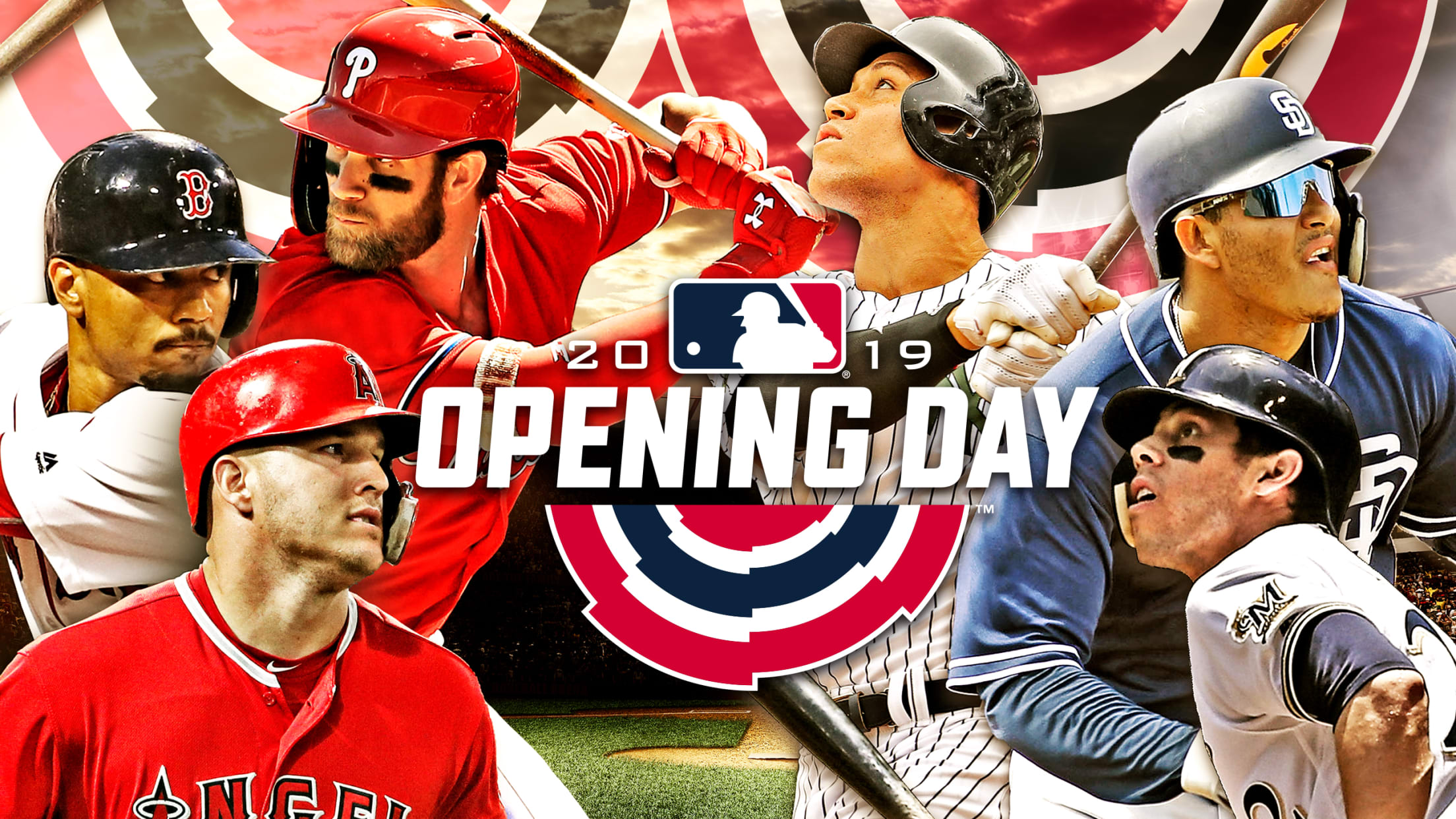 Opening Day already arrived for two teams last week, when the Mariners took two straight games from the Athletics at the Tokyo Dome in Japan. The series set a high bar for emotional moments in 2019, with Ichiro Suzuki playing the final two games of his career, in his home
Opening Day already arrived for two teams last week, when the Mariners took two straight games from the Athletics at the Tokyo Dome in Japan. The series set a high bar for emotional moments in 2019, with Ichiro Suzuki playing the final two games of his career, in his home country, before announcing his retirement.
Seattle and Oakland will resume regular season play today, and the other 28 clubs will join them as part of a jam-packed, fun-filled schedule. The action will begin on the East Coast at 1:05 p.m. ET, with the Mets and Nationals tangling in the nation's capital, and the Orioles challenging the Yankees in the Bronx. Games will continue all afternoon, with the final matchup slated for 7:10 p.m. ET, when the defending-champion, 108-win Red Sox will start their title defense in Seattle.
Opening Day brings excitement and a clean slate for everyone, but today's slate is particularly full of juicy storylines.
For the first time in 40 years, a Cy Young Award winner will face the runner-up in a season opener, and it will happen twice. In Washington, the Nats' Max Scherzer will square off against the Mets' Jacob deGrom, who last year unseated him for the National League award. And at Tropicana Field, reigning American League winner Blake Snell of the Rays will host Justin Verlander of the Astros, who finished second in a close race.
Elsewhere, keep an eye out for some exciting team debuts, including Paul Goldschmidt with the Cardinals (at Brewers), Bryce Harper with the Phillies (vs. Braves), and Manny Machado with the Padres (vs. Giants). There will be plenty of division battles as well as an Interleague contest (Cubs-Rangers) that will double as the final opener at Globe Life Park.
Here is everything you need to know to get ready for the first full day of the season:
FUN FACTS FOR TODAY'S SLATE
Here is a breakdown of all 15 games on the schedule, listed in order of start time (all times ET). Every game is available live on MLB.TV (local and national blackout restrictions apply), and those that will be broadcast nationally on ESPN have been noted below.
Mets at Nationals (1:05 p.m.): At center stage will be the aforementioned battle between the NL Cy Young Award winner (deGrom) and runner-up (Scherzer), with those two pitchers now having combined to win the trophy the past three years. But Opening Day in D.C. also will be the dawn of a new age for the Nationals, who haven't played a season opener without Bryce Harper since 2012, when he made his Major League debut in late April. Juan Soto will be 20 years, 154 days old on Opening Day. If he homers, he'd be the youngest to do so in a season opener in franchise history -- narrowly edging out Harper, who did so at 20 years, 167 days in '13. More >
Orioles at Yankees (1:05 p.m., ESPN): The Orioles have the longest active win streak in the Majors on Opening Day, having won their past eight contests. And they've won their past three openers against the Yankees, too (1972, 2002, '09). The Yanks set the all-time home run record last season and have said they want to push it further this year. The most homers by a team in an Opening Day game is six -- by the 2018 White Sox (against the Royals), who got three from Matt Davidson alone, and the 1988 Mets (against the Expos). More >
Cardinals at Brewers (2:10 p.m.): Yadier Molina has started 14 straight Opening Days at catcher for the Cardinals. If he starts again this year, he'll tie Ray Schalk for the most consecutive Opening Day starts at catcher on record. It's also the longest active streak at any position with one team. On the opposite side will be Mike Moustakas, appearing at second base for the first time in his professional career after re-signing with Milwaukee as a free agent. More >
Braves at Phillies (3:05 p.m.): Will Harper go yard in his Phillies debut? He's quite familiar with the Opening Day longball -- he's hit five in his career, tied with Ian Kinsler and Albert Pujols for most among active players. He'll face off against the Braves and Julio Teheran, who has allowed eight home runs to Harper in his career -- the most Harper has hit against any pitcher and the most Teheran has allowed to any hitter. Teheran will be making his sixth consecutive Opening Day start for the Braves, tying the franchise's Modern Era record -- Warren Spahn made six straight Opening Day starts for them from 1957-62. It's also the longest active streak for any pitcher, with Felix Hernandez and Clayton Kershaw seeing theirs end this year. More >
Tigers at Blue Jays (3:37 p.m.): Miguel Cabrera has made 11 straight Opening Day starts for the Tigers, and he'll make it 12 straight today. But he's still got a ways to go for the franchise record held by Al Kaline, who started 21 straight Opening Day games for the Tigers from 1954-74. Facing Cabrera will be Marcus Stroman, making his second career Opening Day start for the Blue Jays. He also started a 2016 Toronto win against Tampa Bay. More >
Astros at Rays (4 p.m.): In 2018, Houston's George Springer became the first player to smack a leadoff home run on back-to-back Opening Days. The only other active players to homer in at least two straight openers -- regardless of lineup spot -- are the Phillies' Cesar Hernandez and the Athletics' Khris Davis (who already extended his streak to three this year). The record is four straight seasons with an Opening Day home run -- held by Yogi Berra, Gary Carter and Todd Hundley. This will be the first time the Rays open the season against a team not in the AL East since 2002, when they hosted the Tigers on Opening Day. More >
Cubs at Rangers (4:05 p.m.): This is the ninth Opening Day Interleague matchup ever -- which makes sense, since Interleague was confined to later months until 2013, when the Astros moved to the AL to make it 15 teams in each league. This is the second time the Rangers have opened against an NL opponent, also doing so against the Phillies in '14. It's also the second Interleague opener for the Cubs, who opened against the Angels in '16. More >
Angels at Athletics (4:07 p.m.): It's only Opening Day for the Angels in this one, since the A's opened last week in Tokyo against the Mariners. As usual, all eyes will be on Mike Trout, who just signed a 12-year contract worth $426.5 million. Trout already has three career Opening Day home runs in six starts in center field for the Angels, the most of any player at the position in franchise history. The first came in 2013, which also is the last time the Angels won an opener before losing five in a row. More >
D-backs at Dodgers (4:10 p.m., on ESPN): The Dodgers will be without Kershaw, who will open the season on the injured list with a back injury. Hyun-Jin Ryu will toe the rubber in the opener for Los Angeles instead and will be the first Dodgers pitcher besides Kershaw to start Opening Day since Vicente Padilla in 2010. Corey Seager is expected to be ready for Opening Day, which would be his first Major League game since last April 29, after which he underwent Tommy John surgery. It'll also be the Dodgers debut for A.J. Pollock, who signed as a free agent in the offseason after spending the first seven years of his career with the D-backs. Pollock had started in every opener but one for Arizona from 2013-18. More >
Pirates at Reds (4:10 p.m.): As is tradition, there is baseball scheduled to be played in Cincinnati on Opening Day. The Reds have only started their season on the road three times -- due to rain in 1877 and 1966, and as directed by the schedule in 1990. This Opening Day will feature team debuts for a number of players, including Yasiel Puig and Matt Kemp for the Reds. It'll also be the 11th straight Opening Day start at first base for Joey Votto, which is already the most on record for a Reds first baseman. Jameson Taillon gets the start for the Pirates, making his first career Game 1 start just two seasons after undergoing surgery for cancer in 2017. More >
Rockies at Marlins (4:10 p.m.): Kyle Freeland will make his first career Opening Day start for the Rockies following a breakout campaign in 2018. This start is on the road, but it's worth noting he set the franchise's single-season record for home ERA (minimum 10 starts) last year. Freeland and the Rockies will face the Marlins, who have lost four straight Opening Day games. The last time they won? It was last time they opposed to the Rockies to start the season, in 2014. More >
Indians at Twins (4:10 p.m.): Corey Kluber takes the ball for the Indians on Opening Day for the fifth consecutive season, tying Stan Coveleski's franchise-record streak, set from 1917-21. While the Tribe ace has won just one of his previous four outings, the team went on to claim a division title in each of those seasons. This is the first time since 2004 and second time since 1964 that Cleveland has started the season against Minnesota, which has won just one of its past 10 openers (in 2016). Jose Berrios gets the start for the Twins, making him the 10th pitcher to get that assignment for the club since Johan Santana last had the honor, in 2007. More >
Giants at Padres (4:10 p.m.): In what may be one of the most anticipated Opening Day games in Padres history, Manny Machado, the newest San Diego denizen, will take the field in front of his new home fans to begin the year. The Padres' $300 million man has never hit an Opening Day home run. He'll be in the infield behind Eric Lauer, who will be the second-youngest Opening Day starting pitcher in franchise history at 23 years, 298 days old. The Padres will host the Giants, who will have ace Madison Bumgarner on the mound for his fifth career Opening Day start, tying Larry Jansen for third-most for the franchise in the Modern Era. It'll be the final Opening Day for manager Bruce Bochy, who fittingly managed the Padres before the Giants and will be retiring after the season. More >
White Sox at Royals (4:15 p.m.): Chicago will be hoping for a repeat of last year's season-opening slugfest at Kauffman Stadium. The Sox walloped six home runs in a 14-7 victory, with Davidson becoming the fourth player in history to go deep three times on Opening Day. Davidson is no longer with the organization, but this game may be the hotly anticipated debut of top prospect Eloy Jimenez, who recently signed a six-year extension. Meanwhile, it's the end of an era in Kansas City, with this year snapping streaks of eight straight Opening Day starts for shortstop Alcides Escobar, and seven straight for Mike Moustakas. However, outfielder Alex Gordon is in line for his ninth in a row. More >
Red Sox at Mariners (7:10 p.m., on ESPN): Surprisingly, Boston's 2018 season began with a loss at Tampa Bay before ending with 108 victories and a World Series title. Now the Red Sox are beginning their defense of that championship against the Mariners, who already opened their season in Japan. The previous three times the Red Sox won the World Series this century -- in 2004, '07 and '13 -- they went 1-2 on Opening Day as reigning champs the next year. Boston is opening its season against the Mariners for the first time since 2000, when Pedro Martinez threw a gem in a 2-0 win at Seattle. Chris Sale gets the ball for Boston on the heels of signing a five-year extension. More >
OPENING DAY RECORDS TO KNOW
All records go back to 1908, unless otherwise noted.
SINGLE-GAME RECORDS
Most Opening Day home runs: 3 (tie)
Davidson (2018), Dmitri Young ('05), Tuffy Rhodes (1994) and George Bell ('88)
Opening Day 2018 was memorable for a lot of reasons, and one of them was Davidson's three-homer game for the White Sox, which tied the Opening Day record (and started a season-long crushing of the Royals by Davidson). Bell was the first player to homer three times in a season opener, doing so for the Blue Jays against the Royals on April 4, 1988. Six years later, Rhodes hit three homers in the Cubs' '94 opener against the Mets. And Da Meat Hook had three for the Tigers on Opening Day 2005 against the Royals.
Most Opening Day RBIs: 7 (tie)
Corey Patterson (2003) and Brant Alyea (1970)
Alyea set the record in 1970, batting in the Twins' lineup behind Hall of Famers Rod Carew and Harmon Killebrew, and eight-time All-Star Tony Oliva. Alyea went 4-for-4 against the White Sox in a 12-0 win, socking a pair of three-run homers. Patterson, the No. 3 overall pick in the '98 Draft by the Cubs, matched him in 2003 for Chicago at Shea Stadium. His day also included four hits and two big flies in a 15-2 Cubs romp.
Most Opening Day hits: 5 (tie)
Aaron Miles (2005), Craig Biggio ('01), Jeff Kent (1998), Nellie Fox ('59), Dale Mitchell ('50), Harlond Clift ('37), Billy Herman ('36), Ty Tyson ('27), Babe Ruth ('21), Larry Doyle ('15), Eddie Collins ('13), Bobby Byrne ('11)
There have been 12 players with five hits on Opening Day, but none since Rockies second baseman Miles did it 13 years ago in a Coors Field classic, when Colorado rallied for four runs off of Trevor Hoffman in the ninth for a 12-10 win. That capped off a seven-year run that saw three players get five hits in openers, but prior to Kent pulling off the feat in 1998, it hadn't happened in 39 years (Fox).
Most Opening Day strikeouts: Camilo Pascual, 15 (April 18, 1960)
On Opening Day 1960, the Washington Senators right-hander fired a 15-strikeout complete game to beat the Red Sox and set the mark for most K's in a season opener. The only run he allowed? A homer to Ted Williams in his final Opening Day.
Most runs scored on Opening Day: Indians, 21 (April 14, 1925)
The Indians set the Opening Day runs record in a wild 21-14 win over the Browns. Down 13-9 in the eighth inning, Cleveland scored 12 runs in the frame, with Hall of Famer Tris Speaker hitting the go-ahead homer. The Browns made 10 errors in the game, tied for the most ever.
RARE FEATS
Opening Day cycle: Gee Walker (April 20, 1937)
Walker is the only player to hit for the cycle on Opening Day, doing so for the Tigers in 1937 against the Indians. Walker completed the cycle in reverse order -- he homered in the second inning, tripled in the fourth, doubled in the fifth and singled in the seventh.
Opening Day no-hitter: Bob Feller (April 16, 1940)
Feller's brilliance in the Indians' season opener in 1940 produced the only no-hitter on Opening Day in MLB history. Feller was just 21 years old when he shut down the White Sox on an appropriately blustery day in the Windy City. It was the first of three no-hitters the Hall of Famer would throw in his career.
CAREER RECORDS
Most Opening Day starts (pitcher): Tom Seaver, 16
Seaver had two nicknames -- The Franchise and Tom Terrific -- and his Opening Day record speaks to both. Seaver's 16 Opening Day starts are the most of any pitcher, and 11 were for the Mets franchise that he defined for so long. He was, of course, terrific in those openers -- Seaver went 7-2 with a 3.13 ERA and 81 strikeouts, second-most all-time.
Most consecutive Opening Day starts: Jack Morris, 14 (1980-93)
Morris' Hall of Fame legacy is being an indomitable workhorse, and his record 14 consecutive Opening Day starts (for three teams) is representative of that. Morris had a career ERA of 3.39 in season openers, and he's one of only two pitchers since 1980, along with Rick Mahler, with at least three complete-game victories on Opening Day.
Most Opening Day wins: Walter Johnson, 9
The Big Train was a beast on Opening Day. Johnson went 9-5 with a 1.31 ERA in his 14 career Opening Day starts. Twelve of those starts were complete games, and seven of them were shutouts. Both of those are Opening Day records.
Most Opening Day saves: 6 (tie)
Francisco Rodriguez and Rollie Fingers
Fingers and K-Rod are two of the most successful closers to ever play the game, and they're tied for the most Opening Day saves. Rodriguez saved season openers for four teams (the Angels, Mets, Brewers and Tigers) and Fingers for three (the A's, Padres and Brewers).
Most Opening Day strikeouts: Randy Johnson, 107
It's entirely unsurprising that one of the most fearsome strikeout artists of all time would top the list of Opening Day strikeouts. The Big Unit had four double-digit strikeout performances in season openers, including 14-K starts for the Mariners in 1993 and '96.
Most Opening Day home runs: 8 (tie)
Adam Dunn, Ken Griffey Jr. and Frank Robinson
Robinson spread his homers out across four teams, homering in season openers for the Reds, Orioles, Angels and Indians. All of The Kid's Opening Day homers came for the Mariners, including two on Opening Day 1997 against the Yankees. Dunn's eight included two multihomer Opening Days, in 2005 and '07, for the Reds.
Most Opening Day hits: Pete Rose, 31
Major League Baseball's hit king is also its Opening Day hit king. Charlie Hustle notched 31 base knocks in season openers, including three-hit games in 1974, '76 and '81, as well as eight other multihit games.
Most team wins on Opening Day: Cubs, 77
Since MLB began as we know it with the founding of the NL in 1876, the Cubs have more wins on Opening Day than any other franchise, including one over the Marlins last year. (Their overall record is 77-64-2.) Chicago's curse-breaking World Series run in 2016 started with an Opening Day win, and so did their championship run 108 years earlier in 1908.
Best team winning percentage on Opening Day: Mets, .649
The Mets are 37-20 on Opening Day and have won 37 of their past 49, including a 9-4 win over the Cardinals last season. Interestingly, the franchise lost its first eight Opening Day games from its inception in 1962 (even the '69 Miracle Mets lost their season opener). But the Mets' second World Series run in '86 did start with an Opening Day win.