3 reasons to root for every postseason team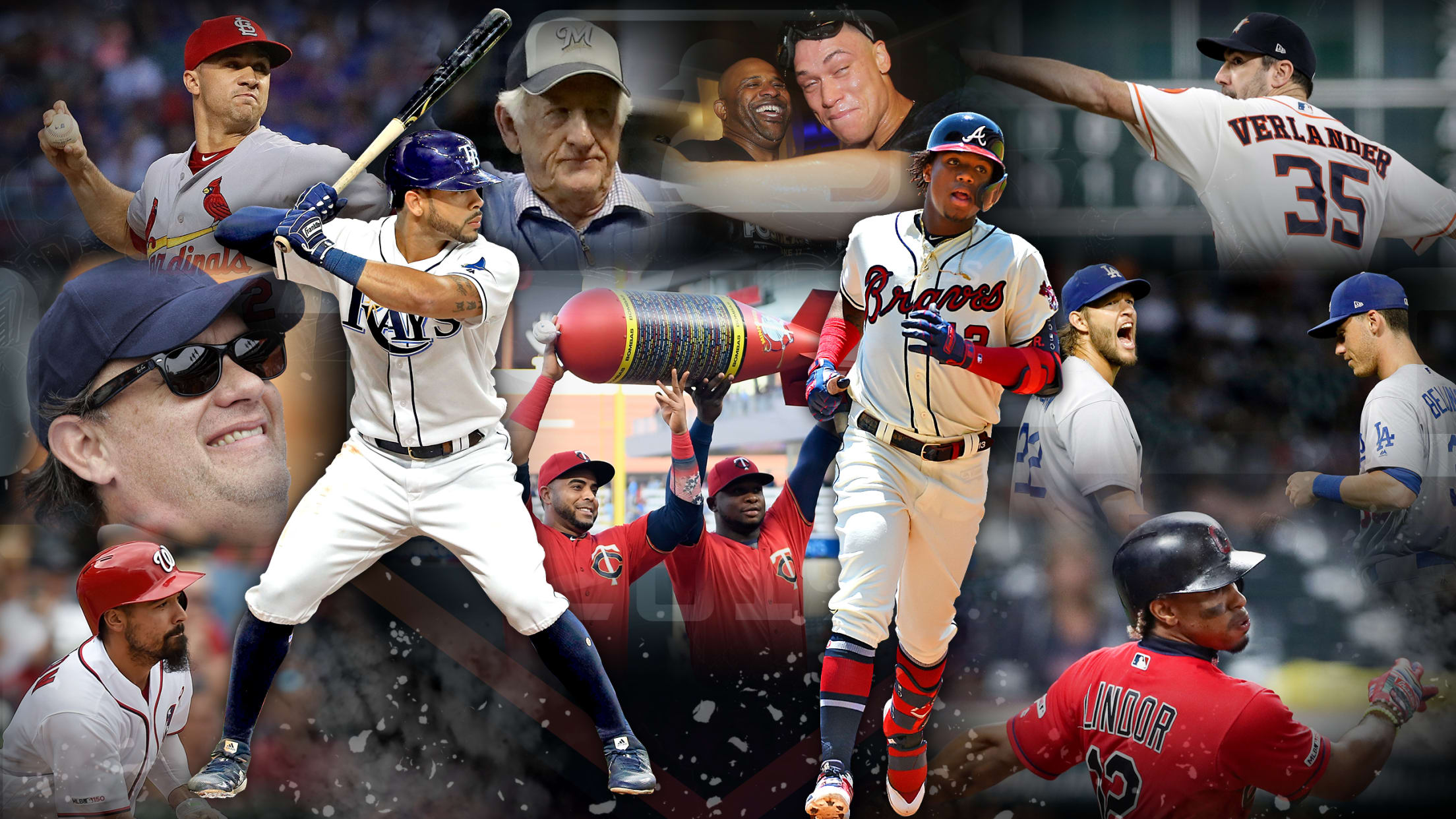 There will be millions and millions of baseball fans watching the MLB postseason over the next month, cheering for their favorite team to win them the World Series. But it is worth noting that millions and millions of baseball fans will be watching the MLB postseason over the next month
There will be millions and millions of baseball fans watching the MLB postseason over the next month, cheering for their favorite team to win them the World Series. But it is worth noting that millions and millions of baseball fans will be watching the MLB postseason over the next month and not rooting for their favorite team to win the World Series.
Because their team didn't make it.
We need to help those fans out. Rather than focus on the negatives -- lamenting that your team is home this October -- let's find something positive. You fans need someone to root for. Let's come up with some Cheering Justifications For The Otherwise Unaffiliated. Here's why you should get behind each potential postseason team to win the World Series. Let's bandwagon together. (Teams are listed in alphabetical order by league.)
AMERICAN LEAGUE
Astros
1) Justin Verlander and Gerrit Cole. The two best pitchers in the American League -- they've had essentially identical seasons -- are a reason to tune into any game they're involved in. This is as good as pitching gets in 2019.
2) Alex Bregman, the charismatic star. He's the second-best position player in the AL this year, and the best one in this postseason. But he's also really funny, and may be ready for his top-shelf breakout personality moment.
3) They're the closest thing we have left to a dynasty. Would you believe that only one team that has won the World Series since 2011 is in the postseason this year? Yup, it's the Astros, and with the Cubs and Red Sox out, the window is open for Houston to make its case as the signature team of the last half-decade.
A's
1) They play at Rickey Henderson Field. If the Athletics make the World Series, every beloved (and not-so-beloved) player from Oakland's 1980s heyday run will show up to throw out the first pitch. Maybe they can get the Lonely Island to sing the national anthem.
2) Those crazy bleacher fans. There aren't many better scenes in baseball than the lunatics -- straight out of college football, really -- banging the drums and going nuts at the Coliseum. It's a heady vibe.
3) Tom Hanks is rooting for them. Who are you not to side with America's Favorite Movie Star?
Indians
1) Francisco Lindor. The closest baseball has to Stephen Curry as a four-quadrant, your-kids'-favorite-player-mega-wattage superstar.
2) Baker Mayfield might show up at a game. And when Baker Mayfield shows up at baseball games, crazy things happen.
3) 2016. When the Cubs beat the Indians in the 2016 World Series, the Indians took over the Cubs' slot as the most tortured fanbase in the sport. They last won the World Series in 1948.
Rays
1) They're one of three teams still in the hunt never to have won a World Series. We'll get to the other two later, but there is nothing like that first World Series title.
2) Games always start on time. This is one of the few advantages of playing in a dome.
3) They're perennial underdogs. The best Rays players -- Tommy Pham, Charlie Morton, Austin Meadows -- all came from other teams that didn't want them as badly as Tampa Bay did. We all love cheering for the underdog … particularly underdogs in the same division as the Red Sox and Yankees.
Twins
1) It always feels like the postseason. The World Series always seems to feel a little more dramatic when you can see the players' breath. And rest assured: It will be extremely cold in Minneapolis in late October.
2) Homers! If you like homers -- and hey, who doesn't like homers? -- the Twins broke an MLB record for hitting them this season. You will see many baseballs flying deep into the October night.
3) They are due. The Twins haven't won a postseason game since Oct. 5, 2004. They have lost 12 straight postseason games since then, nine of which were against the Yankees, their likeliest AL Division Series opponent as of this writing. Minnesota deserves something to be happy about this October.
Yankees
1) These aren't the hateable Yankees. Sure, it's tough to talk anyone into cheering for the Bombers. But you're telling me you actively dislike Aaron Judge or CC Sabathia? Edwin Encarnación or Luke Voit?
2) Everything's always bigger with the Yankees around. It's true, right? A massive game feels a little more massive when the Yankees are involved, even if you're rooting against them. Especially if you're rooting against them.
3) CC Sabathia. Actually, let's go back to CC for a moment. Sabathia is one of the most beloved players in the sport -- one with a stealth Hall of Fame case -- and one who has been a compelling, deeply sympathetic person, both on and off the field. This is his last season. Wouldn't it be something for him to go out a champion in his last game?
NATIONAL LEAGUE
Braves
1) Historical torture. The Braves have a quiet case for the most frustrating postseason history of any team in the NL. They haven't won a postseason series since 2001. They famously won the NL East 14 straight times while only winning one World Series (and it was the one after the strike). They lost to St. Louis in the infamous Infield Fly Wild Card Game in '12, which also happened to be Chipper Jones' last game. This franchise deserves something good in October.
2) Ronald Acuña Jr. Is he the NL's version of Mike Trout? As long as he's healthy, there might not be a player in this postseason you're more likely to be telling your grandchildren about.
3) Blooper's going to get in a fight with a player. In the postseason, emotions run high. Braves mascot Blooper has already fought with Manny Machado and Vladimir Guerrero Jr. Who will be the target of his scorn this October?
Brewers
1) Uecker. More Brewers means more of broadcaster Bob Uecker.
The move you've all been waiting for is back! #MKEHistory pic.twitter.com/k3iMpK0SBO

— Milwaukee Brewers (@Brewers) September 26, 2019
2) Who needs a star? Many people thought the Brewers were toast when Christian Yelich was ruled out for the year after fouling a ball off his knee. Instead, Milwaukee took off, becoming the hottest team in baseball. How do you not cheer for a team that becomes its best self after losing its MVP?
3) World Series drought. This is the second team still in the field that has never won a World Series. It has been so long that the Brewers were even in a World Series that the last one they appeared in (1982), they were the AL representative.
Cardinals
1) Jack Flaherty. The Cardinals' ace is having a Jake Arrieta/Orel Hershiser-type second half, the sort of pitcher hot streak that you'll talk about for years to come.
2) John Brebbia's beard. The Cardinals reliever shaves right before the regular season begins and then doesn't until the season is over. If the Cards make it to late October, it might reach the floor.
3) Adam Wainwright. One of baseball's most beloved players both on and off the field, Wainwright, who nearly retired last season, has had a huge bounce-back year, particularly in the second half. He and Yadier Molina were a battery in the World Series in 2006 … and may do it again in '19.
Dodgers
1) Cody Bellinger, ascendant. Bellinger's probably going to win the NL MVP Award, and he's one of the sport's most popular and electrifying players. A postseason run could put him in baseball's most rarefied air.
2) Clayton Kershaw. The already legendary left-hander is missing only one thing from his Hall of Fame resume: A World Series title. Kershaw is still relatively young (31), but you never know how many more opportunities he'll get.
3) No one wants to see another Buffalo Bills. The Dodgers have made two straight World Series but lost them both. They're favored to make another one this season. Manager Dave Roberts isn't going to be the next Marv Levy, is he?
Nationals
1) The Ewing Theory in action. Bill Simmons' famous theory says that a sports team can only actually improve once it loses its most high-profile player. What a statement it would be to win a World Series the year after Bryce Harper leaves.
2) The free-agent intrigue. Anthony Rendon has been underrated for so long that he's probably only now properly appreciated. However, he's going to be a free agent this winter and it's always fun when the top free agents get a postseason platform. Remember Carlos Beltrán in 2004?
3) Ending the drought. The Nationals are the third team in the postseason this year that has yet to win a World Series, and they have never even made it, even when they were in Montreal. Every team deserves to go at least once.