Beloved ex-Rangers skipper Lucchesi dies
Manager guided both clubs in 1970s and had impressive Minor League resume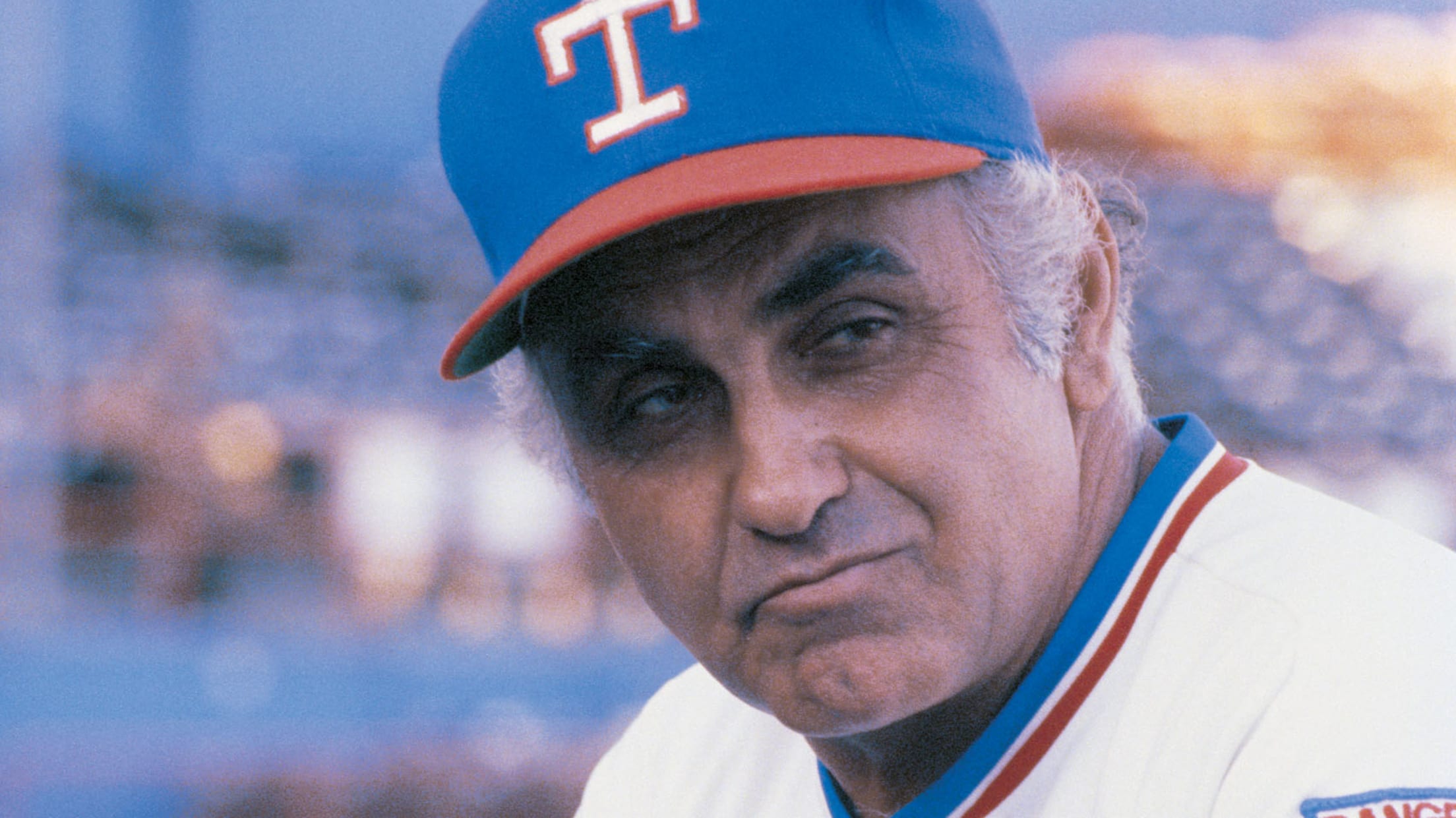 ARLINGTON -- Frank Lucchesi, who managed the Phillies, Rangers and Cubs and had an impressive Minor League managerial record, died on Saturday at his home in Colleyville, Texas. He was 92 and highly regarded in both the Philadelphia and Texas baseball communities. "Frank was No. 1, first and foremost a
ARLINGTON -- Frank Lucchesi, who managed the Phillies, Rangers and Cubs and had an impressive Minor League managerial record, died on Saturday at his home in Colleyville, Texas. He was 92 and highly regarded in both the Philadelphia and Texas baseball communities.
"Frank was No. 1, first and foremost a man who admired and loved his family," former Rangers outfielder Tom Grieve said. "He was a baseball man through and through. He spent his whole life in baseball and always displayed a passion and a love for the game. As a manager, he loved his players and wanted them to succeed. He was the only manager who gave me a chance to play every day, so I have a very special feeling for him."
Lucchesi was a native of San Francisco and part of that city's proud Italian baseball heritage. He was the son of Italian immigrants; his father died just after he was born. He went to Galileo High School, the same school attended by Joe and Dom DiMaggio, Hall of Fame infielder Tony Lazzeri and former American League president Dr. Bobby Brown.
He and Brown were teammates but Lucchesi, a 5-foot-8 outfielder, never made it to the Major Leagues. He spent 13 years playing in the Minor Leagues and another 23 as a manager, according to baseball-reference.com.
During his time in the Minors, Lucchesi's teams won six pennants and he was named Manager of the Year five times. Most of that time was spent in the Phillies organization. Pitchers Chris Short and Ferguson Jenkins and infielders Dick Allen and Larry Bowa were among the players who flourished under Lucchesi's guidance. Lucchesi and Allen maintained a warm relationship for many years afterward.
"Frank managed me in the Minor Leagues and my first year in the big leagues," Bowa said in a statement. "He gave me the confidence I needed in my rookie year, especially when I was struggling. Without Frank as my manager, I wouldn't have had a Major League career."
Lucchesi was once thrown out of a game with the Arkansas Travelers in 1963. He tried to secretly climb a light tower to watch the game, but was discovered by the umpires. The stunt made national news.
Lucchesi was named manager of the Phillies for the 1970 season at a time the organization was beginning a massive rebuilding program. It was a hugely popular hire with the Italian-American community in the city. The rebuilding would ultimately lead to one of the most successful eras in franchise history, but Lucchesi did not get to see it through.
The Phillies were 73-88 in 1970 and 67-95 the following year. When they started out 26-50 in 1972, Lucchesi was dismissed, a move that angered many fans who were loyal to him.
He spent 1973 managing at Triple-A Oklahoma City and then joined manager Billy Martin's staff in Texas. The two were long-time friends from the Bay Area.
When Martin was fired by owner Brad Corbett in 1975, Lucchesi was named his replacement. He led the Rangers to a 35-32 record for the remainder of that season, but just 76-86 in 1976. When the Rangers started out 31-31 in 1977, Lucchesi was fired.
He ended up being one of four managers for the Rangers that season. Eddie Stanky took the job for one game and quit unexpectedly. Connie Ryan served as interim manager for six games and then Billy Hunter was hired full-time. The Rangers ended up winning 94 games, which stood as the club record until 1999.
Lucchesi, his wife Cathy, daughters Fran and Karen and son Bryan became residents of Arlington. Lucchesi remained in the Dallas-Fort Worth metroplex for the rest of his life, although he continued working in baseball elsewhere. He managed the Cubs for 25 games at the end of the 1987 season after Gene Michael was dismissed and then spent the next two years managing Triple-A Nashville, posting winning records both seasons.
Lucchesi stepped away after that, but he remained a popular and sought-after person in the Texas baseball community. He was inducted into the Texas Sports Hall of Fame in 1988 and was a regular at community baseball events and galas.
Lucchesi also reconciled with former Rangers infielder Lenny Randle later in life. The two were involved in a famous altercation at the batting cage before a Spring Training game in 1977.
The Rangers observed a moment of silence before Sunday's game with the Athletics.