Chavez opens eyes with a strong start
Righty steps out of long-relief role to shut down Detroit for 6 1/3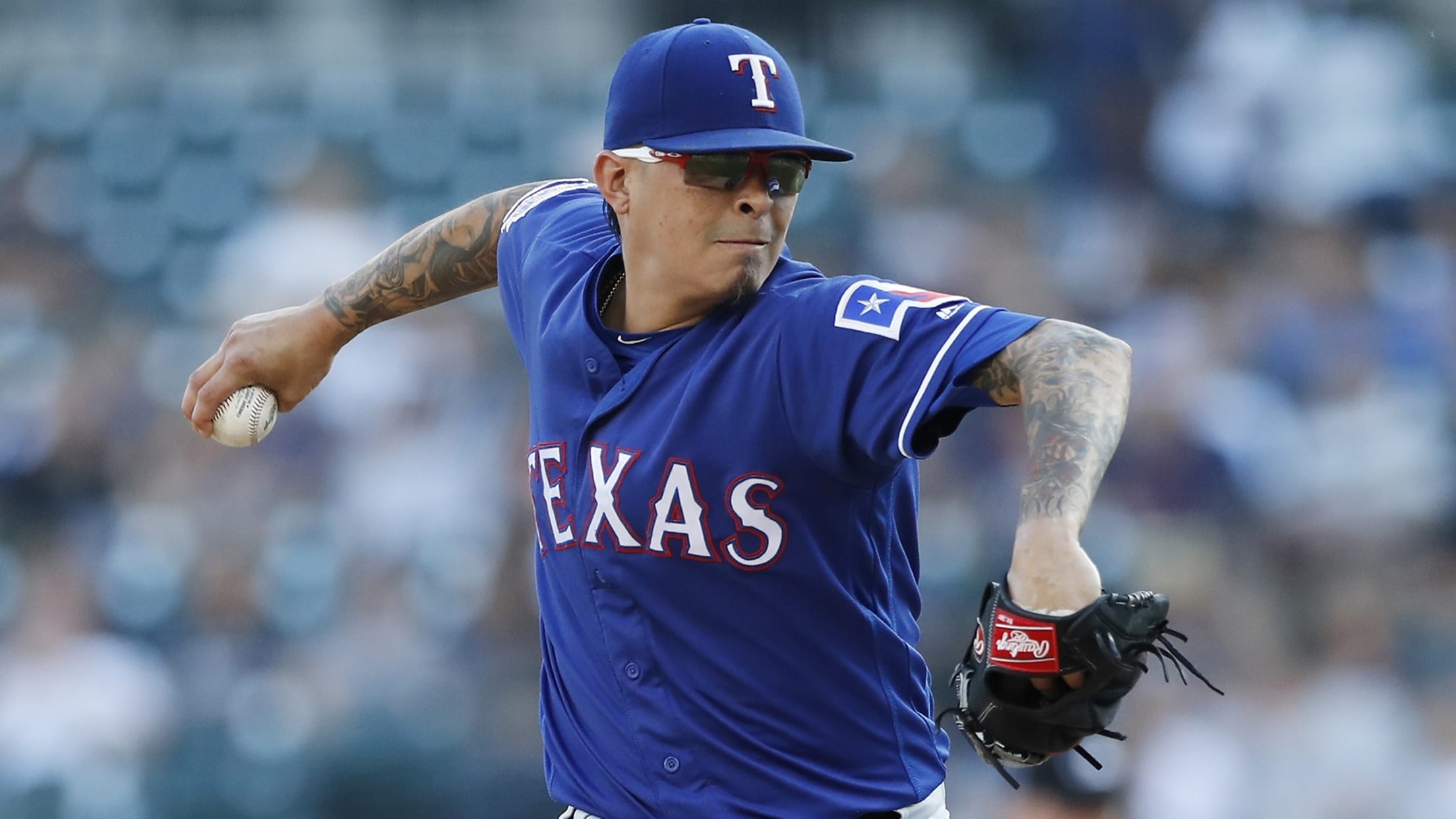 DETROIT -- Jesse Chavez erased any doubt Tuesday night that he isn't worthy of filling a spot in Texas' starting rotation. Making his first traditional start this year, Chavez allowed one unearned run in 6 1/3 innings of one-run ball to lead the Rangers to a series-opening 5-3 win over
Gallo doubles in a run in return from IL
Cabrera's suspension reduced; Pence runs, will face live pitching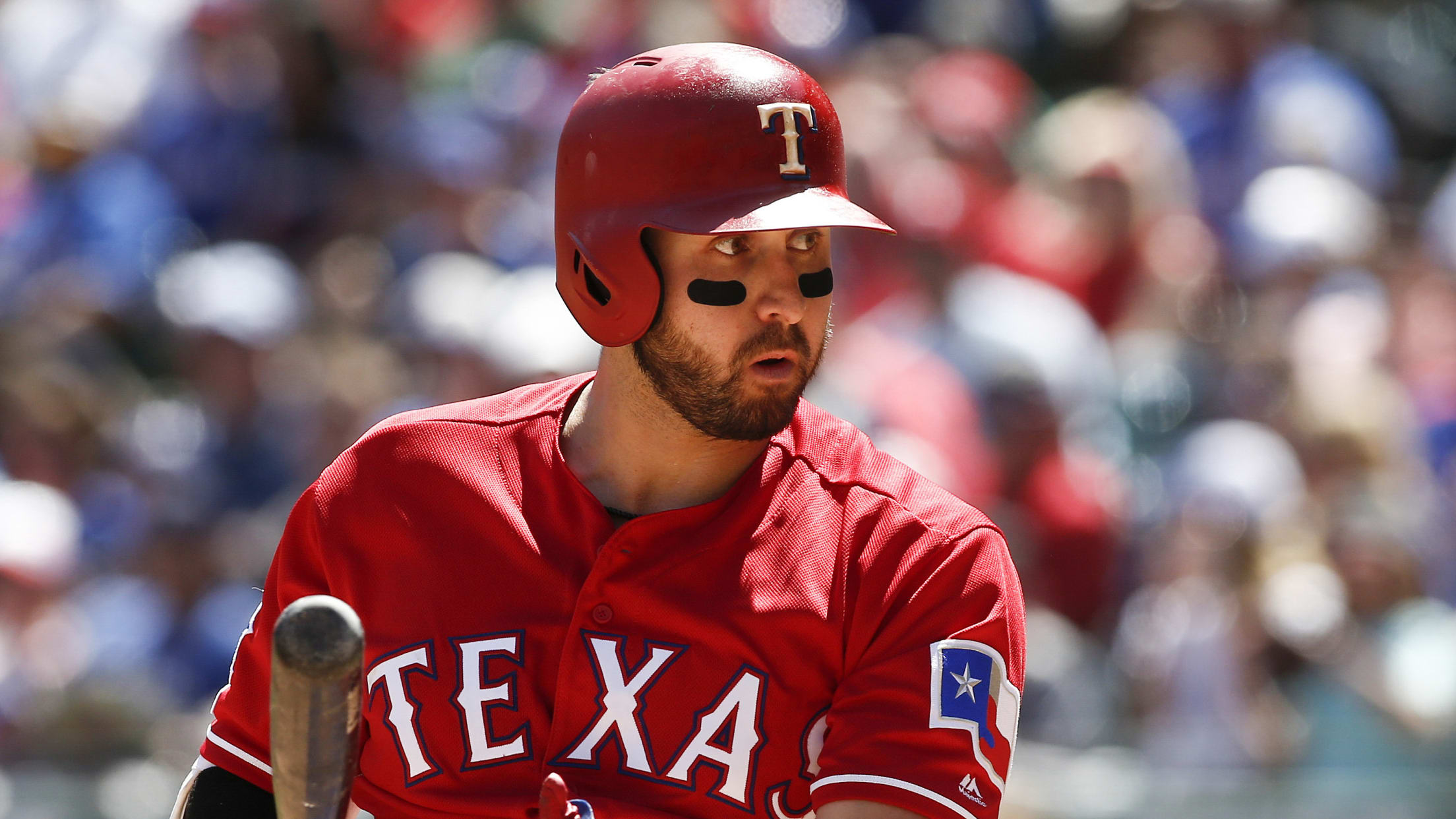 DETROIT -- Joey Gallo joked with reporters on Tuesday afternoon before the Rangers' series-opening 5-3 win over the Tigers at Comerica Park that he wasn't sure if his teammates would welcome him back from the injured list, given how well they've played in his absence. It didn't take long for
Vote today for Gallo, Pence on Starters ballot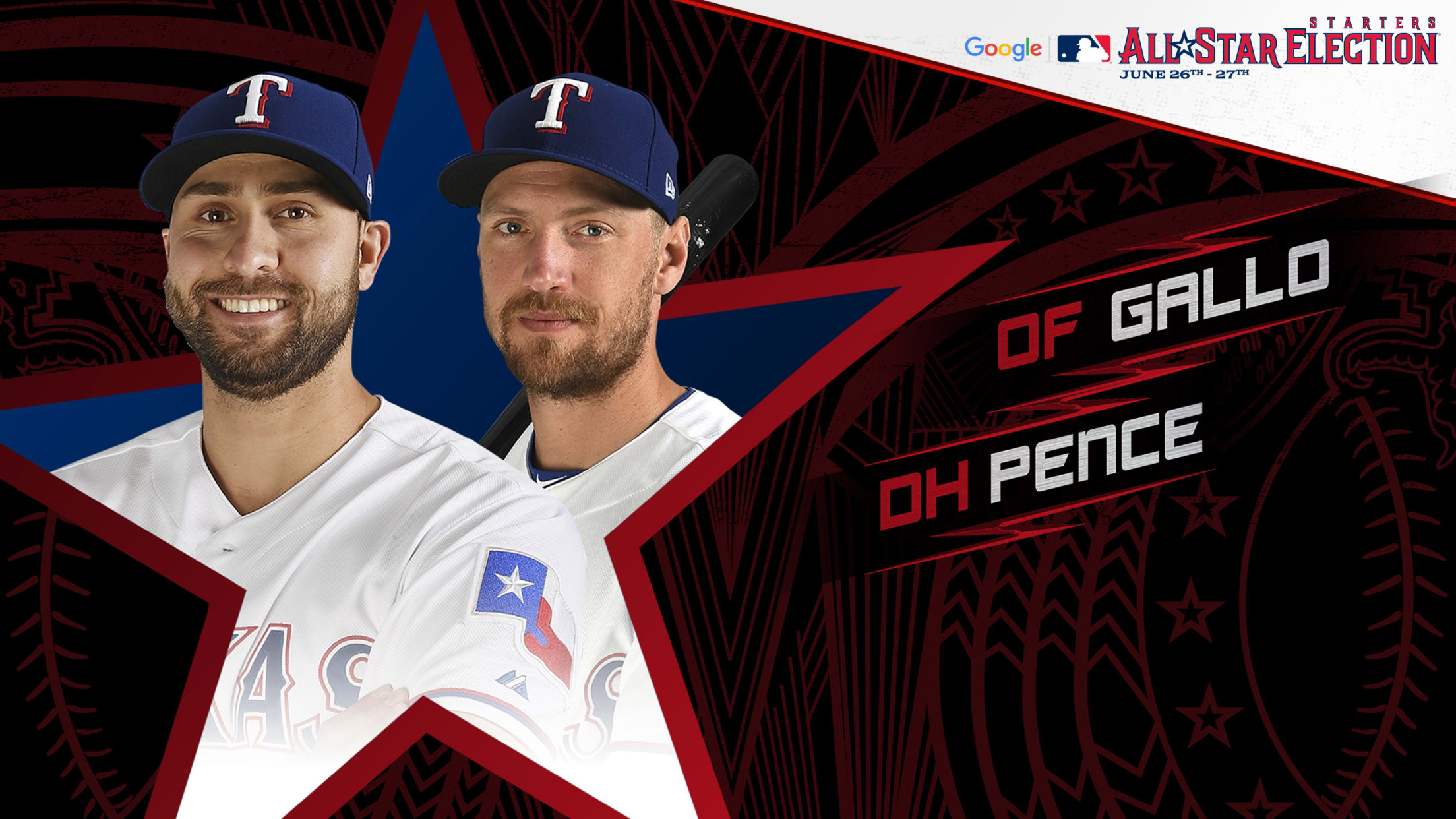 These are all of the finalists for the Starters Election, which begins today at 11 a.m. CT and runs through Thursday at 3 p.m. The winners will be unveiled on ESPN that night starting at 6 p.m. All-Star pitchers and reserves will be announced on Sunday at 4:30 p.m., also
Every team's ideal Home Run Derby participant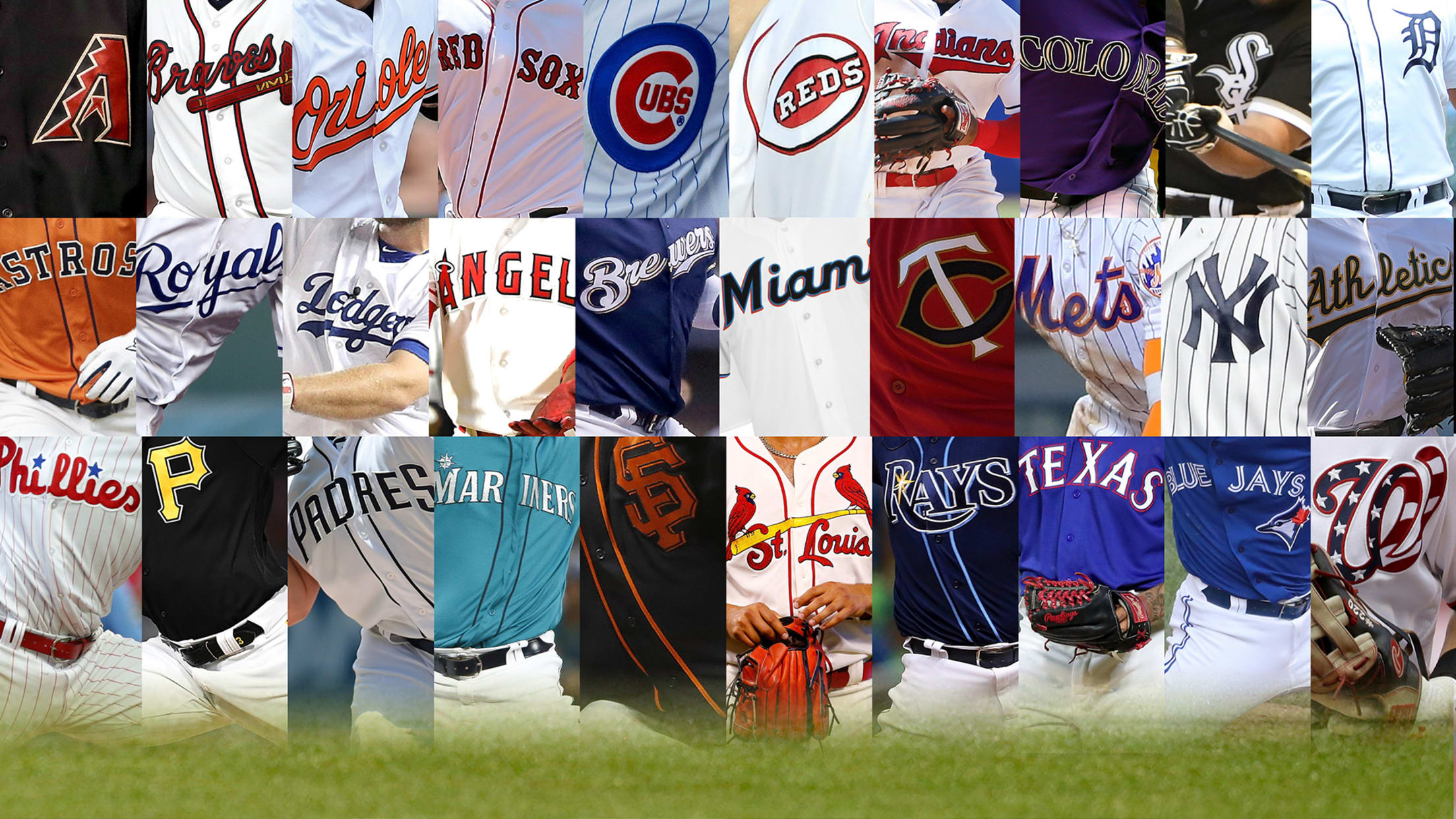 It feels sometimes that half the fun of a Home Run Derby is imagining who isn't there. Even at their best, we map our hopes and memories on every T-Mobile Home Run Derby, trying to envision what it would look like if prime Mark McGwire were there, or Babe Ruth
Inbox: Will Bush pitch for Rangers this season?
Beat reporter T.R. Sullivan answers fans' questions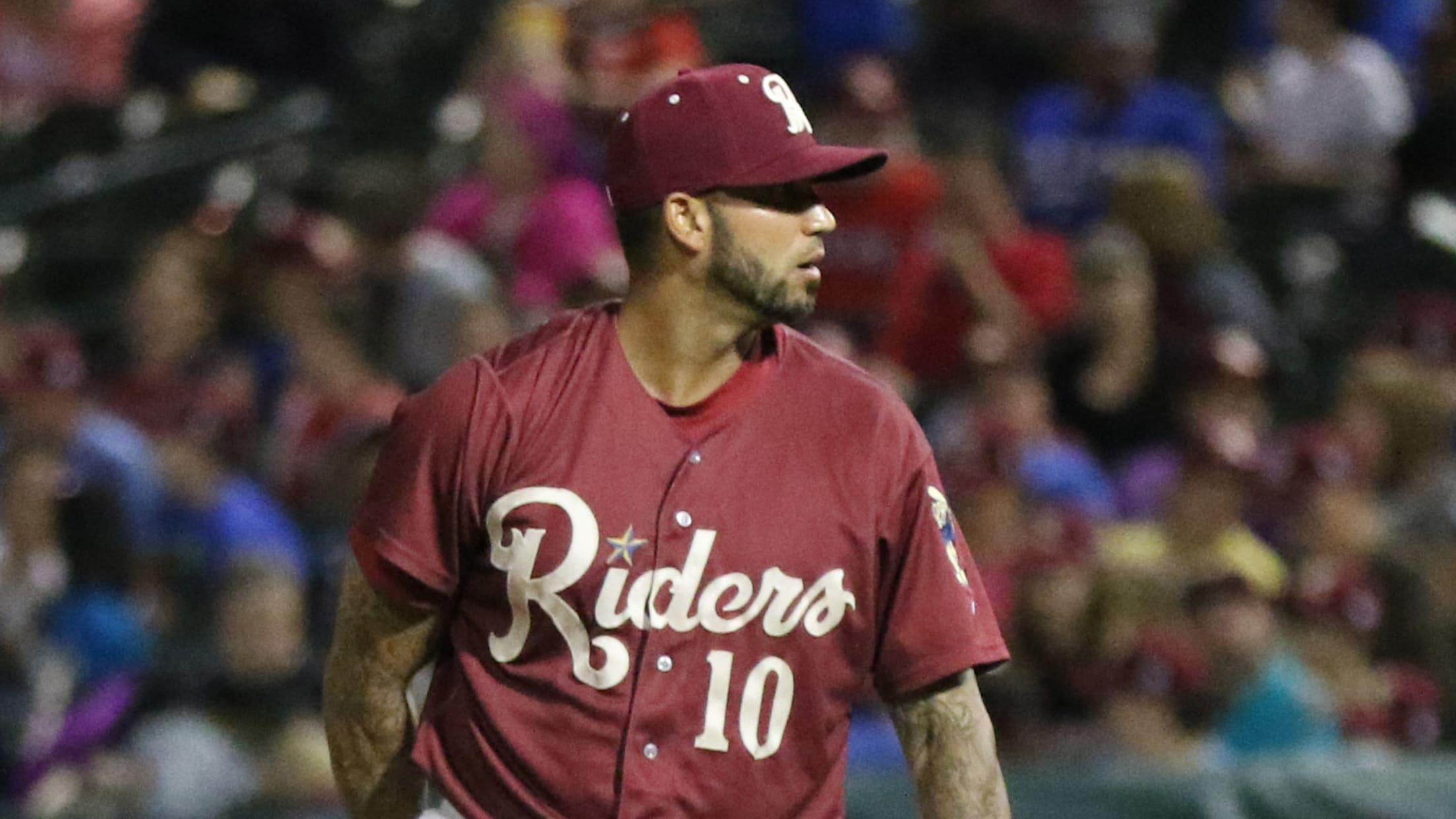 What are the chances that Matt Bush will pitch for the Rangers this year? -- Sandy R., Oklahoma City, Okla. Excellent. The Rangers have been moving relievers in and out of Arlington at a dizzying rate, so it would seem likely Bush will get his chance sooner than later. He
Tuesday's top prospect performers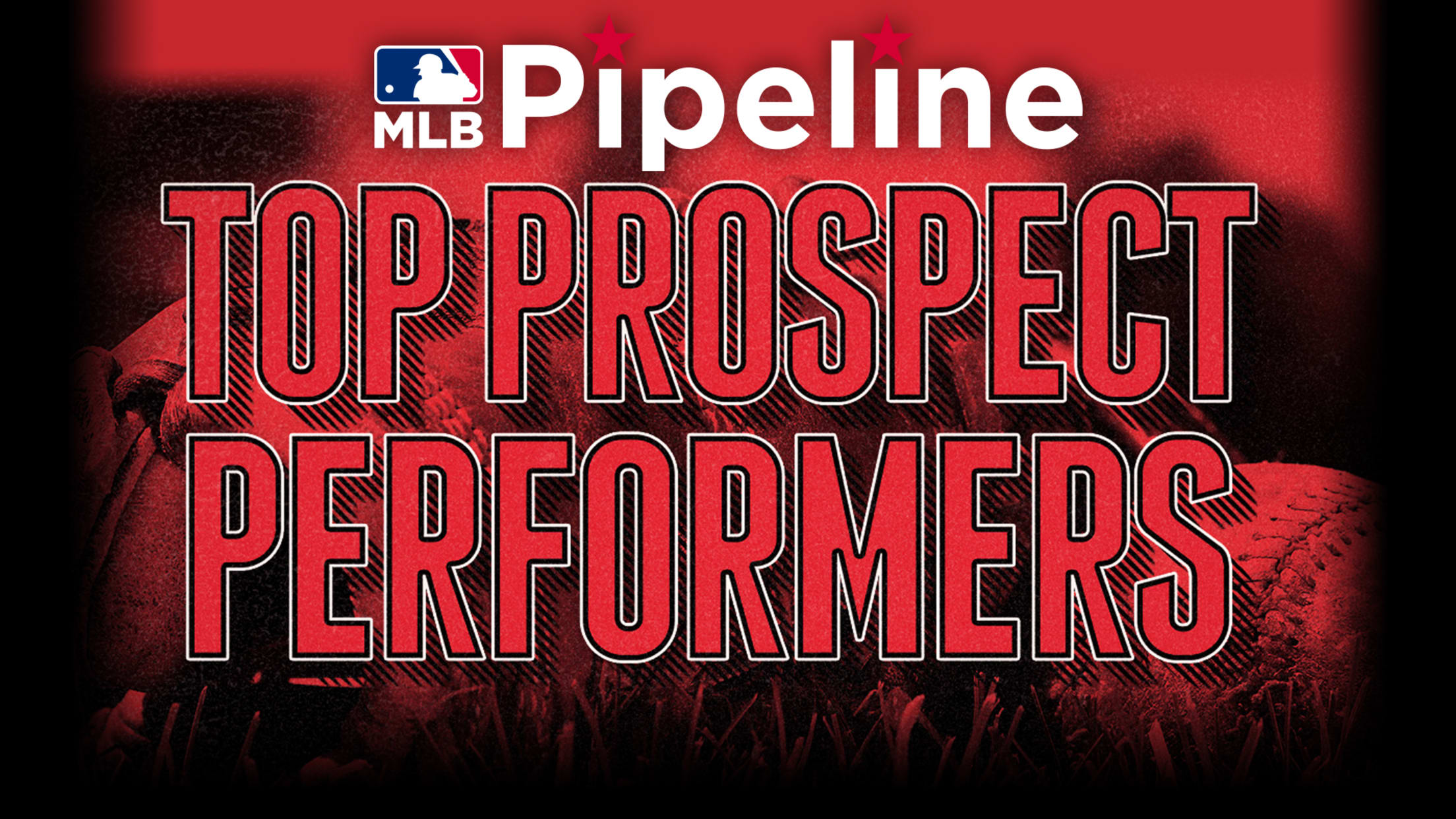 Here's a look at Tuesday's top Minor League performers from each team's Top 30 Prospects list: AMERICAN LEAGUE EAST Blue Jays: No Blue Jays prospects had noteworthy performances in the Minor Leagues on Tuesday.
Sampson rebounds with 7 strong in Rangers win
Righty proving he belongs in rotation; excellent defense, timely hitting the difference in finale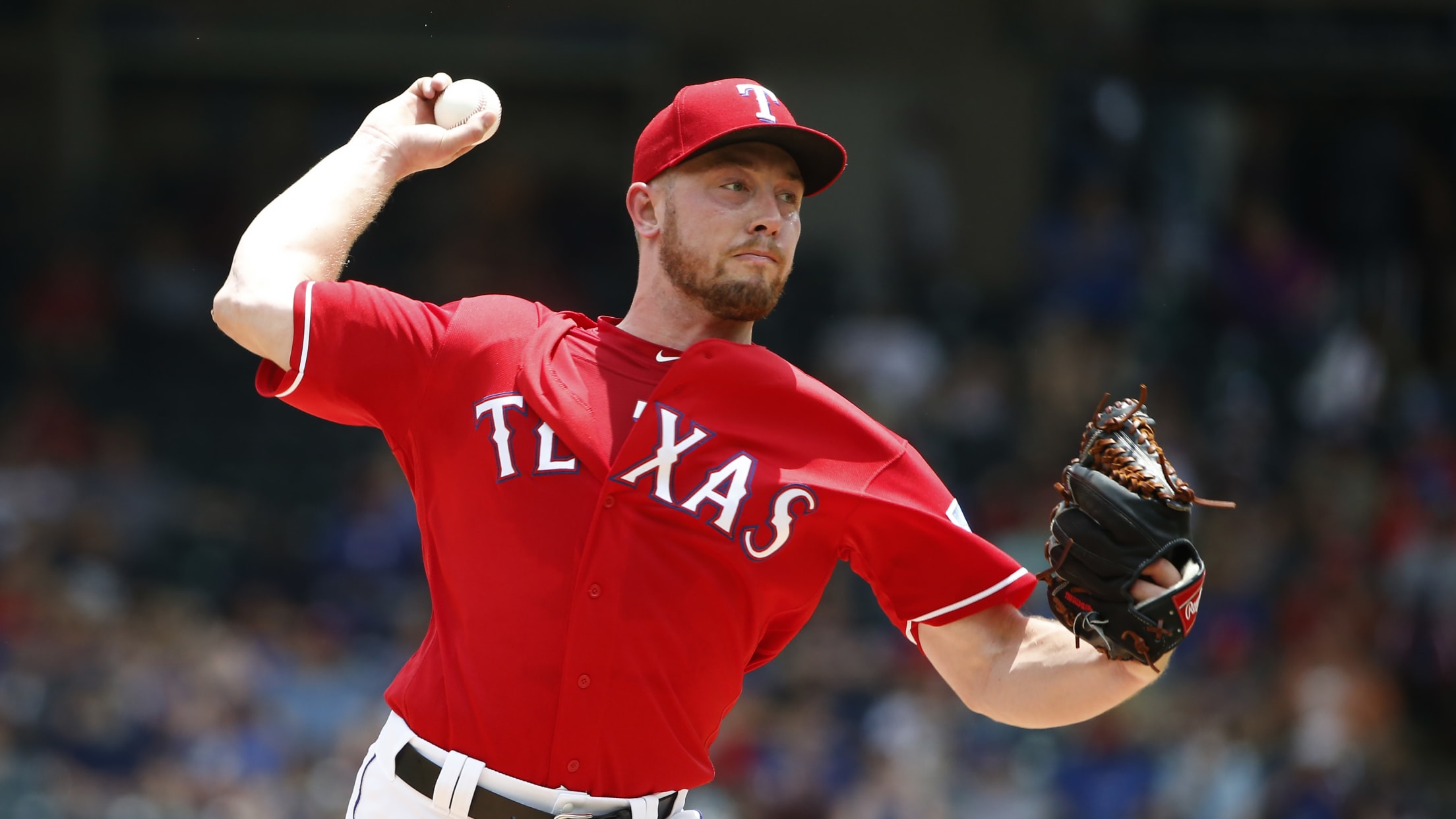 ARLINGTON -- With seven imperfect but effective innings in the Rangers' 7-4 win over the White Sox on Sunday, Texas right-hander Adrian Sampson shook off a pair of lackluster starts that had derailed his promising season. Sampson allowed one earned run on his way to his sixth win. He scattered
Choo setting tone for Texas with resurgent year
Veteran having best season as a Ranger; Bush nearing return to Majors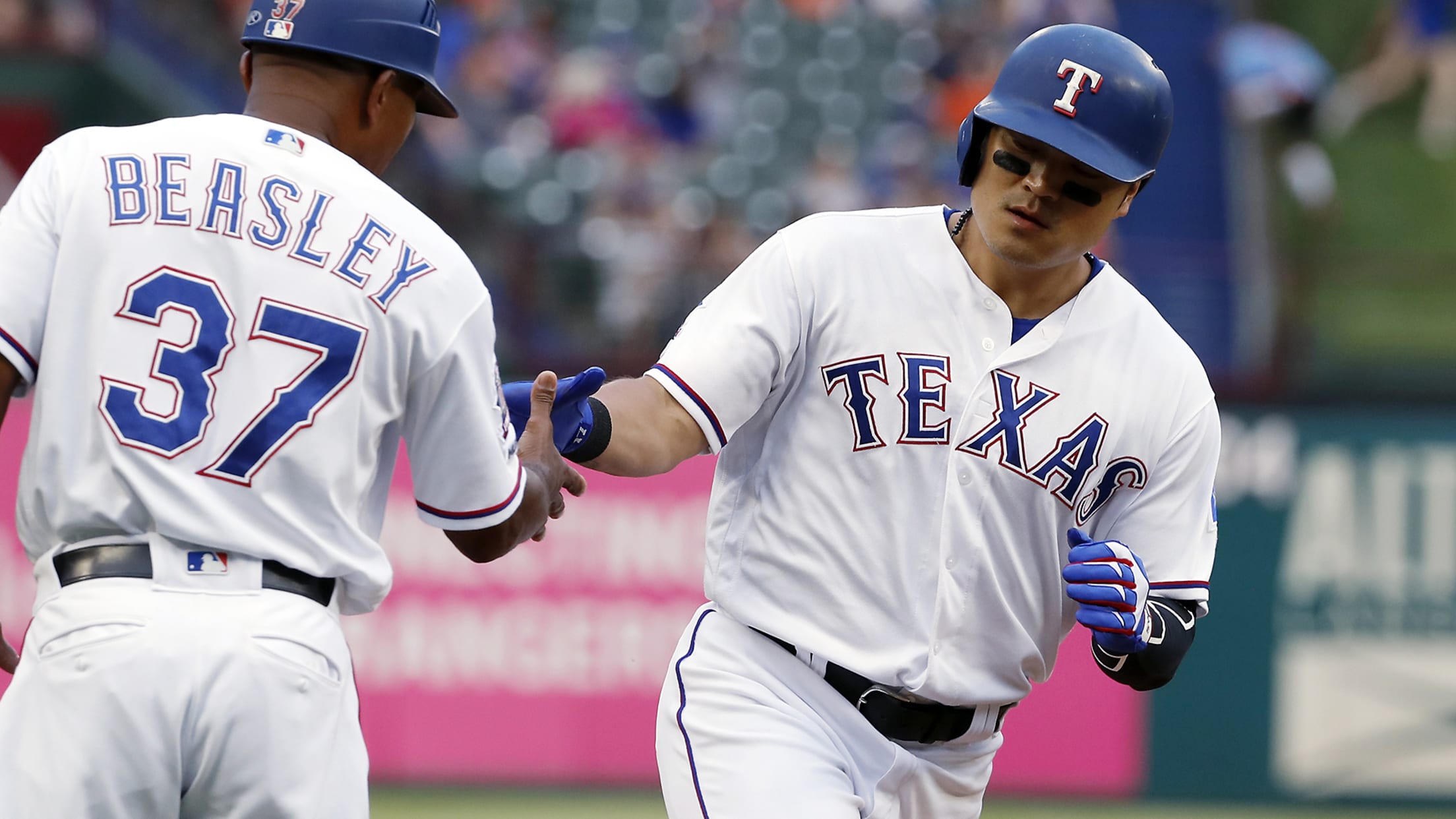 ARLINGTON -- Shin-Soo Choo hovered in the gray area between serviceable and solid for most of his previous five seasons with the Rangers, putting up offensive numbers that were slightly above average but often unbecoming of a player with a weighty seven-year, $130 million contract. This season, Texas' investment in
Rangers' impeccable defense aids Lynn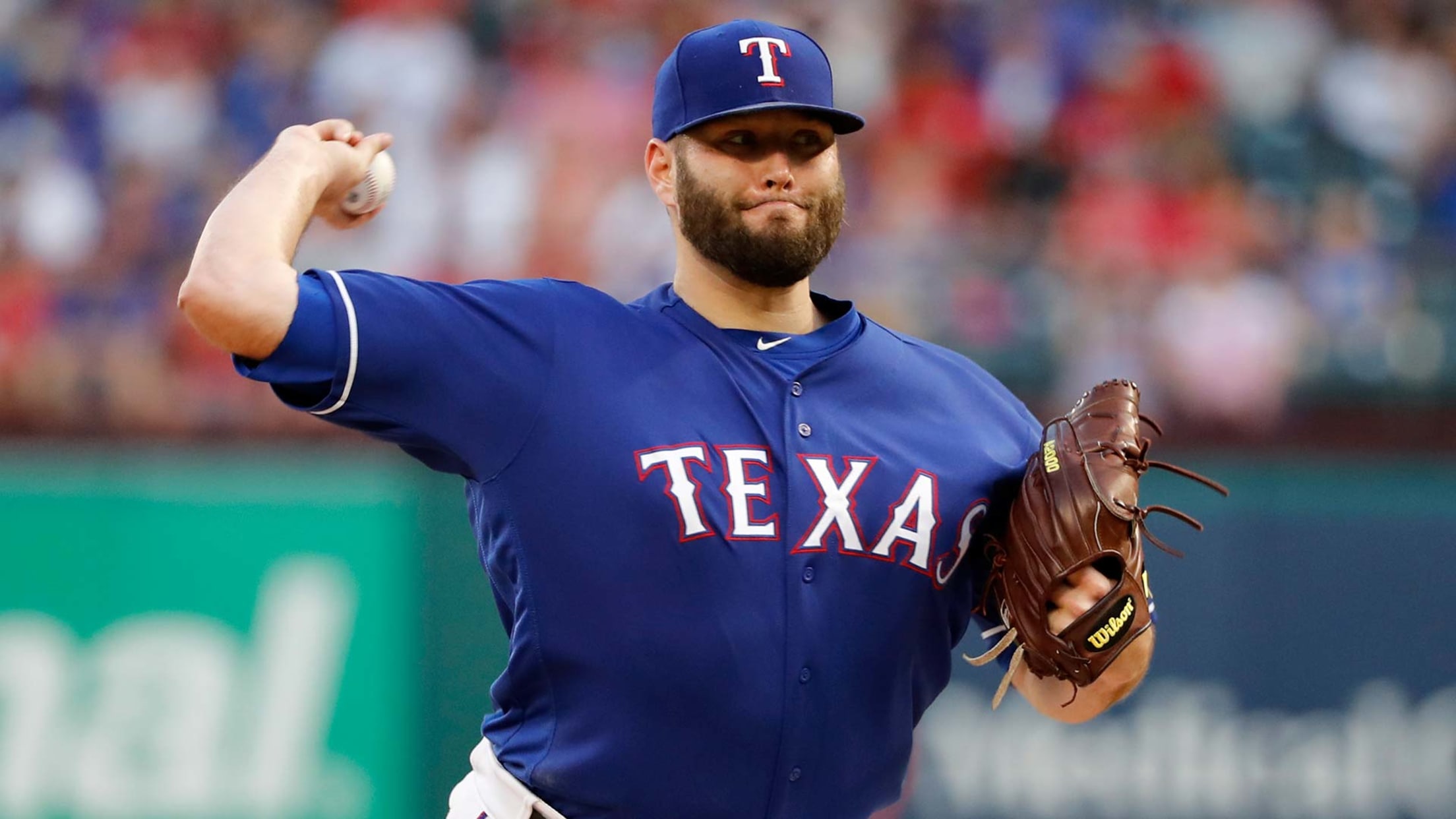 ARLINGTON -- After a rocky first inning abruptly ended his streak of eight consecutive quality starts, Rangers starter Lance Lynn needed all the help he could get Saturday night against the White Sox. And he got it -- from a defense that made several flashy plays behind him, to an
Woodward prepping for returns of Gallo, Pence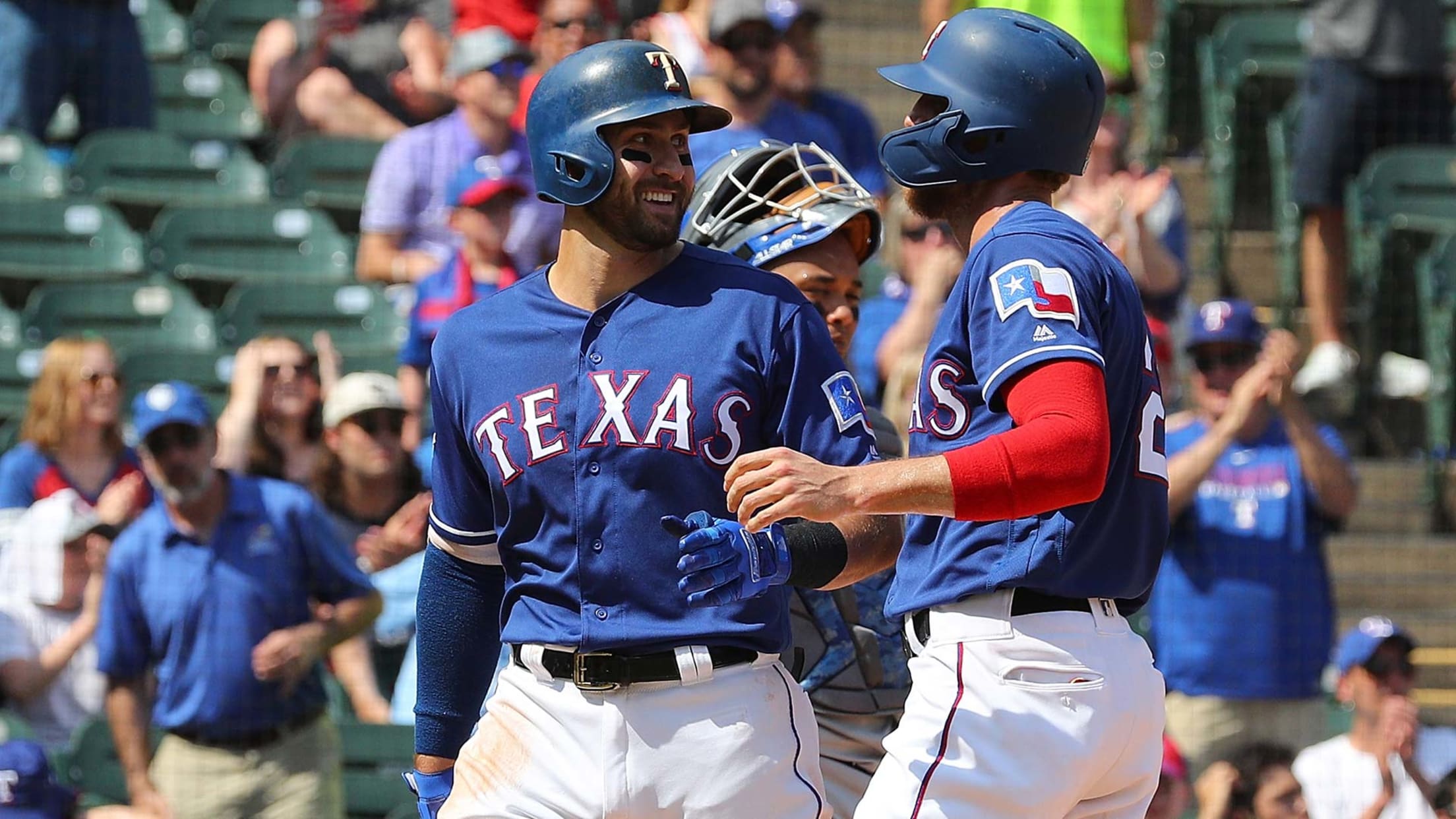 ARLINGTON -- With the expected return of Joey Gallo and Hunter Pence growing more imminent every day, Rangers manager Chris Woodward is now dealing with the details of how best to get them going again in Detroit next week. Gallo is expected to return Tuesday when the Rangers begin a
Feast your eyes on Mazara's 505-foot homer
'Complete bomb' matches the longest ever measured by Statcast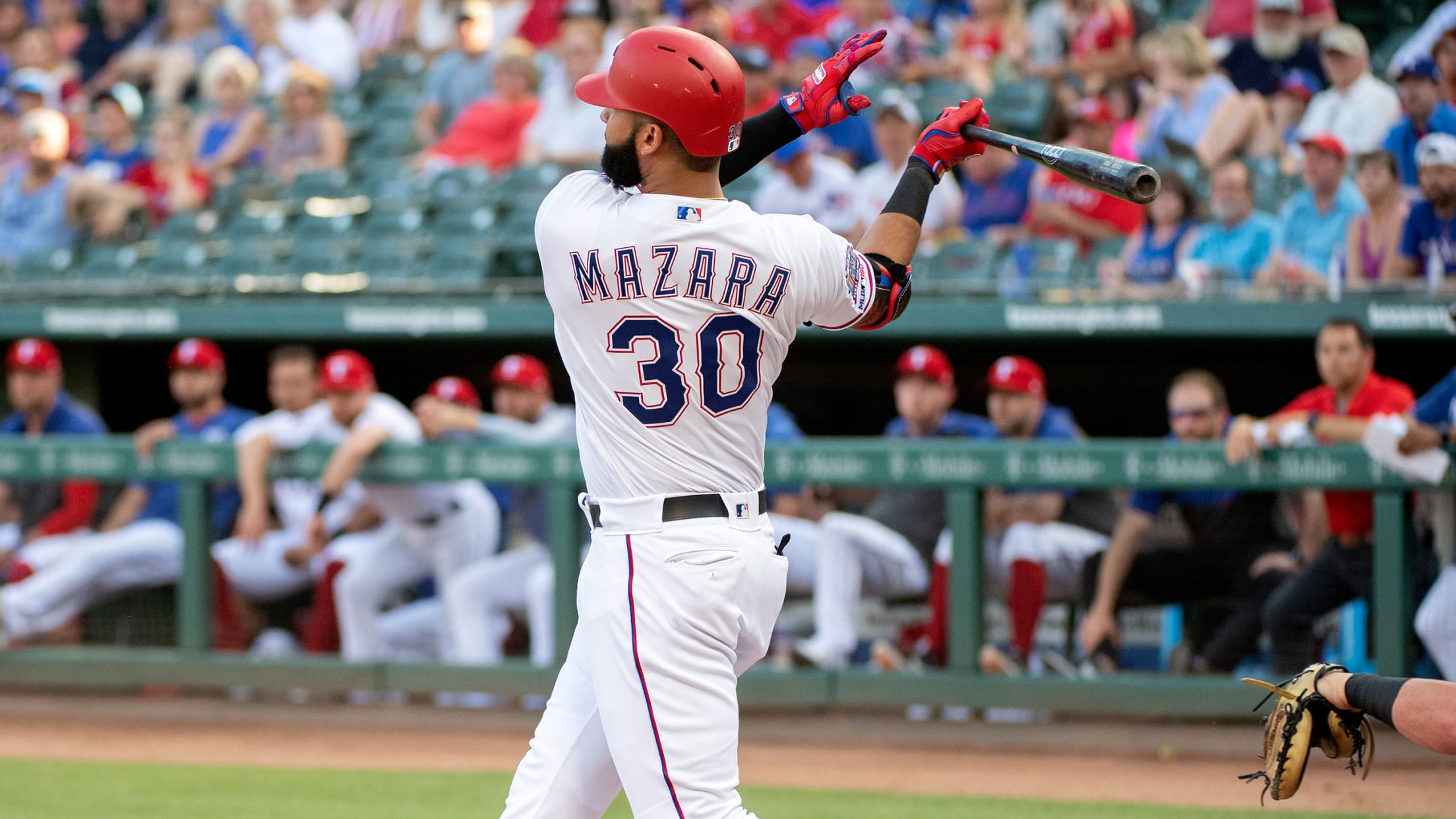 ARLINGTON -- A milestone has been achieved at Globe Life Park in its 26th year of existence: the first 500-foot home run. Nomar Mazara launched it in the first inning of the Rangers' 5-4, 10-inning loss to the White Sox on Friday, a two-run homer that had a projected distance
Asdrubal suspended (4) for ejection conduct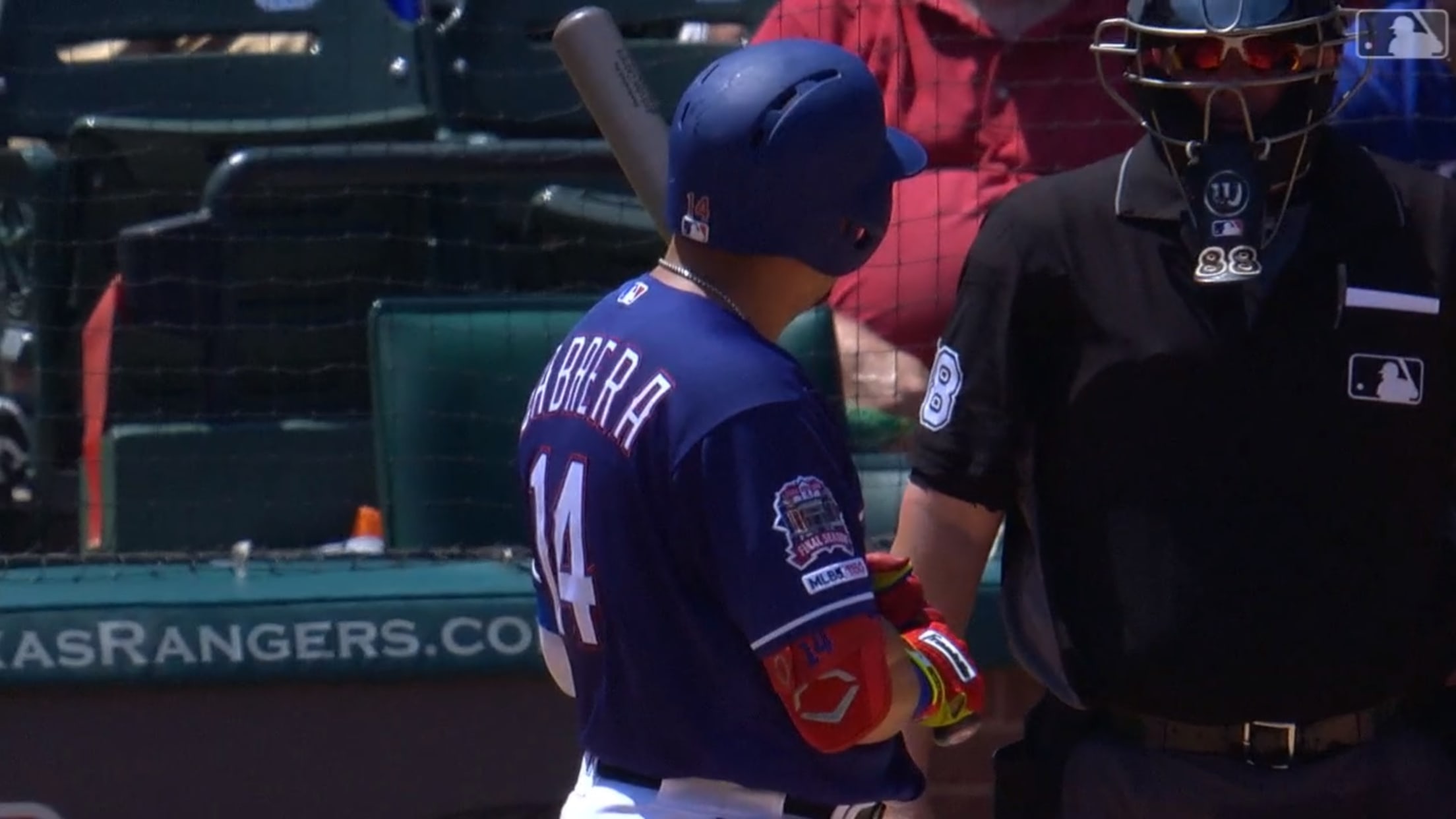 ARLINGTON -- Rangers third baseman Asdrúbal Cabrera has been suspended by Major League Baseball for throwing equipment after being ejected from Thursday's game against the Indians. Cabrera is appealing the suspension, and the punishment will be held in abeyance until the process is complete. Joe Torre, chief baseball officer for
Rangers DFA Smyly, move Chavez to rotation
Palumbo optioned to Triple-A; St. John, Bird called up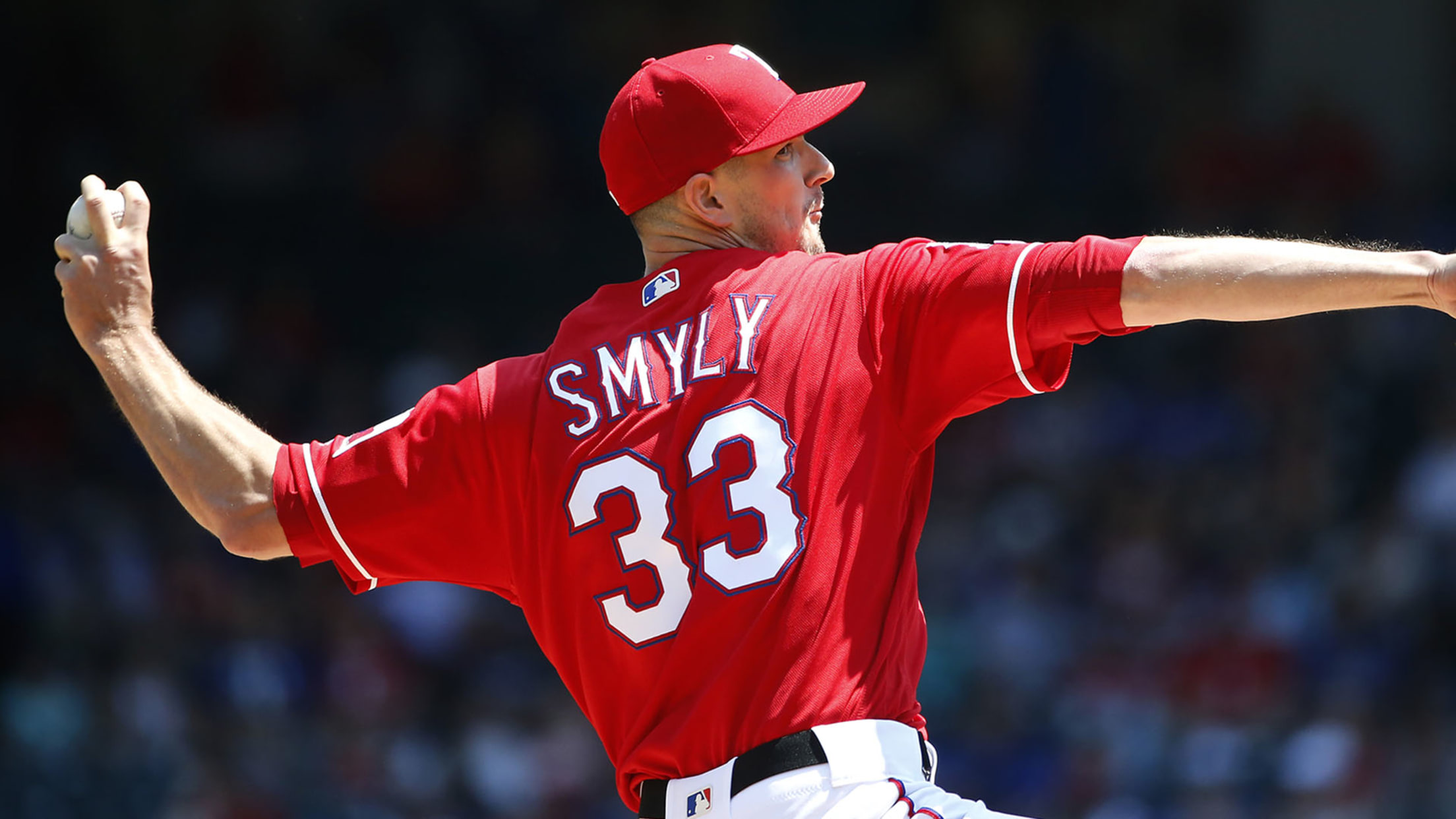 ARLINGTON –- The Rangers have cut the cord on struggling left-hander Drew Smyly and optioned pitcher Joe Palumbo to Triple-A Nashville. Right-hander Jesse Chavez is moving to the rotation with his first start scheduled for Tuesday against the Tigers. The Rangers also announced on Thursday morning that left-handers Kyle Bird
In need of ace performance, Minor delivers
Lefty hurls 8 stellar IP; Andrus keys offense with triple, HR, heads-up run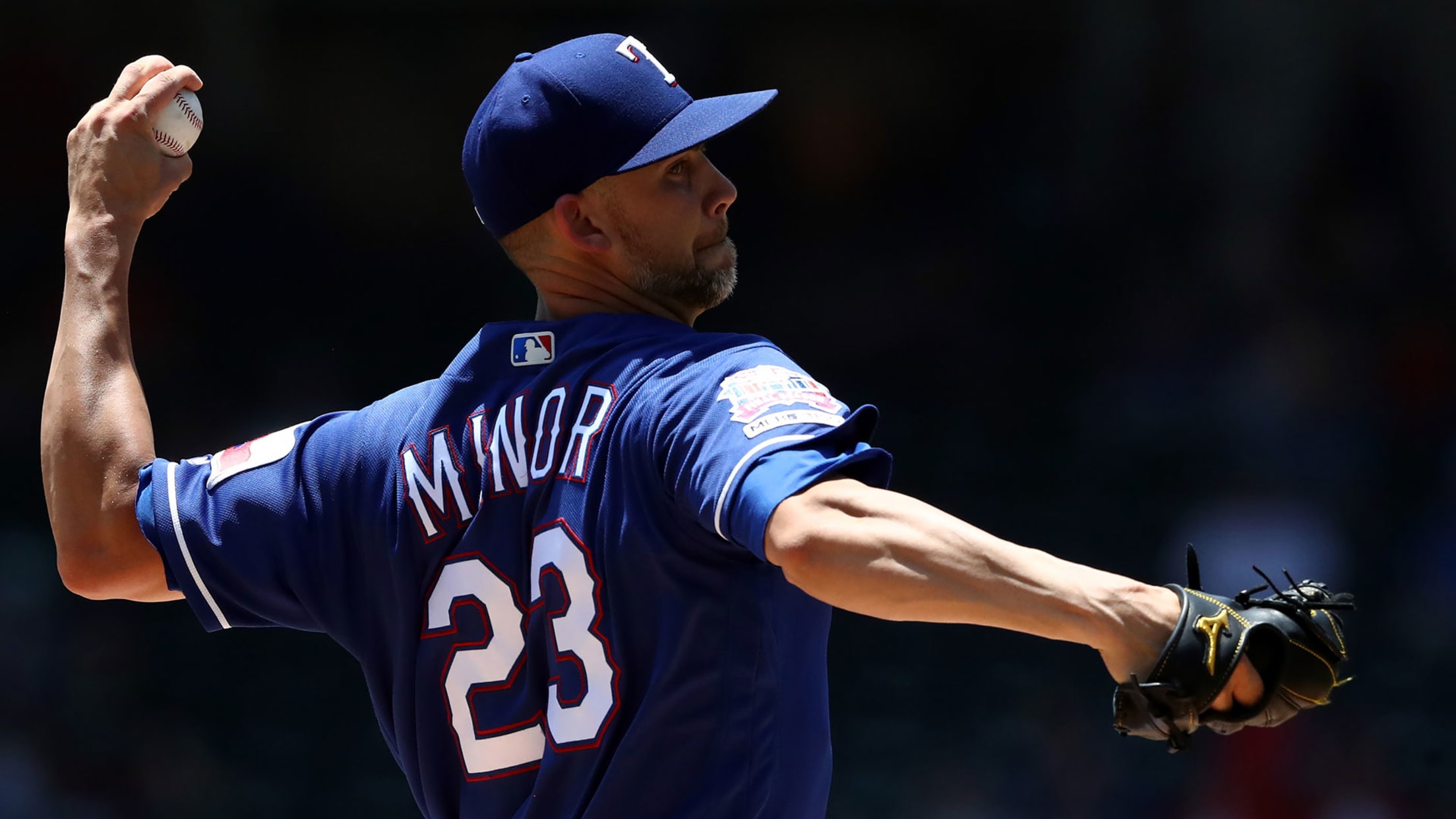 ARLINGTON -- The Rangers really needed an All-Star pitcher to step up for them on Thursday afternoon. They had lost two straight to the Indians, their starters had been knocked out early and the day-game temperatures on Thursday were in the 90s with the heat index soaring well into triple
Here are future All-Stars from the AL West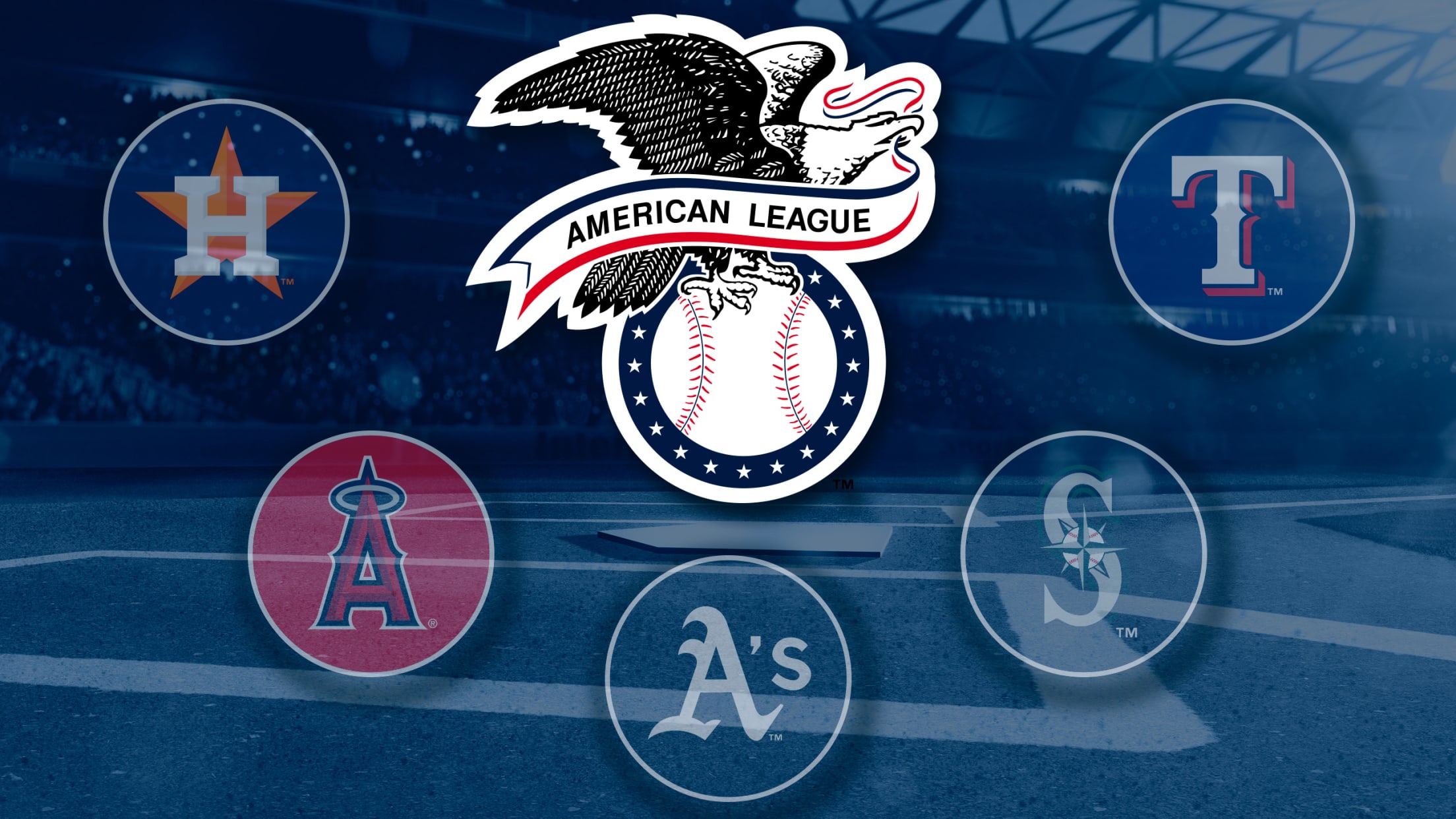 We're pretty close to finding out who this year's All-Stars will be, and while there may be some surprise elections and selections revealed, it's not that difficult to figure out which worthy candidates are most likely to hear their names called. But what about next year's All-Stars? Predicting that may
These 11 players have already topped their 2018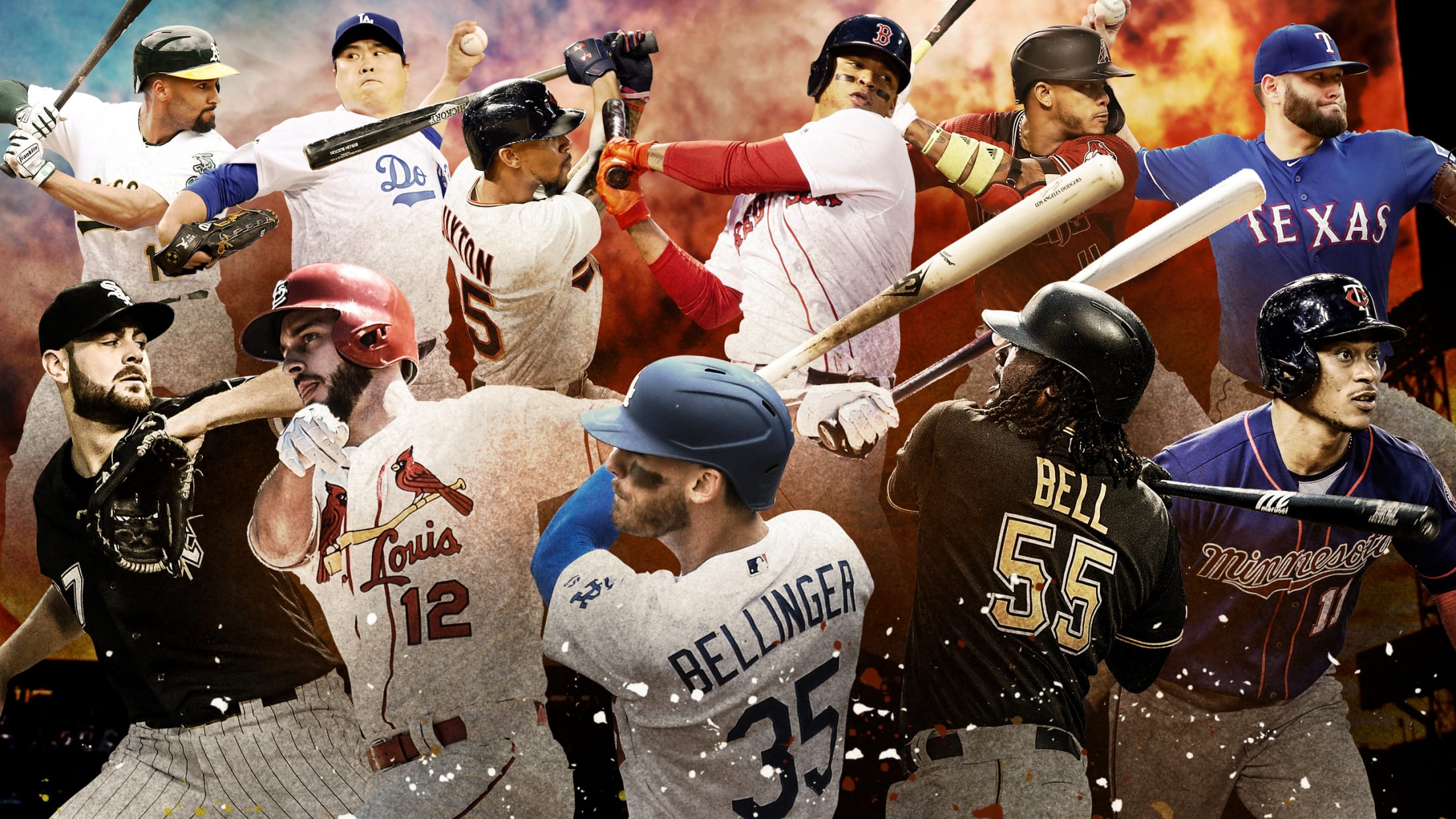 Cody Bellinger was already a very good player. He was the National League Rookie of the Year in 2017 after making his Major League debut in late April, and he followed that up with 25 homers, 28 doubles and an .814 OPS in his sophomore season. Because he's only 23
Most intriguing prospects in short season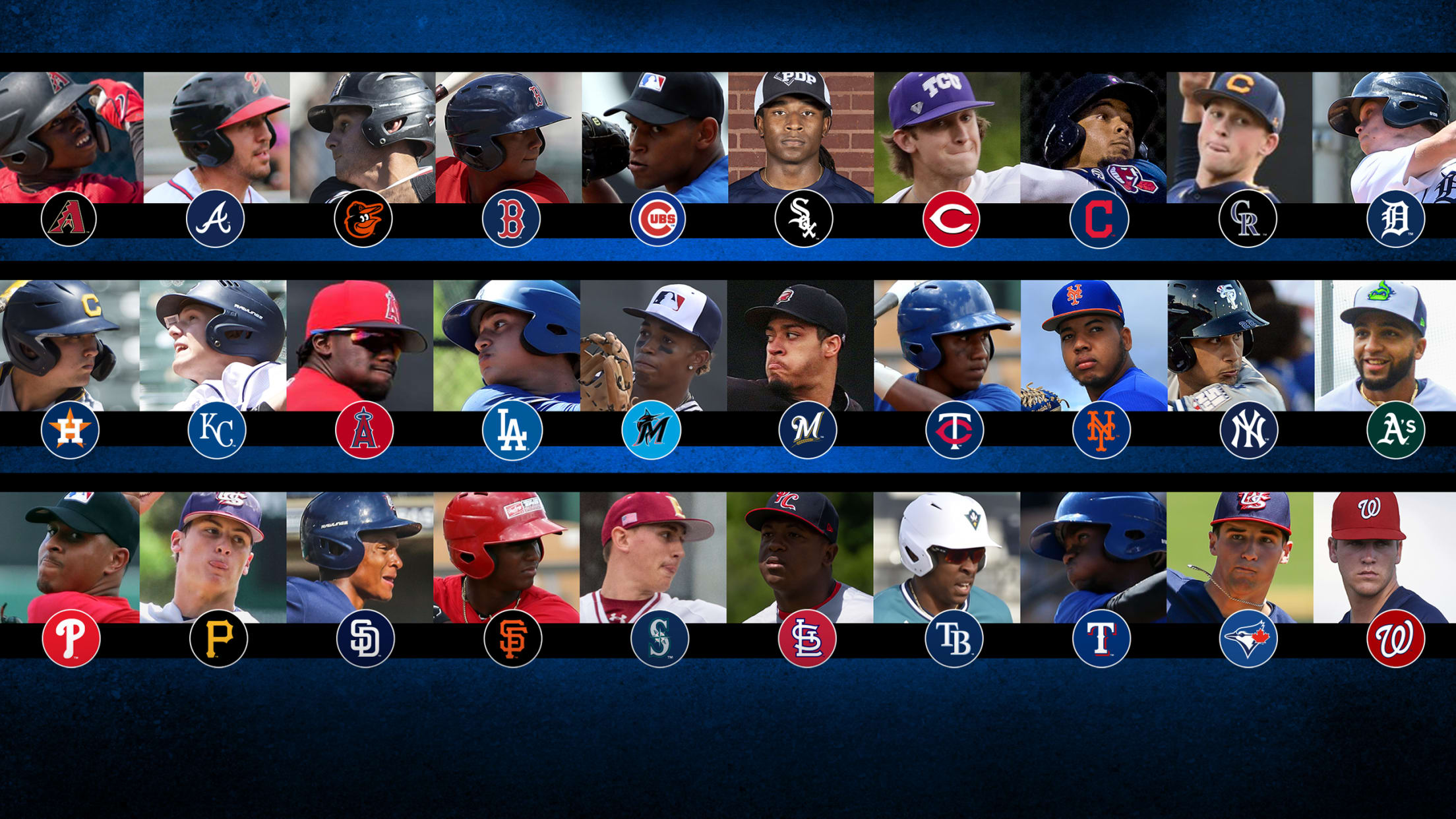 While the majority of the full-season leagues throughout the Minors have already reached the midseason mark, another batch of leagues, commonly referred to as short-season leagues, are just beginning and contain many of the game's top up-and-coming prospects. The New York-Penn and Northwest Leagues (Class A Short Season) as well
Palumbo allows 7 runs in 2nd career start
Rookie left-hander lasts 2-plus innings in defeat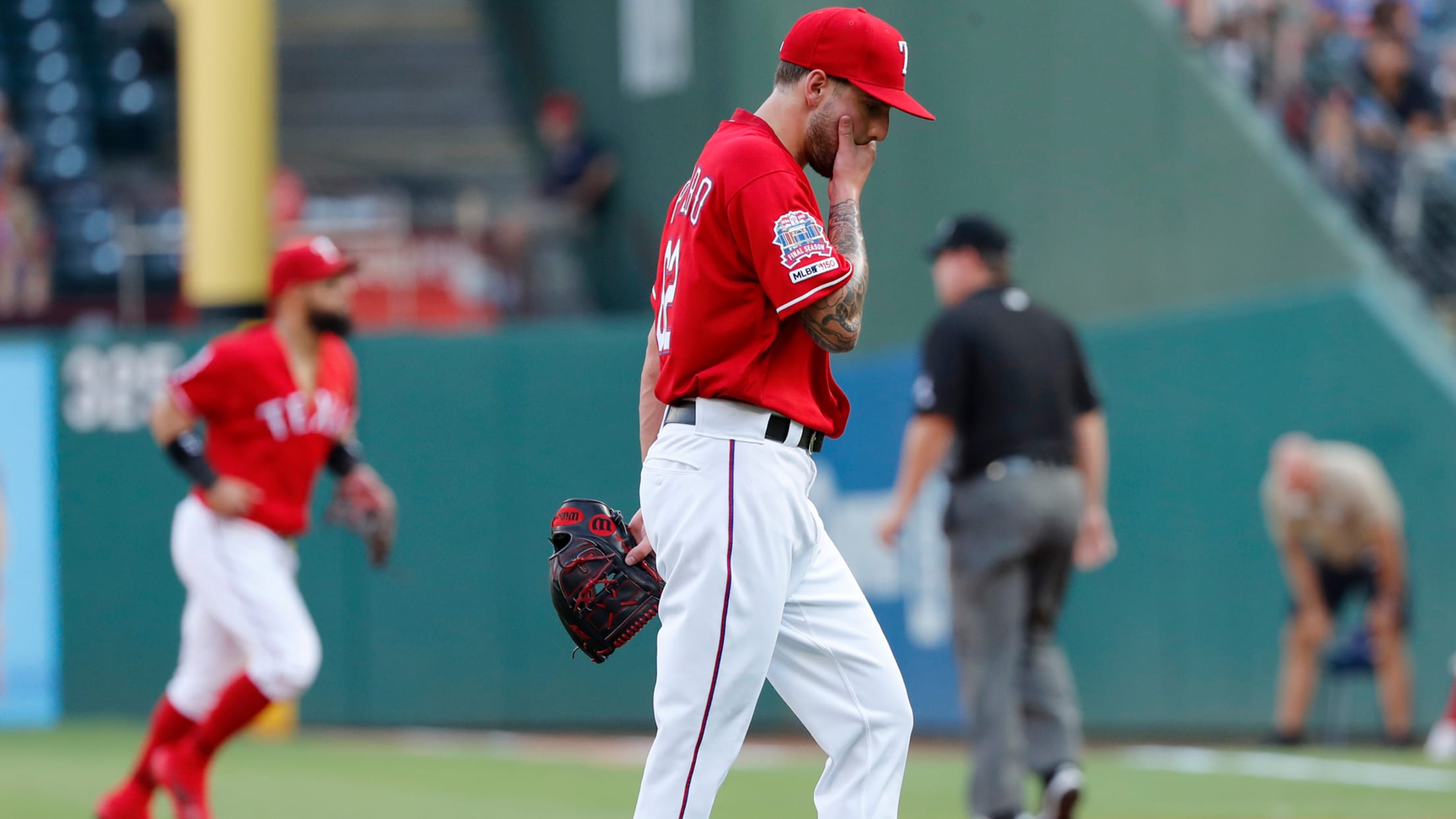 ARLINGTON -- This was not supposed be a spot start for rookie left-hander Joe Palumbo. Both manager Chris Woodward and general manager Jon Daniels said the Rangers wanted to take a good look at Palumbo this time around. The Rangers may be rethinking that after Palumbo, called up from Double-A
Rangers will face roster crunch when duo returns
Gallo, Pence about a week away from returns off injured list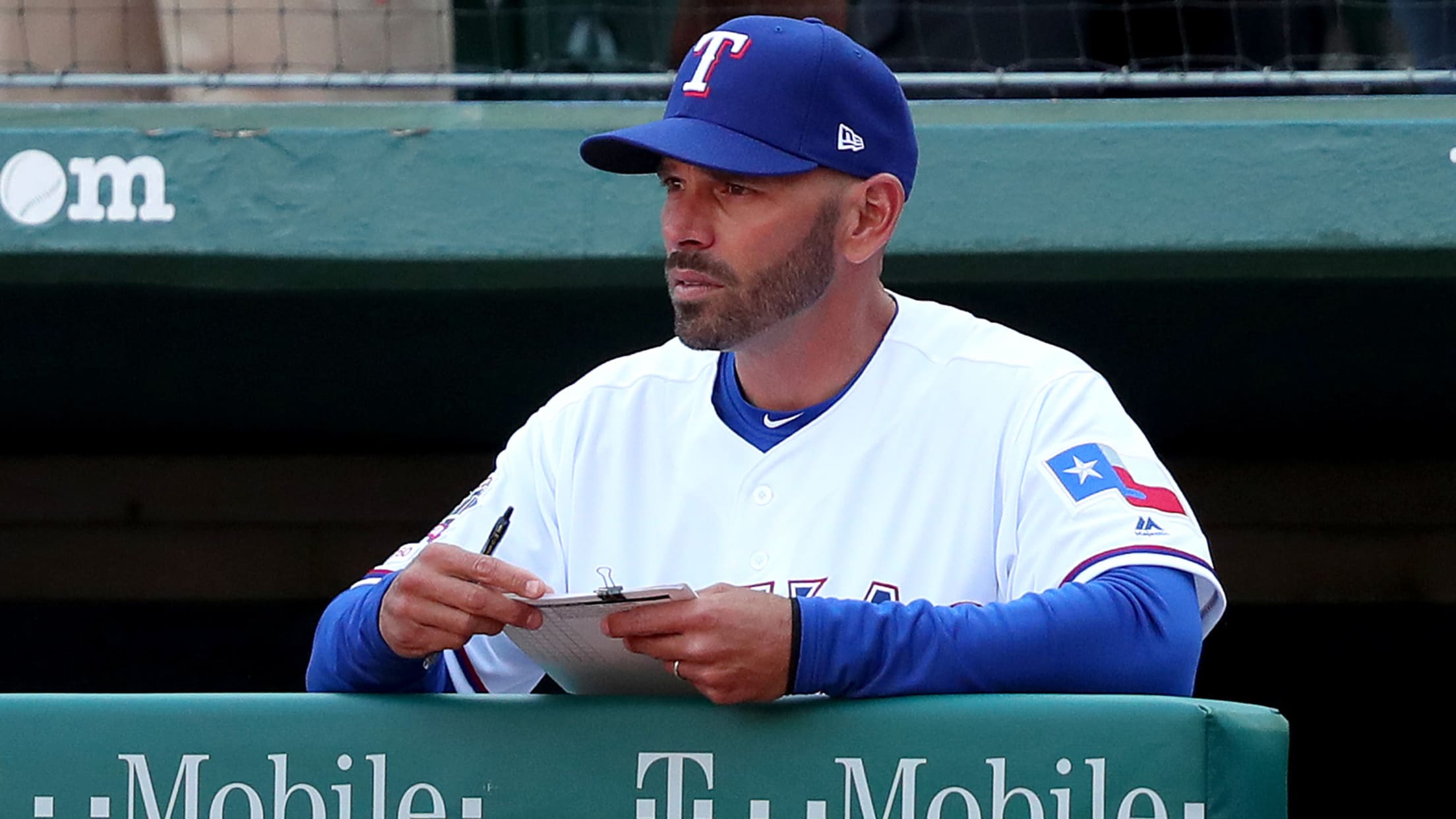 ARLINGTON -- The Rangers entered Wednesday's game against the Indians holding an edge in the race for the second American League Wild Card spot, and they are also about a week away from getting both Joey Gallo and Hunter Pence off injured list. That will create another roster crunch for
Rangers peek at new ballpark: 'We can't wait'
Woodward and players salute crew on milestone: 3 million man-hours of work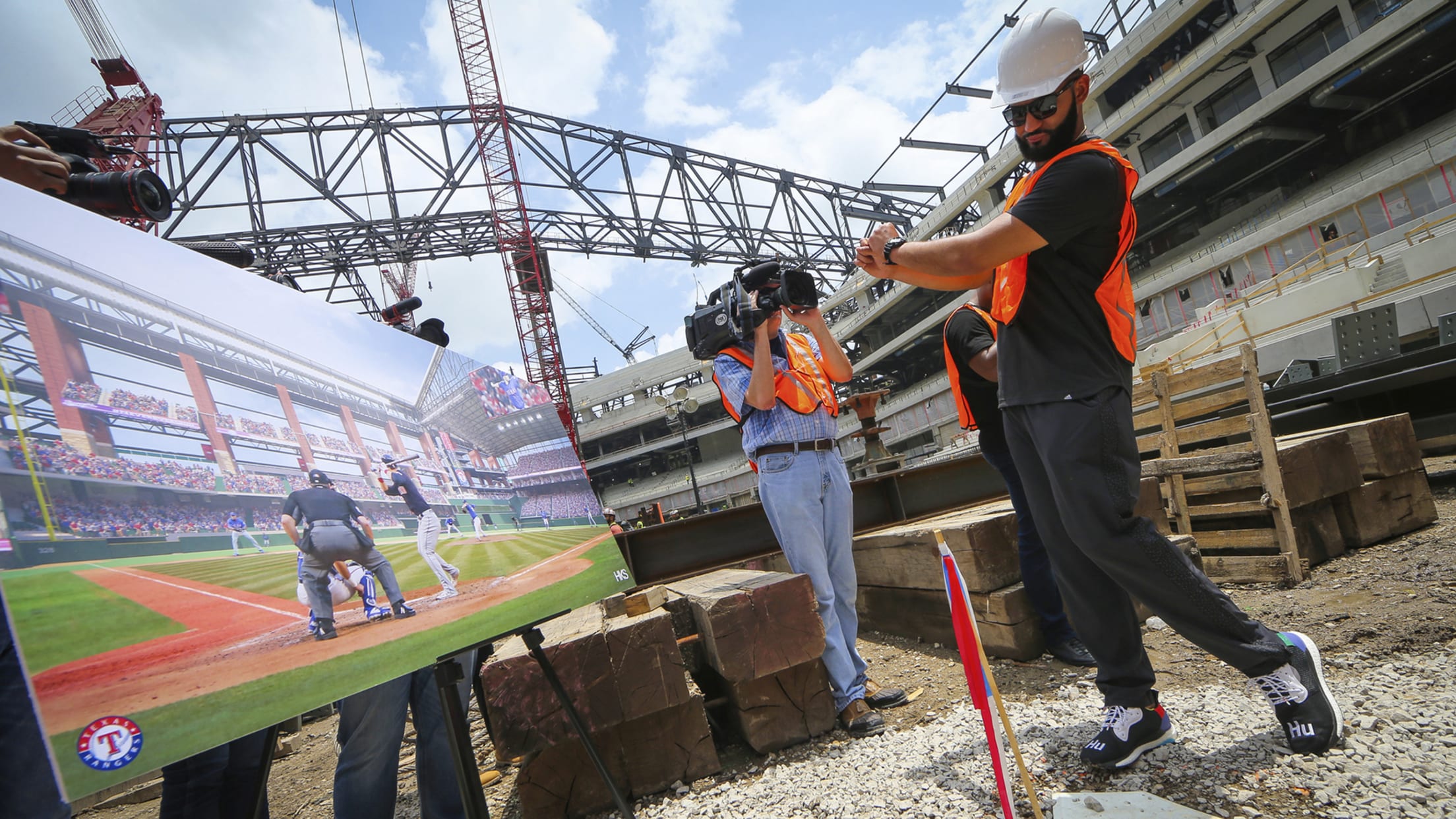 ARLINGTON -- The nightlife around Globe Life Park ends at 2 a.m., and by 3 a.m. the restaurants and watering holes are empty. But not the construction site at Globe Life Field. At 3 a.m., the big cranes are putting in the structural precast. Those are the big blocks of
After 5 straight wins, Sampson again struggles
ARLINGTON -- Rangers starter Adrian Sampson is being confronted with a significant challenge in his mission to establish himself as a big league pitcher. After enjoying a five-game winning streak, Sampson has run into a couple of clunkers in his last two starts. Sampson allowed five runs in three innings,
Pence on injury: 'It's very minor, not too bad'
Palumbo earns start Wednesday; second-round pick signs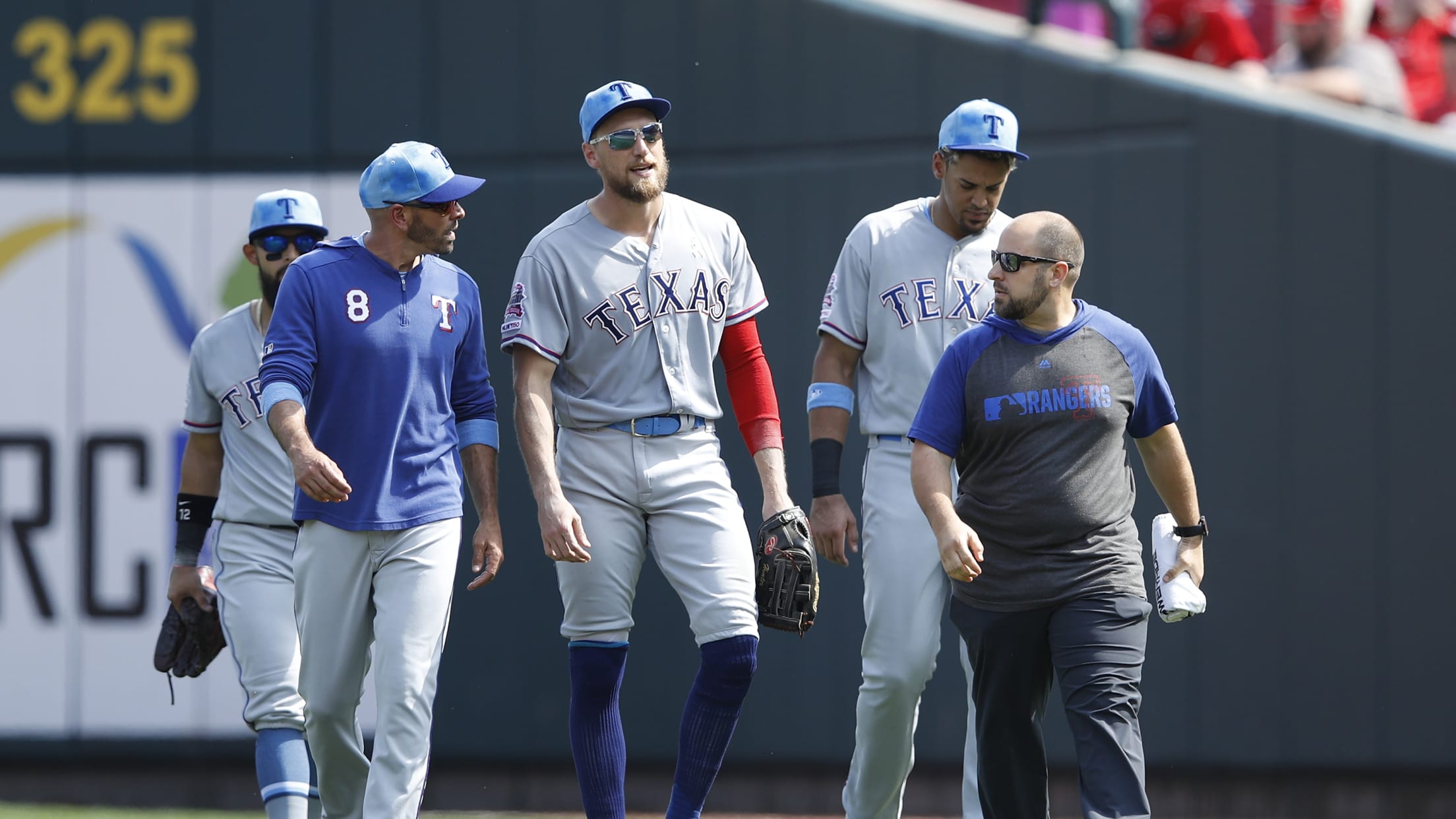 ARLINGTON -- Rangers outfielder Hunter Pence is hoping for a quick return from the injured list after being diagnosed with a strained right groin muscle. Pence was placed on the IL Monday, and is eligible to come off a week from Thursday. "It's very minor, not too bad," Pence said
Michael Young's No. 10 to be retired by Rangers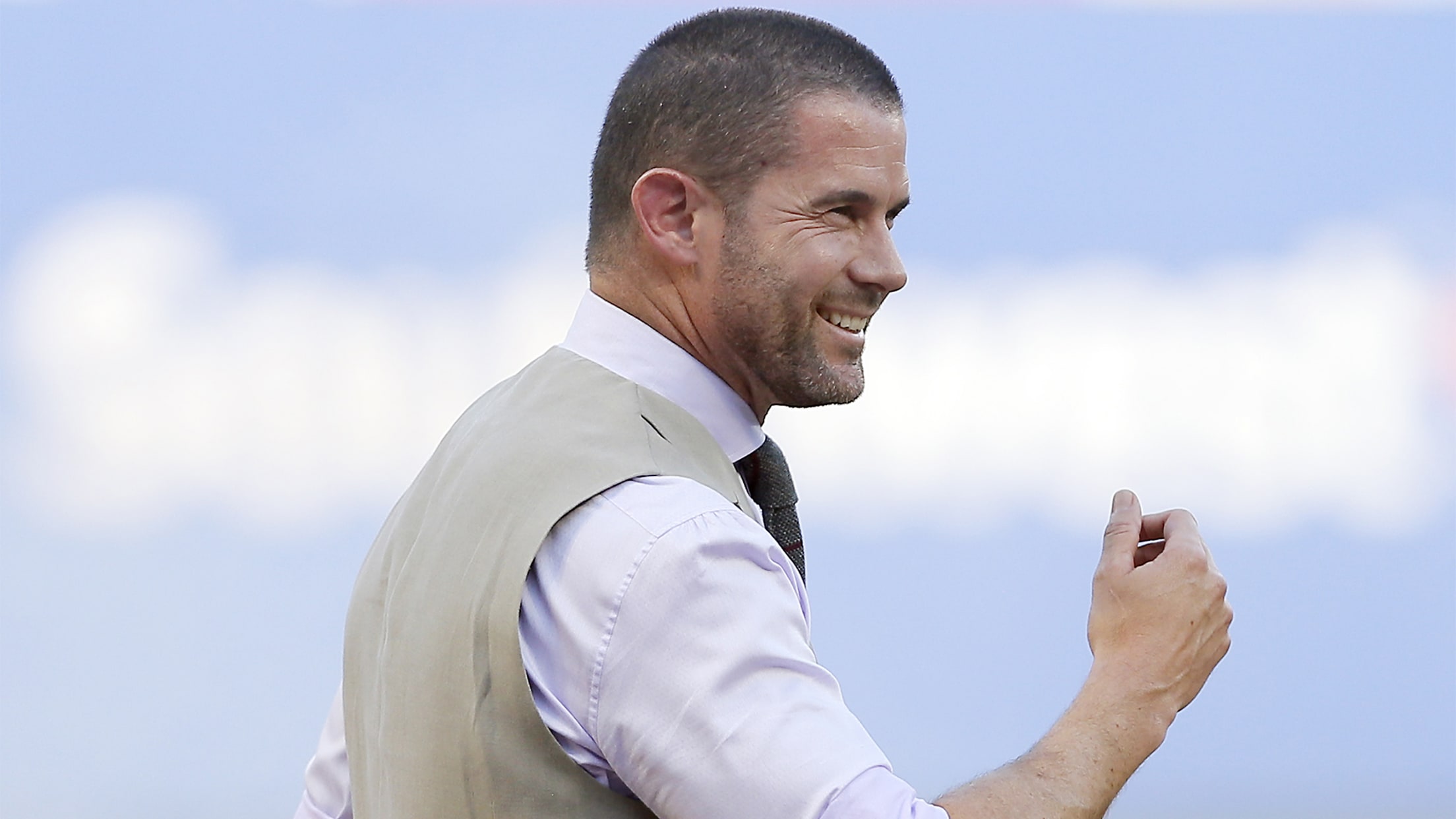 ARLINGTON -- The Rangers are retiring Michael Young's number, completing a summer of honoring three prominent players from the teams that went to two World Series in 2010-11. Young's No. 10 will be retired before the Rangers' game against the Mariners on Aug. 31 at Globe Life Park. The Rangers