Rangers sign RHP Ian Kennedy to Minor League contract with invitation to Major League Spring Training camp
Rangers Spring Training roster now at 74 players
Surprise, Ariz. — The Texas Rangers today announced the signing of right-handed pitcher Ian Kennedy to a minor league contract with an invitation to Major League Spring Training camp. Kennedy, 36, has spent the past five seasons with the Kansas City Royals, including 15 games/one start with the club in
Globe Life Field to host college and high school baseball games this week
Four college games and three-day high school showcase takes place, February 23-27; Oklahoma and UTA to play two games each at Globe Life Field
Arlington, TX – Globe Life Field will be the site of 20 college and high school baseball games over the next five days beginning on Tuesday. College baseball doubleheaders involving six schools will take place on Tuesday and Wednesday, February 23-24. Tuesday, February 23 (Home Team Listed Second) 4:00 p.m.—Tarleton
Rangers assign RHP Jimmy Herget outright to Triple-A Round Rock
Herget and INF Justin Foscue both receive non-roster invitations to Rangers Major League Spring Training camp
Surprise, Ariz. — The Texas Rangers today announced that right-handed pitcher Jimmy Herget has been assigned outright to Triple-A Round Rock. Additionally, Herget and infielder Justin Foscue have received non-roster invitations to Major League Spring Training. Herget was designated for assignment on Tuesday when the Rangers acquired right-handed pitcher Josh
Start of 2021 State Farm College Baseball Showdown at Globe Life Field moved to Saturday due to current weather conditions
Tournament featuring six of nation's top-ranked baseball programs will now run Saturday through Monday, February 20-22 Single day Friday tickets will be honored on Monday
Arlington, TX – The start of the 2021 State Farm College Baseball Showdown has been moved back one day to Saturday, February 20 due to the current weather conditions affecting Texas and the Southern United States, it was announced today. The three-day season opening tournament at Globe Life Field, which
Rangers acquire RHP Josh Sborz from Los Angeles Dodgers in exchange for Minor League RHP Jhan Zambrano
RHP Jimmy Herget designated for assignment
Surprise, Ariz. — The Texas Rangers today acquired right-handed pitcher Josh Sborz from the Los Angeles Dodgers in exchange for minor league right-handed pitcher Jhan Zambrano. To make room on the Major League roster for Sborz, the Rangers have designated right-handed pitcher Jimmy Herget for assignment. Sborz, 27, made 4
Start of 2021 State Farm College Baseball Showdown at Globe Life Field moved to Saturday due to current weather conditions
Tournament featuring six of nation's top-ranked baseball programs will now run Saturday through Monday, February 20-22 Single day Friday tickets will be honored on Monda
Arlington, TX – The start of the 2021 State Farm College Baseball Showdown has been moved back one day to Saturday, February 20 due to the current weather conditions affecting Texas and the Southern United States, it was announced today. The three-day season opening tournament at Globe Life Field, which
Academy Notebook: USASB Women's National Team in Dallas; Academy Softball Player Tries Out for Mexico Junior National Team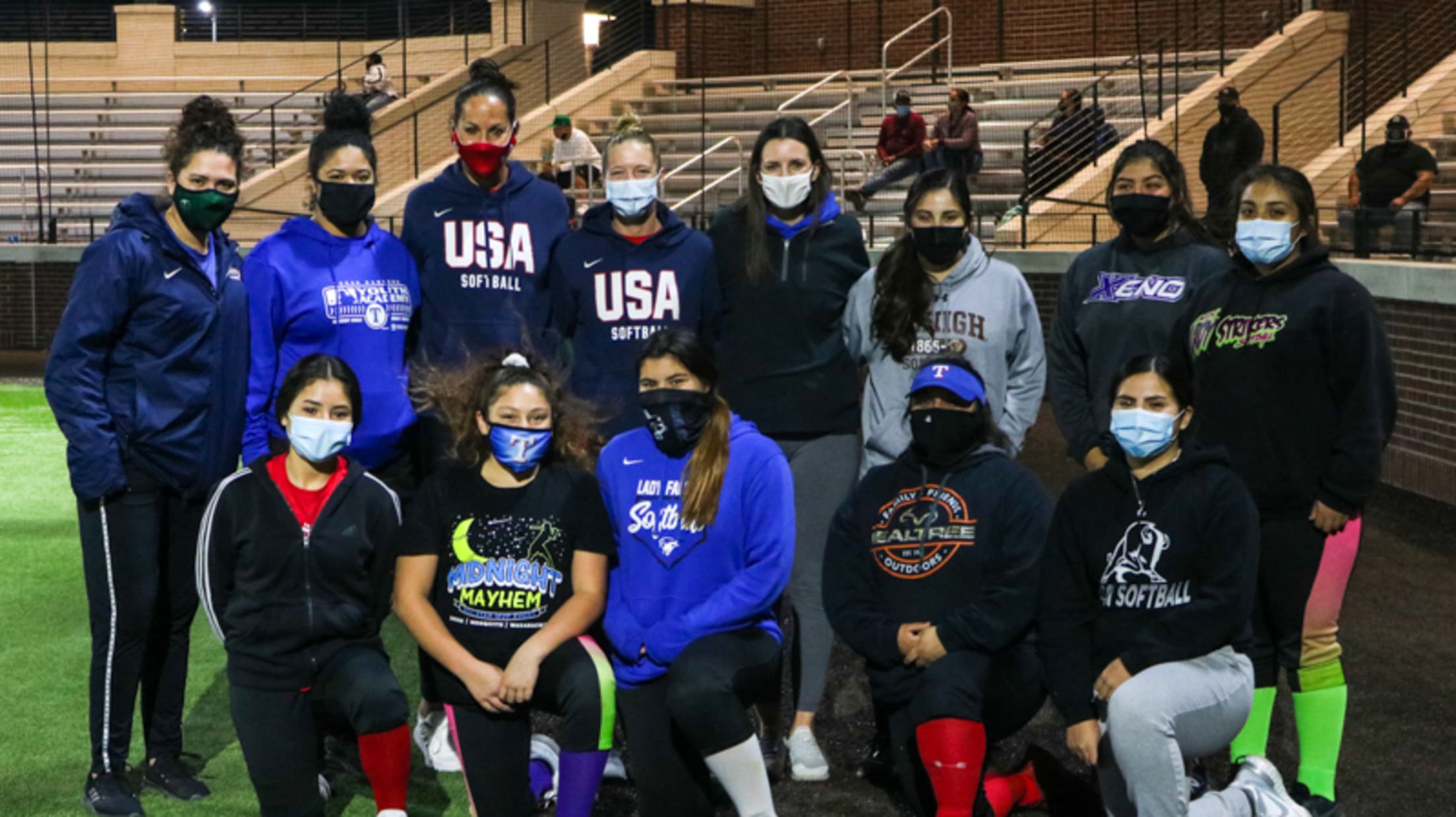 USA Softball Women's National Team (WNT) has been training at the Texas Rangers MLB Youth Academy at Mercy Street Sports Complex, presented by Toyota this past week as they prepare for the Tokyo Olympic Games. Despite busy practice schedules, Cat Osterman and Ally Carda spent National Girls and Women in
Rangers announce three signings and six total invitations to Major League Spring Training camp
C/1B John Hicks, INF Brock Holt and LHP Hyeon-jong Yang all sign minors deals, RHP's Hans Crouse and Luis Ortiz receive internal invitations to MLB camp; Adolis García assigned outright to Triple-A Round Rock and receives invite
Arlington, Texas — The Texas Rangers today announced the signing of three players to minor league contracts for the 2021 season with invitations to the club's Major League Spring Training camp: catcher/first baseman John Hicks, infielder Brock Holt, and left-handed pitcher Hyeon-jong Yang. Additionally, the club has invited two other
Texas Rangers revised 2021 Spring Training schedule released
Rangers and Royals to open Cactus League schedule on Sunday, February 28
Arlington, TX – Major League Baseball and Texas Rangers today announced the revised 2021 spring training schedule. The number of games has been reduced to eliminate all split squads in 2021. The Rangers are now scheduled to play 29 spring training games in 2021, including 27 Cactus League contests. The
Complete 2021 Texas Rangers schedule announced 
Club scheduled to open regular season on April 1 in Kansas City
Arlington, Texas—Major League Baseball today announced the complete 2021 regular season schedule with game times. The Texas Rangers had previously announced the 2021 times for home games at Globe Life Field. The schedule features a club record 29 home day games. The standard home game times will remain the same
Rangers sign free agent RHP Mike Foltynewicz to Major League contract for 2021 season
OF Adolis García designated for assignment
Arlington, Texas — The Texas Rangers today announced the signing of free agent right-handed pitcher Mike Foltynewicz (pronounced ful-ta-NEV-ich) to a one-year Major League contract for the 2021 season. To make room on the Major League roster for Foltynewicz, the club has designated outfielder Adolis García for assignment. The 29-year-old
Texas Rangers announce 2021 player development staff
Organization will field six teams under new minor league structure
Arlington, Texas — The Texas Rangers today announced the organization's player development staff for the 2021 season. The club's minor league affiliates will be managed by Kenny Holmberg (Triple-A Round Rock), Jared Goedert (Double-A Frisco), Josh Johnson (High-A Hickory), Carlos Cardoza (Low-A Down East), Jay Sullenger (Rookie AZL Rangers), and
Texas Rangers 2021 job fair for seasonal employment scheduled for Wednesday, February 10
Seasonal positions available for a number of areas at Globe Life Field
Arlington, Texas -- The Texas Rangers will hold a Job Fair for seasonal employment at Globe Life Field for the 2021 season, TOMORROW, Wednesday, February 10 from 5:00-8:00 p.m. The Job Fair will take place in the Karbach Sky Porch on the upper left field concourse at Globe Life Field.
Quote from Texas Rangers chairman and managing partner Ray Davis
"On behalf of the Texas Rangers, I want to thank Elvis Andrus for the tremendous impact he has made on our organization over the last 12 years. His play on the field, his connection to our fans, and his work in the community have played an integral part in shaping
Rangers acquire OF/DH Khris Davis, C Jonah Heim, and RHP Dane Acker from Oakland Athletics in exchange for SS Elvis Andrus, C Aramis Garcia and cash considerations
Davis had three straight 40-home run seasons from 2016-18, Heim made MLB debut in 2020; Andrus is Rangers' all-time leader in stolen bases and ranks second in games
Arlington, Texas — The Texas Rangers today announced a five-player trade with the Oakland Athletics. The Rangers have acquired outfielder/designated hitter Khris Davis, catcher Jonah Heim, and right-handed pitcher Dane Acker in exchange for shortstop Elvis Andrus, catcher Aramis Garcia, and cash considerations. Davis, 33, has hit 158 home runs
Academy Notebook: Black History Month Jamboree; National Girls and Women in Sports Day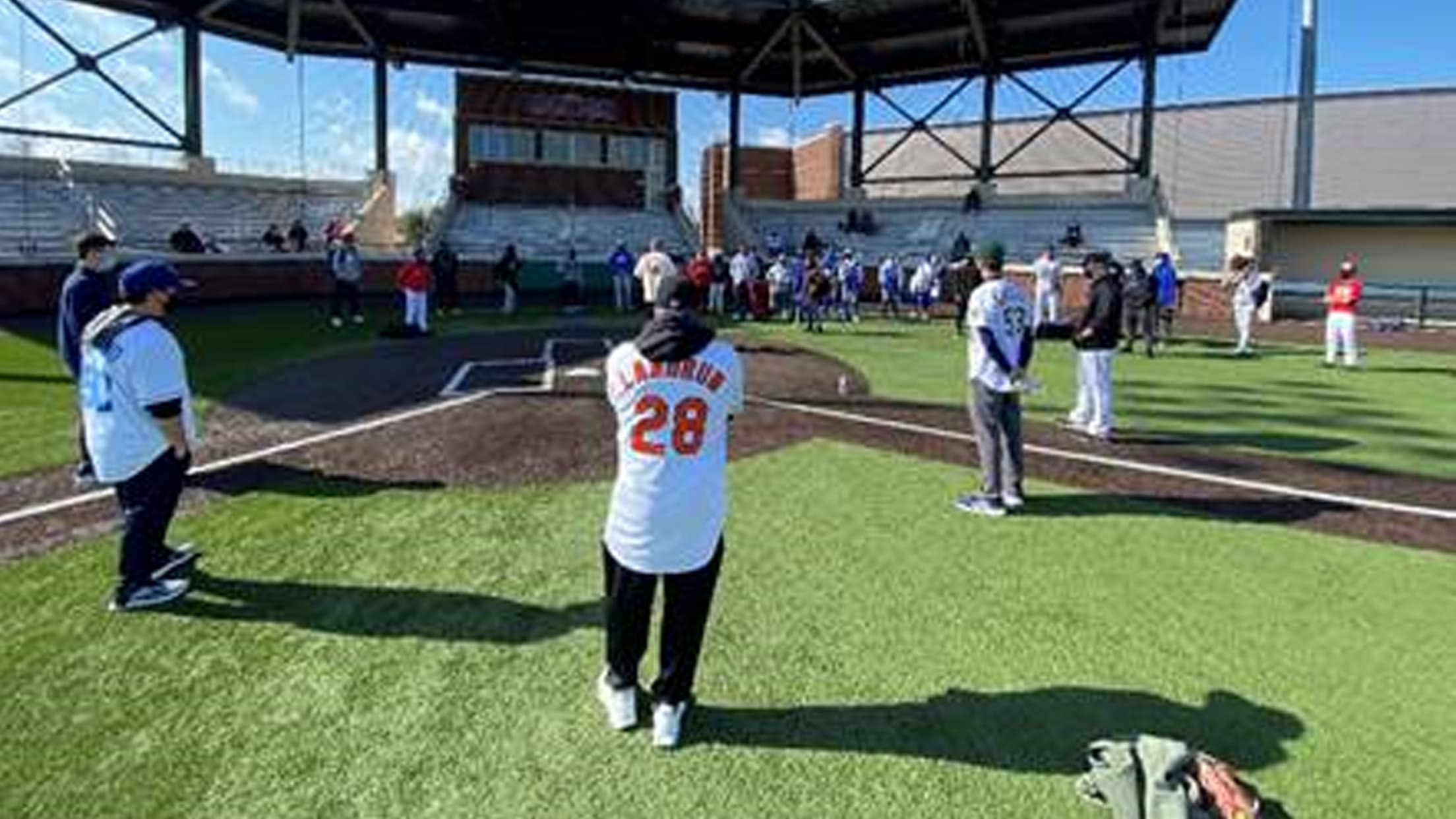 Organizations and businesses across the United States pay tribute to the crucial role Black Americans have played in the country's history this month. This Saturday, Feb. 6, the Texas Rangers MLB Youth Academy at Mercy Street Sports Complex, presented by Toyota, will be hosting its inaugural Black History Month Jamboree.
Rangers sign RHP Nick Vincent to Minor League contract with invitation to Major League Spring Training camp
Veteran reliever spent 2020 season with Miami Marlins
Arlington, Texas — The Texas Rangers today announced that the club has signed right-handed pitcher Nick Vincent to a minor league contract for the 2021 season with an invitation to Major League Spring Training camp. Vincent, 34, went 1-2 with 3 saves and a 4.43 ERA over 21 relief appearances
2021 Rangers Reunite Virtual 5K presented by Tom Thumb and Albertsons set for February 26-28
Proceeds benefit Texas Rangers Baseball Foundation
Arlington, Texas—Registration is now available for the 2021 Rangers Reunite Virtual 5K Presented by Tom Thumb and Albertsons. The Virtual 5K is scheduled for Friday thru Sunday, February 26-28. Registrants can complete the 5K anywhere they choose on the day of their choice over that three-day period. The participants are
Texas Rangers 2021 job fairs for seasonal employment scheduled for Saturday, February 6 and Wednesday, February 10
Seasonal positions available for a number of areas at Globe Life Field
The Texas Rangers will hold a pair of Job Fairs in the next week for seasonal employment at Globe Life Field for the 2021 season. The Job Fairs will take place, Saturday, February 6 from 1:00-4:00 p.m. and on Wednesday, February 10 from 5:00-8:00 p.m. The Job Fairs will take
Texas Rangers sign RHP Spencer Patton to 2021 Minor League contract with Spring Training invitation
Former Ranger pitched last four seasons for NPB's Yokohama Bay Stars
Arlington, Texas—The Texas Rangers announced today that the club has signed right-handed pitcher Spencer Patton to a 2021 minor league contract with an invitation to spring training. Patton, who turns 33 on February 20, has spent the past four seasons with the Yokohama Bay Stars organization in Japan. He went
Three-day Tournament Passes sold out for State Farm College Baseball Showdown
Single day tickets still available
Arlington, TX – Ticket sales for 2021 State Farm College Baseball Showdown at Globe Life Field have been brisk. All available three-day Tournament Passes have been sold for the Showdown, which takes place February 19-21 and features six of the NCAA's top-ranked baseball programs from the Big 12 and Southeastern
2021 Texas Rangers Winter Caravan presented by Comerica Bank continues this week
The 2021 Texas Rangers Virtual Winter Caravan Presented by Comerica Bank continues this week with the following public events (schedule of participants is subject to change and additions): *Wednesday, February 3, 7:00 p.m. Caravan Chat on Texas Rangers Facebook Scheduled to Participate: David Dahl, Joey Gallo, Matt Hicks Thursday, February
Texas Rangers sign OF Delino DeShields and RHP Sam Gaviglio to 2021 Minor League contracts with Spring Training invitations
DeShields returns to Rangers after spending 2020 with Cleveland Indians
Arlington, Texas -- The Texas Rangers announced today that the club has signed a pair of free agents, outfielder Delino DeShields and right-handed pitcher Sam Gaviglio to 2021 minor league contracts with spring training invitations. DeShields, 28, returns to the Rangers organization after spending 2020 with the Cleveland Indians. Acquired
Academy Notebook: Rangers announce high school baseball games to be played at Academy; athletes reflect on Hank Aaron's legacy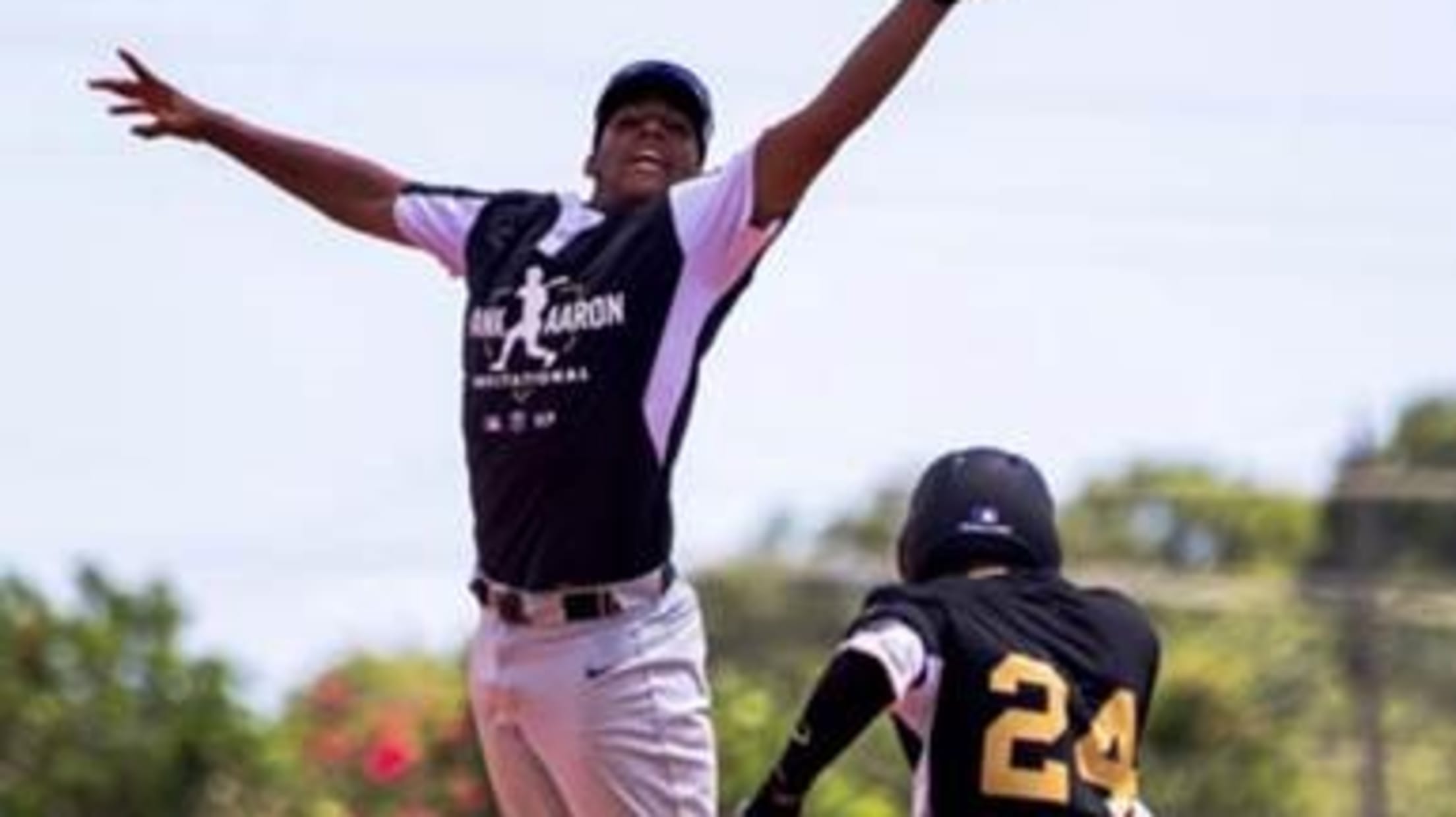 The Texas Rangers today announced the schedule for Dallas ISD high school baseball games that will be played this season at the Texas Rangers MLB Youth Academy at Mercy Street Sports Complex, presented by Toyota. L.G. Pinkston High School, Sunset High School and Thomas Jefferson High School baseball teams will
Texas Rangers Virtual Awards Show to honor team award recipients from the 2020 season
Seven awards will be presented in hour-long show to be broadcast by FOX Sports Southwest on Friday at 6:00 p.m. CT
Arlington, Texas—The Texas Rangers Virtual Awards Show will honor the recipients of seven team awards from the 2020 season. The hour-long Texas Rangers Awards Show, which has been created and produced by the team's productions department, is scheduled to be broadcast on FOX Sports Southwest with the initial telecast on