Rangers' new park to have better big screens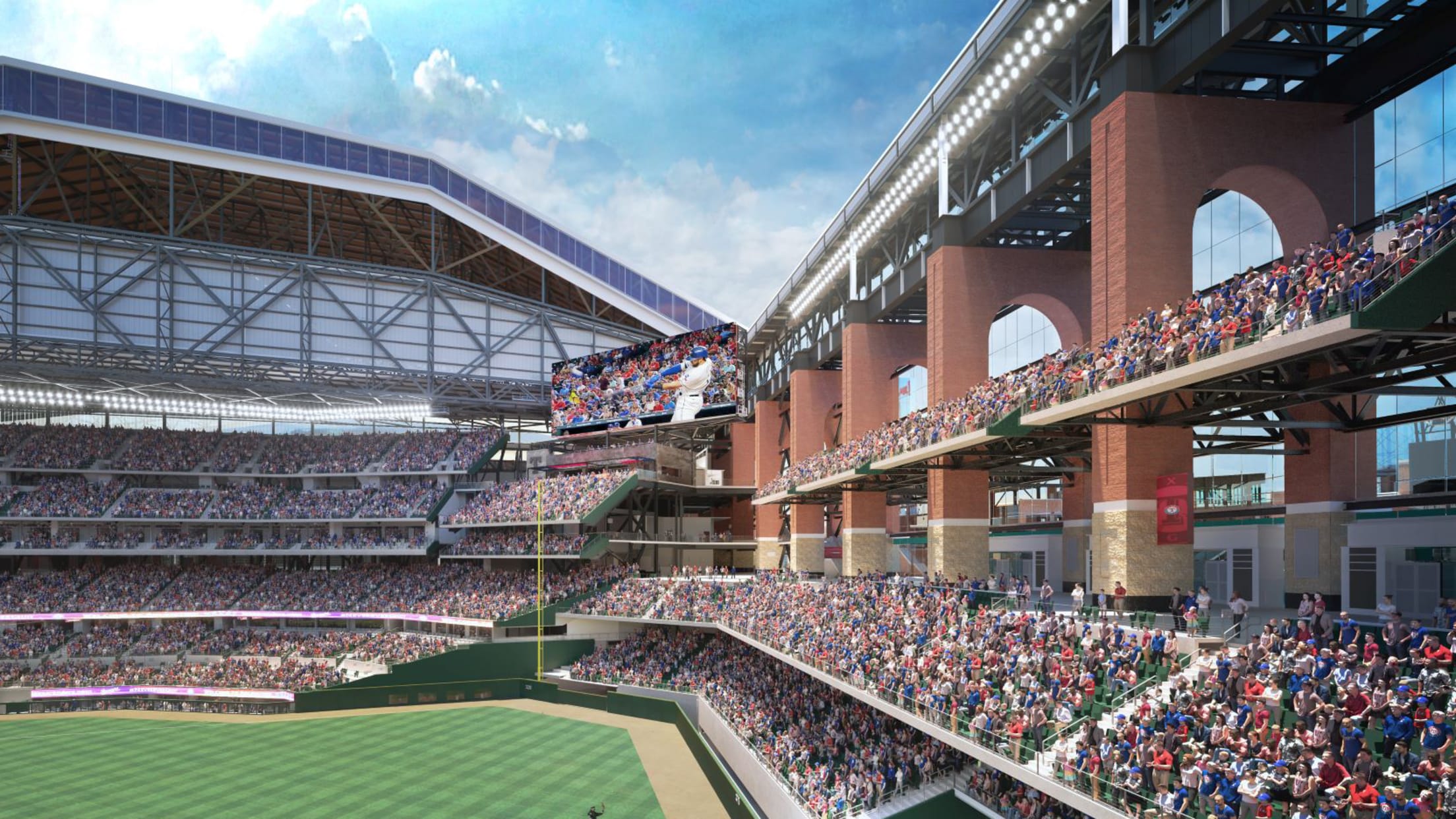 ARLINGTON -- You knew this was coming to the Rangers' new ballpark. In addition to a retractable roof and climate-controlled comfort, the Rangers revealed on Monday that Globe Life Field will include two state-of-the-art video boards hanging over right and left field that will be bigger than the ones across
ARLINGTON -- You knew this was coming to the Rangers' new ballpark.
In addition to a retractable roof and climate-controlled comfort, the Rangers revealed on Monday that Globe Life Field will include two state-of-the-art video boards hanging over right and left field that will be bigger than the ones across the street.
In all, there will be nine video displays throughout the new ballpark, including a vertical one in center field that will complement the two large horizontal displays on either side. They will all be installed by Daktronics, the same South Dakota company that has provided all the video equipment and displays at Globe Life Park.
Chuck Morgan will be directing it all as the Rangers' well-known public address announcer who also serves as vice president of ballpark entertainment. Morgan started with the Rangers in 1983 at Arlington Stadium.
One year later, the old stadium was upgraded with only the second full-color video board in a Major League facility. Two years later, Morgan made history with introduction of the now-famous dot race.
🚨 New @GlobeLifeField Renderings 🚨 pic.twitter.com/6dokyJOdWT

— Texas Rangers (@Rangers) May 6, 2019
"Being an old pioneer of video boards and scoreboards, I'm excited and look forward to seeing the video boards and technology that Daktronics will bring to what I call the most comfortable seat in baseball history right here at Globe Life Field," Morgan said. "Seats closer to the field, air conditioning comfort and state-of-the-art, bigger video boards. It could be better than the seat in your living room at home."
The right-field video board will be 58 feet tall by 150 feet wide. That is 43 percent bigger than the right-field board at Globe Life Park. The new left-field board will be 40 feet tall by 111 feet wide, 29 percent bigger than across the street. The center-field display is 80 feet tall by 20 feet wide.
Just like Globe Life Park, the new facility will also have a main ribbon display stretching on the seating facades from foul pole to foul pole.
"We have 81 chances each year to do our best. The most important thing for a Major League club and its entertainment staff is making sure everything is working for those 81 games," Morgan said. "The technical support we have received from Daktronics is second to none. They have always been there for us when we have had an issue."
The new ballpark, on target to open next season, will have a special booth for Morgan and his entertainment staff on the street-level concourse directly behind home plate. That will allow Morgan to interact with fans during the game.
"I love talking to the fans, I love our fans," Morgan said. "I am going to be able to talk to the fans through the window. We are going to have a door in back and benches where fans can come in and watch what we are doing in the game. I'm excited about that."
Construction at Globe Life Field continues almost around the clock in Arlington. The next two big projects are installing the roof and finishing the lower-bowl seating. Two big motors that will move the roof are in the adjacent parking lot, ready to be hooked up.
This week, Globe Life Field workers are celebrating National Safety Week.

Safety: It's a family matter pic.twitter.com/4AgmY1rJBP

— Globe Life Field (@GlobeLifeField) May 6, 2019
"The progress has been great even with all the rain and the wind," said Jack Hill, the Rangers' senior vice president, project development. "The wind affects us as much as the rain, because most of work has to do with crane lifting. Fortunately, we have enough work inside even when the weather is bad. But we dialed all this into the construction schedule, because we all know Texas weather this time of year involves a lot of rain."
The Rangers and Manhattan Construction are also spending time involved in Safety Week events across the country. It is an annual awareness program designed to elevate and promote safety among workers in the construction industry.
Loren Sweatt, United States deputy assistant director of labor, was at Globe Life Park on Monday as part of an instructional program designed to prevent workers from falling from dangerous elevated areas on the job.
"Falls are the No. 1 cause of fatalities in construction," Sweatt said. "We are trying to get the message out: People need to wear their fall protection equipment. There are great ways to keep workers safe on the job. I'd like to say 100 percent of accidents are preventable if we do the right thing."