Mathis done for 2019, as '20 decisions await 
Mazara sidelined; Rangers lead AL in steals; Choo joins elite list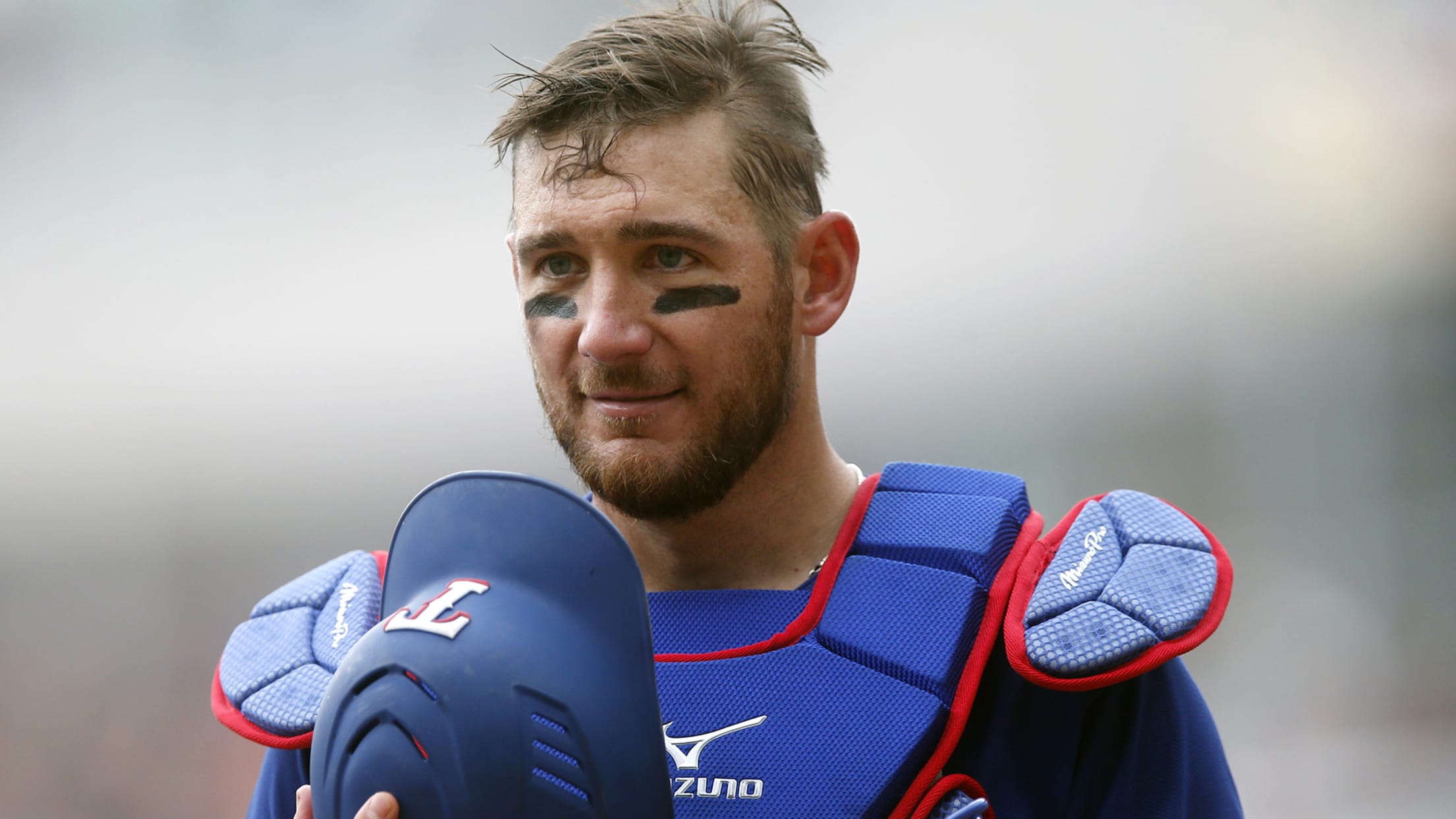 ARLINGTON -- Catcher Jeff Mathis has joined the list of Rangers who have been shut down for the season. Mathis has not played since Sept. 14, when he left the Rangers game against the Athletics after two innings with tightness in his lower back. He was hoping to get into
ARLINGTON -- Catcher Jeff Mathis has joined the list of Rangers who have been shut down for the season.
Mathis has not played since Sept. 14, when he left the Rangers game against the Athletics after two innings with tightness in his lower back. He was hoping to get into the lineup by the end of the week, but his back never reached a point where that was possible.
"He has been really trying to gear up and maybe play one," Rangers manager Chris Woodward said before the Rangers' 7-5 win over the Red Sox. "He had -- I wouldn't say a setback -- but he kind of had a bad day [Wednesday] and it's like, no way. It's not worth it. It didn't feel good at all, so we just shut him down."
Mathis, 36, who signed a two-year deal with Texas last winter, ended up starting 76 games and playing in 88 overall. It was his most starts and games played since 2011 with the Angels, when he started 79 games and played in 93. He started 61 games and played in 69 overall with the D-backs last season.
The Rangers started Mathis two straight games on 12 occasions this season and never three in a row. He started just five games in September while the Rangers took a closer look at rookie Jose Trevino behind the plate.
The question now for the Rangers is if they used Mathis too much this season and need to cut back next year.
"We asked him that," Woodward said. "We had him in [the office] yesterday and he said no. But maybe. I wouldn't say we used him too much. He was really grateful for the opportunity to play that much. I don't think I played him too much in a row. He swears no, but it's hard to say."
The Rangers have much to talk about this winter when it comes to their catching position. Trevino will be a prime topic of conversation as the Rangers determine if he can handle either sharing the spot with Mathis or becoming the No. 1 guy.
"Trevino has changed a lot of opinions on that position," Woodward said. "I'm not saying it's his job by any means, but he's done a good job to show me and the staff and the organization he can handle a lot more. He has shown a lot with the bat. His ability to catch, that came as advertised. But his leadership, game planning, getting with the pitchers, gaining trust with the pitchers, has been pretty impressive."
Rangers beat
• Nomar Mazara is still sidelined with a sore left wrist and is doubtful to play against the Yankees.
• Something to watch for this weekend: the Rangers lead the Major Leagues with 118 stolen bases. They haven't done that since 1972, their first year in Texas. The club record is 196, set in 1978.
• Shin-Soo Choo hit his 30th double on Wednesday night. He is now one of 18 players with 20 home runs, 30 doubles and 80 runs scored in each of the past two seasons. He is also -- at age 37 -- the oldest on the list. Charlie Blackmon of the Rockies is the next oldest to do it at age 32.