Rangers to 'consider everything' before Deadline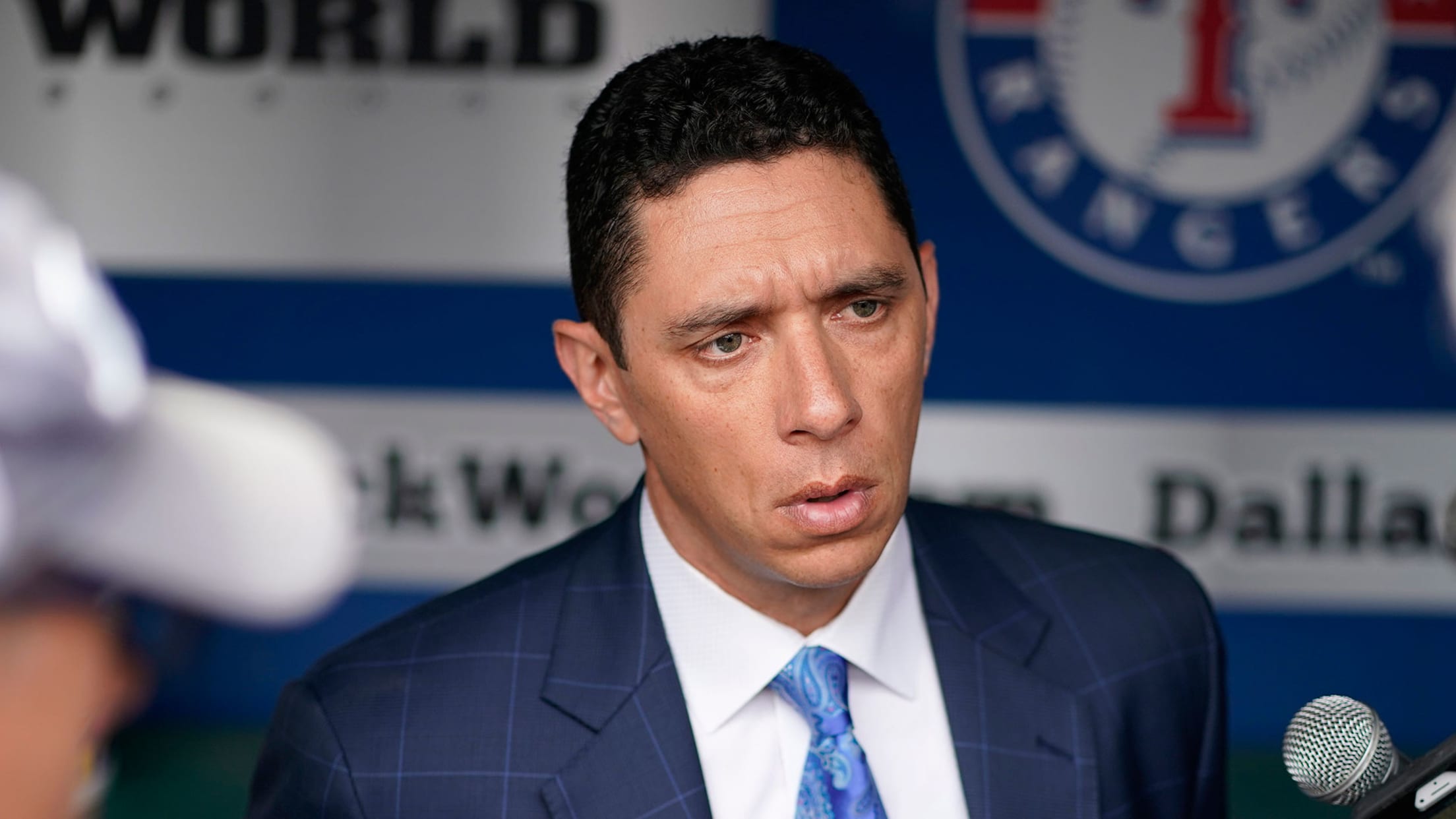 ARLINGTON -- Rangers general manager Jon Daniels met with reporters before Friday's game to discuss his club's approach toward the July 31 Trade Deadline. He was asked almost immediately if it made sense to trade All-Star pitcher Mike Minor. "Probably not," Daniels said. "He has taken another step forward, as
ARLINGTON -- Rangers general manager Jon Daniels met with reporters before Friday's game to discuss his club's approach toward the July 31 Trade Deadline.
He was asked almost immediately if it made sense to trade All-Star pitcher Mike Minor.
"Probably not," Daniels said. "He has taken another step forward, as has the team. But I think it's important we don't rule anything out. We are going to have to consider everything. I like our team better with Mike on it. But we are not going to rule anything out."
Minor is signed through 2020 and Daniels admitted that an extension might also make sense for the Rangers.
Trading Minor means the Rangers would be "sellers" ahead of July 31, which is the only Trade Deadline this season. That would be a surprising approach for a team that entered Friday seven games over .500 (49-42) and 2 1/2 games behind for the second American League Wild Card spot.
But Daniels isn't ready to declare the Rangers as "buyers" either.
The best way to decipher the Rangers' intentions is this club is still growing and still looking to rebuild the franchise toward long-term sustainable success.
That means if the Rangers can upgrade the current team, Daniels will do it. But if there is a trade that will be a significant step toward the Rangers' avowed goal of long-term success, Daniels will consider that as well.
That's why the Rangers will look at everything, including trading their best pitcher.
"Evaluate what our opportunities are and see what makes sense," Daniels said. "I don't feel like there is anything we have to do one way or another. Sometimes it's clear-cut, you are either looking to cut payroll or acquire assets to be all-in on the short term. I don't think we fit necessarily in either of those categories. It's going to be based on what the opportunities are there."
Daniels did say he sees the Rangers as contenders, and if they want to remain in contention, they will need to address their pitching.
"There are a few areas we could get better," Daniels said. "The one that stands out the most is the depth of the pitching staff. When our best guys are out there, we can compete with anybody. When they are not, we have been at a disadvantage at times. I don't know if we have immediate reinforcements right now. So that stands out."
Catching would seem to be another possibility, considering Jeff Mathis entered Friday hitting .159, Isiah Kiner-Falefa is on the injured list and Todd Federowicz is filling in as the backup. But Daniels did not express any undue concern about that position.
"Jeff has been what we expected," Daniels said. "Outstanding with the pitching staff, very good defensively. Obviously, he hasn't been great with the bat, but we knew that going in. He has delivered within the range we would expect. Fed has done a nice job in his role. Overall as a unit we could be better offensively."
Pence wants another rehab game
Outfielder Hunter Pence (right groin strain) played his second rehab game at Double-A Frisco on Friday night, going 0-for-4 with three strikeouts. There was a chance Pence could have been activated for Saturday's game against the Astros, but the veteran decided he wasn't ready and will play in at least one more game with Frisco. Pence went 0-for-3 with a walk on Thursday.
The Rangers could drop a reliever to make room for Pence. They are currently using Adrian Sampson out of the bullpen because they are off on Monday and Thursday and won't need a fifth starter until July 23.
Rangers beat
• The Rangers have officially announced the signing of Venezuelan shortstop Maximo Acosta and outfielder Zion Bannister from the Bahamas. They were two of the club's top international signings on July 2. The Rangers have yet to confirm an agreement with Dominican outfielder Bayron Lora, who was ranked as the No. 3 international prospect by MLB Pipeline, but Daniels said the club has not yet spent it's full bonus pool.
• Edinson Volquez, who is on the injured list with a sprained right elbow, has begun throwing bullpen sessions in Surprise, Ariz.
• Daniels confirmed that pitcher Hans Crouse, rated as the Rangers' No. 1 prospect by MLB Pipeline, has a bone spur in the back of his right elbow and will need a cleanup procedure after the season. Crouse is currently at Class A Hickory and is 2-1 with a 4.02 ERA and 1.11 WHIP after 11 starts.
• Shortstop Anderson Tejeda, who is the club's No. 3 prospect, is out for the season after undergoing surgery on his left shoulder, while Class A Down East catcher Sam Huff is currently being limited to designated hitter duty because of cramping in his right forearm.
• Left-hander Taylor Hearn, who is on the 60-day injured list with a sprained left elbow, is throwing long toss up to 120 feet in Arizona. Yohander Mendez (sprained left elbow) and Luke Farrell (fractured jaw) are both on throwing programs as well.
• The Rangers signed three more Draft picks: No. 31 shortstop Hunter Bryan from Visalia-Redwood (Calif.) High School; No, 32 right-handed pitcher Michael Brewer from Hillsboro (Mo.) High; and No. 39 right-handed pitcher Adrian Rodriguez from Yonkers (N.Y.). Seventh-round pick Brandon Sproat decided not to sign with the Rangers but will go to the University of Florida instead.