Rangers trim roster, end Davidson experiment
Two-way tryout tabled, Texas sees slugger as hitter first and foremost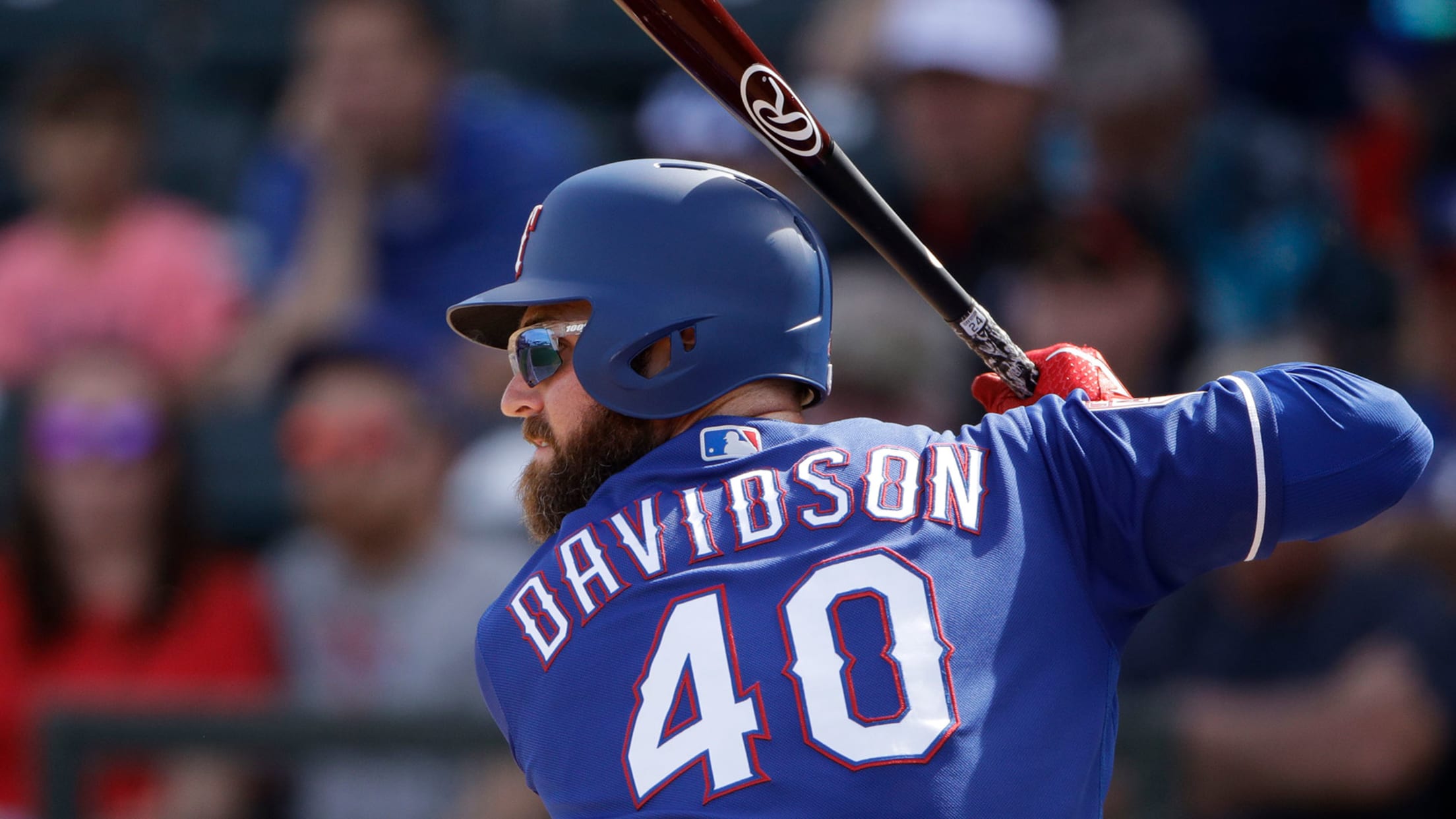 SURPRISE, Ariz. -- Infielder Matt Davidson was one of five players sent to Minor League camp Tuesday morning as his tryout as a pitcher came to an end. The Rangers have a high regard for Davidson's potential as a hitter and want that to be a priority over his pitching
SURPRISE, Ariz. -- Infielder Matt Davidson was one of five players sent to Minor League camp Tuesday morning as his tryout as a pitcher came to an end. The Rangers have a high regard for Davidson's potential as a hitter and want that to be a priority over his pitching while playing at Triple-A Nashville.
The Rangers also sent catchers Jett Bandy and Jose Trevino and infielders Chase d'Arnaud and Nolan Fontana back to Minor League camp. Trevino and Bandy will share catching duties at Nashville
The moves set Jeff Mathis and Isiah Kiner-Falefa as the Rangers' two catchers for Opening Day. It also leaves Danny Santana and Logan Forsythe competing for the spot as the Rangers' utility infielder if they go with a three-man bench.
The Rangers still haven't determined if they will go with seven or eight relievers. It appears that the Rangers are leaning strongly toward the eighth reliever, but won't make that official until they know where outfielder Joey Gallo and first baseman Ronald Guzman stand with their health.
"Generally speaking, I lean more toward protecting the pitching staff," general manager Jon Daniels said. "Maybe one of the bigger factors of keeping the extra player on the bench would be the health of the position players on the club and making sure we are covered there."
Guzman has been sidelined with soreness in his left knee, but could be back into the lineup Wednesday. Gallo will need more time, but still expects to be ready for Opening Day. He is shooting for Sunday in Nashville and the two exhibition games against the Indians on Monday and Tuesday in Arlington.
If there is any doubt about Gallo and/or Guzman, the Rangers would consider a fourth bench player.
"That will come down to the end," Daniels said. "I think these guys will be back out playing before the end, but we need to evaluate where they are at and what kind of workload they can carry."
The Rangers' situation also means they will likely have to choose between Hunter Pence and Willie Calhoun as their fourth outfielder. That will almost certainly be Pence, since Calhoun is the one that has options, but that decision won't be made until this weekend.
Forsythe is the more accomplished utility infielder and is the leading candidate to win the utility spot. Santana becomes a more viable option if Gallo is limited and the Rangers need a true backup center fielder.
"Both of them can play shortstop," manager Chris Woodward said. "Santana can play all three outfield spots, especially center. They have different qualities, but both are very professional and they give you good at-bats. Difference is, Santana is a switch-hitter and Logan has had more big league time and more success in the big leagues."
The Rangers flirted with the idea of Davidson being used as a two-way player, but that is being put on the shelf. Davidson may throw a bullpen on occasion, but the Rangers are far more intrigued with the work he has put in as a hitter.
Davidson hit a combined 46 home runs for the White Sox over the past two years. He also struck out 330 times in 848 at-bats and the Rangers want to see if he can make the necessary adjustments to maximize his power.
"I don't think his future as a pitcher is as bright as a hitter," Woodward said. "He's close to being, I wouldn't say just a good big league hitter … he is close to being an elite hitter. I would love for him to get more consistent at-bats. If he [opened] on our team, there's not enough at-bats."