Rangers set initial 2020 roster at 55 players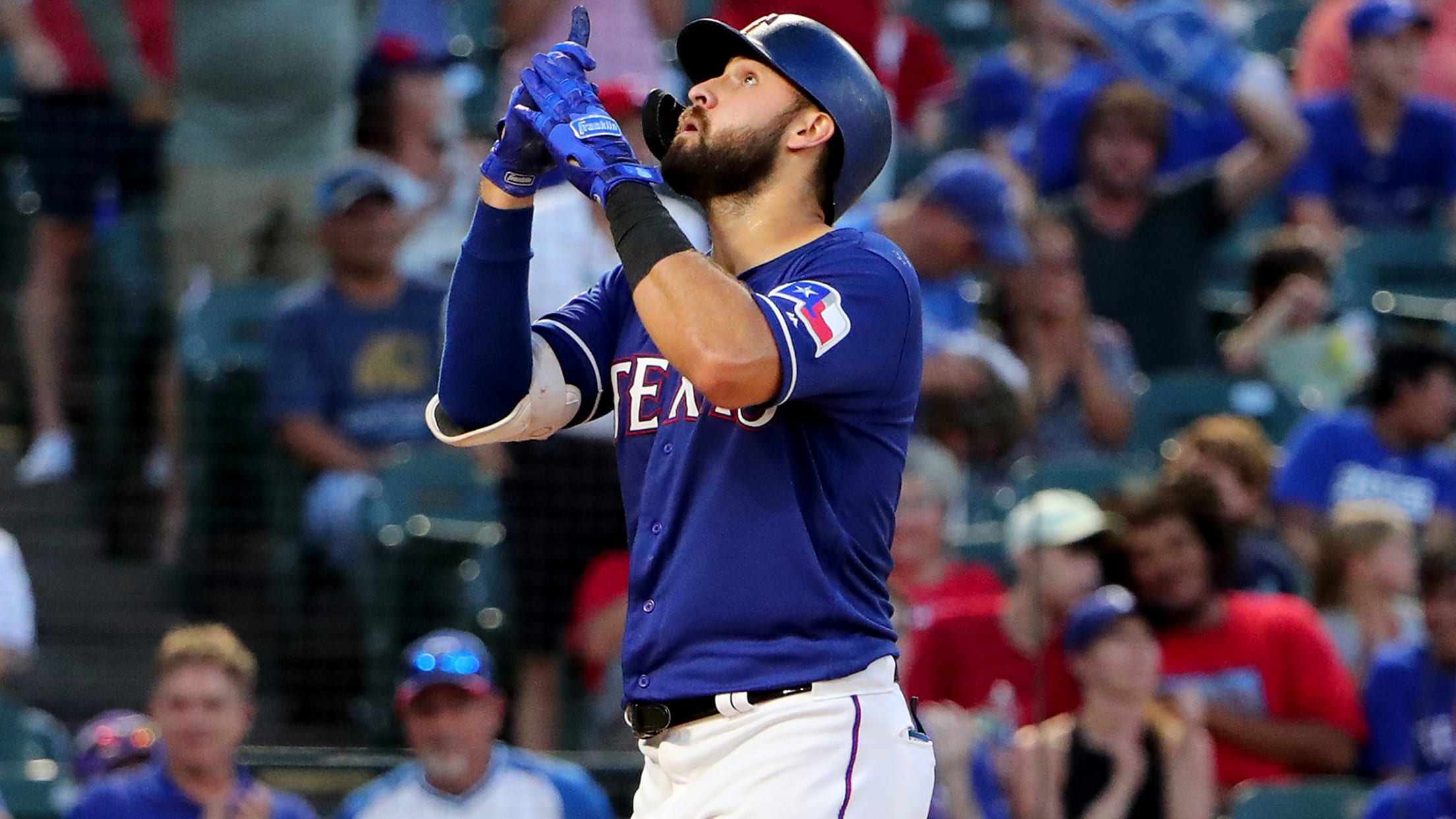 ARLINGTON -- The Rangers submitted 55 players for their 60-man roster on Sunday. Relief candidates Edinson Vólquez and Juan Nicasio are not yet on the roster but are expected to be added in the next few days after some administrative details are worked out. That would leave three open spots
ARLINGTON -- The Rangers submitted 55 players for their 60-man roster on Sunday.
Relief candidates Edinson Vólquez and Juan Nicasio are not yet on the roster but are expected to be added in the next few days after some administrative details are worked out.
That would leave three open spots on the 60-man roster. The Rangers want to retain some flexibility and be able to add others from the organization as needed. They also have the opportunity to add free agents from outside the organization, but general manager Jon Daniels said that is not the plan right now.
• FAQ: Roster and transaction rules for 2020
Still to be determined is how many veteran players who were in Spring Training on a Minor League contract will take their free agency at the end of camp if they are not on the Opening Day roster.
"There are a few guys we might still add," Daniels said. "But for now, we wanted to leave some flexibility. We went back and forth on several iterations of the roster, in particular, one that had even more of a prospect group. We're going to wait and see how things play out, though."
Rangers players are expected to report on Wednesday to go through two days of testing and then begin summer camp workouts on Friday. The Rangers are expected to have both simulated and intrasquad games just about every day for their pitchers right from the beginning of camp.
• FAQ: All you need to know about 2020 season
"A lot of our pitchers will be ahead of our hitters," Daniels said. "There may be a couple of guys who need to face live hitters before they get in a game. Some guys aren't at the same level of readiness, but a lot of these guys are ready to roll.
Globe Like Park is expected to be used for 60-man roster players who are not on the active squad during the season. Players on the 60-man only get service time if they are on the active roster. Some of the prospects included on the 60-man may not be added to the active roster but are here so they can continue their workouts.
The fun starts Friday! #TogetherWe pic.twitter.com/GnTsj3WOHr

— Texas Rangers (@Rangers) June 28, 2020
PITCHERS
The Rangers have 29 pitchers, including right-handers Volquez and Nicasio. They have yet to be placed on the 60-man, but that is expected to happen.
Here is how Rangers pitchers break down by potential role during the season:
Starters (5): RHP Lance Lynn, LHP Mike Minor, RHP Corey Kluber, RHP Kyle Gibson, RHP Jordan Lyles
All five are expected to be ready to pitch in intrasquad games from the beginning. Daniels said Lynn has continued to throw during the shutdown and could be ready to pitch 4-5 innings right away.
Backup starters (4): LHP Joe Palumbo, LHP Kolby Allard, RHP Ariel Jurado, RHP Tyler Phillips
Starting pitching depth will be crucial as always.
Relievers (5): José Leclerc, RHP Rafael Montero, RHP Jesse Chavez, RHP Nick Goody, LHP Brett Martin
Leclerc is the closer, but manager Chris Woodward is still mulling the possibility of using him for multiple innings earlier in the game. Montero is a potential closer. Chavez had a weak right shoulder in Spring Training but is expected to be at full strength.
Injured (1): LHP Joely Rodríguez is not expected to be ready for Opening Day but should join the bullpen at some point.
Left-hander Yohander Méndez is still dealing with shoulder inflammation from Spring Training, He is also on the suspended list, but at some point, he could be ready to pitch for the Rangers if needed.
Swingmen (4): RHP Jonathan Hernández, LHP Taylor Hearn, RHP Luke Farrell, RHP Wes Benjamin
Hearn, Hernández and Farrell are multi-inning guys who were having great Spring Trainings before the shutdown. Benjamin was not in big league camp, but he pitched well on the Minor League side, and the Rangers want to keep seeing it.
Bullpen candidates (10): RHP Juan Nicasio; RHP Derek Law, RHP Edinson Volquez, RHP Cody Allen, RHP Luis García, RHP Jimmy Herget, RHP Demarcus Evans, RHP Alex Speas, RHP Ian Gibaut, RHP Wei-Chieh Huang
The competition will be fierce. Speas is a hard-throwing righty who has made a strong comeback from Tommy John elbow surgery. He was another player impressing in Spring Training.
POSITION PLAYERS
The Rangers have 28 position players listed on their 60-man roster. Here is the breakdown by role:
Catchers (7): Robinson Chirinos, Jose Trevino, Jeff Mathis, Sam Huff, Nick Ciuffo, Tim Federowicz, Blake Swihart
Swihart will primarily be used at catcher in Spring Training, but he can also play left and first base. Huff is the Rangers' No. 2 prospect, according to MLB Pipeline, and could be an option in September, especially if the club falls out of contention.
Infield: (10) 1B Ronald Guzmán, 1B Greg Bird, 2B Rougned Odor, SS Elvis Andrus, 3B Todd Frazier, 3B Sherten Apostel, 3B Josh Jung, SS Anderson Tejeda, SS Yadiel Rivera, 2B Andy Ibáñez
Rivera is here for his defense in case something happens to Andrus. Bird and Guzman resume their first-base battle. Jung and Apostel aren't considered to be Major League ready, but the Rangers want them working out while the Minor Leagues remain shut down.
"A number of these guys haven't had upper-level experience," Daniels said. "But there are no guidelines on how to do it for this season. A lot of development will be different than usual. But we're not going to be afraid to call on them if needed."
Utility (3): Nick Solak, Isiah Kiner-Falefa, Rob Refsnyder
Solak is going to get plenty of time in the outfield during summer camp, with the possibility of another hard look in center field. He will also work at third, second and first base.
Outfield (8): Willie Calhoun, Danny Santana, Joey Gallo, Shin-Soo Choo, Scott Heineman, Eli White, Leody Taveras, Adolis García
The Rangers love the defense White and Taveras bring. It would seem unlikely they would be on the Opening Day roster, but this is going to be a season unlike any other.