Odor displays power with three-homer night
Rangers second baseman goes 4-for-4 with 4 RBIs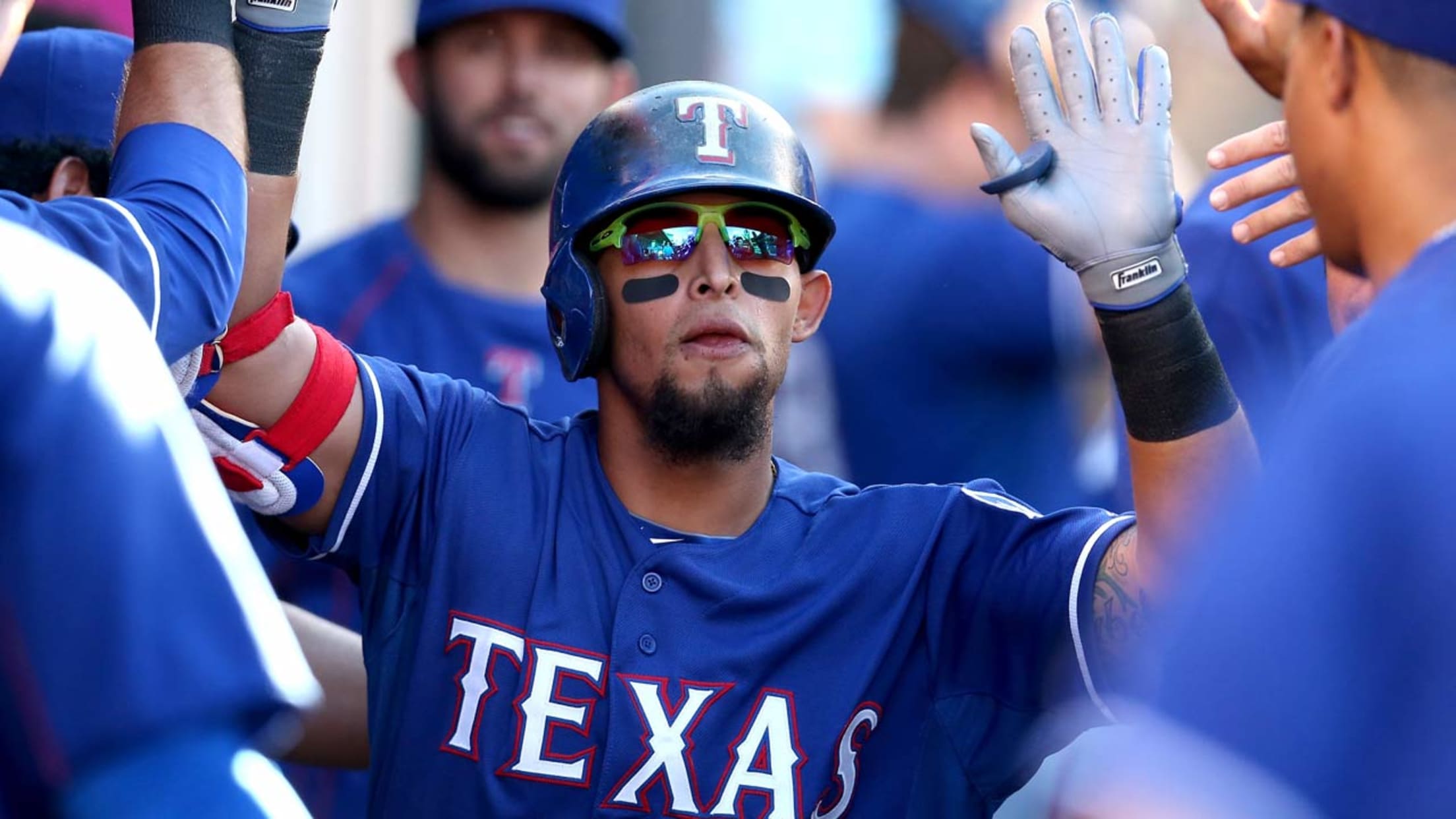 Roughned Odor had his first three-homer game Friday night. (Getty)
SURPRISE, Ariz. -- Rougned Odor missed 11 days this spring because of a strained right oblique muscle. A prodigious power display on Good Friday is the latest evidence the muscle is no longer a problem.Odor hit three home runs, including two off of Padres starter Tyson Ross, in the Rangers'
SURPRISE, Ariz. -- Rougned Odor missed 11 days this spring because of a strained right oblique muscle. A prodigious power display on Good Friday is the latest evidence the muscle is no longer a problem.
Odor hit three home runs, including two off of Padres starter Tyson Ross, in the Rangers' 12-11 win Friday night at Surprise Stadium. The Rangers hit six home runs, including the walk-off shot by Bobby Wilson in the bottom of the ninth.
But it was Odor who stood out with three blasts over the right-field wall.
• Rangers Spring Training:<a href="http://texas.rangers.mlb.com/ticketing/spring-training-tickets.jsp?
c_id=tex">Tickets | <a href="http://texas.rangers.mlb.com/schedule/index.jsp?
c_id=tex#y=2016&m=3&calendar=DEFAULT">Schedule | More
"How about that, huh?" Wilson said.
"The first time in my life," Odor said.
"I liked it a lot," manager Jeff Banister said. "It goes to show where he's at with his timing and seeing the ball. I don't know if we have ever seen him hit three home runs but we have seen him swing the bat like that before. Pretty impressive."
Odor, hitting in the leadoff spot, was 4-for-4 with three runs scored and four RBIs.
"I feel good," Odor said. "I was seeing the ball good. Everything was good."
Odor was hitting leadoff because the Rangers wanted to get him some extra at-bats and he made the most of it. Odor's third home run came off of Padres reliever Brandon Morrow in the seventh inning.
Odor was 0-for-2 in his first game on March 18. Since then he has a six-game hitting streak, going 11-for-20 with three doubles and six RBIs.
"It's nice to see," Banister said. "He is healthy and swinging the bat well. The concern was can he get enough at-bats. It looks like he is right on track. More than anything it's how he is moving around in the field. It's a good sign."