Rangers labor through 'somber' loss 
Texas hurlers throw 249 pitches while baseball mourns Skaggs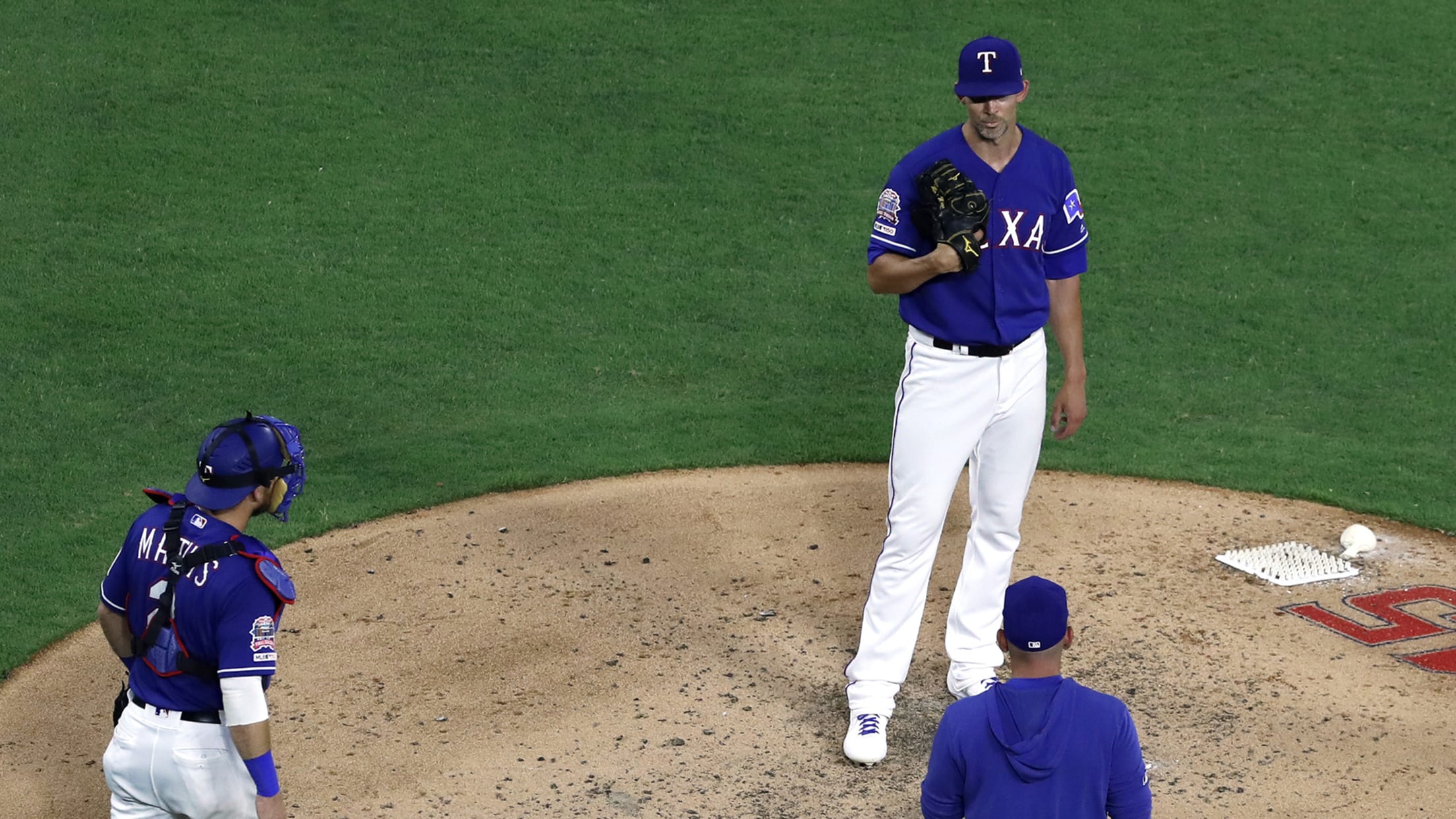 ARLINGTON -- This one was like no other Rangers game in recent memory. It just wasn't the 11 walks by Rangers pitchers or the 249 pitches over four hours and 12 minutes. What was obvious from the beginning was that the atmosphere was much different in the Rangers' 9-4 loss
ARLINGTON -- This one was like no other Rangers game in recent memory.
It just wasn't the 11 walks by Rangers pitchers or the 249 pitches over four hours and 12 minutes. What was obvious from the beginning was that the atmosphere was much different in the Rangers' 9-4 loss to the Angels on Tuesday night.
The game was played one day after the passing of Angels pitcher Tyler Skaggs, and that was clearly on everybody's minds at Globe Life Park.
"Yeah, we knew what they were dealing with on the other side," Rangers manager Chris Woodward said. "We were trying to comprehend the impact something like that would have on our ballclub. I can't even describe the feelings they were having. Obviously, it wasn't our best game, but clearly it affected us in some way. Honestly, I don't know how to describe that feeling. It was just kind of obvious they deserved to win."
• Rangers honor Skaggs with moment of silence
The Rangers held a moment of silence in honor of Skaggs before the game, and that was just the beginning. The Rangers also went without walk-up music that accompanies their hitters before each at-bat. Public address announcer Chuck Morgan held back on many of the usual video-board entertainment features. And the dot race was not held during the sixth inning, as is custom for each home game.
"We felt like that was the right thing to do for them," Woodward said. "It felt different, and the lack of music, you don't realize it until it's not there. We just felt it was the right thing for them to not make too much hoopla in the game. It was definitely a different feel for sure."
Rangers starter Mike Minor felt it in his shortest outing of the season. Pitching for the first time since being named to the American League All-Star team, Minor allowed three runs in a season-low 4 1/3 innings.
"It was kind of a somber day," Minor said. "Not a lot of energy. It was a weird game. There were no music intros. Just seemed like a weird game trying to compete against another team from what happened yesterday and the way people were feeling."
Minor had a 3-1 lead going into the fifth, but he walked two and those baserunners wound up scoring on a two-run single by Jonathan Lucroy. Minor ended up throwing 110 pitches, becoming the 14th Rangers pitcher in the past 30 years to throw that many in fewer than five innings.
"I felt OK, but I felt like every hitter was 8-10 pitches," Minor said. "That's what it felt like. I had a lot of walks. We had a lot of walks as a team. When that happens, you usually don't win the game."
Minor's outing snapped a streak of 12 consecutive starts with three or fewer runs scored and five-plus innings pitched. That is still the longest such streak in one season in club history.
"I felt like before the game he was fine," Woodward said. "Obviously he wasn't right. His command wasn't like it normally was. Everybody was off today and it's understandable."
The Angels took the lead in the sixth when relievers Peter Fairbanks and Jose Leclerc walked three in a four-run inning. Kole Calhoun added a two-run home run off Jesse Biddle in the eighth.
Six Rangers pitchers combined to walk 11 batters and six of those baserunners ended up scoring. The 249 pitches were their most in a game since pitch counts became an official statistic in 1988. Only five other nine-inning games featured more pitches thrown. The record is 263, set by the A's in a 20-4 loss to the Tigers on April 13, 1993.
Usually, 11 walks and 249 pitches would drive a manager crazy. But Woodward was ready to let it go on Tuesday night.
"We did throw a lot of pitches, but today is one of those days where I am not going to hold any judgment on anybody," Woodward said. "It was a different day. It was not a normal day by any means, so I am not going to comment on that. I can't hold that against anybody."