Guzman to reclaim everyday first-base role
Slugger's long-term status could hinge on September performance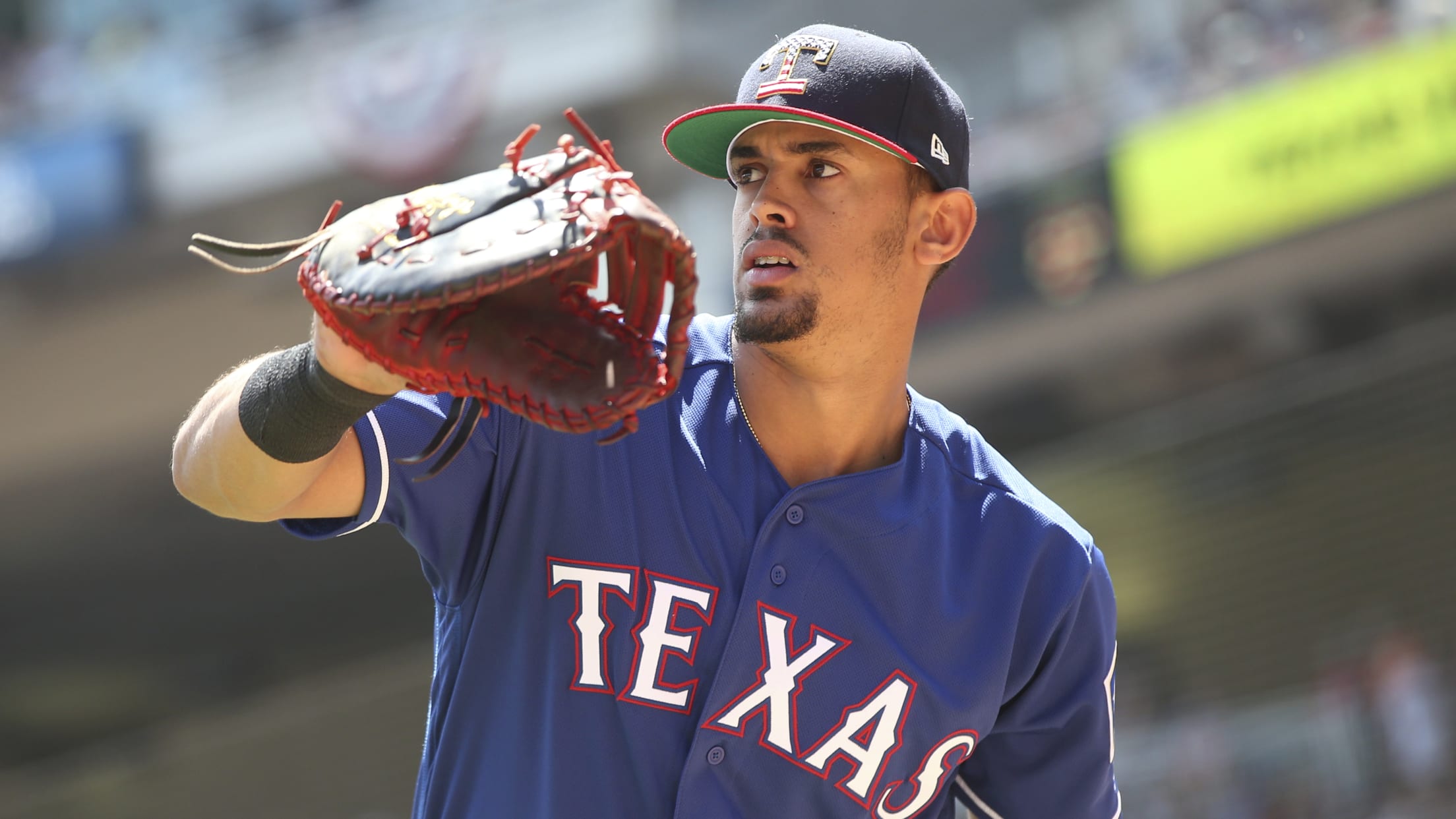 ARLINGTON -- Ronald Guzmán's time is coming again and the Rangers are hoping his stay is for good. They need it to be so for their offseason planning. Guzman, who was optioned to Triple-A Nashville on July 23, is expected to join the Rangers on Sunday when rosters expand. He's
ARLINGTON -- Ronald Guzmán's time is coming again and the Rangers are hoping his stay is for good. They need it to be so for their offseason planning.
Guzman, who was optioned to Triple-A Nashville on July 23, is expected to join the Rangers on Sunday when rosters expand. He's played well at Nashville, and Texas needs to see him perform at the Major League level. That's why Guzman will likely play every game in September at first base.
"He is doing well down there," Rangers manager Chris Woodward said. "I want to see it. He has worked hard in Triple-A. I would like to see him on a pretty much everyday basis. I can't say every day, but I want to see it."
First and third base are two positions of concern for the Rangers as they start compiling their offseason priorities. Pitching will likely command a significant portion of their financial resources, so the Rangers could use some internal options at their corner infield positions.
Woodward said that third base is a bigger concern than first, which is why Guzman could ease the Rangers' minds if he can make an impression in September the same way Willie Calhoun has since being recalled on July 25.
In his 29 games at Nashville, Guzman is hitting .316/.405/.518, with five homers and 16 RBIs, well up from his .193/.282/.396 line with the big league club.
"He's young," Woodward said. "Sometimes it clicks, and he is really working hard to figure things out. It takes time for young players ... understanding their own swing, understanding what teams are trying to do to them, taking information and using it. How to be consistent every pitch of every game. It's not going to happen overnight, and that's what we are seeing right now."
Danny Santana and Logan Forsythe have been splitting time at first since Guzman was optioned, but neither is the long-term answer. Santana has limited experience at the position and Forsythe will be a free agent. The Rangers are attracted to Guzman because, Woodward said, Guzman's defense is as good as there is in the Majors.
The Rangers remain reluctant to talk about moving Joey Gallo back to the infield. He's played first and third before, but Woodward's preference is to keep Gallo in the outfield next season.
"He is such a good weapon in the outfield with his athleticism and his speed and his arm plays much better in the outfield than at first base," Woodward said. "He has been a real asset in the outfield. He impacts a lot of games. It's a huge weapon so I would prefer to have him in the outfield."
Right now, Isiah Kiner-Falefa is the Rangers' No. 1 third baseman. He has the defensive ability, but the club would probably like more offensive power from that spot.
"Internally, we don't have a third baseman," Woodward said. "If Guzman takes a huge step forward, if he has a really good month, comes into Spring Training and really takes off, he is obviously the first baseman."
There are impact free agents at both positions. White Sox first baseman Jose Abreu and Nationals third baseman Anthony Rendon are both right-handed bats who would be a huge boost to the Texas lineup.
Then there's Matt Davidson, who can play both first and third. He's had a big year at Nashville, hitting .266 with 32 homers, 96 RBIs and a .530 slugging percentage in 120 games. The Rangers have talked about Davidson, who is not on the 40-man roster, but there is no indication if he will get called up in September.
"It seems like something has clicked," Woodward said. "He has been consistent lately. Early on, it was up and down. I think about him a lot because everything I've heard he has been awesome; attitude, everything. I was just hoping to see a pretty consistent [approach] so we could bring him up here. It's more of a roster situation."
Rangers beat
• Gallo, on the IL while recovering from right wrist surgery, is taking live batting practice again. The next step would be to face live pitching and get into overall baseball shape again. But he is confident that he will return to the lineup at some point in September.
• Adrian Sampson, who's on the IL with lower back spasms, was supposed to throw a simulated game on Friday afternoon but it was rained out.
• Left-hander Joe Palumbo, who is with the Rangers while on the Triple-A injured list, is playing catch but still dealing with a blister on his left thumb and has not ramped up his throwing.