Calhoun (hip), 3 relievers unlikely for opener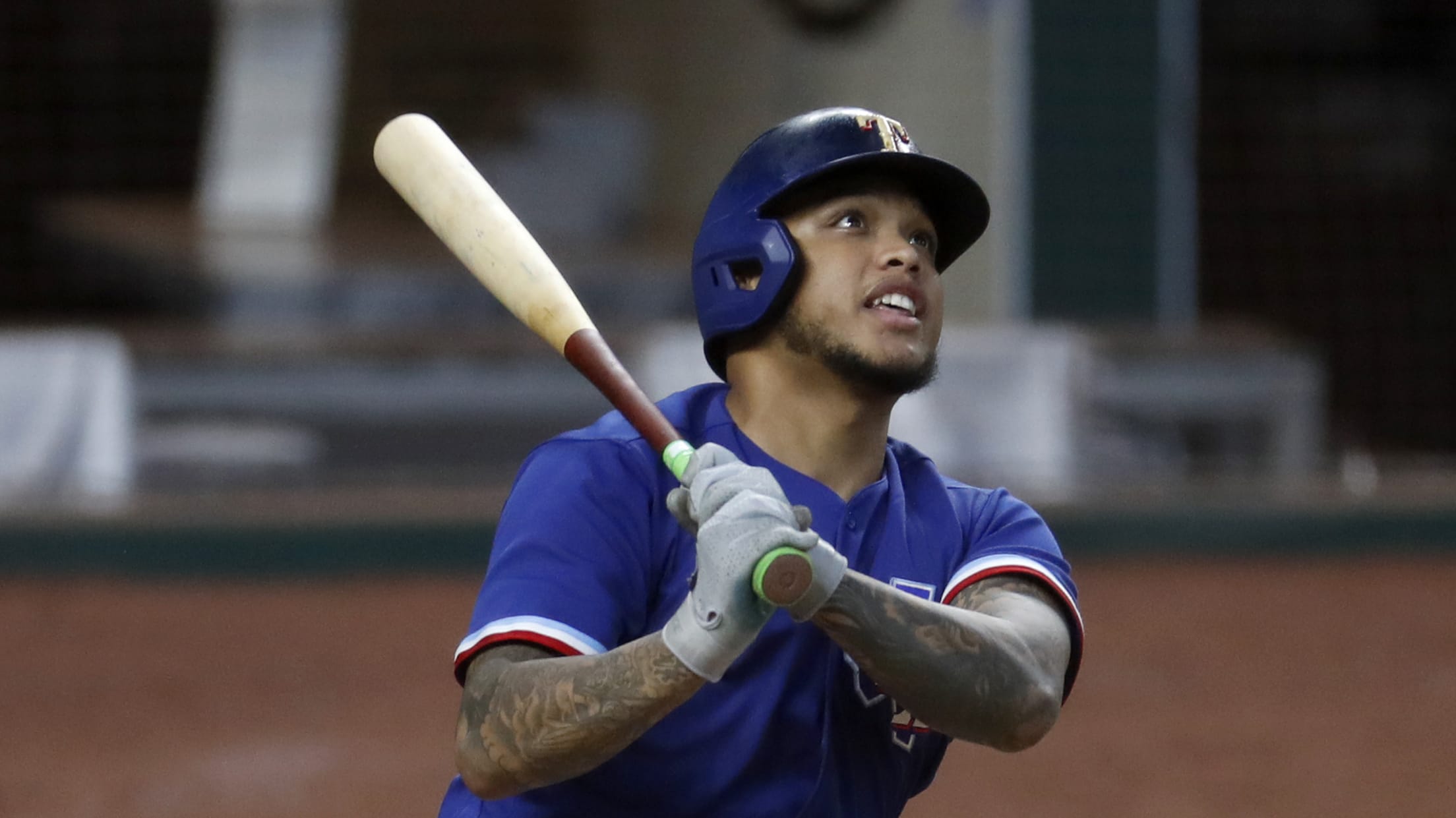 ARLINGTON -- The Rangers are bracing for the possibility that outfielder Willie Calhoun and three key relievers won't be ready for the July 24 opener against the Rockies. The Rangers are optimistic catcher Robinson Chirinos will be ready for Opening Day, but that is still unknown while he continues to
ARLINGTON -- The Rangers are bracing for the possibility that outfielder Willie Calhoun and three key relievers won't be ready for the July 24 opener against the Rockies.
The Rangers are optimistic catcher Robinson Chirinos will be ready for Opening Day, but that is still unknown while he continues to get treatment for a sprained right ankle.
The details on what the Rangers are dealing with:
• Calhoun had an MRI, and the results showed a Grade 1 strain of a small muscle in his right hip flexor. Calhoun felt tightness in the hip during Monday's intrasquad game, and general manager Jon Daniels said the Rangers don't want to push it.
"Willie could probably get out there and give you a good at-bat," Daniels said. "It's just the concern is, does he put himself at risk coming out of the box or running bases or something like that, where the adrenaline gets going and wanting to compete and not allow himself to protect that muscle?"
Manager Chris Woodward said Nick Solak will play left field while Calhoun is out.
"His at-bats have been consistent in quality," Woodward said of Solak. "I've been dying to find a way to get him regular at-bats. I'd lean towards that."
The Rangers can place a player on the injured list to start the season and back-date it to July 20. That would mean a player can come off on July 30.
• Left-hander Joely Rodríguez threw off a mound in the bullpen Wednesday for the first time since Summer Camp opened. He has been sidelined with a strained lat muscle and won't be ready for Opening Day.
"He is feeling good and moving in the right direction," Daniels said. "I don't think he'll be too far behind."
• Left-hander Brett Martin remains away from the team after testing positive at the beginning of camp for COVID-19. Daniels confirmed Martin will begin the season on the injured list.
"He is actually doing really well," Daniels said. "I am hopeful he'll be in camp soon, but he'll be opening the year on the IL. I don't think there will be enough time to get him up to game speed safely."
With Martin and Rodríguez down, the Rangers have a greater urgency for left-hander Taylor Hearn to earn a spot in the bullpen. The Rangers could also use left-handed starters Joe Palumbo ad/or Kolby Allard out of the bullpen if necessary.
Rookie left-hander Wes Benjamin is another candidate impressing in camp. He pitched two scoreless innings in Wednesday's intrasquad game, allowing a hit and a walk while striking out two.
"Those three have all been pitching pretty well," Woodward said. "We need it. We have some righties we trust to get lefties out, but we need that lefty in the bullpen to handle some of the tough lefties. All three of those guys are in the mix."
• Right-hander Rafael Montero was late to camp due to his wife giving birth in the Dominican Republic. He is scheduled to throw in the bullpen on Thursday and then follow that up with two live batting practice sessions, but Daniels said that won't be enough to be ready for Opening Day.
"Not really concerned about anything," Daniels said. "He is just taking a little extra time to get ready. Possibly that first week."
• Chirinos rolled his right ankle when Scott Heineman slid into him at home plate during Monday's intrasquad scrimmage. The Rangers were concerned it might have been a serious injury, but that appears not to be the case.
"He feels better each day," Daniels said. "Definitely worrisome to see that happen. I'm not sure if he'll be ready Opening Day, but I am optimistic."
The Rangers were leaning toward carrying three catchers to start the season with Jeff Mathis and Jose Trevino joining Chirinos on the roster. That appears to be even more likely now that Chirinos' status is uncertain.
Opt-out deadline on Sunday
Daniels said Sunday is the deadline for the Rangers to make decisions on nine players in camp on non-roster invites: pitchers Cody Allen, Edinson Vólquez, Derek Law, Luis García and Ian Gibaut; catchers Blake Swihart and Tim Federowicz; first baseman Greg Bird; and utility player Rob Refsnyder.
• Vólquez vying for 'pen: 'I can still pitch'
Those players either have to be on the Opening Day roster or have the right to take their free agency. They would also have the option of remaining with the Rangers reserve player pool. If any player elects to leave the organization, the Rangers will be allowed to replace them on the 60-man roster. If any of those nine players do make the team, the Rangers will have to find a spot on the 40-man roster as well.
There is also a possibility that players who opt out with other clubs and become free agents could be of interest to the Rangers.
"If there are opportunities to upgrade our roster, we will look at that," Daniels said. "I don't know if a lot of these players are going to opt out, switch clubs or not many. I haven't had those conversations with agents."
Rangers beat
• Right-hander Corey Kluber went 5 2/3 innings and threw 98 pitches in the intrasquad game on Wednesday. He allowed two runs on four hits and three walks while striking out four. He has one more intrasquad start on Monday before his first regular-season start on July 26 against the Rockies.
What you missed while @Twitter was broken: pic.twitter.com/8L3uaKQGxs

— Texas Rangers (@Rangers) July 16, 2020
• Right-hander Ian Gibaut had another impressive outing on Wednesday. He retired three of four hitters on 10 pitches and struck out two. He has pitched four scoreless innings, allowed one hit and struck out eight over four outings.
• Heineman hit his second home run of the camp on Wednesday and is 10-for-23 at the plate.