Notes: Marwin's stance, Twins' roster shuffle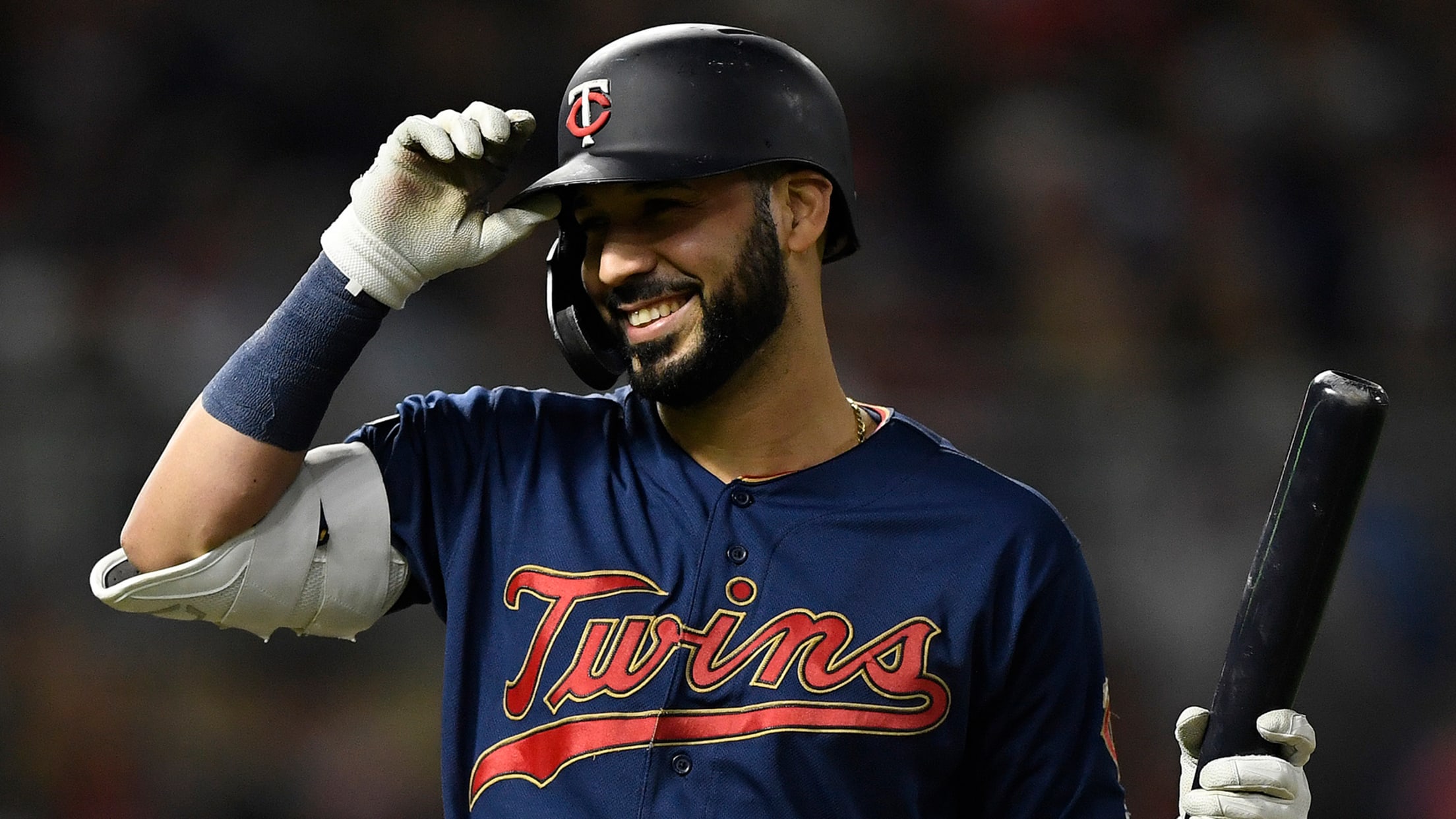 Marwin Gonzalez has always been one of those unique switch-hitters with significantly different batting stances from each side. His father had been telling him for years to change his left-handed stance, because he liked the look of the right-handed one -- a deeper crouch, with the bat on the shoulder
Marwin Gonzalez has always been one of those unique switch-hitters with significantly different batting stances from each side. His father had been telling him for years to change his left-handed stance, because he liked the look of the right-handed one -- a deeper crouch, with the bat on the shoulder -- better than the more relaxed stance from the left side.
Eight years into his Major League career, Gonzalez finally agreed it was time for a change.
While much of Minnesota's vaunted lineup has slumped to begin the 2020 season, Gonzalez has been fairly consistent with his production and owned a .350/.435/.500 line with two homers entering Sunday. He's not sure whether changing his left-handed batting stance directly correlates to that success, but he does feel that he's now seeing the ball more effectively against right-handed pitchers.
"I'm still trying to get used to it," Gonzalez said. "It's been a hard process. Even in BP, sometimes I turn more than I should. But I'm working every day and trying to get 100 percent consistent. You're never 100 percent consistent in this game, but at least close to 100; that's what everybody works for. I'm still trying to get 100 percent comfortable and trying to feel good about my bat on my shoulder."
Through his first eight big league seasons, Gonzalez stood more or less upright with a slight bend in his knees from the left side and held his bat nearly vertically with his hands tucked close to his chest. This year, his new look involves a slightly deeper crouch and his hands held much higher, with the bat resting horizontally on his shoulder.
Gonzalez said the motivation behind the move was that he felt unable to catch up to too many fastballs last season, especially as more pitchers around the league relied on four-seamers to the top of the zone to generate fly balls and swinging strikes. He hoped that the change in his bat path and positioning would help adjust to that.
The early results have been promising. Gonzalez hit .249/.322/.393 against right-handed pitching last season, and though small-sample-size caveats obviously apply in 2020, he's hitting .296/.387/.519 with both his homers this season from his new left-handed stance.
"I think I'm in a better position to hit now," Gonzalez said. "I don't know if it's the reason, but I've been seeing pitches better. I'm able to read the pitch. I don't know if that's different, but I'm a little more comfortable from my left side."
Gearrin selected; Poppen optioned
Even in the face of the different roster rules in 2020, the Twins' quest to keep the freshest arms possible in their bullpen carries on. The club selected the contract of right-handed reliever Cory Gearrin to their 28-man roster and optioned Sean Poppen before Sunday's game, keeping a full battalion of 11 mostly rested relievers available in their bullpen.
Poppen threw 51 pitches over two innings during the Twins' 9-6 loss to the Royals on Saturday, and he had also thrown 15 pitches on Friday, meaning he would have been unavailable for at least two days, and likely more. The right-hander will remain on the road trip with the Twins as part of the taxi squad.
Gearrin, 34, is a veteran of eight Major League seasons with six teams, and nearly half of his 336 career big league appearances came with the Giants from 2015-18. He most recently pitched with the Mariners and Yankees in '19. He owns a career 3.64 ERA, was signed to a Minor League contract during the offseason and attended Spring Training and Summer Camp with the Twins.
The sidearmer has traditionally relied most heavily on his sinker, but he said that pitching coach Wes Johnson and the Twins' pitching minds have been working with him to improve his slider and changeup against both right-handed and left-handed batters.
"The Twins working with me and being able to recognize and encourage me to implement those other things I've been working on the last couple of years I think is going to be a big strength and a big help for me," Gearrin said. "These are things I've worked on and feel really confident in and I'm excited to go out there and do and be with an organization that recognizes that and has confidence in me is really exciting. It's going to be fun."
The Twins maintained their unbalanced roster of 16 pitchers and 12 position players, and manager Rocco Baldelli appears content to continue playing with a three-man bench in the interest of keeping his pitcher usage low to maintain health.
"Sometimes, we look at each other and we're talking, 'Remember what it was like to play with a 25-man roster?'" Baldelli said. "We kind of ask that question. And now, we're sitting here with a 28-man roster and there are days where it's tough to make it work. So we'll get by and we'll maneuver any way we have to, but we are going to continue to take care of those arms."