Kepler (adductor) on 10-day IL; Rooker callup
No. 12 prospect joins Twins for doubleheader vs. Tigers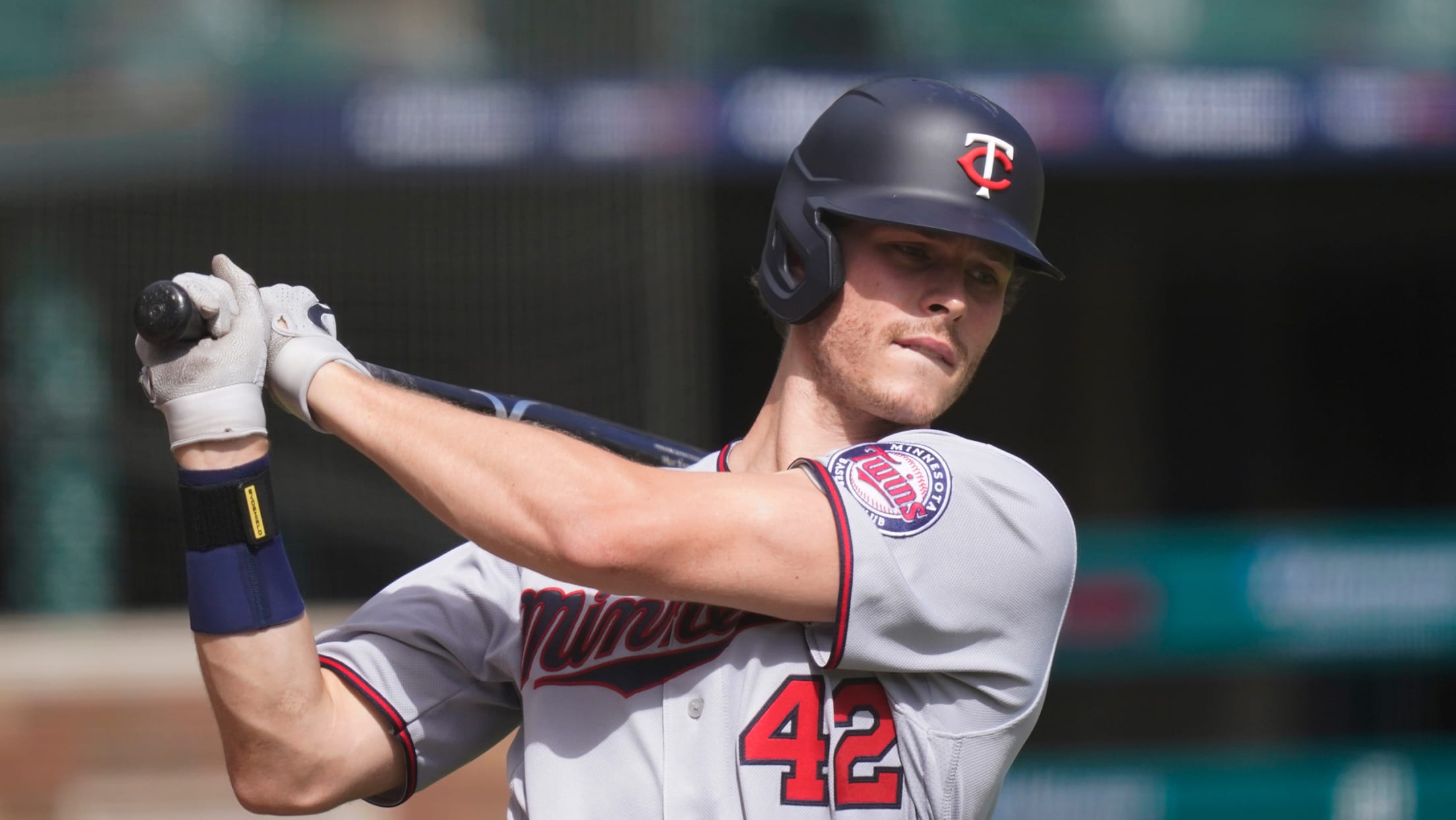 MINNEAPOLIS -- The Twins temporarily lost one of their leading home run hitters, but they likely gained even more power in return. Max Kepler landed on the injured list on Friday with a left adductor strain, an issue that manager Rocco Baldelli described as a "very mild" injury that should
MINNEAPOLIS -- The Twins temporarily lost one of their leading home run hitters, but they likely gained even more power in return.
Max Kepler landed on the injured list on Friday with a left adductor strain, an issue that manager Rocco Baldelli described as a "very mild" injury that should only keep the Twins' right fielder sidelined for the minimum 10 days, retroactive to Thursday. That afforded an opportunity for the club to select the contract of slugging outfielder/first baseman Brent Rooker, the No. 12 prospect in the organization.
• Big win marred by Kepler, Arraez injuries
Rooker started in left field and hit seventh in the first game of Friday's doubleheader against the Tigers.
"Great to be able to call Brent Rooker's name and get him here," Baldelli said. "A guy that's been a very dynamic bat in the Minor Leagues, a guy that has good at-bats. He can really put a charge into a ball and impact the game. We can see him getting some at-bats today on either corner. I think that's going to happen, and move him around a little bit."
Kepler was hitting .220/.322/.431 in 35 games and ranked fourth on the Twins with seven homers. Baldelli said that Kepler's injury itself wasn't necessarily serious enough to warrant a move to the IL, but the caution with which Minnesota is approaching the health of Josh Donaldson (right calf), Byron Buxton (left shoulder) and Luis Arraez (right knee) dictated the need for another player.
Kepler had exited Wednesday's series finale against the White Sox after appearing to tweak his hip while scoring from first on a double.
"We figured take the 10 days, knock it out, and [we're] pretty sure that when that 10 days is up, Kep will be ready to go, and then hopefully we can go on from there," Baldelli said.
Rooker gives the Twins another right-handed bat against a lefty-heavy Tigers rotation this series, with a trio of southpaws lined up to start for Detroit in both halves of Friday's doubleheader and again on Saturday.
Minnesota's lineup has struggled mightily against left-handed pitching this season, ranking 24th in MLB in OPS against southpaws, but it's also worth noting that Rooker has had pronounced reverse splits throughout his career, including a 1.024 OPS against righties and .686 OPS against lefties last season in Triple-A.
"[Handedness] definitely played a factor in this instance," Baldelli said. "We looked up, we have a doubleheader, we're facing two lefties. We have a lefty throwing against us tomorrow. We know they have another lefty in the bullpen that takes up some bulk innings in [Daniel] Norris. They have guys that are available from the left side that are good, that do a good job. We know we have to combat that in some way."
Rooker, 25, was the Twins' No. 35 overall selection in the 2017 MLB Draft out of Mississippi State. They felt at the time that he was the most advanced college bat available, and they quickly moved him through the farm system accordingly as he hit .267/.357/.505 with 54 homers and 59 doubles in 259 games. He had a .933 OPS for Triple-A Rochester last season.
Twins tidbits
• The Twins didn't make a move to place Arraez on the IL after the second baseman also exited Wednesday's game with left patellar soreness. Baldelli said it's a recurrence of the persistent knee issues that have bothered Arraez throughout the season, but Minnesota feels that he can manage the injury without the need for an extended stint off the field. Baldelli plans to more carefully monitor Arraez's appearances and at-bats in the near future.
• Catcher/utility infielder Willians Astudillo was recalled to serve as the 29th man for Friday's doubleheader against the Tigers.
• Right-handed reliever Juan Minaya cleared waivers and was assigned back to the alternate training site in St. Paul, Minn., after he was designated for assignment on Tuesday.