Baldelli not ready to commit to relief roles
Twins have five pitchers still battling to take the ninth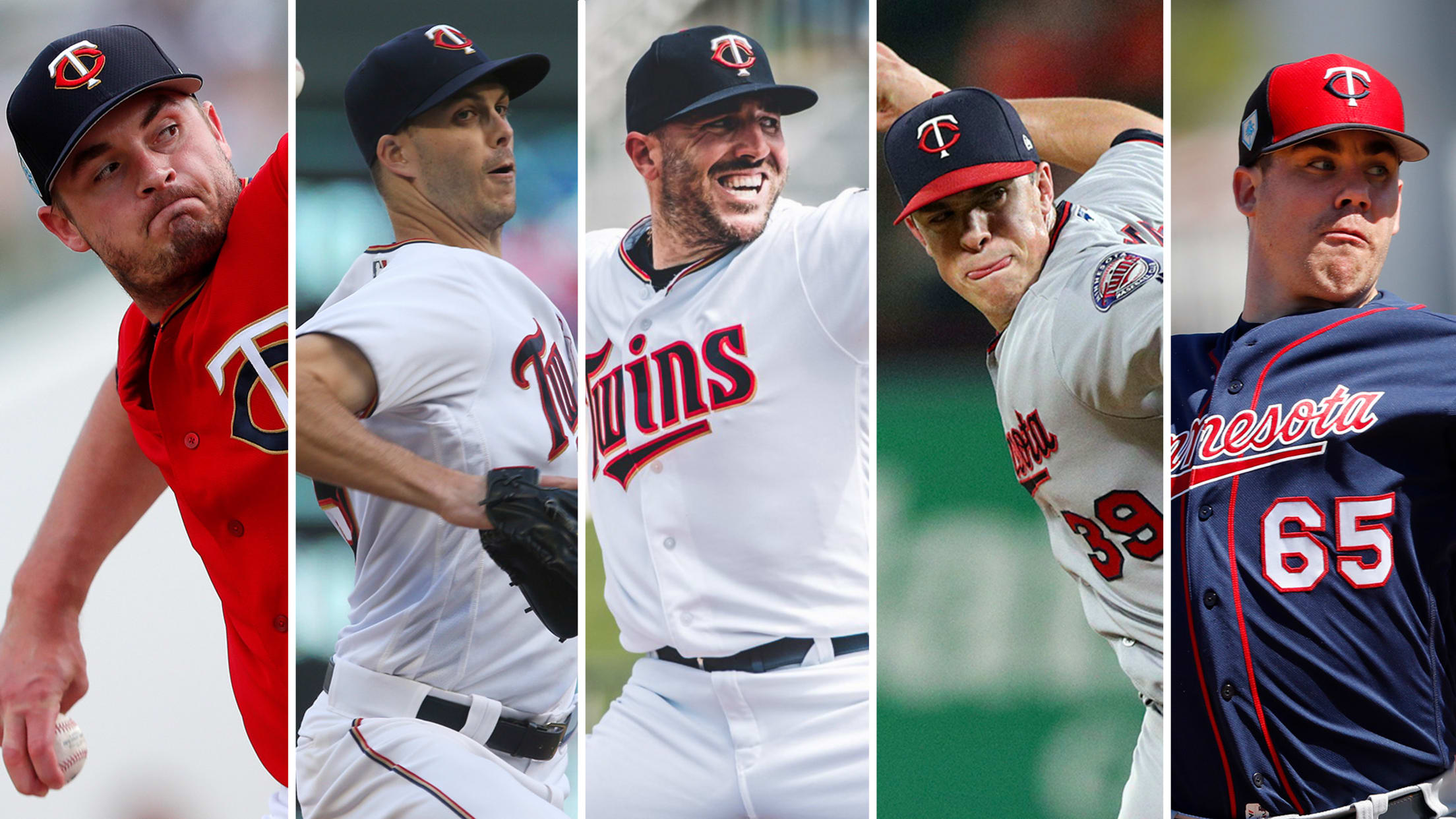 FORT MYERS, Fla. -- With just over two weeks remaining until Opening Day in Minneapolis, Twins manager Rocco Baldelli remains tight-lipped about how he intends to use his bullpen arms, with no more clarity on who might become the closer -- or, perhaps, whether there will even be a set
FORT MYERS, Fla. -- With just over two weeks remaining until Opening Day in Minneapolis, Twins manager Rocco Baldelli remains tight-lipped about how he intends to use his bullpen arms, with no more clarity on who might become the closer -- or, perhaps, whether there will even be a set closer.
When asked about their closer throughout the offseason and into Spring Training, Baldelli, chief baseball officer Derek Falvey and general manager Thad Levine have talked more generally about trying to utilize their bullpen arms to piece together the final three innings and higher-leverage situations.
"As of now, we are going to go into it, putting ourselves in position to win each game as opposed to laying out when everyone is going to pitch before then," Baldelli said.
While Baldelli said that the Twins' relievers have generally been more open to fluid roles, he acknowledged, never having pitched himself, the importance to some pitchers of having an idea of when they would enter during a game. But even as the regular season draws near, Baldelli remained noncommittal about when -- and if -- he might decide to put some pitchers in more certain roles.
"You might not ever get to the point where you're giving firm answers on those sort of things," Baldelli said. "As the season progresses both collectively and for each one of our bullpen arms, you continue to revisit these types of conversations as time goes on.
"We have very unselfish guys. Guys who want to contribute, who want to win."
But even if Baldelli were to maintain a more flexible back end to his bullpen to allow matchups and leverage to dictate his pitching progression, would the ninth inning also be part of that?
Baldelli acknowledged a certain quality, about which he had been advised, that eludes objective measurement in the final frame, and he said that he would keep it in mind as he made his decisions in Spring Training and beyond.
"There has been a mentality that is associated with those that come in for the ninth inning," Baldelli said. "You can only go with what you've seen and experienced, and what you learn. Listening to people that talk about it, they feel strongly that it is different. I don't know who I am to sit here and say it's not different."
With all that in mind, here's a look at how some of the Twins' potential ninth-inning options have performed thus far in Grapefruit League appearances:
Trevor Hildenberger
Hildenberger, who had seven saves while filling in as closer last season following the midseason trade of Fernando Rodney to the A's, has been working to fix his mechanics this spring with pitching coach Wes Johnson, focusing on not opening his front hip and shoulder together to better help the consistency of his fastball. He hasn't allowed a baserunner in four of his five outings this spring, though he allowed two runs, including a homer, in the other appearance.
Trevor May
May made his return from Tommy John surgery last August and posted the best strikeout (12.8 K/9) and walk (1.8 BB/9) rates of his career as he recorded three saves to finish out Minnesota's 2018 campaign. He was unblemished in his first five outings of the spring aside from a solo homer by the Pirates' Patrick Kivlehan, but he walked a pair in his last appearance, Monday against the Tigers.
Blake Parker
Parker has the most recent extended experience as a closer among the Twins' back-end arms, having saved 22 games for the Angels across the last two seasons, with his splitter serving as his strikeout pitch. He has since added a new cutter to his arsenal and has been scoreless in four of his five outings, most recently striking out the side in the sixth inning against the Tigers on Monday.
Addison Reed
Reed has the most traditional closing experience in the Twins' bullpen, with 125 saves to his name, primarily earlier in his career with the White Sox and D-backs. The veteran had a rough patch over three spring outings, with eight runs allowed in 2 1/3 innings, but his most recent outing was an efficient 1-2-3 frame on Monday.
Taylor Rogers
Rogers added a slider to his arsenal last season with overwhelmingly positive results, as he didn't allow a run beyond July 28 and didn't yield an extra-base hit to left-handed batters all season, with a career-best 9.9 K/9 strikeout rate. After four scoreless outings to open the spring, the left-hander allowed three runs on Monday.