Romo joins Twins full of energy, know-how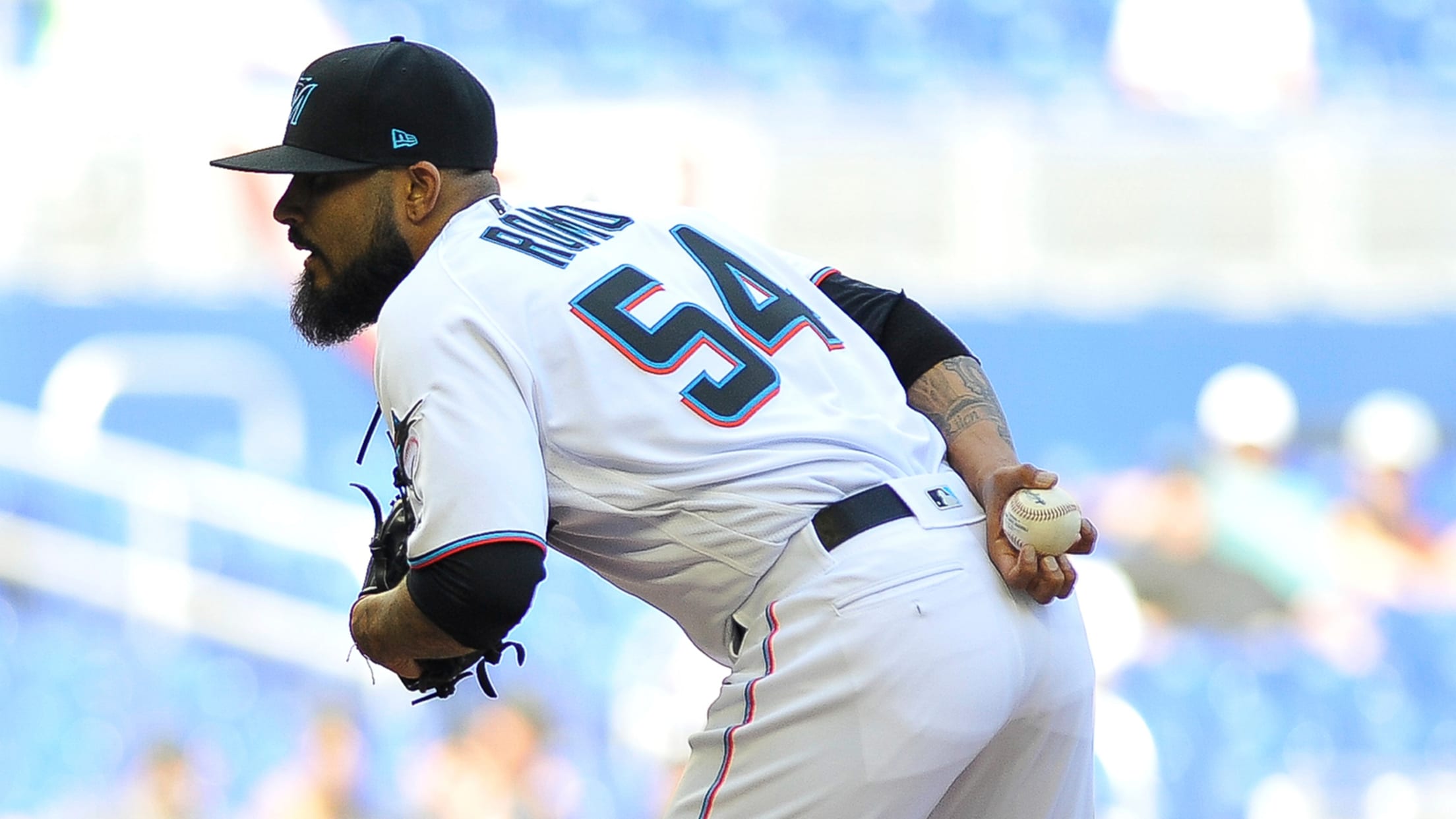 CHICAGO -- You could say the Twins could use a little jolt as the final stretch of the season approaches. With their lead in the American League Central down to just one game entering Sunday, an addition to the roster may be just what they needed. Look no further than
CHICAGO -- You could say the Twins could use a little jolt as the final stretch of the season approaches. With their lead in the American League Central down to just one game entering Sunday, an addition to the roster may be just what they needed.
Look no further than newest acquisition Sergio Romo, whose level of energy may be the equivalent of six espresso shots.
"It's very, very awesome to be wanted," Romo said. "The fact that they feel that I can contribute, wow. Like thank you. You think I'm good? Heck yeah. I think I'm pretty good, too. I think I can play. I just want to come and try to compete to the best of my abilities."
Romo, who was acquired on Saturday night, took a 6 a.m. ET flight from Miami to Chicago to meet the team ahead of Sunday's series finale before the team heads to Miami after the game.
"There's no waiting," Romo said. "This is Major League Baseball, and we're in the second half, and we're really trying to make a playoff push, so I've got to be here. You know what I mean. They're trying to get me to come in and help out, so the sooner the better, you know? I noticed that they lost yesterday and the [division] lead went down to one. We can't keep letting that happen, so we've got to try to win, so all hands on deck."
"He loves baseball. He loves pitching in big spots, and he loves winning as much as anything. He competes in every way," Twins manager Rocco Baldelli said. "If he thinks he has a chance to help this team win -- even if it's just one day and it has to do with him waking up incredibly early and being here to pitch in the game -- I think he's a guy that you expect to do it, and that's what he did. He's here and ready to go, and flying right back to Miami later this afternoon. Not surprised one bit from him."
Romo, 36, entered Saturday with a 3.58 ERA and 17 saves over 38 appearances this season. He has played for the Giants, Dodgers, Rays and Marlins in his career, posting a lifetime 2.91 ERA with 126 saves over his 12 seasons.
To make room for Romo, right-handed reliever Carlos Torres was designated for assignment. The Twins' 40-man roster is at 37.
When a player's contract is designated for assignment -- often abbreviated "DFA" -- that player is immediately removed from his club's 40-man roster, and 25-man roster if he was on that as well. Within seven days of the transaction (it was previously 10 days), the player must either be traded, released or placed on irrevocable outright waivers.
The move to acquire three-time World Series champion Romo brings experience and production to Minnesota's bullpen and takes pressure of Twins' closer Taylor Rogers, who has been one of the best late-inning relievers in the game over the past two seasons.
"I'm going to be willing to take the ball. I'll open some games for you, if you want," Romo said. "I'll throw the sixth, seventh, eighth, ninth, 10th, 11th, 12th and so forth and so on. We'll just go for it."
His ability to pitch in high-leverage situations in big moments can only help the team as it looks to fend off the suddenly-scorching Indians.
"It's really fun to be in a situation where they're striving for the best," Romo said. "They're reaching for the stars and that's awesome. So let's go. I'm not very tall, but I'll try to reach, too."