Mauer and power: Best Twins games of decade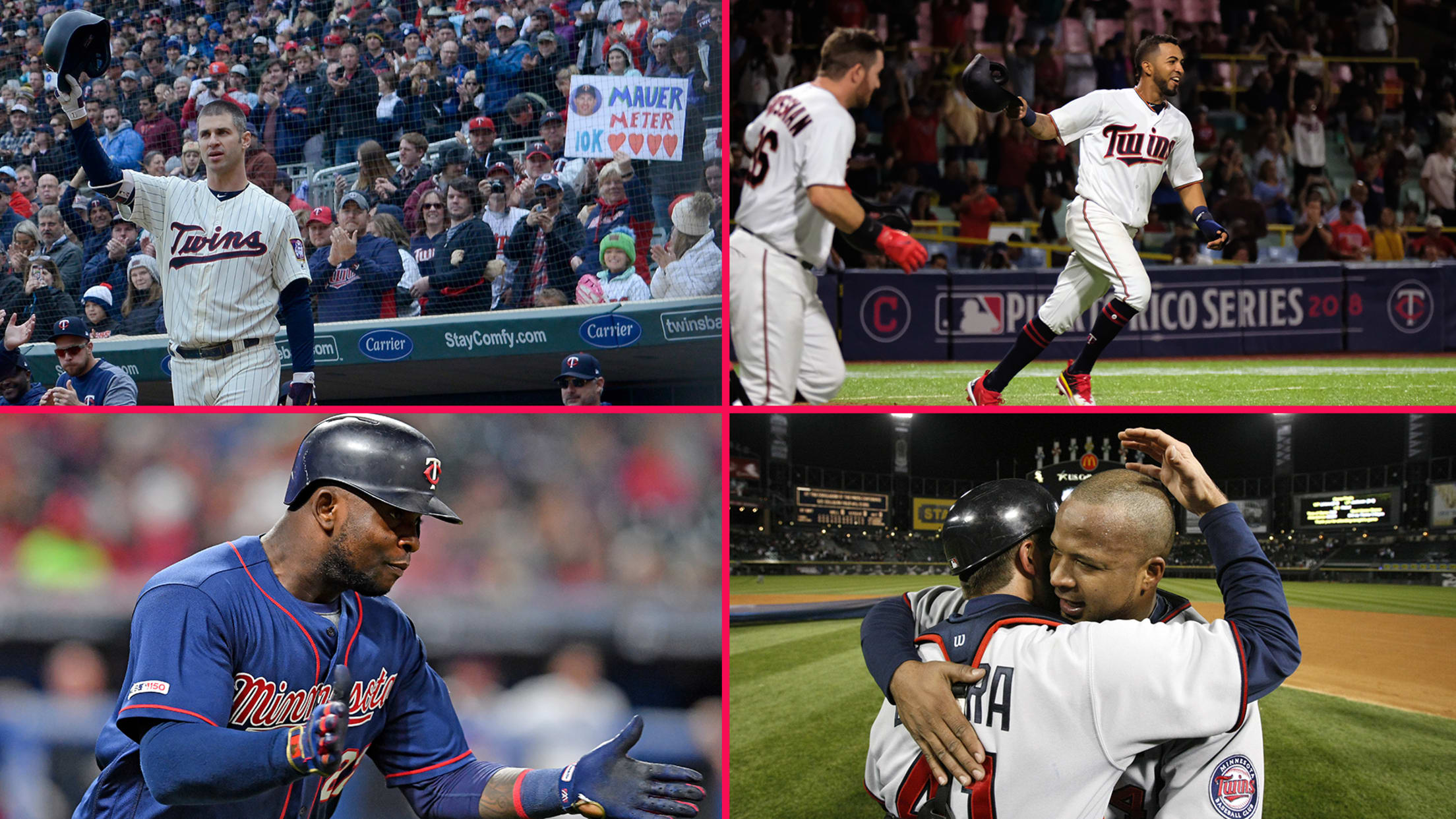 MINNEAPOLIS -- This list of the Twins' best games from the past decade would, admittedly, have been much more eventful had the 2010s also encompassed the memorable '09 campaign, which marked the final hurrah for the Metrodome and was capped by a Game 163 that earned its place among the
MINNEAPOLIS -- This list of the Twins' best games from the past decade would, admittedly, have been much more eventful had the 2010s also encompassed the memorable '09 campaign, which marked the final hurrah for the Metrodome and was capped by a Game 163 that earned its place among the finest moments in franchise history.
But this decade, too, provided Twins fans with a diverse collection of memories as the club christened a new stadium, bid a franchise icon adieu and won two American League Central championships and a spot in an AL Wild Card Game. It's an exciting time for Twins fans to look ahead to the 2020s, but as the baseball world bids goodbye to the decade that was, let's reminisce with a trip back through the best games of the last 10 seasons of Twins baseball.
1) Thank you, Joe
Date: Sept. 30, 2018
From the moment the St. Paul native and No. 1 overall pick debuted as a 21-year-old in 2004, Joe Mauer was Twins baseball for 15 years as he made six All-Star Game appearances and won the 2009 AL Most Valuable Player Award, three batting titles, five Silver Slugger Awards and three Gold Glove Awards. Mauer struggled with concussions and moved to first base as he played out his eight-year, $184 million contract, and though he hadn't officially made the decision to retire by the end of the '18 season, there was certainly a sense of finality that Sunday afternoon at Target Field as he doubled -- of course -- for his last Major League hit and received ovation after ovation from a grateful crowd in a 5-4 win over the White Sox.
The Twins saved the most poignant moment for last. In the top of the ninth inning, Mauer stunned the crowd as he emerged from the first-base dugout in his catcher's gear for the first time since 2013, and there was hardly a dry eye in the stadium as he caught one pitch, embraced Matt Belisle on the mound and walked off the field for the final time.
2) Outdoor baseball returns to Minnesota
Date: April 12, 2010
Twins fans waited nearly three decades for outdoor baseball to return to the Twin Cities. The Hubert H. Humphrey Metrodome and its "dome-field advantage" had been quite kind and memorable to Minnesotans through 28 seasons of ballgames and two World Series championships under the inflated white roof, but fans welcomed back outdoor baseball with open arms in a beautiful new stadium on a 65-degree spring afternoon in Downtown Minneapolis. Some of those favorite Metrodome heroes starred against that new backdrop, as Mauer clubbed three hits, including two doubles, Jason Kubel homered, and Denard Span and Nick Punto combined for three steals in a 5-2 win over Jon Lester and the Red Sox.
3) Thome hits first walk-off blast at Target Field
Date: Aug. 17, 2010
Jim Thome spent 17 seasons of his Hall of Fame career crushing tape-measure home runs against the Twins as a member of the division-rival Indians and White Sox, but Minnesota fans quickly fell in love with "Gentleman Jim" during his two seasons with the Twins in the twilight of his career. Thirty-seven of Thome's 612 home runs came in a Minnesota uniform, including his 600th, but the most memorable of them all came in the 10th inning of an Aug. 17 game against the White Sox. With the Twins trailing by one run, Delmon Young led off with a single before Thome took a mammoth swing against Matt Thornton to send Minnesota to a 7-6 victory -- and a four-game lead over Chicago in the AL Central -- with the first walk-off homer in Target Field history.
4) Sanó's slam crushes Indians in AL Central race
Date: Sept. 14, 2019
The new generation of Twins, heralded and anticipated for so long, finally arrived in full force in 2019. The history books were no match for them. The "Bomba Squad," as these Twins were christened by Eddie Rosario, set a new Major League record with 307 homers, and none proved bigger than a mid-September grand slam by redeemed slugger Miguel Sanó. The Twins entered that Saturday with a 3 1/2-game lead over Cleveland in the AL Central, needing to scrape together 18 innings from their bullpen in a crucial doubleheader. That young relief corps shut the Indians out in the first game before Sanó capped a five-run rally in the eighth inning of the nightcap with the first grand slam of his career deep into the left-field bleachers. That powered Minnesota to a 9-5 win and a doubleheader sweep, effectively ending the division race.
5) Berríos, Rosario shine at home in Puerto Rico walk-off
Date: April 18, 2018
As Puerto Ricans rebuilt in the aftermath of Hurricane Maria's devastation, they got a rare opportunity to cheer on four of their prized sons in the Major Leagues when Puerto Rico natives José Berríos, Eddie Rosario, Francisco Lindor and Roberto Pérez led the Twins and Indians into a two-game series at Hiram Bithorn Stadium in San Juan. Lindor got his chance to shine with a two-run homer in the opener. In the finale, it was the Twins' turn. Berríos set the tone with seven scoreless innings, retiring 19 of the final 20 batters he faced, but the game proved far from over. Edwin Encarnación and Miguel Sanó each homered in the 14th inning before Rosario singled to lead off the bottom of the 16th. Rosario, a native of Guayama, scored an emotional winning run in front of his family and friends on a walk-off single by Ryan LaMarre that finally gave the Twins a 2-1 triumph.
6) Twins stun Detroit with seven-run rally
Date: July 10, 2015
Who needs win probability, anyway? That number certainly didn't give the Twins much of a chance as they faced a 6-1 deficit in the bottom of the ninth -- but Minnesota laughed in probability's face. Mauer led off the frame with a single and Sanó doubled before Trevor Plouffe struck out and Eddie Rosario chipped into the deficit with an RBI single. Joakim Soria entered the game and allowed a stolen base, walk and bases-loaded hit-by-pitch before Danny Santana's two-run single cut the gap to 6-5. Longtime fan favorite Brian Dozier dropped the hammer when he cranked a first-pitch breaking ball off the facing of the second deck in left field, somehow making walk-off winners of the Twins.
"The most electric moment at Target Field in years!" roared Twins play-by-play broadcaster Dick Bremer as he described the frenzy.
7) Liriano no-hits the White Sox
Date: May 3, 2011
It wasn't pretty -- but hey, it was one for the history books all the same. Twins fans will always remember Francisco Liriano for the tantalizing potential in his electric 2006 rookie season, when he posted a 2.16 ERA in 28 games and won 12 of his 16 starts before he underwent Tommy John surgery. His Twins career never did pan out upon his return, but he did make his mark in the club's record books in 2011 in Chicago, when he tossed the club's first no-hitter since 1999 in a 1-0 victory over the White Sox. He walked six batters and only struck out two, and he needed 123 pitches to complete the nine innings. But two hours and nine minutes after the game began, an Adam Dunn line drive found the glove of shortstop Matt Tolbert to complete the feat.
8) Yankees 14, Twins 12 (10 inn.)
Date: July 23, 2019
In another world, this might have been a signature game for Miguel Sanó, who crushed two homers that could -- or should -- have been back-breakers and drove in five runs against the dreaded Bronx Bombers. Instead, on national television, the game went down as one of the craziest regular-season affairs in recent memory, featuring five-run frames by each team, a blown six-run lead by the Twins and lead changes in the top of the eighth, bottom of the eighth and again with a two-out, two-run homer by Yankees center fielder Aaron Hicks in the top of the ninth. That chaos led to yet another game-tying Minnesota rally in the bottom of the ninth, a narrow escape by Yankees closer Aroldis Chapman and a do-or-die, game-winning catch by Hicks on an all-out dive in the bottom of the 10th that prevented Max Kepler and the Twins from wresting the lead back again and walking off in a five-hour, three-minute marathon loss.
9) Twins break all-time home run record
Date: Aug. 31, 2019
The Twins? Baseball's all-time home run kings? That might have been a laughable idea throughout much of the recent history of the notoriously light-hitting franchise -- but who's laughing now? The 2019 Twins became the most powerful team in the history of baseball even before the arrival of September, as Mitch Garver's ninth-inning blast in a 10-7 loss to the Tigers at Comerica Park on Aug. 31 marked the Twins' sixth homer of the night and 268th of the season, breaking the single-season record set by the Yankees in '18 for the most in Major League history. The Twins also set records for most games with five or more team homers (11) and most players with 20 or more homers (eight) as they finished with a season tally of 307.
10) Mauer clubs first career walk-off homer
Date: May 5, 2017
For all the hitting Mauer did throughout his career, as evidenced by his .306 career average, most of his power was concentrated in his 2009 MVP campaign, when he clubbed 28 long balls. He never again hit more than 11 in a season, which could help explain why it took until '17, the 14th year of his career, to finally hit a walk-off round-tripper. The unlucky pitcher was Matt Barnes of the Red Sox, who served up a high fastball that Mauer cranked into the left-center field bullpen for a 4-3 win before he pumped his fist and yelled as he rounded the bases -- and straight into a home-plate Gatorade bath from Eddie Rosario.