Twins launch initiative for All-Star vote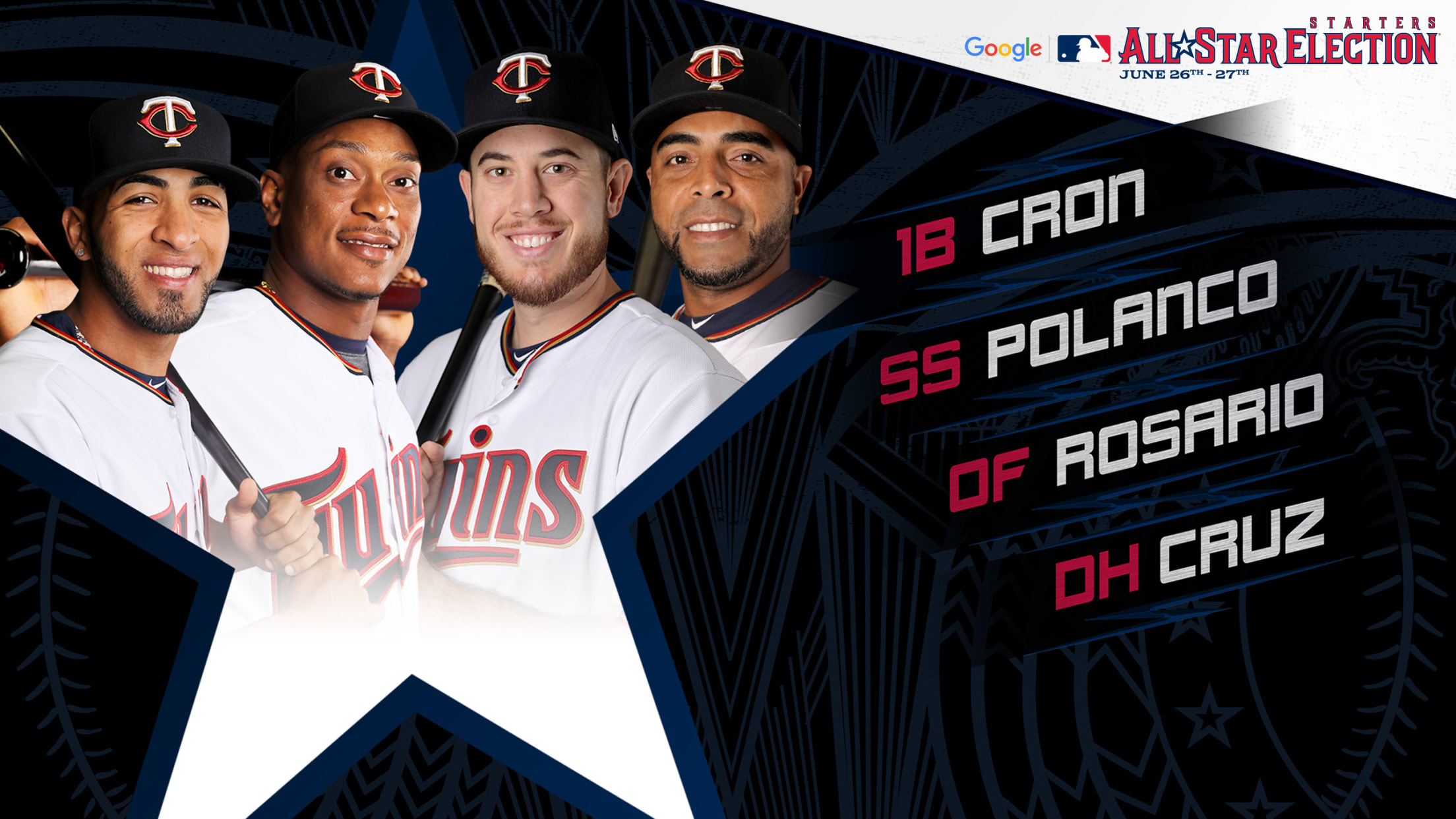 MINNEAPOLIS -- As a crowd of reporters looked on, Miguel Sano carefully arranged the jerseys of the Twins' four finalists to start the All-Star Game at Nelson Cruz's spacious corner locker, adjacent to his own, and changed into a "Bomba Ballot" shirt emblazoned with the names of Cruz, Eddie Rosario,
MINNEAPOLIS -- As a crowd of reporters looked on, Miguel Sano carefully arranged the jerseys of the Twins' four finalists to start the All-Star Game at Nelson Cruz's spacious corner locker, adjacent to his own, and changed into a "Bomba Ballot" shirt emblazoned with the names of Cruz, Eddie Rosario, C.J. Cron and Jorge Polanco.
The stage was set for a brief stump speech in which Sano campaigned for his teammates before sticking the landing by standing up, flexing, and yelling, "Bomba Squad!" into the expanse of the home clubhouse. (An amused Cruz later arrived to the hubbub at his locker and looked on.)
"Vote Nelson Cruz, Eddie Rosario, C.J. Cron and Jorge Polanco for the All-Star Game, because those guys need to start in the All-Star Game," Sano said into the cameras. "They've got great numbers, and I think that's a moment that everybody circles for those guys."
Miguel Sanó set up shop at Nelson Cruz's locker, hung up the jerseys of all four #MNTwins ASG finalists, and made a stump speech campaigning for his teammates.

After the end of the video, he stood up, flexed, and yelled "BOMBA SQUAD!" pic.twitter.com/QN1ybvFEt3

— Do-Hyoung Park (@dohyoungpark) June 25, 2019
The Twins joined Sano's rallying cry by announcing a voting initiative to support Cruz, Rosario, Cron and Polanco.
The Twins, who have wholly embraced the "Bomba Squad" moniker, will also receive a visit from the Minneapolis Police Department's bomb squad and special Twins guests starting at 3 p.m. CT today at Target Plaza in an effort to rally the vote.
"That happened to me in 2017 -- I didn't talk too much about the All-Star Game because I was focused on the game, and I was thankful to my team for promoting myself for the game," Sano said. "I think right now is the time for everybody in Minnesota to start voting for those guys."
Polanco, who was the leading vote-getter among AL shortstops from start to finish in the Primary round, called the prospect of making his first appearance in the All-Star Game "a dream come true" and expressed his appreciation to fans for voting for Twins players across the ballot amid the club's successful season.
He will compete against the Yankees' Gleyber Torres and the Astros' Carlos Correa for the start, though Correa (fractured rib) is unlikely to play in the All-Star Game.
"I have good feelings," Polanco said. "It's a very good competition and I like it. I want to be in the All-Star Game, and I want to win. ... Especially with the day coming close, we all talk about it. We all talk about it. We all want to keep grinding and keep playing good so we can make it. They're wishing me the best of luck all the time for me to start in the All-Star Game."
At first base, Cron is matched up against Luke Voit of the Yankees and Carlos Santana of the host Indians. Cruz will need to outdraw the Rangers' Hunter Pence and J.D. Martinez of the Red Sox, while Rosario will navigate a tough outfield draw that also includes Mookie Betts, Michael Brantley, Joey Gallo, Aaron Judge, Austin Meadows, Josh Reddick, George Springer and Mike Trout.
"[My family is] all really happy, really excited for me," Rosario said. "They're all really supportive of everything that's going on right now. I love them very much, and they're always there supporting me, so I'm trying to do my best to represent them, too."
The 2019 All-Star Game presented by Mastercard will be played on Tuesday, July 9, at Progressive Field in Cleveland. It will be televised nationally by FOX Sports; in Canada by Rogers Sportsnet and RDS; and worldwide by partners in more than 180 countries. FOX Deportes will provide Spanish-language coverage in the United States, while ESPN Radio and ESPN Radio Deportes will provide exclusive national radio coverage. MLB Network, MLB.com and SiriusXM also will provide comprehensive All-Star Week coverage. During the game, fans may visit MLB.com and the 30 club sites to submit their choices for the Ted Williams Most Valuable Player Award presented by Chevrolet. For more information about MLB All-Star Week and to purchase tickets, please visit AllStarGame.com and follow @MLB and @AllStarGame on social media.
Injury updates
• Byron Buxton (right wrist contusion) had a successful session in the batting cage prior to Tuesday night's game against the Rays, according to Baldelli. Buxton is expected to swing again on Wednesday, and the Twins will evaluate how he responds to the activity on back-to-back days.
"It was the best session that he's had so far," Baldelli said.
• Marwin Gonzalez (right hamstring strain) ran for the first time on Tuesday at around 70 percent and still felt tightness, but he said he was feeling much better than he had in the final two games before he went on the injured list. He had been playing through the hamstring tightness but eventually reached a point where he felt pain and needed to take time off his feet.
"Big progress," Gonzalez said. "Feeling a little bit tight, but way better than it was. I hope I keep getting better and I'll be back as soon as possible."
• Ehire Adrianza (abdominal issues) isn't expected to need much more than the minimum 10 days on the injured list, as much of the weakness surrounding his gastrointestinal problem has subsided. He said he has had such issues throughout his life, and doctors didn't find anything particularly concerning when he was examined. He is eligible to come off the injured list on Thursday.
"It's tough, but at the same time, I was feeling pretty weak, so that's not the way you want to play out there," Adrianza said. "You want to help the team win. I was worried, so thank God that everything they did, the test and that went fine. I feel much better."
Roster move
The Twins reinstated infielder Ronald Torreyes from the restricted list on Tuesday and assigned him to Class A Advanced Fort Myers. In a corresponding move to make room on the 40-man roster, left-handed reliever Gabriel Moya was designated for assignment. Moya had a 7.36 ERA with 27 strikeouts and 13 walks in 22 innings. The 24-year-old Moya had a 4.71 ERA in 35 games for the Twins last season, including six as the opener.
When a player is designated for assignment -- often abbreviated "DFA" -- that player is immediately removed from his club's 40-man roster, and the 25-man roster if he was on that as well. Within seven days of the transaction (it was previously 10 days), the player must either be traded, released or placed on irrevocable outright waivers.