Odorizzi (blister) heads to IL; Twins drop slugfest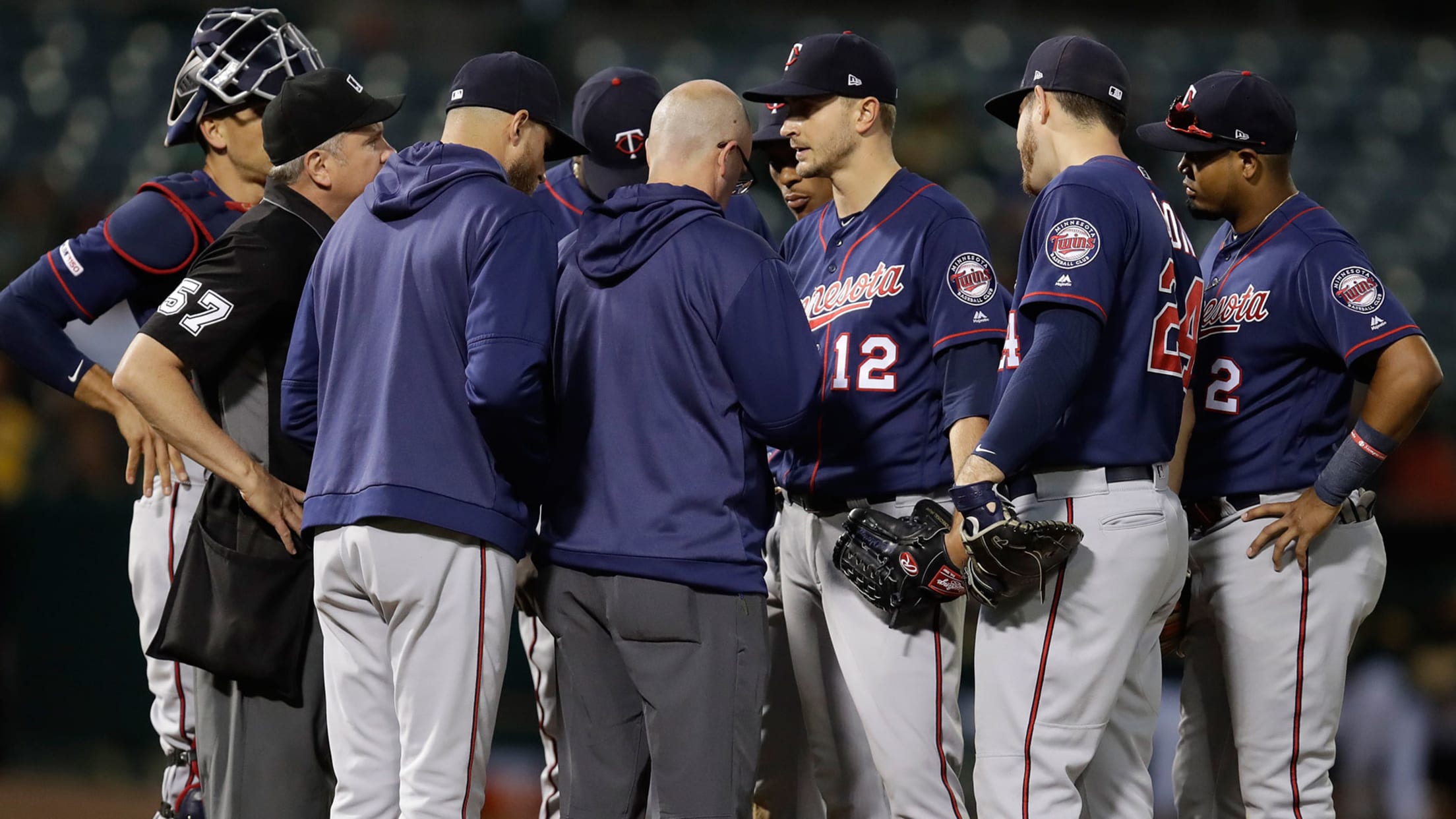 OAKLAND -- Jason Castro hit a pair of homers in his return to his native Bay Area and Miguel Sanó clubbed his fourth shot in four games, but the Twins' offensive firepower couldn't overcome a shaky start and blister issue for starter Jake Odorizzi, who exited in the fourth inning
OAKLAND -- Jason Castro hit a pair of homers in his return to his native Bay Area and Miguel Sanó clubbed his fourth shot in four games, but the Twins' offensive firepower couldn't overcome a shaky start and blister issue for starter Jake Odorizzi, who exited in the fourth inning and was placed on the 10-day injured list following the game.
The newly minted All-Star allowed two homers in three innings -- including a grand slam -- as a blister on his right middle finger ruptured to usher his early exit in the Twins' 8-6 loss to the A's at the Oakland Coliseum on Tuesday.
"I think it's the right thing to bump him and get him ready for post-All-Star break games," manager Rocco Baldelli said. "We think he's going to be fine to make those starts after the break."
Though Odorizzi has pitched through blister issues in the past and still thought he could make his next start, the Twins wanted to get ahead of the issue with the second half in mind. Zack Littell was recalled from Triple-A Rochester in a corresponding move.
Odorizzi's placement on the injured list will also formally rule him out from pitching in next week's All-Star Game presented by Mastercard, though he had already been unlikely to pitch in the Midsummer Classic because he was lined up to pitch against the Rangers on Sunday, the final day of the first half.
"That's always something that you have to think about with guys that have had seasons like that, made the All-Star team," Baldelli said. "Everyone wants to pitch, everyone wants to play if you make the team, but I think again, I think everybody here is on the same page that this is the wise move. Everyone's all in on this."
"I usually heal pretty decently from these, but is it worth the risk of it happening again and being set back five days, where we could have had five days to just let it heal?" Odorizzi said. "We talked that it is more important to have a strong second half than push it for one start to end the first half. I'm just frustrated we ended up losing the game."
After throwing a 15-pitch, 1-2-3 inning in the first, Odorizzi began to deal with the small blister on the left side of the fingernail of his right middle finger in the second inning, when he issued a pair of two-out walks. One inning later, he allowed a two-run homer to Matt Olson.
Odorizzi said that the placement of the blister interfered with the release of his fastball, slider and splitter, which all come off the same part of that finger when he throws.
"That's when you start getting underneath balls and they start coming off a different part of your finger and it is just not normal," Odorizzi said. "Started yanking, pulling splits, and fastballs kind of go all over the place. If it is any other finger, I can get through it. That's the worst part for a blister to happen."
The problems compounded for Odorizzi and the Twins in the fourth inning. A fielding error by Sano and a walk to Ramon Laureano were followed by a single from Robbie Grossman that loaded the bases. After Odorizzi worked a 1-1 count against Chris Herrmann, head athletic trainer Tony Leo and manager Rocco Baldelli emerged from the dugout to examine Odorizzi's pitching hand.
Herrmann lifted the very next pitch over the right-center field wall for a grand slam that put the A's ahead. Two pitches later, Odorizzi was removed from the game by Leo and Baldelli. In addition to the pair of homers, Odorizzi also issued three walks, his most since May 4, which was 10 starts ago.
"You could definitely tell that something wasn't right, just the way that the ball was coming out of his hand," Castro said. "Obviously, that's never good to see, but it's hopefully something that we can get out ahead of and it should be short-lived."
After allowing four homers in his first 13 starts of the season, Odorizzi has given up six long balls in his last four outings. He has yielded 16 earned runs in his last four starts, raising his season ERA from 1.92 to 3.15.
Mejia makes strong return to mound
Left-hander Adalberto Mejía, who had been reinstated from the 60-day injured list on Tuesday, entered in relief of Odorizzi in the fourth inning and made a promising return to action, allowing one run on three hits in 3 1/3 innings.
The Twins had been hoping to see Mejia attack the zone more effectively, as he had 11 strikeouts and nine walks in 11 1/3 innings before he was sidelined with a right calf injury, and worked to tweak his mechanics while he was sidelined to afford him better consistency with his offspeed pitches.
The big southpaw showed that improvement on Tuesday, needing only 41 pitches to record 10 outs, with three strikeouts and one walk. He threw 28 of his 41 offerings (68.3 percent) for strikes, compared to 59 percent before his injury. He also nabbed strikes with 12 of his 19 offspeed pitches.
"He looked really good today," Castro said. "He was able to really pitch off his fastball. His sinker was really good, moving the way that it does when he's going well. He looked like he had a lot of confidence out there. When he's at his best, he's able to mix speeds and get ahead of guys and throw sliders when he wants. So it was good to see."