Cubs turn to Rizzo for leadoff production
Kimbrel picks up throwing program; Russell (concussion) progressing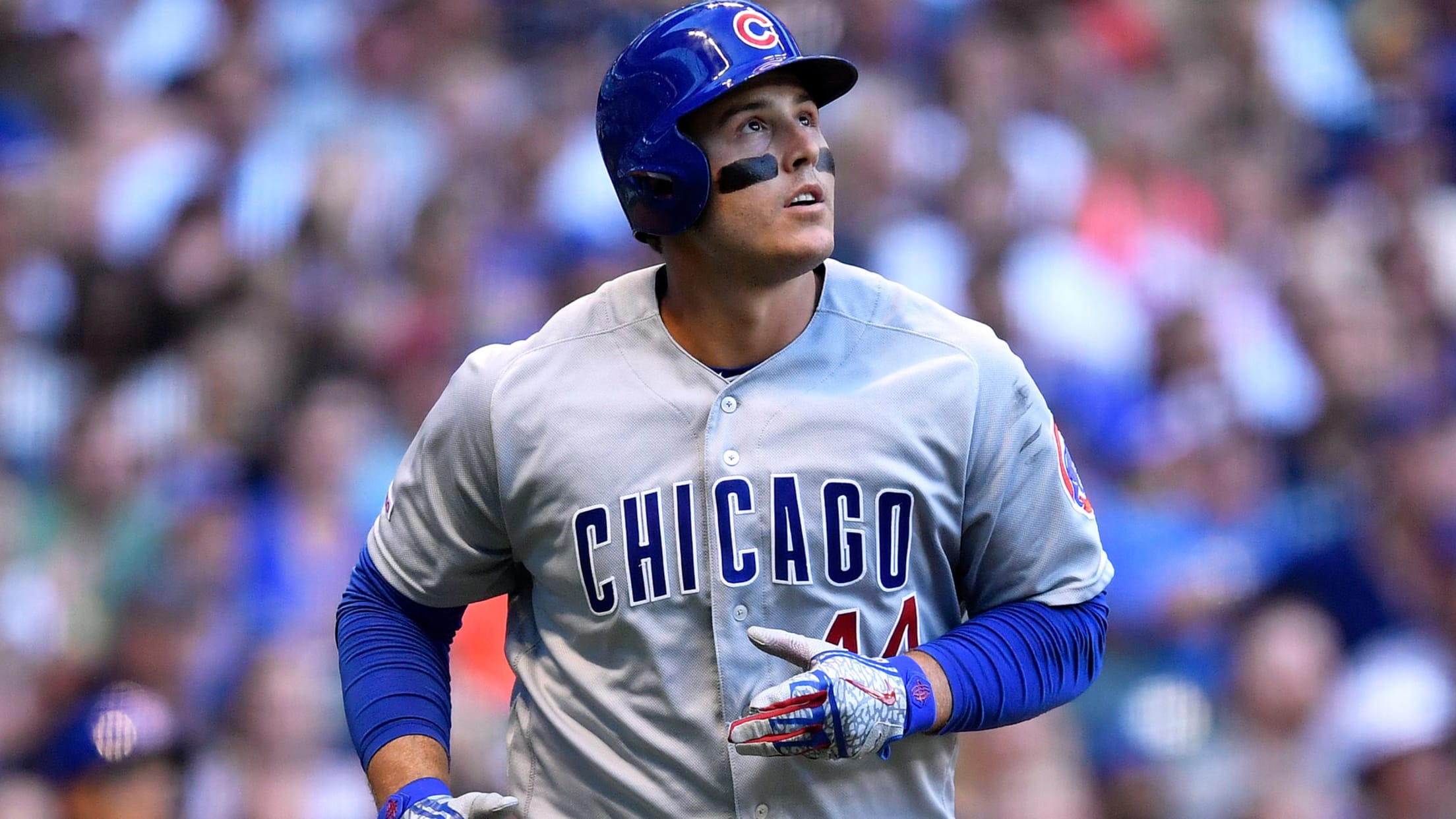 SAN DIEGO -- The Cubs have used 11 leadoff batters this season. With 2 1/2 weeks left in the regular season, they may have finally settled on one. Anthony Rizzo made his third start of the season atop the order on Thursday and paid immediate dividends in the Cubs' 4-1
SAN DIEGO -- The Cubs have used 11 leadoff batters this season. With 2 1/2 weeks left in the regular season, they may have finally settled on one.
Anthony Rizzo made his third start of the season atop the order on Thursday and paid immediate dividends in the Cubs' 4-1 victory over the Padres at Petco Park. Rizzo drew a leadoff walk from Dinelson Lamet, moved to third on Kyle Schwarber's base hit and scored on Kris Bryant's sacrifice fly to left.
Rizzo didn't reach base again, but the early run was huge with razor-sharp Yu Darvish on the mound for the Cubs.
Manager Joe Maddon said he'll continue to use the left-handed-hitting Rizzo in the leadoff spot, including Friday against Pirates left-hander Steven Brault.
"I'm all-in on winning," Rizzo said. "We've got to win, so whatever it takes."
The No. 1 spot in the Cubs' lineup brought a combined slash line of .202/.283/.368 into Thursday. Cubs leadoff batters ranked last in the Majors in batting average and on-base percentage and 28th in slugging.
"Honestly, it's been a worst-case scenario out of the leadoff spot," Cubs president of baseball operations Theo Epstein said during a radio appearance on 670 The Score. "Everybody we throw up there goes through his period of not getting on base. It's shocking to me. I feel, honestly, embarrassed by the leadoff numbers we've had. That's not at all the way to build an offense."
Epstein said the Cubs have thrived in years past without a natural leadoff hitter because they had players up and down the lineup who could be counted on to get on base. Maddon had a wealth of good options. This year, it has been the opposite.
"The struggles you're seeing in the leadoff spot are because we're struggling to get on base as a team," Epstein said.
Rizzo has the defensive position, look and stats of a middle-of-the-order hitter. But he also leads the Cubs with a .398 on-base percentage and has a career .415 mark in the No. 1 hole.
"Anthony, in the past, has given us the lift there we're looking for," Maddon said.
Worth noting
• Closer Craig Kimbrel (right elbow inflammation) stepped up his throwing program on Thursday with a bullpen session that included breaking balls.
• Infielder Addison Russell (concussion) continues to progress and was feeling better on Thursday, according to Maddon.
• Ben Zobrist was out of the lineup a second straight day after fouling a ball off his right knee, and he won't start Friday at home vs. Pirates left-hander Steven Brault. But he should be good to go over the weekend, Maddon said.
Zobrist appeared as a pinch-hitter on Thursday and produced an RBI forceout in the seventh inning.