Cubs add Zobrist to roster for stretch run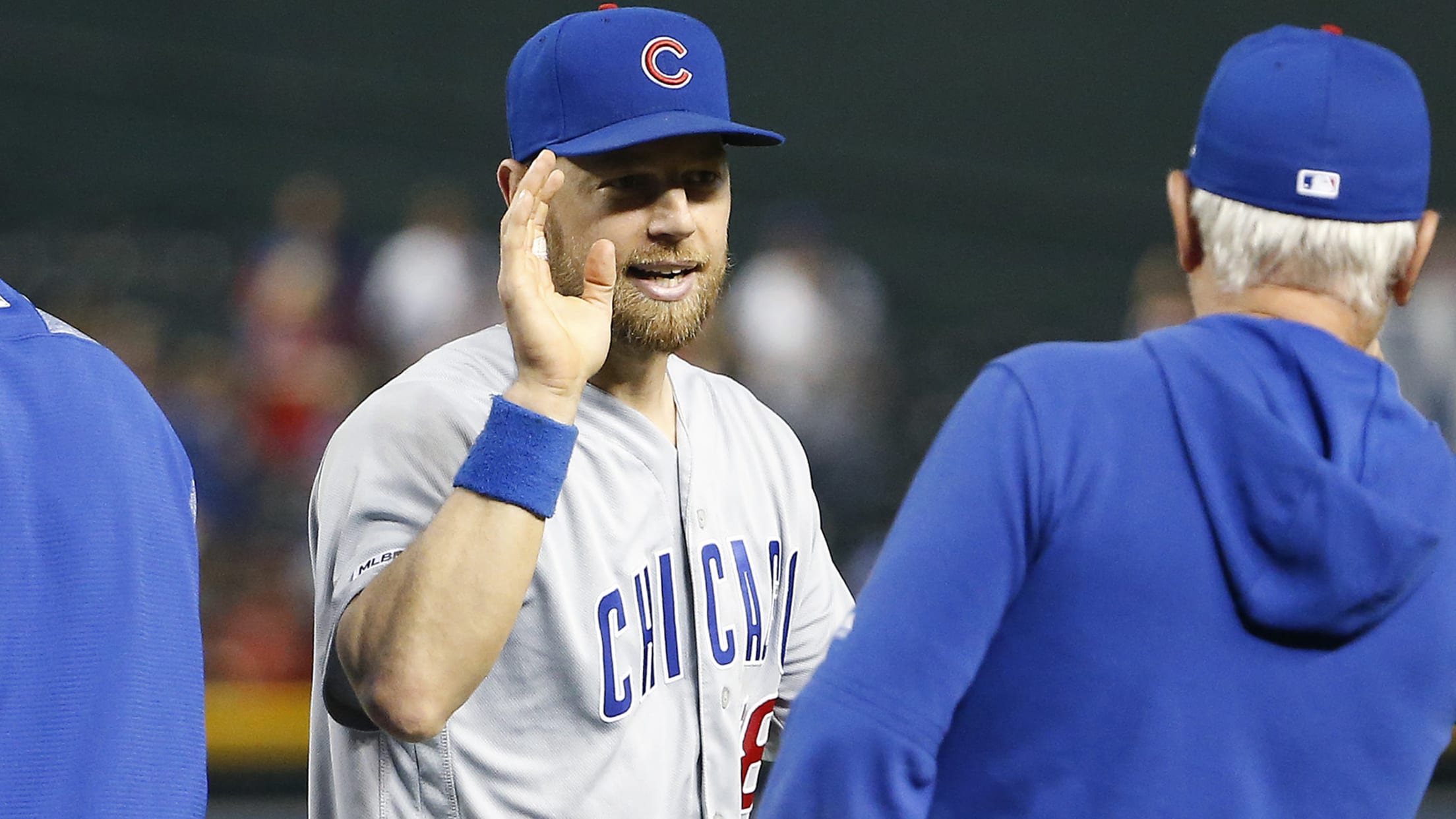 CHICAGO -- Ben Zobrist will always have a home in the hearts of Cubs fans. It was Zobrist, after all, who was pumping his fist, missing his helmet following a leap at second base and yelling into the Cleveland night after delivering the decisive double in Chicago's World Series triumph
CHICAGO -- Ben Zobrist will always have a home in the hearts of Cubs fans. It was Zobrist, after all, who was pumping his fist, missing his helmet following a leap at second base and yelling into the Cleveland night after delivering the decisive double in Chicago's World Series triumph two Octobers ago.
Zobrist now has a chance to create more memories for Chicago this fall.
On Saturday night, the Cubs reinstated Zobrist from Major League Baseball's restricted list and added him to both their 25-man and 40-man rosters, bringing an end to his nearly four-month hiatus while tending to a family situation.
"Honestly, it's just going to be good to see him, good to have him here," Cubs first baseman Anthony Rizzo said. "It'll be nice to have his personality and his spirit here."
In order to add Zobrist to the 40-man roster, Cubs Minor League outfielder Mark Zagunis was designated for assignment. Infielder David Bote was optioned to Triple-A Iowa to clear a space on the 25-man roster, and will be required to remain in the Minor Leagues for a minimum of 10 days before potentially being recalled by the Cubs.
Due to Zobrist's restricted list status, the Cubs needed to reinstate the veteran utility man and add him to an active roster before the calendar flipped to September to ensure he would be eligible for the postseason. Any players in an organization prior to Sept. 1 are eligible for the playoffs, but Zobrist's situation (and his being out of Minor League options) required some extra maneuvering before rosters expanded to a maximum of 40 players on Sunday.
Ben Zobrist is here at Wrigley taking grounders. At some point today, Cubs need to add him to the 40-man roster. Will be added to active roster Sunday. pic.twitter.com/iUseuvscKP

— Jordan Bastian (@MLBastian) August 31, 2019
Zobrist, who was placed on the restricted list on May 8, spent the past month working his way up the organizational ladder on a Minor League assignment that spanned four affiliates. This past week, he returned home to the Nashville, Tenn., area and the Cubs sent a group of pitchers so Zobrist could keep simulating game-like at-bats.
Cubs manager Joe Maddon said Saturday that he will probably use the 38-year-old Zobrist primarily as part of the rotation at second base. Zobrist will likely get the bulk of his starts against right-handed pitching and Maddon said he will consider him as an option for the leadoff spot. As it was last season, Zobrist will probably have built-in rest days to keep him fresh.
Zobrist has played outfield in the past, but there will be few innings available in the corners given the current makeup of the Cubs' roster.
More than anything, Maddon is looking forward to having Zobrist's "professional" offensive approach back in the lineup.
"That's the one thing that he always brings," Maddon said. "Normally, he doesn't expand the strike zone. One thing that we're getting a little bit better at more recently is to not do that, but he's always been the guy that sets that example when he leads off the game, and I've always loved that."
Here's a look at how the Cubs' team contact% and swinging-strike% changed after Zobrist left in early May.

"Believe me, we've missed him a lot this year. It's been pretty obvious," Maddon said. "That's the one thing that he's always been able to do for a batting order." pic.twitter.com/JRmN2Hpcs0

— Jordan Bastian (@MLBastian) August 31, 2019
Entering Saturday's game against the Brewers, the Cubs ranked 28th in the Majors in swinging-strike rate (12.4 percent), as well as 30th in both contact rate (73.7 percent) and percentage of pitches seen in the strike zone (40.4). In his career, Zobrist has turned in a 5.6 percent swinging-strike rate, 85.4 percent contact rate and 44.2 percent zone rate.
Last season, Zobrist hit .305/.378/.440 with 3.6 WAR (per Fangraphs) and a 123 wRC+ in 139 games, while Maddon closely monitored his playing time and catered to certain matchups. Zobrist only hit .241 in 26 games at the start of this season, but he did post a .343 on-base percentage with more walks (14) than strikeouts (12) while maintaining a solid contact rate (82.3) and swinging-strike rate (5.5).
"Baseball-wise, he's a great at-bat every time he hits," Rizzo said. "I don't care if he takes five years off. He'll come back and be able to work an at-bat."
For the Cubs, though, Zobrist's return is not just about what he does on the field.
"He's a steady influence," Maddon said. "He's always there to talk to others and pick them up. The young guys, you always see him having a little bit of a conversation with them."
Throughout this season, the Cubs have kept one of Zobrist's white home jerseys hanging in his locker.
"It'll be more than a usual callup, that's for sure," Rizzo said. "We're getting a very special player back to this organization and city that's been gone for a while."