'69 Cubs sweep '54 Giants in Bracket 2, Rd 1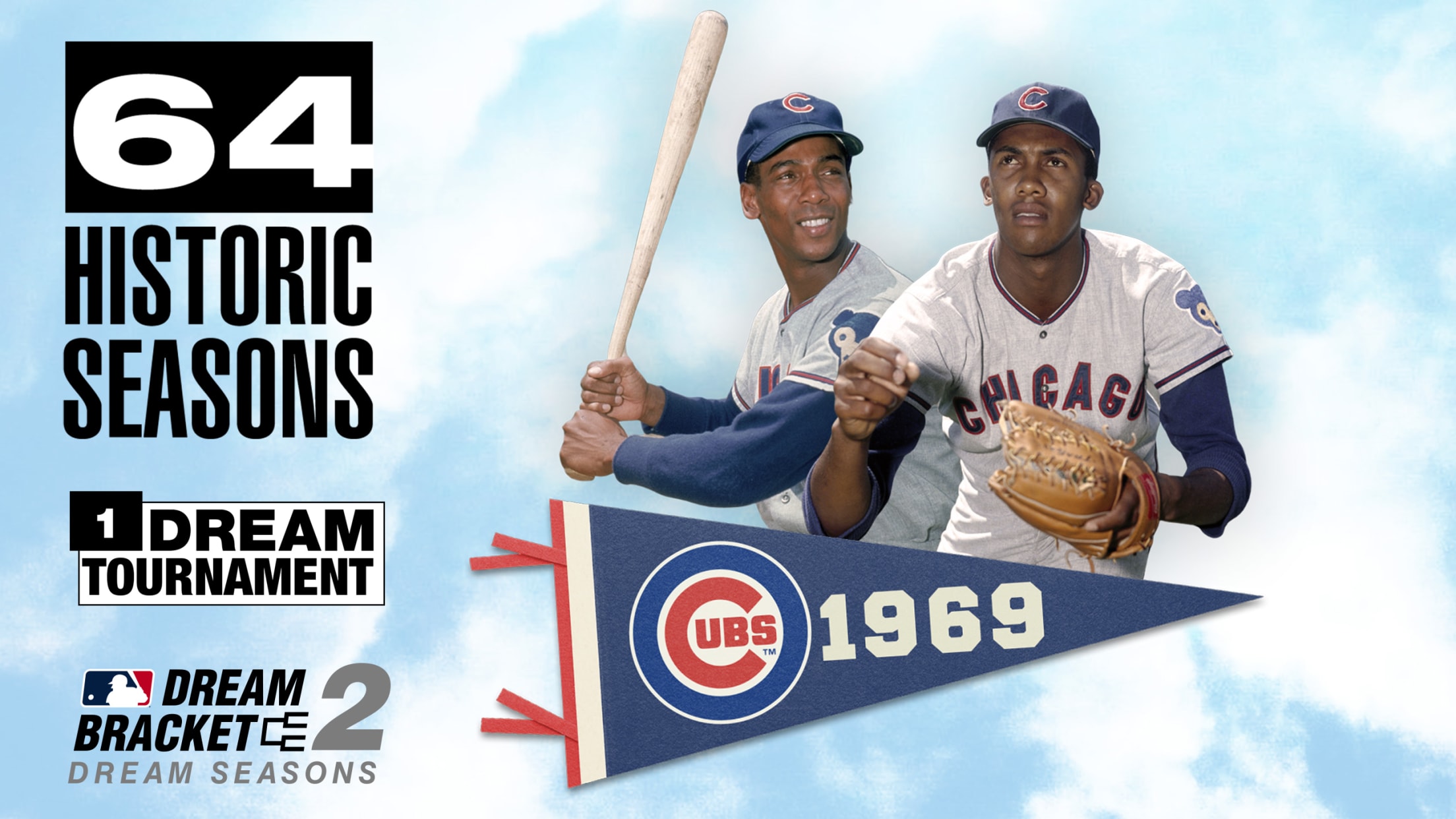 CHICAGO -- The list of best baseball teams to never win it all is formidable. For Cubs fans, the 1969 team will forever hold a special place in their collective hearts, even if the sentiment to this day revolves around what-could-have-been conversations. Well, the 1969 Cubs created some first-round magic
CHICAGO -- The list of best baseball teams to never win it all is formidable. For Cubs fans, the 1969 team will forever hold a special place in their collective hearts, even if the sentiment to this day revolves around what-could-have-been conversations.
Well, the 1969 Cubs created some first-round magic in the "Dream Bracket 2: Dream Seasons" simulation by MLB.com and Out of the Park Baseball 21. Chicago's Hall of Fame core of Ernie Banks, Fergie Jenkins, Ron Santo and Billy Williams helped complete a sweep of the Willie Mays-led '54 New York Giants.
The simulated competition, featuring many of the greatest teams in baseball history, is being produced by Out of the Park Baseball 21, MLB's most realistic strategy game (PC and Mac).
Now, the 1969 Cubs will be tasked with taking on the '60 Pirates, who bested the '80 Phillies in seven games to advance to the round of 32. The Cubs' other Dream Bracket 2 team -- the 2016 World Series champions -- lost their series to the '11 D-backs on Friday.
The hero of Chicago's sweep of the Giants was shortstop Don Kessinger, who led the North Siders in runs (six), hits (nine) and total bases (14) in the series. Williams, Banks and Glenn Beckert each knocked in five RBIs, while center fielder Don Young was a nice standout with four extra-base hits and a .429 average (6-for-14).
The big four of the 1969 Cubs rotation -- Jenkins, Bill Hands, Ken Holtzman and Dick Selma -- each got a start and tamed the New York nine. Relievers Phil Regan and Hank Aguirre did the heavy lifting out of the bullpen, notching three appearances apiece and combining for 6 1/3 shutout innings. Mays hit .308 (4-for-13) with a homer and three walks off Cubs pitching, but New York needed more from its lineup.
• Complete Dream Bracket 2 rosters
Here is a breakdown of the Cubs' sweep of the Giants:
Game 1: Cubs 6, Giants 2
In the opener of this best-of-seven set at Wrigley Field, Jenkins matched up against Johnny Antonelli. The Cubs ace allowed two runs in the first, but then he cruised from there, working into the sixth inning in a 96-pitch performance. Kessinger and Beckert went 5-for-10 with 10 total bases out of the Nos. 1-2 spots, and Banks, Young and Beckert each collected two RBIs to power the victory.
Game 2: Cubs 2, Giants 1
Chicago's second win was a tense contest that concluded with a dramatic ninth. Kessinger opened the game with a triple and scored on a Beckert groundout, and Hands did what he could with that lone run of support. Hands carried a shutout one out into the ninth, when Mays slugged a game-tying blast. In the home half, Kessinger was hit by a pitch from Marv Grissom to load the bases with two outs. That set the stage for Beckert, who delivered a walk-off single in front of the home crowd.
Game 3: Cubs 5, Giants 2
Holtzman, who authored two no-hitters in his Cubs career, worked five shutout innings opposite Ruben Gomez to help position Chicago for a third straight win in this series. Helping his cause, Holtzman also connected for an RBI single in the fifth and later came around to score on a single from Williams. A two-run double in the seventh gave Williams three RBIs on the day and helped Chicago pull away.
Game 4: Cubs 8, Giants 3
The Cubs completed their unlikely sweep of the 1954 Giants with an emphatic win that was powered by Mr. Cub himself. Banks finished 3-for-3 with two walks, three RBIs and a key two-run home run off Don Liddle in the third inning. Chicago clung to a 4-3 lead into the ninth, when a four-spot off reliever Al Corwin put the game and series away. Mays contributed an RBI double in a three-run third, but it wasn't enough to take down starter Dick Selma and the North Siders.