Bryant tempted by potential Derby windfall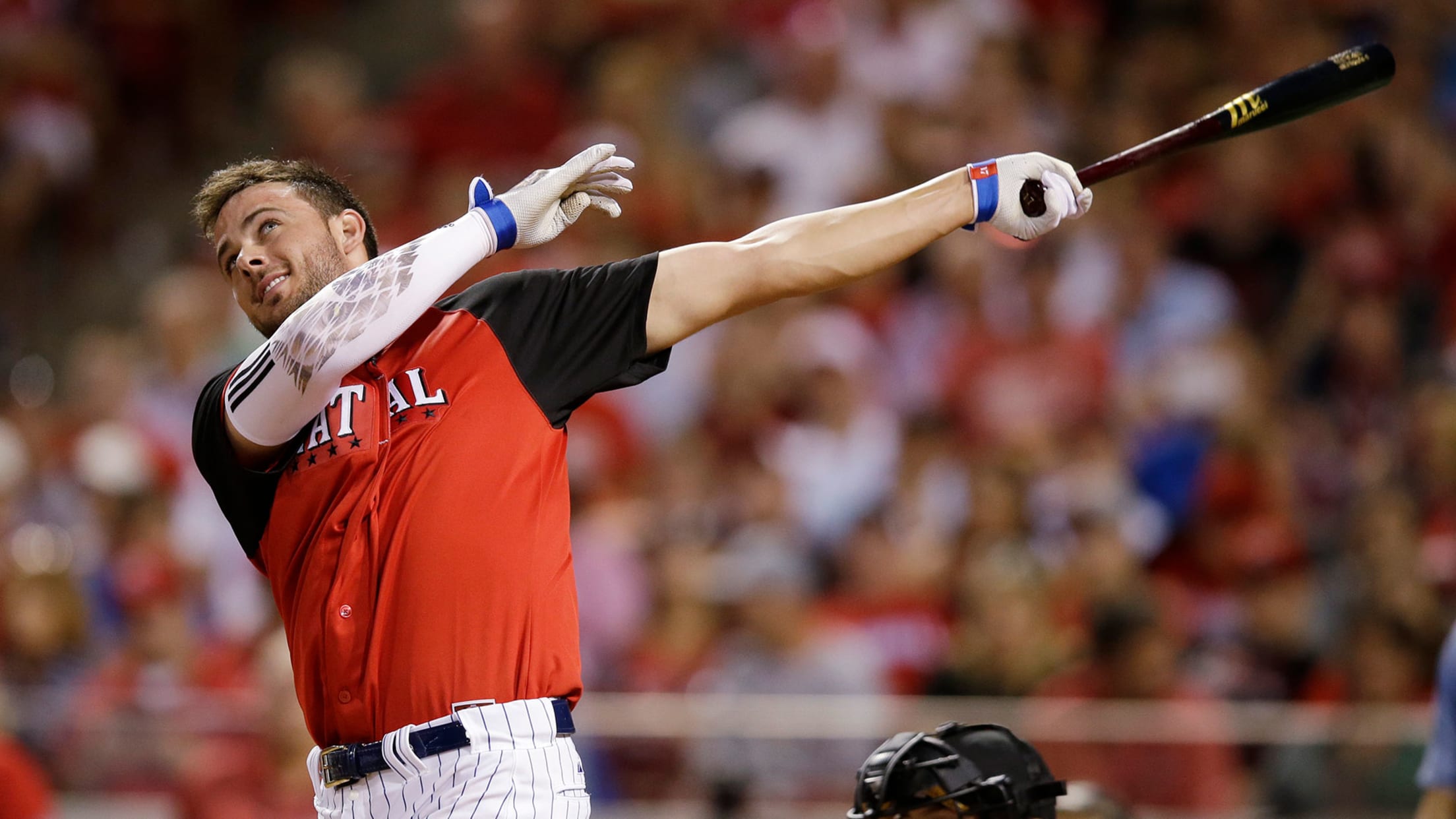 SCOTTSDALE, Ariz. -- Kris Bryant already lived out a childhood dream when he had his dad throw to him in the Home Run Derby four years ago during the All-Star Game festivities at Great American Ball Park in Cincinnati. With that life goal checked off, the Cubs star is not
SCOTTSDALE, Ariz. -- Kris Bryant already lived out a childhood dream when he had his dad throw to him in the Home Run Derby four years ago during the All-Star Game festivities at Great American Ball Park in Cincinnati. With that life goal checked off, the Cubs star is not sure he would participate in the event again.
With $1 million in prize money now going to the Derby champion, though, it sure is tempting.
"When you add more money, guys are going to be more enticed to do it," Bryant said on Saturday morning. "I don't know if I'm going to do it, but I think you're going to get more action, more guys wanting to do it. There's going to be more of a pool to choose from. I think that's kind of what they want."
As part of a series of changes announced earlier this week by Major League Baseball and the MLB Players Association, the Home Run Derby will now have an overall pool of $2.5 million in prize money for the participants. That is up from $525,000 last year, when the winner received a $125,000 bonus.
Now, with the prize nearly double the league-minimum salary ($555,000), Bryant expects more young stars to get involved. The Cubs third baseman feels that is a great move to help improve the marketing of the game's top talent.
"Hopefully, this is a step in the right direction," Bryant said. "I think the more and more players are willing to do more of the fun side of things -- being mic'd up, doing some of the behind-the-scenes things to show our life outside, showing your personality through what you wear on the field -- I think that's awesome."
Bryant said Cubs first baseman Anthony Rizzo -- also part of the 2015 Derby -- joked that he plans on taking part in the event every year now.
"Everybody's going to be wanting to do it now," Rizzo said. "It's a million dollars. It's a fun time. It's on the biggest stage of summertime baseball. I think it'll be good for the game, because I think a lot of the bigger stars will want to be playing in it. I don't care who you are. I don't care if you're making $30 million a year. It's a million bucks."
Contreras scratched
By not adding a veteran backup catcher, the Cubs have put their faith in Victor Caratini and Taylor Davis as the second- and third-string options behind the plate. That depth was a topic of conversation Saturday, when starting catcher Willson Contreras was scratched from Chicago's lineup with a sore right hand.
"I feel very comfortable [with Caratini as the backup]," Cubs manager Joe Maddon said. "[Davis] does a great job of receiving, blocking, calling a game. He's one of those guys. Hitting-wise, he's shown flashes. Right now, he's hitting the ball pretty good. He's just different the way he starts the bat, which I'm fine with. I'm good with T.D. also."
Contreras took a foul tip off his right ring finger in the first inning of Thursday's game against the Rangers, but the injury is not considered serious. The catcher took part in Saturday's workout and tested the hand with some throwing. He could return to game action within the next few days.
Roster moves
The Cubs reduced the spring field by 15 players on Saturday, trimming camp to 40 remaining players.
Pitchers James Norwood, Duane Underwood Jr. and Rowan Wick were optioned to Triple-A Iowa, while pitchers Christian Bergman, Matt Carasiti, George Kontos, Dakota Mekkes and Mike Zagurski were reassigned to Minor League camp. On the position-player side, Jim Adduci, Francisco Arcia, Ryan Court, Phillip Evans, Trent Giambrone, P.J. Higgins and Zack Short were also sent to Minors camp.
Injury updates
• Maddon noted that utility man Daniel Descalso (left shoulder) is doing better and could be cleared to resume swinging a bat soon (possibly early next week). Descalso has not been ruled out for Opening Day, but non-roster utility man Cristhian Adames looks like a fallback plan for the final bench spot.
• Right-hander Pedro Strop (right hamstring) has continued a throwing program over the past week, and Maddon said the Cubs are optimistic about being able to get him into a game before camp breaks. Strop has not been ruled out for Opening Day.
• Reliever Tony Barnette (right shoulder) played catch on Saturday, but Maddon said the pitcher will likely begin this season on the injured list. Lefty Xavier Cedeno (left wrist) -- also expected to start the season on the injured list -- has resumed a throwing program.
Up next
Left-hander Jose Quintana is slated to start for the Cubs on Sunday, when Chicago hosts the Rockies in a 3:05 p.m. CT Cactus League contest at Sloan Park. Quintana has spun five shutout innings in two Cactus League starts. Colorado will send righty Chad Bettis to the hill.